Jessica Cisneros supports abortion rights. Henry Cuellar is the last Democrat in the U.S. House who opposes them. That difference could determine who wins their primary rematch Tuesday in South Texas.
Fewer than 1,000 votes separated Cisneros and Cuellar in March, when neither received more than 50 percent of the vote. In the weeks since, a leaked Supreme Court draft decision overturning Roe v. Wade, the 1973 case that established the constitutional right to abortion care, has further focused the race on the issue.
Cisneros is making the case that Democrats cannot afford to have even one lawmaker out of step on abortion as a likely Roe reversal looms. A Cuellar backer in House leadership has urged the party not to use abortion as a litmus test. Outside groups and super PACs have gotten involved. Some of the accusations have gotten personal — and ugly.
Cisneros said during a Friday call hosted by Emily's List, a group that backs Democratic women who support abortion access, that "it's one thing bracing yourself for the fall of Roe and another very much … watching it happen."
"The president has even said it himself, the vice president herself as well, that we need a pro-choice majority in Congress, and Henry Cuellar does not have a part in that," Cisneros said, ticking off votes Cuellar has taken to oppose codifying abortion rights, defund Planned Parenthood and block federal funds from being used for abortion care.
"He's consistently been trying to chip away and essentially fight with Republicans for a future where we don't have bodily autonomy," she added.
Late last year, Cuellar was the only member of his party to vote against the Women's Health Protection Act (WHPA), which would have established a federal right to abortion care. The bill twice failed to move in the evenly split 100-seat Senate, where most legislation requires 60 votes to overcome the filibuster. If the Supreme Court, as expected, overturns Roe, Democrats would need to pass a federal law to preempt state-level abortion restrictions. To do so, they need to expand their Senate majority and hold onto their slim margin in the House.
Cuellar "could very much be the Joe Manchin of the House," Cisneros warned, comparing him to the West Virginia senator who voted against the WHPA, along with derailing key pieces of President Joe Biden's domestic agenda. "We just cannot risk that, he cannot be the determining vote on the future of reproductive freedoms in this country."
Cisneros, who turns 29 on Tuesday, once interned in Cuellar's office. It's the third time the two have faced off in Texas' 28th Congressional District, which is predominantly Latinx, leans Democratic, and snakes south and west from San Antonio's eastern suburbs to the U.S.-Mexico border. In their 2020 primary, Cuellar won outright with 51.8 percent of the vote. In their March 1 rematch, Cuellar received 48.4 percent of the vote, compared with Cisneros' 46.9 percent.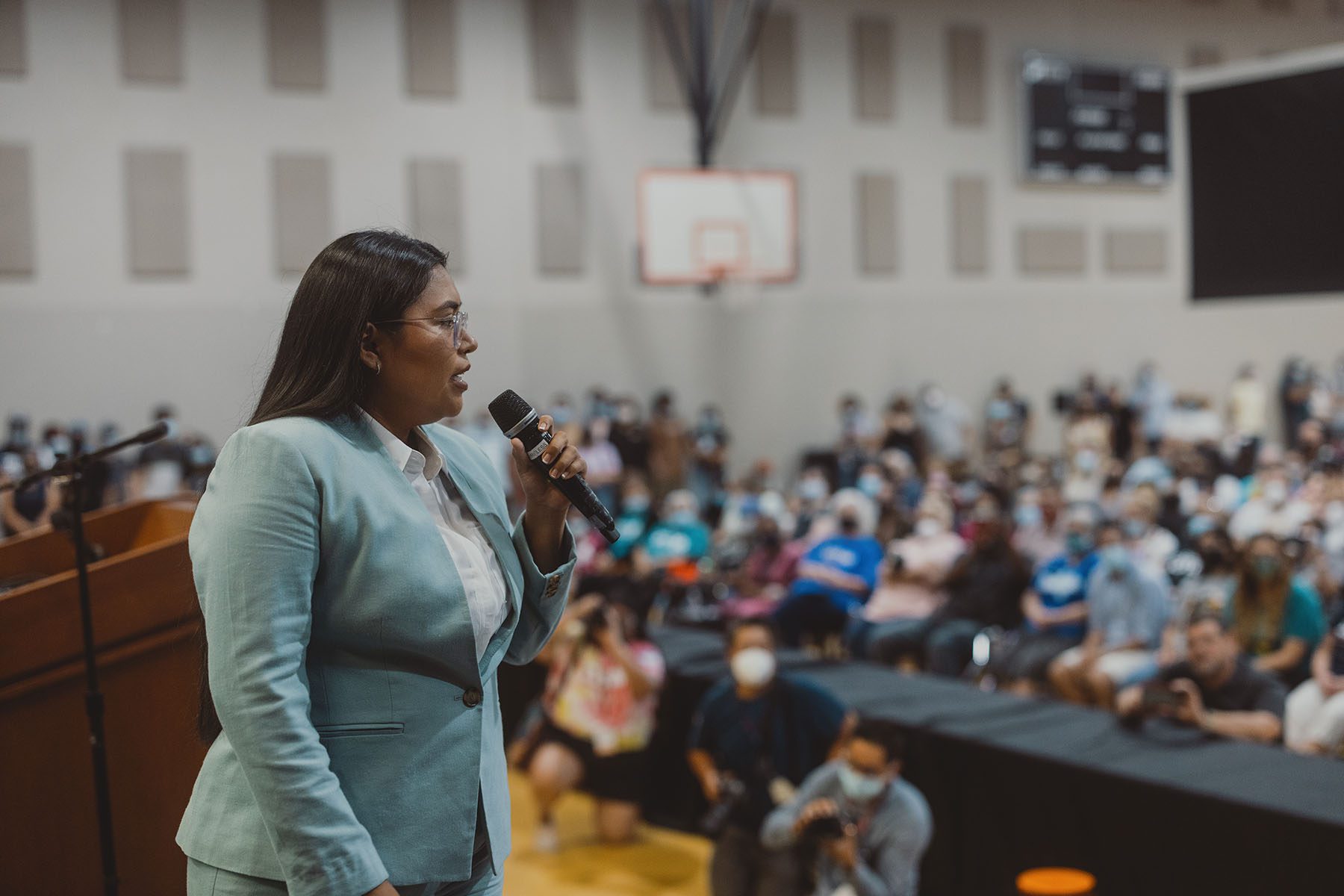 Both have prominent backers within the party. Cuellar has the support of House Democratic leaders such as Speaker Nancy Pelosi, Majority Leader Steny Hoyer and Majority Whip Jim Clyburn, who has said there should be space in the party for Democrats who oppose abortion. Cisneros is endorsed by progressive stars such as Sen. Elizabeth Warren and "Squad" members Reps. Alexandria Ocasio-Cortez and Ayanna Pressley. Sen. Bernie Sanders campaigned for her in the closing days of the runoff campaign.
The expected Supreme Court decision overturning Roe has put Cuellar at odds with his party — including the Democratic leaders who have endorsed him. He has tried to downplay his past votes to restrict abortion access and instead focus attention on also being out of step with Republicans on the issue.
After Senate Minority Leader Mitch McConnell seemingly opened the door to pursuing a national abortion ban if Republicans retake Congress, for example, Cuellar said in a statement that he does not support that plan of action. "There must be exceptions in the case of rape, incest, and danger of the life of the mother," he wrote.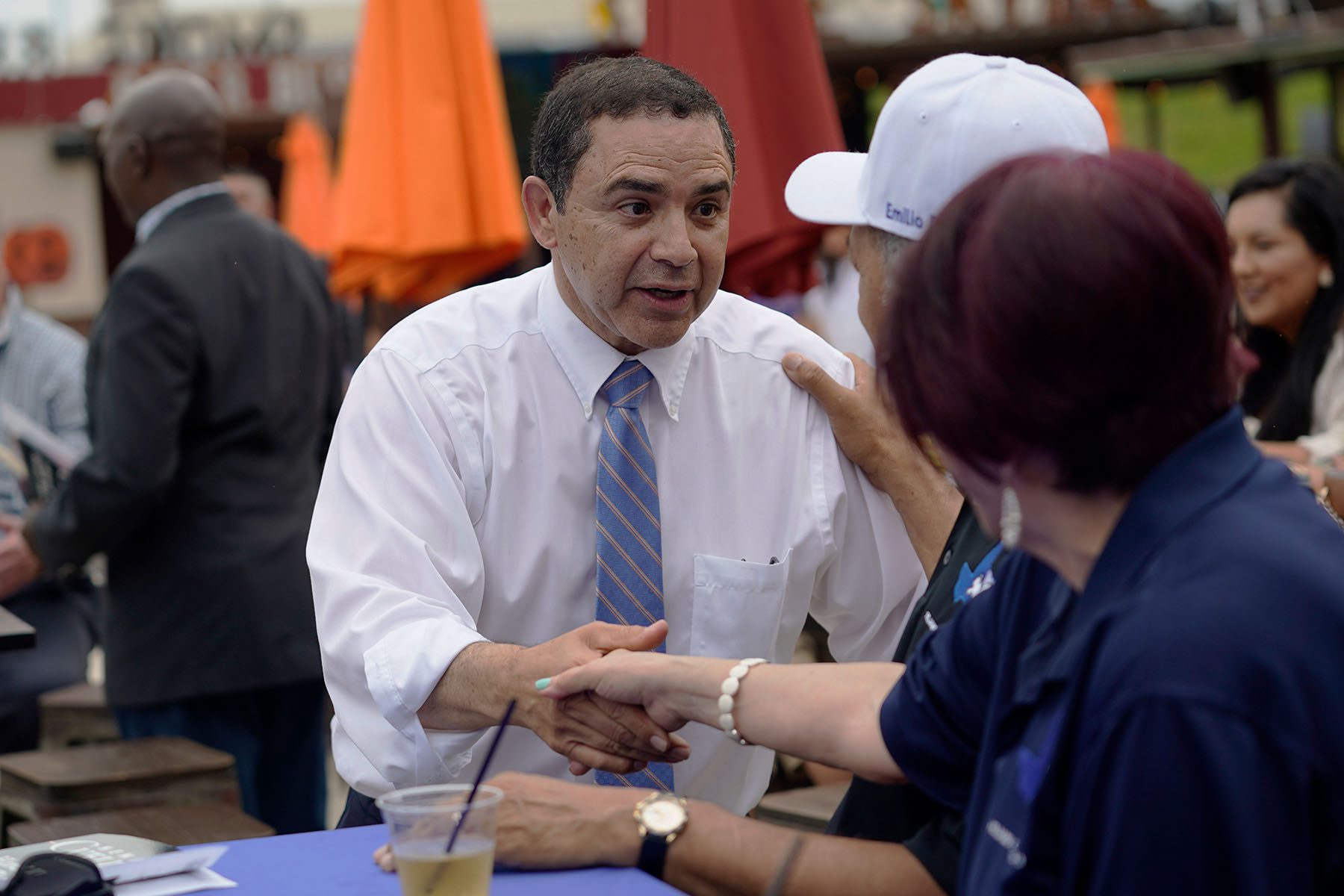 The following week, the Silicon Valley-funded super PAC Mainstream Democrats used Cuellar's statement in an ad supporting him. "With women's rights under attack by extremists, Democrat Henry Cuellar has made it clear he opposes a ban on abortion," a woman narrator says. Women Vote!, the super PAC affiliated with Emily's List, responded by immediately making a more than $500,000 television buy to run ads in English and Spanish slamming Cuellar's "egregious anti-choice record," according to Emily's List President Laphonza Butler.
A recent mailer made to look like a newspaper and titled the "South Texas Reporter" also defended Cuellar's stance on abortion. There's no indication on the mailer who paid for it. A column from the "editorial board" reminds voters not to "confuse pro-life Dems with anti-choice GOP." One cover says that Cuellar has been "cleared" in an FBI probe of ties between U.S. businesses and Azerbaijan that prompted a raid earlier this year of Cuellar's home. The FBI has not provided a public update. Another story on "Scandal in South Texas" is about a relationship Cisneros had when she was in college with her former high school teacher, who was married.
The "Scandal in South Texas" story imagery is similar to a billboard in Laredo that went up recently smearing Cisneros, which Cuellar's campaign has disavowed. It was paid for by Big River Media, which is associated with the real estate firm Killam Development. David Killam — along with his firm and family — are loyal donors to Cuellar's campaign. Big River Media has made two independent expenditures during the 2022 primary, on May 13 and 17, for $5,264 and $3,802 respectively. Cuellar's 2020 campaign paid $1,500 to Big River Media for advertising.
Cuellar's campaign did not respond to a request to discuss his abortion positions, the billboard or mailers. Big River Media likewise did not respond to a message left by The 19th.
"These last minute fraudulent attacks by Henry Cuellar's allies are disgusting and reflect the campaign he has been running for the last two cycles," Cisneros told The 19th in a statement. "It just shows that his campaign has no substance."