Update, March 2: The Associated Press projects that Jessica Cisneros and incumbent Rep. Henry Cuellar are set to go to a runoff on May 24 after neither candidate hit 50 percent of the vote in Tuesday's Democratic primary.
During the first phone bank of Jessica Cisneros' 2022 U.S. House primary rematch against Rep. Henry Cuellar, she noticed a difference from the first time she took on the Laredo, Texas-area Democrat in 2020.
The first person Cisneros called said that she was excited to vote for her again, especially after Cuellar, a nine-term incumbent representing Texas' 28th Congressional District, voted against the Women's Health Protection Act, designed to protect abortion rights.
"That was exciting to me for two reasons," Cisneros said. "One of them was that this woman voted for us the last time and is excited we're running again. And the fact that she was telling me about what Henry Cuellar was doing in Washington? That was very different from last cycle, when we were usually the ones that had to tell voters what Henry Cuellar was doing in Washington."
Cisneros' phone bank was held shortly after the House approved the Women's Health Protection Act, which would codify a federal right to obtain an abortion. Cuellar, the last anti-abortion Democrat remaining in the House, was the only member of his party to vote against it. It has stalled in the Senate, where it does not have the support to pass.
Democrats introduced the federal legislation in June, shortly after Texas Republicans approved a restrictive abortion law that allows private citizens to sue anyone who helps end a pregnancy after six weeks. Cuellar said that he voted against the federal bill, which was a response to state-level laws in Texas and elsewhere, because the issue is a "matter of conscience" and "not a health issue." In January, he accepted an award from a group of anti-abortion Democrats ahead of the annual March for Life.
"Henry Cuellar not just voting against it, but then also saying that he doesn't think abortion is health care? Who is he, right? As a man to say what is and isn't health care, when he's never going to face a situation like that in his life," Cisneros said.
Cuellar's campaign did not respond to a request for comment.
Texas' 28th Congressional District is nearly 80 percent Latinx, leans Democratic, and snakes south and west from San Antonio's eastern suburbs to the U.S.-Mexico border. The Democratic primary there is a preview of an abortion-related dynamic that could play out in races up and down the ballot in the midterm general elections — but in November, it will be matchups between Democrats who support abortion rights and Republicans who oppose them.
Democrats think attempts to restrict abortion access could be a liability for Republicans as the Supreme Court weighs a case out of Mississippi that could overturn or undermine its 1973 ruling in Roe v. Wade, which established the right to an abortion up until fetal viability. The punitive nature of Texas' law specifically has also caught voters' attention, even outside the state, Democrats have told The 19th.
Cisneros' effort to unseat Cuellar traces a path similar to some of the Democratic Party's rising stars. Twenty-eight-year-old Cisneros was in elementary school when Cuellar was first elected to the House in 2005 — at one point, she was his intern. She is to his ideological left. During her 2020 bid, Cisneros called Cuellar "Trump's favorite Democrat," noting his gun-friendly stances and corporate donors.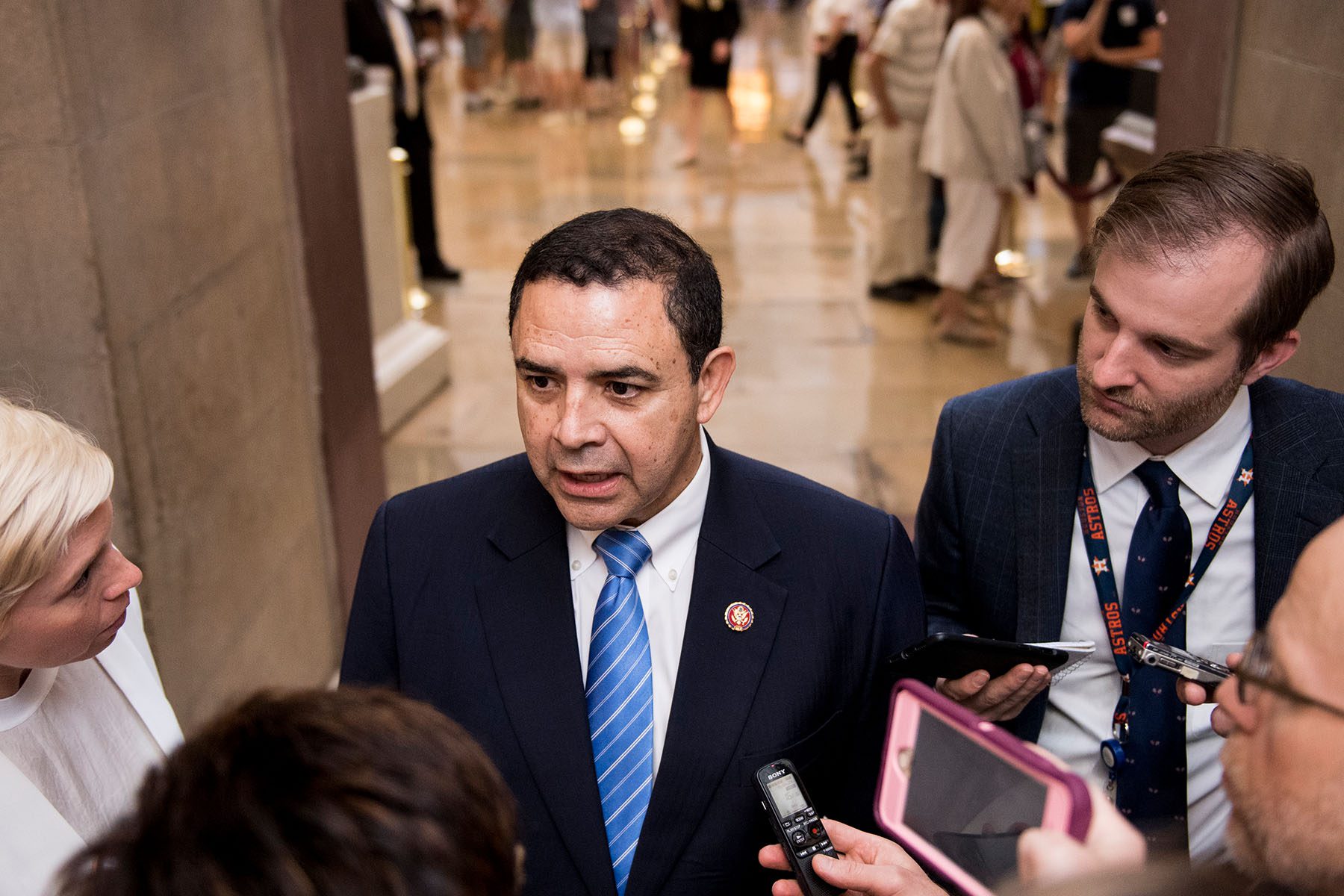 She was joined on the trail earlier this month by Rep. Alexandria Ocasio-Cortez, who was 29 years old in 2018 when she unseated then-Rep. Joe Crowley in their Queens district. Ocasio-Cortez's successful challenge from the left of the 10-term incumbent and chair of the Democratic Caucus surprised many — and inspired others.
Both Cisneros and Ocasio-Cortez were recruited by Justice Democrats, a group formed by alumni of Sen. Bernie Sanders' 2016 presidential primary campaign to support left-leaning candidates who eschew corporate funding. Justice Democrats' spokesperson, Waleed Shahid, said in districts where they think there's an opportunity, the group asks people in the community to nominate potential candidates. In Cisneros' case, Justice Democrats took out an ad in Laredo's newspaper in March 2019, and she was nominated by her former high school teacher. She stood out due to her background as a human rights lawyer and her desire to bring a "public defender immigration model to South Texas," Shahid said.
"She did not want to run and wasn't a 'yes' when we first approached her about it. That's very common. I think [Ocasio-Cortez] was asked seven times before she said yes. It's more common with women candidates and candidates from a working-class background. [Cisneros] told us that she prayed about it, talked to her family and decided she would do it," Shahid said.
Cisneros called it a "leap of faith."
Cisneros is also in a growing cohort of women who lost their first House primaries and sought a rematch the next cycle. Rep. Cori Bush lost her 2018 primary in the St. Louis area and returned in 2020 to defeat a 10-term Democratic incumbent. Rep. Marie Newman was defeated in a 2018 primary in her Chicago-area district and likewise rebounded in 2020 to score a narrow victory. Both were also Justice Democrats-backed candidates. Cisneros cited them as inspirations.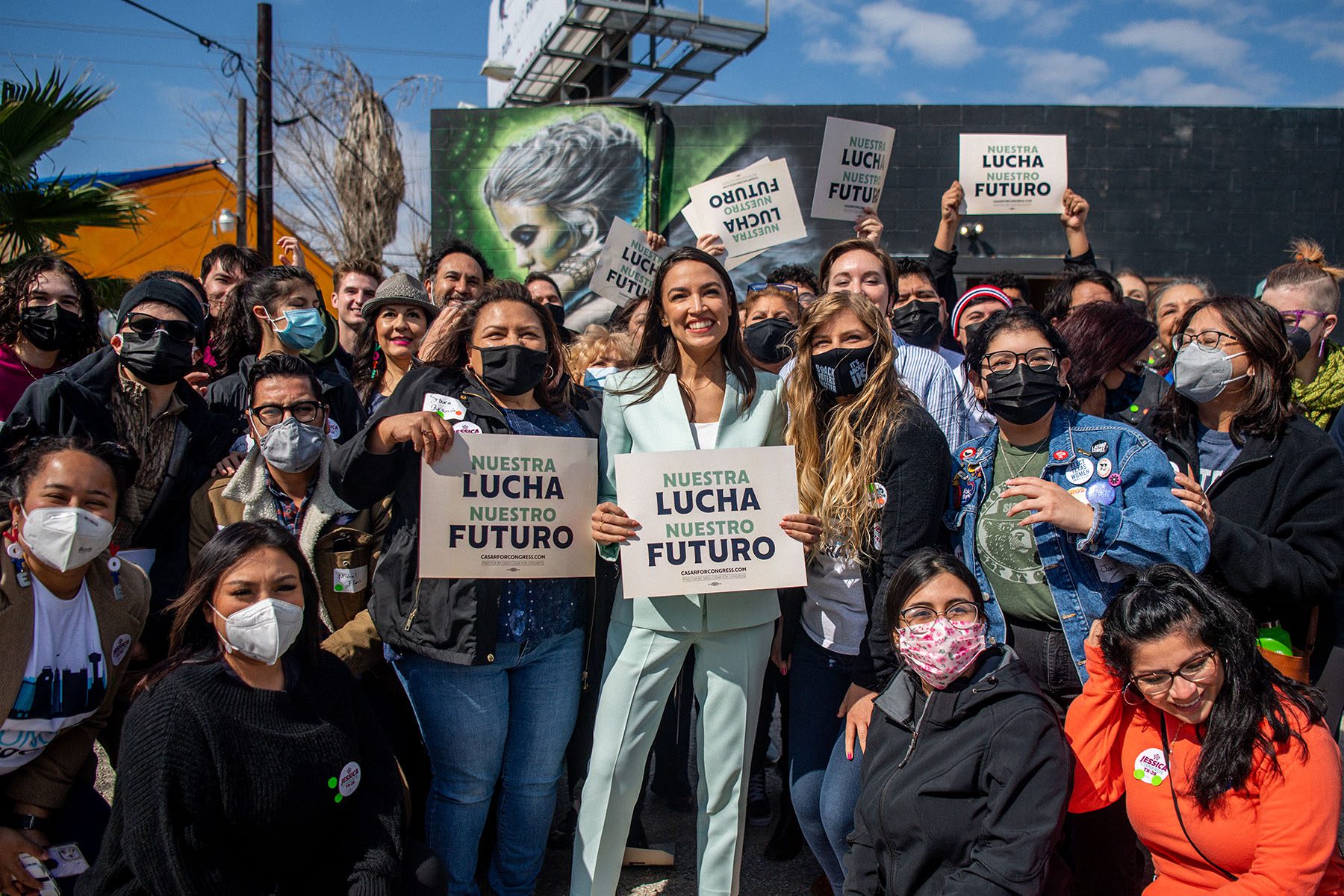 Amanda Hunter, executive director of the Barbara Lee Family Foundation (BLFF), which supports women's participation in politics, said that "historically, women who lose elections have faced a harder road back to politics than their male counterparts."
Hunter noted that until Donald Trump was elected in 2016, every president since Abraham Lincoln had a "major election loss on their résumé." Hunter said BLFF knew from experience in the field that women are often encouraged to step aside after losing an election while "men have been able to lose major races and scarcely miss a step." But the foundation's research shows that voters reject the idea that women candidates should not try again after an electoral loss.
Allison Abney, a spokesperson for Emerge America, which recruits and trains Democratic women to run for office, said that more and more women are getting into rebound races. The "surge of women who stepped up to run after the 2016 election really changed the calculus" around second attempts, she said.
Cisneros lost by fewer than 3,000 votes in the 2020 primary. This time around, she has better name recognition to take on a candidate so well known he is sometimes called the "king of Laredo." She has zeroed in on Cuellar's moderate record — in addition to opposing abortion and supporting gun rights, he was in a group of nine House Democrats who prioritized passing a physical infrastructure bill over advancing the sweeping economic package known as Build Back Better that included social spending programs.
Adding another wrinkle to the race, the FBI recently raided Cuellar's home as part of an investigation into ties between U.S. businesses and Azerbaijan. In an interview with Politico, Cuellar nevertheless predicted he would beat Cisneros by a greater margin than he did two years ago, painting her candidacy as backed by out-of-state interests.
In Texas, a primary candidate must receive more than 50 percent of the vote to avoid a runoff. Cuellar and Cisneros are joined in the Democratic primary by a third candidate, Tanya Benavides, and seven candidates are running in the Republican primary. Early voting is already underway, and the primary election is Tuesday.
Cisneros said two years ago she overcame a dose of "imposter syndrome" to launch and build a campaign infrastructure that came within striking distance. There was "no way I could turn my back on everything people put in and not give it another go, especially with the urgency that was sprung on us because of the pandemic."
"I think we asked people to almost envision the impossible: that we could take on someone like Henry Cuellar who is very entrenched," Cisneros said.
"We showed that we can punch above our weight and we almost defeated the guy, staying true to our values, and what I know is true in terms of the values of this district. It was incredible, to get so close. I think I owed it to the folks here to try it one more time, and things have been going really well for our campaign. Our momentum is definitely surging," Cisneros said.
Disclosure: The Barbara Lee Family Foundation has been a financial supporter of The 19th.