After a 99-day lockout, baseball is back with a record number of highly-placed women in the ranks. They are part of the latest wave of breakthroughs, led by the Miami Marlins' promotion of Kim Ng as the league's first woman general manager in November 2020.
"It's amazing what has happened since 2020," said Leslie Heaphy, an associate history professor at Kent State University and the co-chair of the Women in Baseball Research Committee. "The level of women represented at the organized major and minor leagues is absolutely unprecedented."
More than a dozen women were signed to major league teams' operations in the last two years, taking leading positions in the front office, on the coaching staff and in other parts of the organization. At the university level, a handful of young women made rosters, and several all-women's college club teams were formed across the country — all significant increases considering there was virtually no women's representation on college campuses before 2019, Heaphy said. The opportunities for women to participate continue to grow.
"As we expected, all the women are doing very, very well," Heaphy said. "So opportunities are opening up and continuing to open up. And with Kim Ng's hire as GM, we've cracked that — it's a small crack but it's there — at the top level of the game. These are the kinds of things that simply raise awareness, open people's eyes to what is and should be possible."
Heaphy noted a few recent moves: Rachel Balkovec was hired by the New York Yankees to head the Tampa Tarpons, making her the first woman to manage a minor league affiliate; Elizabeth Benn became the highest-ranking woman in ops in the New York Mets' history when she was named director of major league operations; Katie Krall joined Red Sox Double-A Portland as a player development coach.
But between November 2019 and January 2022, a flurry of women have been appointed by major league teams in nearly every area of the sport, breaking down long-held barriers. Andrea Hayden became the first woman to become a strength and conditioning coach for a major league team. With the San Francisco Giants, Alyssa Nakken became the first woman to coach for a major league team. Heidi Watney, Lauren Gardner, Melanie Newman, Allanna Rizzo and Sarah Langs became the first all-women broadcast team to call an MLB game. Bianca Smith, hired by the Boston Red Sox, became the first Black woman to serve as a coach in a professional baseball organization.
At the start of 2021, women held 25.5 percent of team professional administration positions in the MLB, a slight increase from the year prior. Robert D. Manfred Jr., the league's commissioner, released a statement in January praising the progress and highlighting Balkovec's new role.
"Major League Baseball is committed to providing a supportive environment for women and girls to pursue our sport as players, coaches, umpires and executives," Manfred said. "We are proud of … all the women across our sport who are setting a positive example for our next generation of fans and proving, on and off the field, that baseball is a game for everyone."
Still, Heaphy said, the MLB still has a long way to go.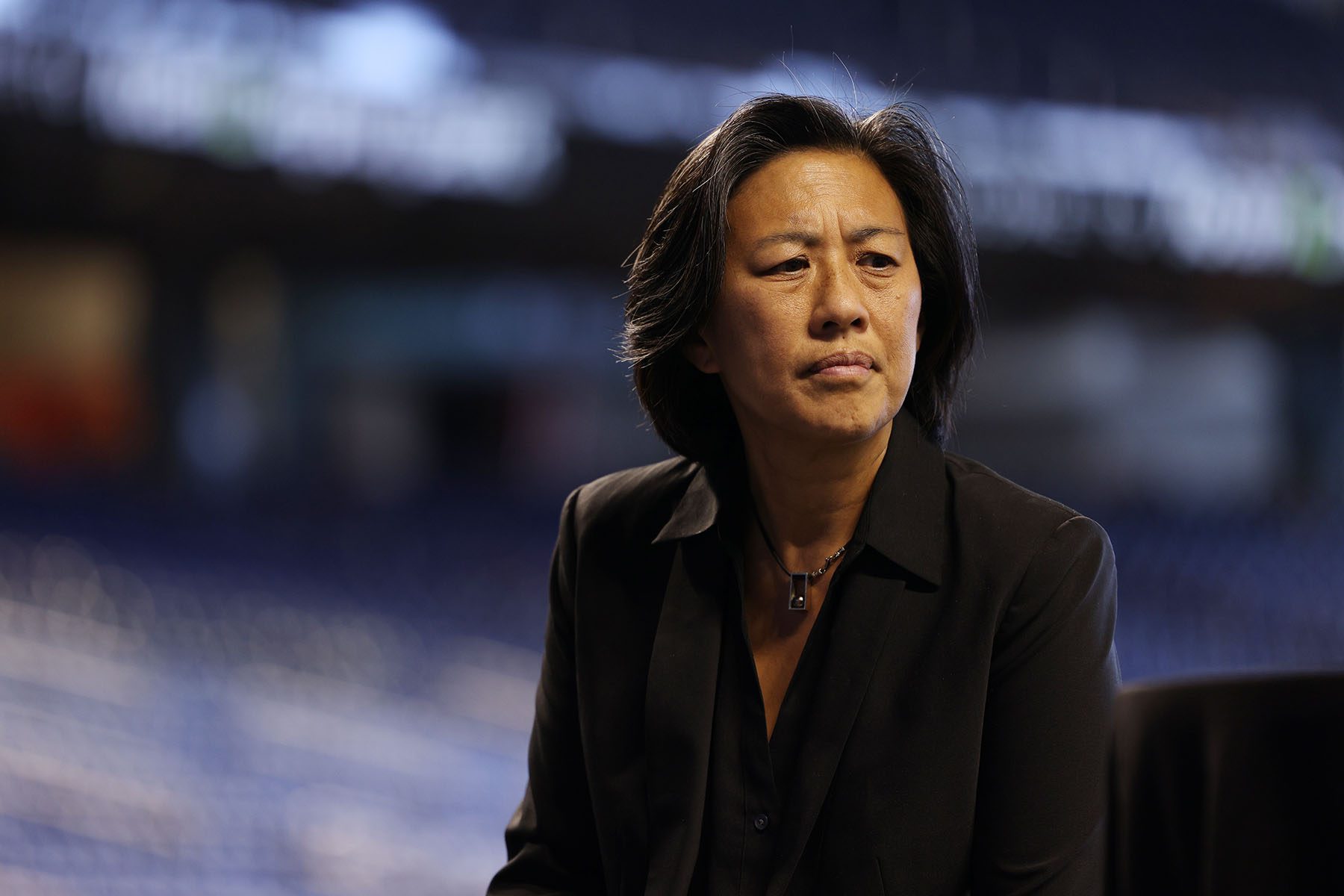 According to the Institute for Diversity and Ethics in Sport's 2021 annual report card, the MLB earned a C grade for gender equity hiring practices; about 31 percent of new hires were women. When broken down further, however, the MLB central office and team senior administration received a C-, team professional administration received a D+ and the remaining categories — including vice presidents, the C-Suite and presidents — received an F. Compared with other professional sports leagues, Heaphy said baseball is particularly behind when it comes to umpiring, refereeing and team ownership.
The MLB technically doesn't have a rule banning women from playing, but no woman has played in the league. That soon could change: Last month, Alexis "Scrappy" Hopkins was drafted by the Kentucky Wild Health Genomes — part of the Atlantic League of Professional Baseball — to be a bullpen catcher.
Still, women have and continue to face harassment and discrimination in the men-dominated industry even as some progress is made. Heaphy attributed baseball's historical lack of gender representation to the game's origin.
"The idea that women would be participating in something that represents so much of that manly tradition has been hard and made change difficult," Heaphy said, adding that the emergence of softball in the 1890s and its modern perception as being an "alternative for women" has become another common argument used by opponents to keep women out of baseball. The only exception was during World War II and the following years when women played in the All-American Girls Professional Baseball League while many able-bodied men joined the armed forces.
But that culture appears to be shifting, due to efforts from both within and outside the organization.
"I don't think people realize just how important these changes have been and how significant they are," Heaphy said. "Because one or two [women in MLB leadership] are easy to overlook, pretend it's an anomaly, see them as an exception. But when you have 12, 13, 14 or 15 and the numbers start to grow, it does begin to change attitudes and culture."
When asked if she anticipated widespread change in the industry, Heaphy was wary and pointed to the WNBA as the standard bearer for women in professional sports. The WNBA's success, Heaphy said, is in large part a result of the NBA's support — support that she worries MLB is not yet ready to provide.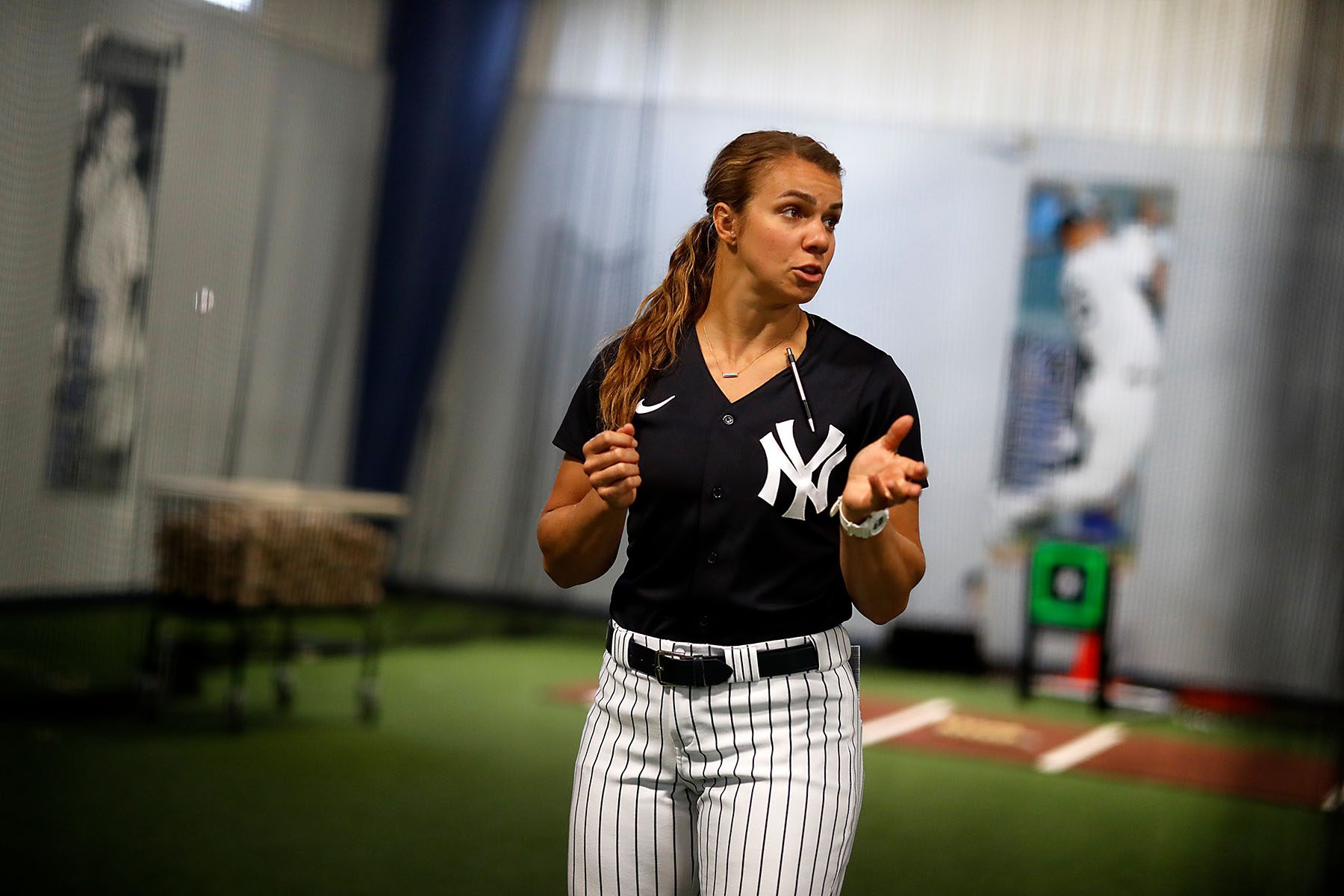 "So much of it is dependent on monetary support and finding the right people to put up the necessary funds to make something like that happen," Heaphy said. "And that comes to being able to pay the players, but more importantly, creating the franchises. So much of it is also dependent then on marketing and the dollars being spent on sponsorships and being able to convince people that they're going to get a return on their investments."
Still, there is hope. Ng, who will begin her second season as GM of the Marlins Thursday, said she had been ready to take her position for years in a March 2021 interview with MLB Network. And the industry and society are also ready for more, she added.
"It's really not about me," Ng said, noting the heavy responsibility she feels to mentor and advocate for other women in the industry. "It's about what has been accomplished for women. Confidence and desire and experience has been rewarded in the right way. Again, it's not about me but the path that has been paved and is going to continue being paved for other women behind me."