*Correction appended.
In 2016, Alysia Montaño was thinking about having her second child. She was also thinking about competing in the upcoming 2020 Tokyo Olympics.
Montaño — by then already an Olympic athlete and world champion in track and field — had competed while 34 weeks pregnant with her first child in 2014. As long as she felt healthy and strong, Montaño believed she could do anything. Because she, like other athletes, relies heavily on sponsors for financial support, she approached one of her sponsors about a training plan that would allow her to have a baby, then compete in the Tokyo Olympics, while the brand (which she declined to name) backed her.
"It was crickets," Montaño recalled. "I could feel a ball in my throat. I just wanted to cry."
Montaño said representatives for the company did not renew her contract.
Now, the 35-year-old Montaño is part of an effort to push for more widespread changes in how the sports industry treats athletes' rights around parenthood. Her goal, she said, is to help guarantee other athletes will not be penalized for having both a career and a family.
"We need to really make sure that these are not battles that women or mothers are fighting alone," Montaño said. "These are best rectified if we can put them in writing — in policy where it's known that, 'Hey, we don't have to fight for this. These are our rights.'"
&Mother, the nonprofit co-founded by Montaño in 2020, and Oiselle, a women's apparel company, this week are publicly sharing model contract language ensuring that athletes have benefits during pregnancy, postpartum recovery and parental leave. The language, which they helped draft, can be used by any athlete, brand or sports agent during future contract negotiations.
Molly Dickens, co-founder and executive director of &Mother, said the nonprofit and Oiselle want other brands to sign onto the project. More brands have jumped into the space of supporting athlete parents in recent years, including Altra, Athleta, Burton, Cadenshae, HOKA One One and Salomon.
"This is us putting something into the world because it's a resource to build on, but we're not the only ones who are thinking and benefiting from doing this work," Dickens said.
In elite sports, most governing bodies are not responsible for an athlete's salary. Though there is prize money from competition, many athletes rely on brand sponsorships to help pay the bills, which can lead to them being treated like independent contractors.
Sponsorships are based on individualized contracts that traditionally have not acknowledged athletes who become parents, said Cynthia Calvert, an attorney who has represented plaintiffs in pregnancy discrimination cases and was a part of the team that helped write the model language.
"Too often, motherhood and pregnancy are viewed as inconveniences or as aberrations," she said. "We have this concept in our minds of the 'ideal worker' who I think probably never actually existed. Someone who was based on the model of a White middle-class male in the 1950s or '60s, who had someone at home taking care of all the family responsibilities and taking care of the kids."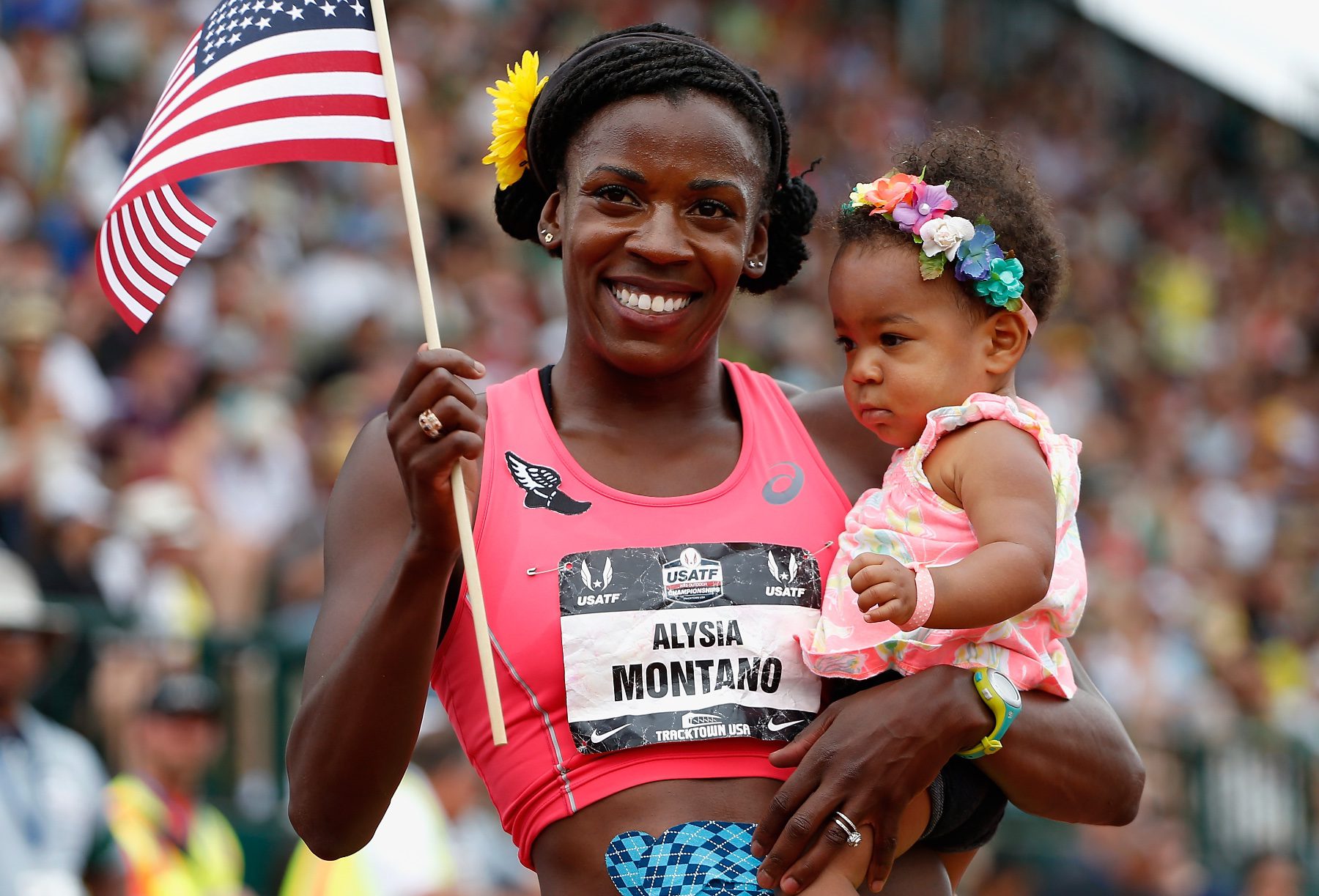 That dynamic can seem more pronounced in the world of sports, where athletes rely on their bodies to compete. As a result, women, in particular, have had to challenge outdated perceptions around their careers and family while beholden to sponsors that have broad power to renew or terminate lucrative contracts. Sally Bergesen, founder and CEO of Oiselle, said that precarity can surprise outside spectators, who might hold visions of professional athletes having six-figure salaries — which is true for only a small percentage.
"Because the Olympics are so flashy, I think people assume that pro athletes are living the lifestyle and are super well-supported and -paid, and the fact of the matter is it's just not true," she said.
Montaño's experience in 2016 informed her thinking in 2019 when she helped pen an op-ed in The New York Times calling out brands that cut pay and benefits to pregnant athletes. Other athletes, including Olympian Allyson Felix, also spoke out about their experience. The public outcry led several companies, including Nike, to announce changes to pregnancy accommodations for athletes.
Although some brands have publicly changed their approach to pregnant athletes or non-birth parents, Montaño thinks it's still too incremental. She said that, with the exception of a few athletes, it is still too common for a contract to not be renewed when someone becomes pregnant or expresses intentions to start a family.
"That's not what we want the norm to be. This is protected," she said. "Actually, this person doesn't even need to talk to you or tell you about this. … They're protected."
There is no comprehensive oversight of who's doing what. Calvert said common language in athletic sponsorship contracts implies an athlete won't be fired or have their compensation reduced for any reason. But it will often be included alongside stipulations tying an athlete's pay to competitive performance without acknowledging a pregnancy or realistic postpartum needs.
"If your timeline is that you have to be winning or doing really well by nine months postpartum, it seems like a generous leave time," Dickens said. "But if you do the math on it, you have to be training at peak by two, three months postpartum. That timeline doesn't work for everybody."
Calvert said the language she helped write — based on interviews with athletes, brands and other stakeholders — addresses such contradictions by clearly prohibiting an athlete's termination or pay cut because of pregnancy, postpartum recovery or parental leave. It suggests that brands allow waivers regarding competition performance expectations for up to 12 months after someone gives birth — and more if needed — as well as flexibility regarding in-person appearances.
"We had some things that were just obvious and absolutely non-negotiable: There won't be any discrimination because of pregnancy. And that just sounds so obvious. But discrimination … it just creeps into all the little cracks," she said.
Dickens said there can be a subtle discrimination for athletes who start making plans around pregnancy or parenthood.
"If you were to ask to insert any kind of pregnancy or postpartum clause, you'll get the side eye that you're expecting to start a family," she said. "That in and of itself might kind of put a target on you."
The suggested best practices that &Mother and Oiselle recommend include telling brands to consider tasking athletes during and after a pregnancy with promotional work separate from competition. Calvert noted an example of an athlete who recently used a sponsor's clothing on her children during an outdoor family activity. But it also includes a guarantee that athletes are not expected to do anything in the weeks before delivery and 12 weeks afterward. (The parental leave clause also contains language that applies to any gender or family structure.)
Calvert thinks some sponsors lack creativity about the longevity of an athlete's career.
"That's where I'm hoping these contract provisions will come in and fill in the gaps," she said. "Because now all of a sudden, you don't have to have that creativity. We're spoon feeding it to you."
Part of it is a culture infused with secrecy around contract negotiations. When Kimmy Fasani became a professional snowboarder, she was a teenager with no plans to become a parent. Even as she entered her 30s, she didn't fully realize her power to challenge pregnancy clauses in her sponsorship contracts that used outdated language.
"Pregnancy was always just considered an injury," she said. "And in my contracts, I was like, 'OK, well I'm not having a family.' So I didn't really think twice about what that verbiage meant."
In 2017, Fasani decided to become pregnant with her husband, professional skier Chris Benchetler. Even though she had just been recognized as one of the best snowboarders in the sport, she still worried about when to share the news with her sponsors. Fasani said fortunately, they were supportive, but she recognized that was a subjective experience.
"I didn't feel like there was a need for me to go from my best season ever to retirement just because I wanted to have a child," the now 37-year-old told The 19th.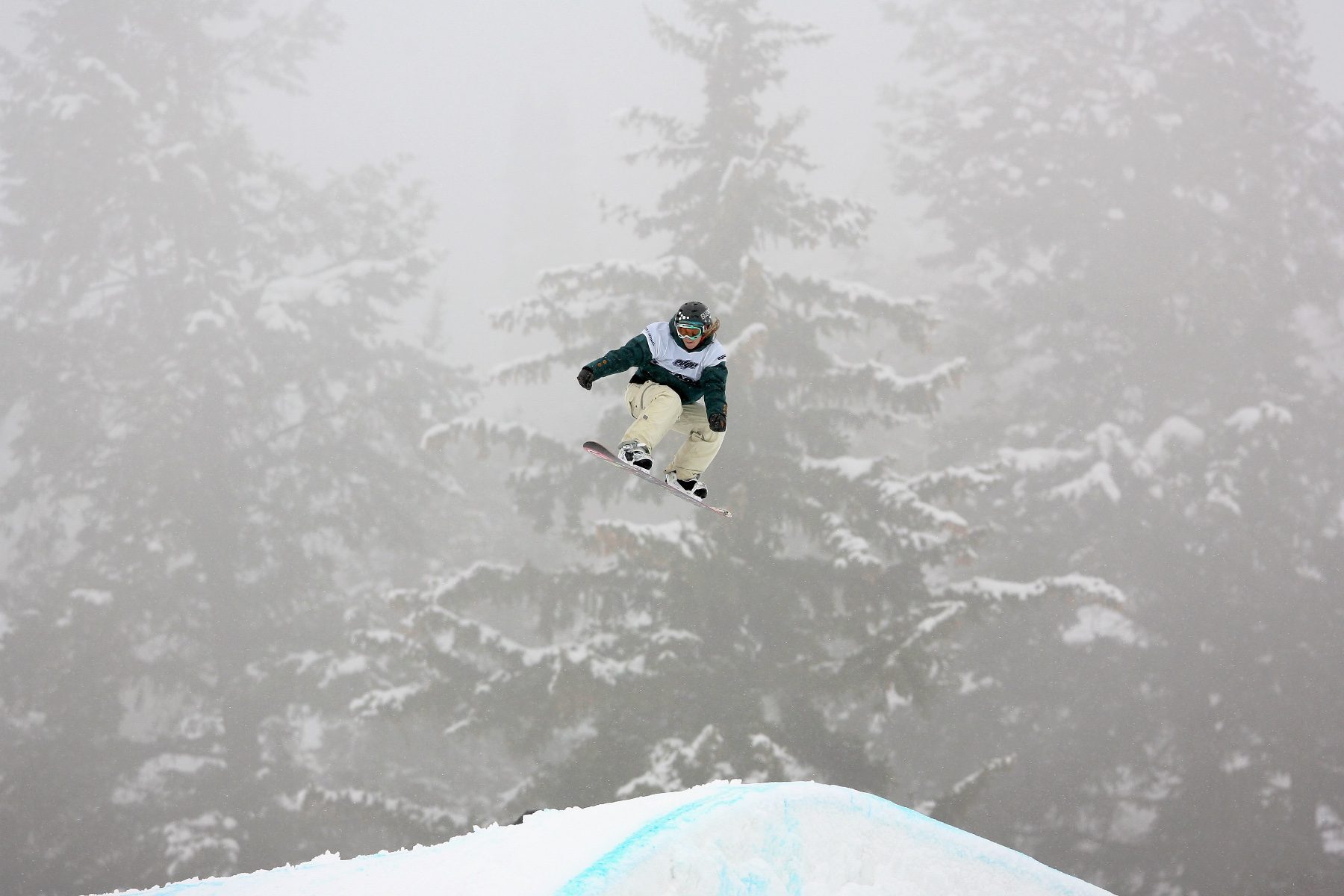 Calvert said she hopes the suggested contractual language spurs brands to go further — particularly around child care. That means child care stipends or accommodations for on-site services during competition.
"For athletes, they need to spend hours per day training, and they need to travel and they need to be able to concentrate for a long period of time at a competition," she said. "That raises the issue of child care because athletes for the most part are not rolling in money and child care is very expensive. For athletes who don't have partners, child care can be really hard to set and can fall through. It's just an incredible source of stress."
The evolving public discussion in America over pregnancy protections for athletes comes as international athletes still face overt discrimination. This year, an Italian volleyball club sued one of its players, Lara Lugli, for allegedly breaking her contract because she became pregnant. The club fired Lugli, turning litigious when she sought backpay. Lugli, who is challenging the lawsuit, later had a miscarriage.
When American beach volleyball player Lauren Fendrick competed abroad in early 2020 to try to qualify for the upcoming Olympics, she was just eight months after giving birth to her daughter. She said the international rules at the time gave her fewer competition points for being postpartum.
"For me, making the Olympics and being a mom were two different paths," she said.
The pandemic sidelined Fendrick's plans to try to qualify for the Olympics. She gave birth to a second child earlier this year. Now nearly 40, she said she feels strong and is considering a return to competition. Fair policies around pregnancy have to be more front and center so the path is easier for those who come after her, she said.
"This is a movement that I believe in," she said. "This is language that I believe should be standard."
In America, Congress is debating whether to provide paid family leave benefits to all workers, a policy debate that appears uncertain. Montaño, who recently gave birth to a third child, said talking about the realities of professional athletes is a way to shine a light on what's missing in other areas of the workforce.
"We can't allow families to thrive if we drop them when they actually need the support," she said. "How do we expect for them to come back intact? They're not going to be able to. Essentially, you're just pushing them out of their careers."
Correction: An earlier version of this article called &Mother an athletic brand. It is a nonprofit.