When Jasmine Crockett reflects on the night in late May when Texas Democrats walked off the House floor to stop Republican legislators from passing a restrictive voting bill, she thinks about fellow female lawmakers who proved pivotal in making it a reality.
Their actions were big and small. Some Democratic women lawmakers gradually spotlighted concerns with the bill in the lead-up to the vote. Other women initiated informal and formal conversations with colleagues about their willingness to break the quorum — the minimum number of people needed to legally vote on something. And they sent a flurry of text messages — a mix of instructions and downright pleas — for their caucus members to get off the chamber floor when it came time.
Among those who urged coordinated solidarity was Crockett, a state representative in her first year in office. And while she is quick to note that some Democratic men in the House also played instrumental roles in organizing the walkout, she made it clear: "It really was women leading. I mean, we were the ones that really kind of dug our heels in and said, 'Let's do this.'"
The result was nearly all of the 67 Texas House Democrats walking off the chamber floor before midnight on May 30, denying Republicans the needed votes to pass any more legislation on the final day of the regular legislative session.
While the battle on this particular issue is not over, the walkout quickly became one of the most dramatic, public and consequential responses to voting restrictions in a statehouse this year.
"Women were instrumental in organizing the walkout, in terms of being, for lack of a better term, lieutenants on the battleground organizing people to break quorum," said Gina Hinojosa, a Democratic state representative who was elected in 2016 and was among the organizers.
A delegation of Texas Democratic lawmakers later met in the Roosevelt Room of the White House with Vice President Kamala Harris, who called the group "courageous leaders." Hinojosa was seated to the vice president's left, and Rep. Senfronia Thompson, the longest-serving Black member of the Texas Legislature and another key organizer, was to the right. Across from Harris was Rep. Jessica Gonzalez, the top ranking Democrat on an elections committee who tried to amend the GOP-backed voting bill.
The episode highlights Democratic women's growing political power within their caucus despite being in a statehouse where they're in the minority party with limited opportunities for formal leadership roles.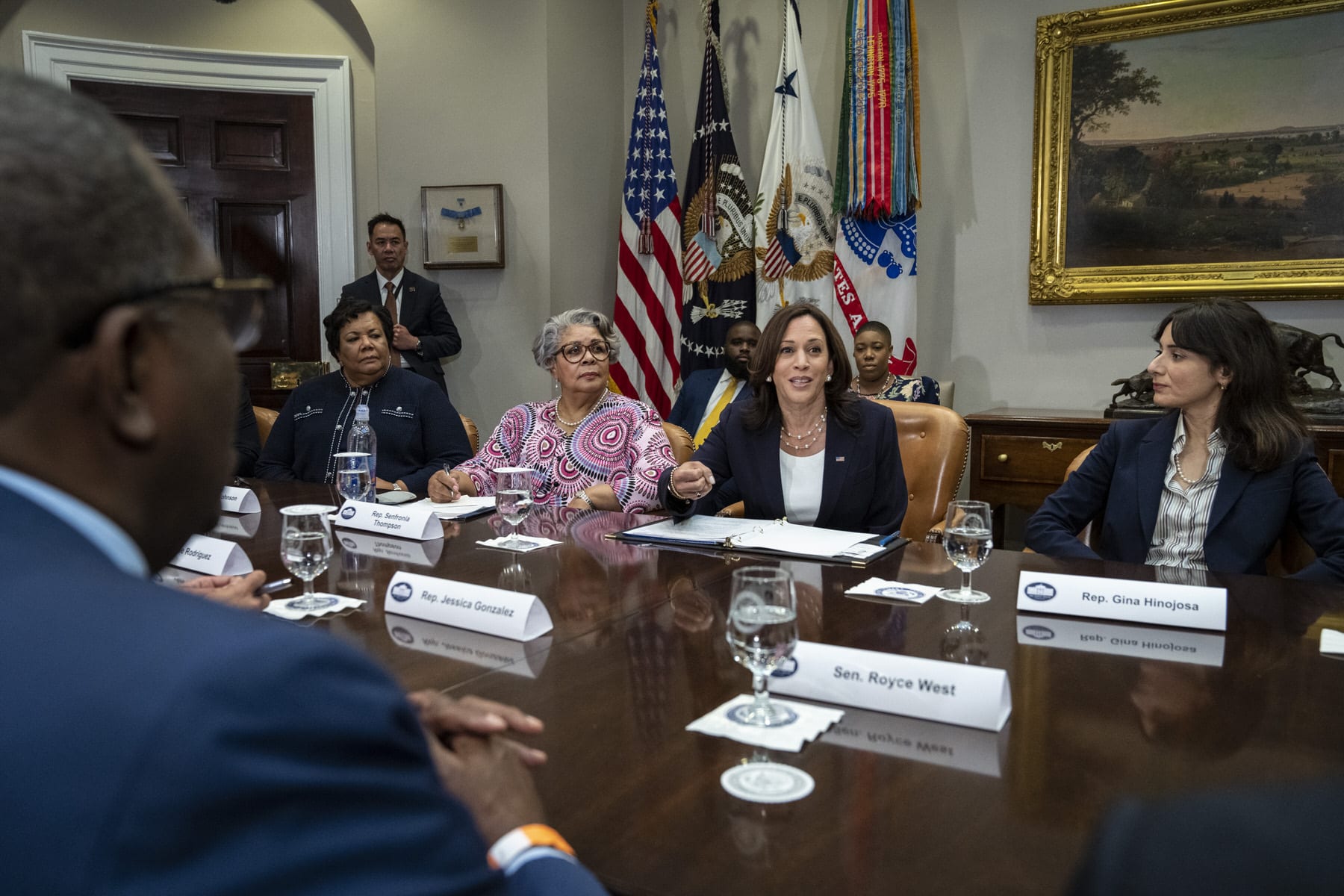 Royce Brooks is executive director of Annie's List, an organization that helps Texas Democratic women run for office. She said the women lawmakers behind the walkout work in a legislature with a known culture of sexual harassment and misconduct, as reported in several publications including the Austin American-Statesman.
"In order to be a woman legislator in the Texas Legislature, you have to be especially tough, especially driven, and especially inured to various sorts of attacks. And those are all things that make an extraordinary leader," Brooks said. "And that's why you saw these women out front and just unapologetic in their advocacy, and in their pursuit of the right thing with respect to voting rights."
Hinojosa put it another way: "Whether or not we receive recognition or are appointed to specific formal positions, women are hustling, doing the work and a powerful force in the House."
Texas Republicans criticized the walkout in the initial aftermath, including Republican Gov. Greg Abbott. He later vetoed funding for the legislature in response. Texas Democrats have filed a lawsuit, claiming the action was unconstitutional.
Crockett said the walkout, as shocking as it might have seemed, was the culmination of a legislative session where Republicans introduced bills that restricted abortion access, expanded access to guns without licensure and attempted to ban trans youth from playing in sports that aligned with their gender identity. Democrats' lack of power to do anything about some of those bills — in many cases, lawmakers pass legislation according to which party has majority control, a more fickle dynamic in highly polarized statehouses — had frustrated her. For nearly two decades, Republicans have controlled both chambers of the Texas Legislature and the governor's office. Although Democrats flipped several House seats in 2018, their attempt at winning several more in 2020 failed.
As the voting bill picked up steam in the last weeks of the legislative session, Crockett said Republicans mostly kept Democrats in the dark about the final draft of the bill. She said around this time, the legislature's Black caucus and an informal group of women lawmakers helped strategize about the possibility of a walkout.
Crockett said she watched in frustration as Democrats attempted in vain to make some kind of deal to remove what she viewed as bad parts of the bill, but with no guarantee that other provisions wouldn't be added. She said the history of voter suppression on Black people weighed on her as she urged her colleagues privately to walk, even without the numbers on their side.
"Walk like they're going to pass the bill," Crockett recalled telling her colleagues. "You don't need to sit there and watch them do it."
Hinojosa had reached a similar conclusion: "I came to the realization, and really with help from constituents, that if I can kill this bill now, we live to fight another day."
Crockett said in the final hours of the session, as Democratic lawmakers quietly began to leave, a procedural vote in the chamber signaled there were still a little over 100 lawmakers physically in the House — a figure that meant a quorum had still not been broken. She said angst started to creep in at the thought that they would fail by just a few votes. She frantically texted more people, encouraging them to get off the floor and to take their keys that they use to record their floor votes.
"I felt like we needed to do this. Not only for democracy, but we needed to push back. We needed people to see the fight. We needed not to sit there and complain and say, 'Well yeah, they did this, that bill, and we voted against it.' That wasn't good enough," said Crockett. "We had an alternative. And they went so extreme on this bill. I just thought, we've got to have the goods, and we've got to believe that we're on the right side of history, we've got to walk."
Hinojosa left the House floor and joined colleagues in a senior lawmaker's office to watch a video feed of the chamber. She also texted fellow women lawmakers in her caucus.
"I just have this image in my head, seared into my memory, of a bunch of women members burning up their phones, texting other members to get off the floor and come join us," she said.
After the walkout, some Texas Democrats met at a nearby Black-led church to seek refuge in case law enforcement officers came after them. Hinojosa said the location was symbolic, since one version of the bill limited Sunday voting hours, potentially impacting "Souls to the Polls" get-out-the-vote drives that are popular with Black voters.
The Texas voting bill — which included proposals to cut polling hours and reduce access to mail-in voting — is similar to legislation that has been introduced in other Republican-led statehouses this year. The Brennan Center for Justice estimates that between January and mid-May of this year, lawmakers in at least 14 states have enacted 22 laws that the group describes as restricting access to the vote.
Some Texas Republicans have indicated that some last-minute provisions of their voting bill were added in error, including the proposal to severely limit Sunday voting hours.
"I think there was a — you know, call it a mistake if you want to. What should have been 11 was actually printed up as 1," Republican Rep. Travis Clardy told NPR about a detail in the text that would have prevented Sunday voting until 1 p.m.
Hinojosa said Republicans' walkback on that provision and a provision that would have made it easier for Texas officials to overturn an election reflect the rushed nature of the bill. She said it drives home that House Democrats took the right action in slowing down the process.
Abbott has defended the bill, in part by telling the Dallas Morning News that it could help address "flaws" in the state's election system and the possibility of "cheating" in mail-in voting. There is no proof of widespread voter fraud in Texas, and federal elections officials under former President Donald Trump called the 2020 election "the most secure in American history."
Brooks, with Annie's List, said that restricting voting access has hidden disproportionate effects on women. A reduction in voting hours hurts low-income mothers who juggle inconsistent working hours with child care. And stringent identification restrictions can impact women who have changed their names because of a marriage or a divorce.
"There's no sort of particular proposal that's an 'anti-women' one, but it all just kind of tends to add up to fall more heavily on women voters," she said.
What happens next is unclear. Abbott has vowed to hold a special session where Republicans can pass a new voting bill. Abbott recently announced a July special session but hasn't released his complete agenda.
As of mid-June, Crockett said she hadn't fully checked in with her caucus about how they would respond to a special session agenda that ends up including a new version of the voting bill or other controversial legislation.
"I'm willing to go as far as I have to go, because we've been living in a country where Republicans have ruled with a heavy hand," she said. "They have ruled in a very obstructionist way and not to do good but to do bad. And so I think that if they can rule in an obstructionist way to do bad, then we can be obstructionist if it means that we're going to do good."
Crockett, 40, and Hinojosa, 47, have also tried to keep momentum around action on state and federal elections. They were among the Texas delegation who traveled to Washington, D.C., recently to meet with members of Congress and their staff to urge passage of federal voting protections, including the For the People Act, a sweeping proposal of reforms around elections and campaign finance law. Republicans in the U.S. Senate — where Democrats have a slim majority but not enough to pass most pieces of legislation — blocked moving forward to even debate the bill.
Hinojosa hasn't given up. She traveled recently to West Virginia to work with voting rights advocates to pressure one of the state's U.S. senators, Democrat Joe Manchin, to support both the For the People Act and the John Lewis Voting Rights Advancement Act. She said it's all connected, and her hope is that public pressure will change the tide for Texas Democrats and Democrats elsewhere. On Friday, the Department of Justice announced it would sue the state of Georgia over its voting restrictions, which includes limiting absentee voting.
"This is the voting rights fight of our generation," she said. "We need to meet the moment."