Jamie Bruesehoff grew up in the Lutheran church. Her husband has been a pastor for 20 years. As their daughter, Rebekah, explored her gender expression and grew into her identity as a transgender girl, they made it a point to tell her that God doesn't make mistakes — she is who she is meant to be.
Rebekah, now 16, has sometimes struggled with her Christian faith, or how to show it, because of others' views. But alongside her parents, she has learned how to nurture her spirit in a community where acceptance is not always guaranteed.
"Transitioning has allowed me to fully explore my faith," Rebekah told The 19th. "After I transitioned, I found that I was able to find my place in my faith community, find where I belonged. … I got to explore my connection with God and also the people around me in a way that I hadn't otherwise."
The Bruesehoffs belong to the Evangelical Lutheran Church in America (ELCA), a mainline Protestant denomination, and attend church in New Jersey. In her new book, "Raising Kids Beyond the Binary," Jamie Bruesehoff offers a guide for religious families who want to support the trans, gender diverse and gender-nonconforming children in their lives.
Although the book is explicitly a roadmap for parents, it includes resources for pastors, educators, and anyone who might know a trans child in their life. Supporting and raising trans youth in a hostile world, she writes, takes a village.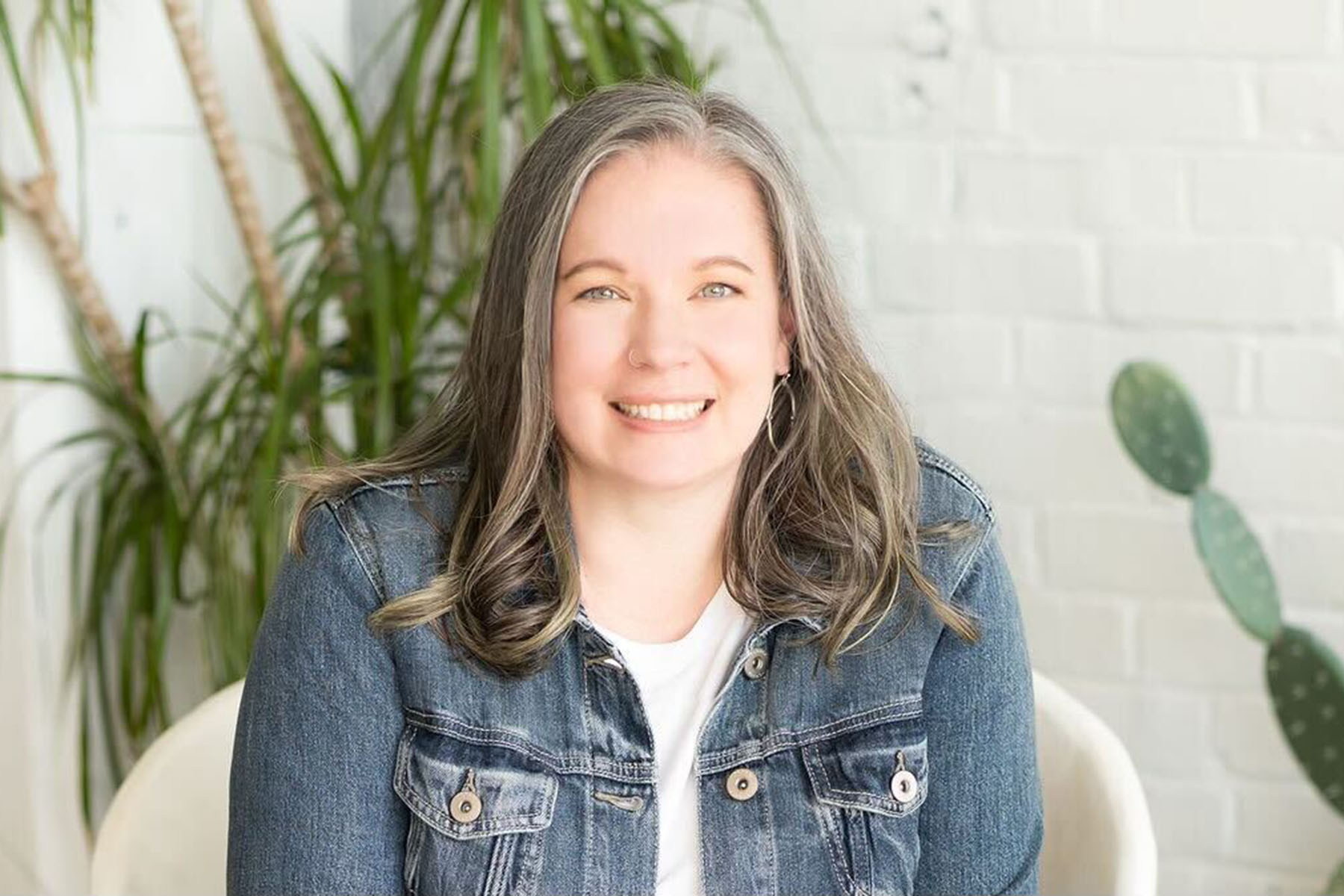 Bruesehoff didn't have this kind of roadmap while raising Rebekah. They know the tumultuous emotions and steep learning curve that comes with raising a transgender child in a world increasingly hostile to their existence — one where that hostility is often most fiercely proclaimed by those using religion as a cover for hatred.
For change to happen, followers of all religions, especially Christians, need to take the lead, Bruesehoff said. As they write in their book, the Bible and Christian faith are being used to marginalize trans youth. That means religious supporters of trans people are essential to stopping harm.
"The Christian right is organizing actively to harm trans and nonbinary and all LGBTQ people," Bruesehoff said. "And yet, we know that there are actually masses of people who are Christians that support LGBTQ people. But the problem is, they've always done this really quietly … and that silence is complicity in this situation."
Many religious organizations in the country have endorsed marriage equality and have taken an active role in advocating for LGBTQ+ rights. Within Christianity, some churches have joined Pride parades and some faith groups have protested anti-LGBTQ+ laws.
However, LGBTQ+ people across the world have long been traumatized, persecuted or harmed by their church or by others' religion. In the United States, several of the country's largest denominations are still against legal protections for marriage equality, though Americans' support for gay marriage has never been higher.
Conservative Christian groups that focused on overturning Roe v. Wade have turned their resources towards restricting transgender rights — singling out a specific group among the LGBTQ+ community. The Alliance Defending Freedom is one of the foremost organizations invested in this work. The Christian legal group has invested significant time and money into legal fights that would roll back LGBTQ+ rights, has taken up lawsuits that target transgender people, and contributed to policy work for anti-trans legislation.
In Bruesehoff's view, "people of faith do the most egregious harm to transgender and nonbinary people, personally and politically," she writes in her book.
As more progressive and mainline Protestant denominations are moving towards inclusivity, Bruesehoff has seen a difference in her own Lutheran faith — although even the more liberal denominations like the ELCA still have a lot of growth to do, they said. Bruesehoff wants parents to know that, though they may have to choose between standing with their transgender child or standing with their church, they do not have to choose between their child and their faith.
"This isn't about their faith, about the God who created them, about Jesus. There is nothing in any of that is contradictory to loving and supporting your transgender child," she said.
If parents can understand that they don't have to leave behind everything they know about their faith, it can be easier to begin supporting their transgender or gender-nonconforming child, Bruesehoff said. She knows from personal experience that the first steps can leave parents with painful choices. The book's introduction opens with that memory, which still makes Jamie nauseous.
While Rebekah was in the early stages of exploring her identity and her gender expression — before she knew she was a girl or changed her pronouns — she wanted to wear a dress on Easter Sunday. The church was going to be filled with strangers. Bruesehoff knew she couldn't guarantee her child's safety, that it would be harder to insulate her from any hurtful looks and words, especially from people she didn't know.
So she said no. It was the first time that her child had wanted to wear a dress outside of the house — it was the next step of their daughter showing her true self to them.
Raising a transgender child in this country often means running out ahead of them to clear obstacles in their path, or trying to soften the many blows that the world will try to land. It means not putting them in situations where parents aren't equipped to protect them, Bruesehoff said. On that Easter Sunday, she wasn't equipped to protect Rebekah.
"I just didn't know how we could keep her safe in that moment without laying some groundwork," she said. "I can't say that I would do it differently."
With the resources that she's gathered in her book, Bruesehoff hopes that more parents who follow a religion will be newly equipped to fight for their transgender children. To do that, parents have to know how to navigate their own emotions without burdening their child, all while advocating for their child in church, in school and beyond. They'll also need to navigate coming out to family and friends, affirming their child's pronouns — even if they change — and insulating their child from the worst in others.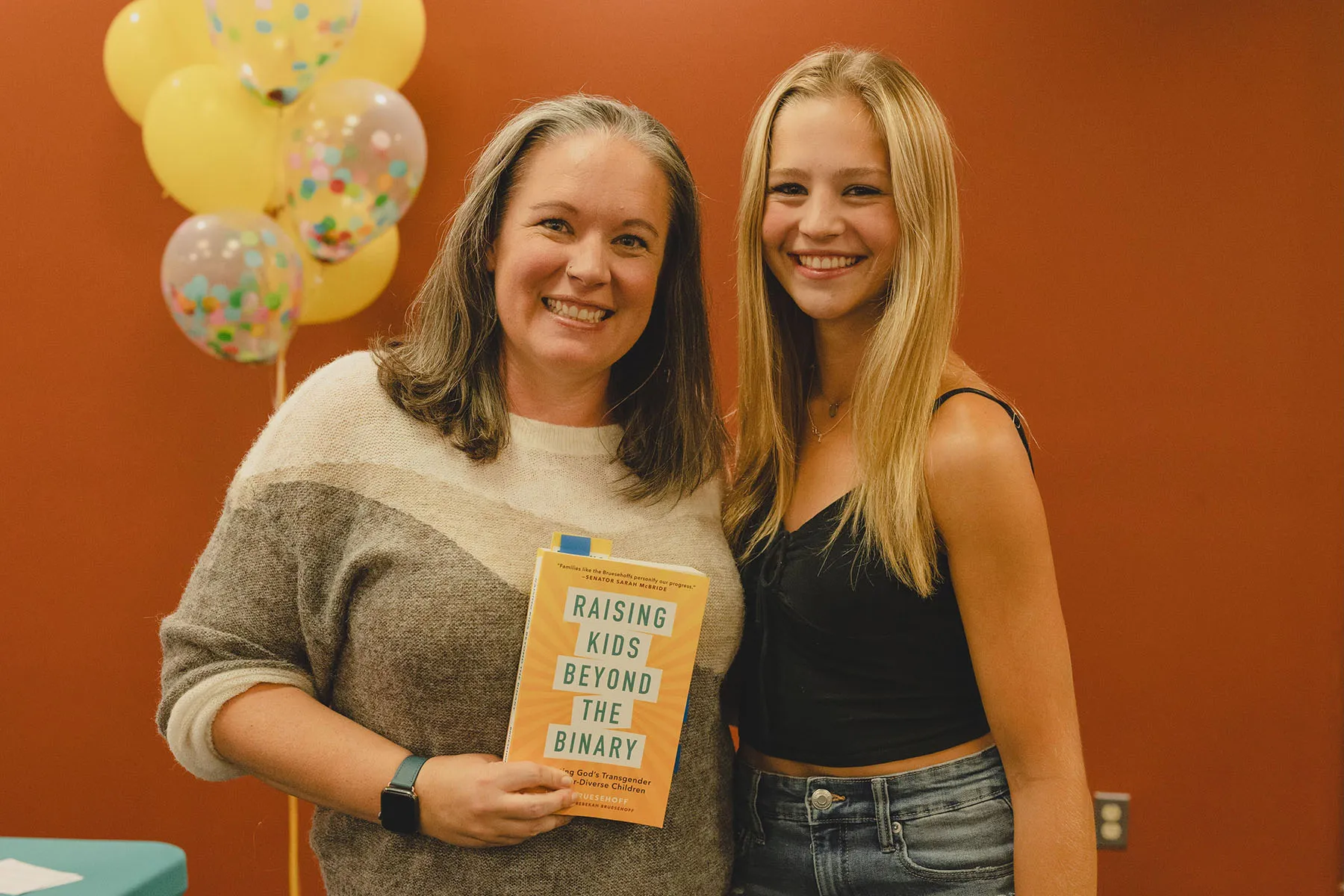 At the core of the resources that Bruesehoff shares is a reminder: It's OK for parents to feel overwhelmed and scared. Those feelings need to be processed in a mindful way. As support is given to a child who's exploring their gender identity or transitioning, adults should lean on their own systems of support — not ask the child to help them work through their feelings.
"You don't have to have it all figured out right now," they remind parents in the book.
Bruesehoff and her husband, a Lutheran pastor, ultimately took a measured approach to sharing Rebekah's gender identity at church. Once she was ready to share, they dispersed information slowly, to help people adjust, ask questions and have their initial reactions, all outside of Rebekah's vicinity.
"Our rules were, you don't have to agree, you don't have to endorse this. But you have to use her name and pronouns. You can have all the questions you want, but you can't ask Rebekah those questions, and you can't ask those questions in front of Rebekah," she said.
They both knew that the vast majority of their church community had never knowingly met a trans or nonbinary person. That meant they were willing to educate the community without making it Rebekah's responsibility to provide that education.
Churches cannot silently support LGBTQ+ people, or politely refuse to talk about them — in order to avoid harming the LGBTQ+ members within their congregation, churches need to loudly include LGBTQ+ people, Bruesehoff writes. That means including gender diverse people in sermons and prayers, diversifying bookshelves with LGBTQ+-affirming theology, making language more inclusive and creating pathways for representation in church leadership.
Criticism and pushback are inevitable for churches that create safe spaces for transgender people — but if those churches realize that including and affirming transgender people is directly connected to the gospel, then they shouldn't cave to outside pressure, Bruesehoff writes.
"If we know that God created all of us in God's image, then we know that trans people exist and queer people exist and nonbinary people exist — and so God is all of those things too," she said.
Hearing from those who don't support transgender people, or from other trans people who believe that Christians hate LGBTQ+ people, used to make Rebekah feel like she needed to hide parts of herself, parts of her faith, she said. But she's seen what happens when she speaks up about who she is and what she believes, people tell her that she's made them feel less alone.
Bruesehoff wants trans people who have left their church or their faith behind after such experiences to know that they don't owe anything to the institution that harmed them.
"You don't owe the church anything and you are deserving, as a human being, regardless of what you believe to be true about God or faith or anything else," they said.