Your trusted source for contextualizing abortion and politics news. Have questions about what politicians are saying about abortion? The 19th wants to hear from you.
Republican presidential candidates championing abortion restrictions — and contending with voter discontent over the end of federal abortion rights — are rebuffing criticism of their positions by arguing Democrats support abortions "up until the moment of birth."
Within the Republican Party, the debate isn't generally about the later stages of pregnancy but rather which restrictions in the first or second trimester they support and whether they would back national restrictions on the procedure. Honing in on abortions in the latter stages of pregnancy shifts the focus to procedures that are either extremely rare or that don't happen at all — but that are generally less popular with the American public. The vast majority of abortions take place far earlier in pregnancy than the Republican talking point might imply.
Public opinion polling suggests that while 61 percent of Americans oppose the end of federal abortion rights, just one-fifth believe there should be no restrictions on pregnancy in the last three months.
While many Democrats say abortion decisions should be left entirely to patients and their doctors, there isn't broad consensus among Democratic leaders up to the highest ranks on whether there is a place for restrictions after fetal viability.
The 19th spoke to abortion policy experts and public opinion researchers to break down what we know about the reality of abortions in the last three months of pregnancy and misinformation about "post-birth abortions," which is a crime across the country.
When do most people actually get abortions?
Even before Roe v. Wade was overturned, allowing states to ban abortion if they chose, the vast majority of abortions occurred well before fetal viability, the period at which a fetus can live independently outside the womb, typically around 23 to 25 weeks. Under Roe, states could ban or restrict abortion after fetal viability, but some still allowed for the procedure past that point in pregnancy.
Data from the federal Centers for Disease Control and Prevention (CDC) suggests that in 2020, the most recent year for which information is available, 98.9 percent of abortions took place by the end of the 20th week of pregnancy. About 93.1 percent took place before the end of the 13th week of pregnancy, and 80 percent occurred by the end of week nine, well within the first trimester.
It's likely that the end of Roe has meant that some abortions have occurred later in pregnancy than they would have previously. State laws restricting the procedure mean some people travel to another state. Many clinics have longer wait times for appointments, and some patients must secure child care, time off from work and money to pay for a trip. Doctors have reported seeing more patients in the second trimester than they previously would have.
Abortion providers in states such as New Mexico and Kansas, which have seen large increases in out-of-state patients over the past year, have reported more patients seeking abortions later in the pregnancy. National analyses reflecting the impact of Dobbs v. Jackson Women's Health Organization, which overturned Roe, won't be available for years, though state data in Kansas suggests a larger share of people in 2022 got abortions after nine weeks than did a year prior.
Still, experts say, the majority of abortions are likely still happening in the first trimester of pregnancy.
What is a late-term abortion?
Though the term has been adopted by the anti-abortion movement, it's one medical providers and reproductive health researchers reject. Many call the label misleading or imprecise.
It's different than a pregnancy described by health care professionals as "late term," which typically means the person remains pregnant past 40 weeks of pregnancy. That is well after the point at which any clinic in the country provides abortions.
"To talk about late-term abortion — it doesn't have any scientific meaning," said Katherine Kraschel, an assistant professor of law and health at Northeastern University.
When abortion opponents use the term "late-term" abortion, the meaning often varies. At one point, the label was applied to abortions performed at 24 weeks pregnancy, which is near the point of fetal viability, said Kelly Baden, vice president for public policy at the Guttmacher Institute, which tracks reproductive health policy. But over the years, anti-abortion advocates have used "late-term" to describe abortions at 22 weeks, 20 weeks and earlier.
Some abortion opponents have tried to argue that abortion at any point in the second trimester — roughly weeks 14 through 26 of pregnancy — is "late-term," even though most of that is well before the point of fetal viability.
"The idea of even late-term abortion — that's not a medical term. It never has been," said Usha Ranji, associate director for women's health policy at KFF, a health policy research organization. "It's not medically accurate and can be misleading."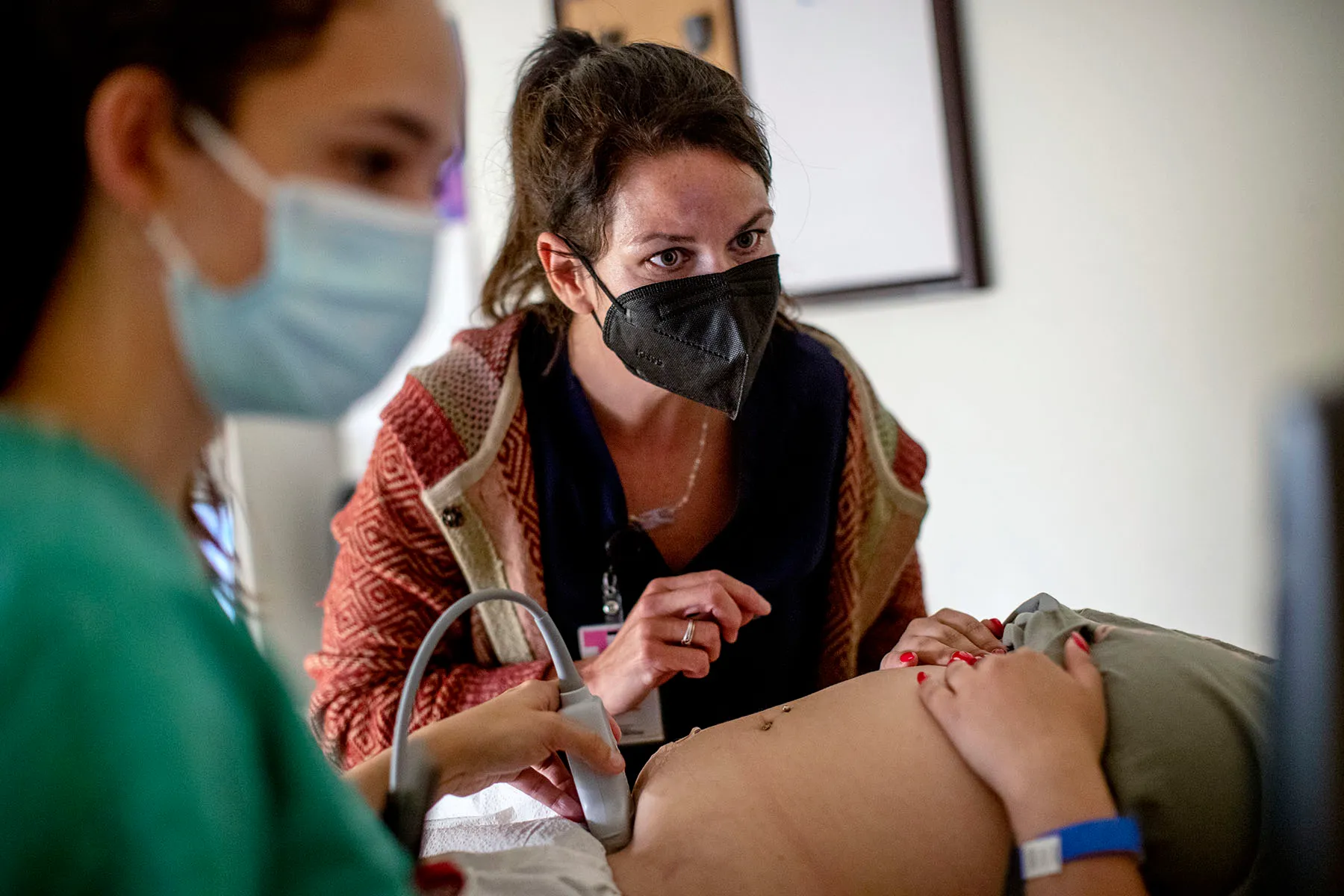 Do people get abortions in the third trimester?
Abortions in the third trimester, or after about 26 weeks of pregnancy, certainly happen, but they are incredibly rare. The CDC data from 2020 — which had been relatively consistent for years pre-Dobbs — suggested that very few abortions happen in the third trimester. The federal data shows that 0.9 percent of abortions occur at 21 weeks or later, which translated to 4,382 procedures in 2020. The subset of abortions in the third trimester is even smaller than that.
Not only are such abortions incredibly expensive, but only a handful of providers — in Maryland; Washington, D.C.; and Colorado — even perform them. And none provide abortions up to the point Republican candidates have described.
"What is misleading is the concept of abortion up to the moment of birth. That does not happen," Ranji said. "A very small percentage of abortions do happen in the third trimester, but it's not at the moment of birth."
Good data on why people get abortions after 27 weeks of pregnancy does not exist. In some cases, providers have reported, people who seek abortions later in pregnancy haven't been able to access care earlier — some because of longer wait times for appointments, or because they live in states with abortion bans and do not have the money to travel to a clinic.
And often, people who seek abortions later in pregnancy do so for medical reasons. Some complications that can be life-threatening or that would significantly impair the health of the pregnant person or fetus can't be found until 20 weeks of pregnancy.
Because abortions at that point cost so much more — more than $10,000 in some cases — patients often need more time to get together the money for an appointment, and to figure out travel logistics to get to one of the few clinics where they can receive care.
"It can have a spiraling effect," Ranji said.
What are Republican presidential candidates saying about abortions later in pregnancy?
Many Republican presidential candidates who support abortion restrictions won't say exactly what kinds of federal abortion policies they are willing to back and have instead focused on criticizing abortions later in pregnancy. Some of their rhetoric involves false statements about what they entail and what Democrats support.
During a CNN town hall in May, former President Donald Trump said Democrats want to "rip the baby out of the womb at the end of the ninth month." In June, during a speech to a group of evangelical activists, Trump said falsely that Democrats are "willing to kill the child, after birth, really."
Florida Gov. Ron DeSantis, who trails Trump, repeated that falsehood last month during an interview with CNN's Jake Tapper. "In some liberal states," he said, "you actually have post-birth abortions, and I think that's wrong."
Asked during a CNN town hall about her position on abortion restrictions, former U.S. Ambassador to the United Nations Nikki Haley, the only woman in the GOP presidential field, refused to answer unless Vice President Kamala Harris and President Joe Biden were first pressed on whether they support abortions during the last weeks of pregnancy. In doing so, she misstated their stances.
"They said abortion up until the time of birth, right?"
Why are Republicans emphasizing abortions later in pregnancy?
Polling over the years has shown that Americans' support for abortion falls dramatically when it comes to abortions in the third trimester. A Gallup poll conducted in the spring found that only 22 percent of Americans believe abortion should be generally legal in the last three months of pregnancy.
Tresa Undem, a public opinion researcher who studies gender and has worked for progressive groups, said many Americans don't know how exceptionally rare abortions in the last three months of pregnancy are and the circumstances that they entail.
Undem pointed to a 2016 study out of Harvard University that found that support for abortions after 24 weeks of pregnancy increased when those surveyed were told about a pregnancy in which the fetus was affected by the Zika virus, which can cause lifelong health complications.
"Because of the lack of education and awareness about why abortions might happen later in pregnancy, Republicans are able to spread misinformation very easily," Undem said.
Undem said there are signs of change among voters post-Dobbs. As abortion comes into focus for many Americans, more are rejecting the notion of government involvement on the issue, even after viability.
Tracy Weitz, an expert on abortion politics and policy at American University, said a constitutional amendment in Michigan, and ballot measures in Ohio and Florida — which would entrench the right to an abortion until viability — suggest that public support for abortions later in pregnancy is still low.
Do Democrats agree on legal access to abortions after fetal viability?
There isn't broad consensus among Democrats about abortions after fetal viability or in the third trimester, but the party is not broadly pushing for any restrictions and is instead focusing on rebuffing Republican efforts to do so. Many Democrats, like Biden, have said they support reinstating the protections baked into Roe v. Wade, while others say Roe was just the start of extricating the government from health care decisions surrounding abortion.
Democrat-led states have taken varying approaches, though all tend toward more access to abortion rather than less. Earlier this year, Maine eliminated gestational limits on the procedure.
The Democratic Party's position on the issue has shifted dramatically over the past 30 years. Former President Bill Clinton argued in favor of making abortion "safe, legal and rare," a framing that many abortion rights advocates and providers have criticized. Earlier in his presidency, Biden also avoided using the word "abortion." But in the post-Dobbs landscape, Democrats including Biden have become more vocal in their support of abortion rights.
Renee Bracey Sherman, an abortion rights activist who founded the nonprofit We Testify, chided Democrats like Biden for talking about abortion "as a sad, tragic thing." Bracey Sherman said the group works to destigmatize abortions through personal stories and supports "abortion anytime, for any reason," which she said is not in lockstep with Democrats broadly, particularly not Biden.
Undem and Weitz agreed that Democrats have not unified around a core response to the Republican attack on "abortions up until birth," creating a potential vulnerability for the party. Undem said Democrats may find that answer in comments by Pete Buttigieg during his presidential campaign. Buttigieg said during a Fox News town hall in 2019 that the very timeline of an abortion well into the third trimester suggests the pregnancy was likely wanted and that the procedure was the result of a difficult decision by the pregnant patient.
"I trust women to draw the line," Buttigieg said.