Your trusted source for contextualizing abortion and politics news ahead of Election 2024. Sign up for our daily newsletter.
"Only one candidate stopped abortion in Kentucky: Daniel Cameron," boasts a September 2022 ad from his campaign for governor.
For the current attorney general and now Republican gubernatorial nominee, it's a central issue in his run. It is for abortion rights advocates, too.
Cameron, a protégé of Sen. Mitch McConnell and the first Black gubernatorial nominee for a major party in Kentucky, is challenging incumbent Democratic Gov. Andy Beshear in this year's election. He's used his statewide executive position that he's held since 2019 to defend abortion bans in Kentucky, where the procedure is currently outlawed, and to support restrictions on abortion around the country. 
"Daniel Cameron has, without a doubt, put abortion front and center in his priorities since he stepped foot into the attorney general's office," said Tamarra Wieder, Kentucky state director for Planned Parenthood Alliance Advocates.
Cameron's anti-abortion bona fides have helped boost his career and earned him the support of leading anti-abortion groups. But Kentucky's strict abortion ban and voters' recent rejection of further constitutional prohibitions on abortion complicates the mobilizing power of the issue for his general election chances.
And he faces a challenge in unseating Beshear, who boasts the highest approval ratings among Republicans of any Democratic governor, according to nonpartisan polling firm Morning Consult. While Cameron hasn't fully stepped away from abortion, he isn't relying on that issue alone, heavily embracing anti-transgender rhetoric to boost his campaign and attack Beshear.
Before the Supreme Court overturned Roe v. Wade last summer, Cameron sued Beshear's administration to enforce a 15-week abortion ban passed by lawmakers. The court's ruling triggered a stricter near-total ban, with no exceptions for rape and incest, to go into effect; Cameron defended it both in court and in public. He repeatedly said he supports the law as written and does not support additional exemptions. Beshear has decried the trigger law as "extremist."
"I understand that this is a very sensitive issue — a very sensitive topic — that a lot of households across Kentucky have conversations about. But I'm not going to waver in my position on this and we're going to continue to defend the law as is," Cameron told NBC affiliate LEX 18 in April.
Cameron has consistently used his office to oppose abortion access beyond Kentucky's borders. He, along with fellow Republican attorneys general, led a brief supporting a waiting period requirement in Tennessee in 2021 and signed onto amicus briefs supporting Mississippi's case in Dobbs v. Jackson Women's Health Organization in 2021, a six-week ban in South Carolina in 2022 and a 15-week abortion ban in Florida in 2023. He's also recently joined other Republican AGs in supporting an effort to revoke the Food & Drug Administration's initial approval of mifepristone, one of the pills used in medication abortions.
Cameron also recently signed a letter with other GOP AGs opposing a proposed Biden administration rule that aims to protect the privacy and medical records of patients who travel to other states for abortions. Cameron told LEX 18 that he opposed the rule on states' rights grounds and said his office would not prosecute pregnant women.
"We're about establishing a culture of life here in Kentucky," Cameron told the outlet. "We're not prosecuting pregnant mothers. Again, what our legislature has done, what everybody in the pro-life space is about, is making sure that our unborn have every opportunity to reach their God-given potential."
Influential anti-abortion groups, including the National Right to Life, Kentucky Right to Life PAC and Susan B. Anthony Pro-Life America, have endorsed Cameron.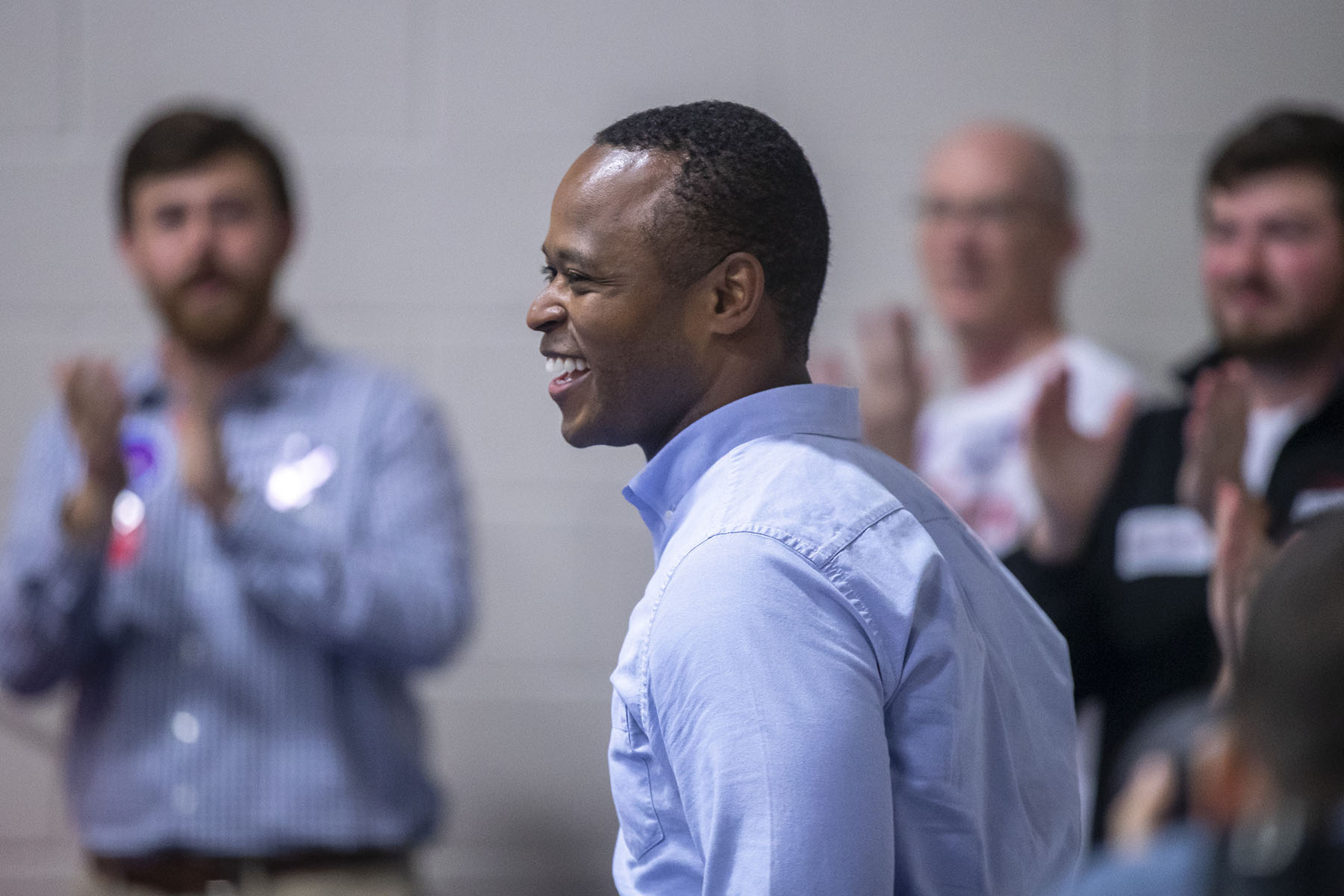 "We look forward to highlighting Cameron's principled pro-life leadership and exposing Andy Beshear's appalling pro-abortion record," Kentucky Right to Life's executive director Addia Wuchner said in a statement. Cameron's campaign and Wuchner did not respond to requests for comment.
Planned Parenthood and the American Civil Liberties Union (ACLU) of Kentucky are keeping their legal options open and turning to public advocacy and "harm reduction" to contend with the fallout of the ban, said Angela Cooper, communications director for the ACLU of Kentucky.
The loss of abortion access in Kentucky both underscored and exacerbated the state's shortage of OB-GYN providers, maternal care deserts and high maternal mortality rates that disproportionately affect Black women, advocates say.
"It's disheartening. It's hard," Cooper said. "The work is really hard, and it's heartbreaking to continue to do this work and see us moving backward when it comes to rights for pregnant people."
Kentucky voters aren't entirely on board with the state legislature's and Cameron's embrace of strict abortion bans.
Kentuckians rejected Amendment 2, an anti-abortion ballot measure that would have established no constitutional right to abortion, by a margin of over four points in the 2022 midterms. The no vote on Amendment 2 outran Democratic candidates on the ballot that year and exceeded Beshear's narrow 0.4-point victory in 2019.
Beth Howard is the Appalachian People's Union Director of Showing Up for Racial Justice (SURJ), which focuses on engaging White and working-class voters around racial and economic justice issues. Howard said SURJ ran the largest field program opposing Amendment 2 in 2022 and successfully persuaded voters to cross party lines.
"I believe that in our work to turn out voters and engage them in this election and in all the conversations we're going to have with Kentuckians, this is a really important point that we engage people around," Howard said. "For us, I believe it has the opportunity to rally people out to vote for Andy Beshear."
Wieder said her organizers are having "fruitful conversations" about health care and abortion in parts of the state where she was historically discouraged from discussing abortion while canvassing door-to-door. Highlighting the lack of exceptions in Kentucky's ban, Wieder said, has also proven to be a "door opener" for conservative voters who may otherwise oppose abortion.
"Abortion is a uniting vote right now in Kentucky," she added. "The loss of abortion access has dramatically hit Kentucky in ways that I don't think was expected."
With the reality of a near-total abortion ban now being the law of the land in Kentucky. Cameron, like other Republican candidates around the country, has emphasized abortion less and less on the campaign trail in favor of rhetoric opposing transgender rights, specifically focusing on sports participation and gender-affirming care for transgender youth.
Kentucky lawmakers have overridden Beshear's vetoes over bans on transgender girls competing on sports teams that match their gender identity and a ban on transgender youth receiving gender-affirming health care. Beshear characterized the ban as unnecessary government intrusion into health care decisions, and it is currently the center of a federal court battle.
In his August 5 speech at the Fancy Farm Picnic, a Kentucky political event considered the unofficial kickoff of the general election season, Cameron charged that Beshear "demands that boys play in girl's sports" and "protects transgender surgeries for kids." He similarly opened an August 10 news conference accusing Beshear of misleading voters about gender-affirming care — but didn't mention abortion in either appearance.
"We have not seen a lot of talk from gubernatorial candidates across the board about abortion because they can't use that as their political football anymore," Cooper said. Wieder argued transgender youth have replaced abortion as a political "boogeyman," denouncing Cameron and other Republicans' attacks as "despicable" and "deceitful."
"I think that it points to the fact that abortion is not going to win him a seat in the governor's office because abortion is a losing issue for him," Wieder said. "It is a winning issue for another candidate because abortion is something that is important to Kentuckians."