This Disability Pride Month, we're telling the untold stories of women, women of color and LGBTQ+ people. Sign up for our daily newsletter.
In September 2019, a youth-led climate strike took place in cities around the world. Millions marched on the streets, including in New York City. Swedish climate activist Greta Thunberg traveled emissions-free by boat to New York earlier that month, and spoke at Battery Park, where the march culminated.
Daphne Frias, 21 years old at the time, was working with Zero Hour, a youth-led climate action group, as an official spokesperson for the NYC event. She had been an activist for years, working on gun violence prevention, and had become increasingly concerned over the climate crisis.
Frias, who uses a wheelchair, said the rally was supposed to have a barricaded section toward the front of the stage reserved for people with disabilities, but it was never set up.
"I really struggled to be able to hear the speakers when I got there," Frias said. As an organizer she was able to get to the front of the stage, but others weren't so lucky. "There were so many other attendees, and disabled attendees, who I know ended up leaving because it just was not accessible to them."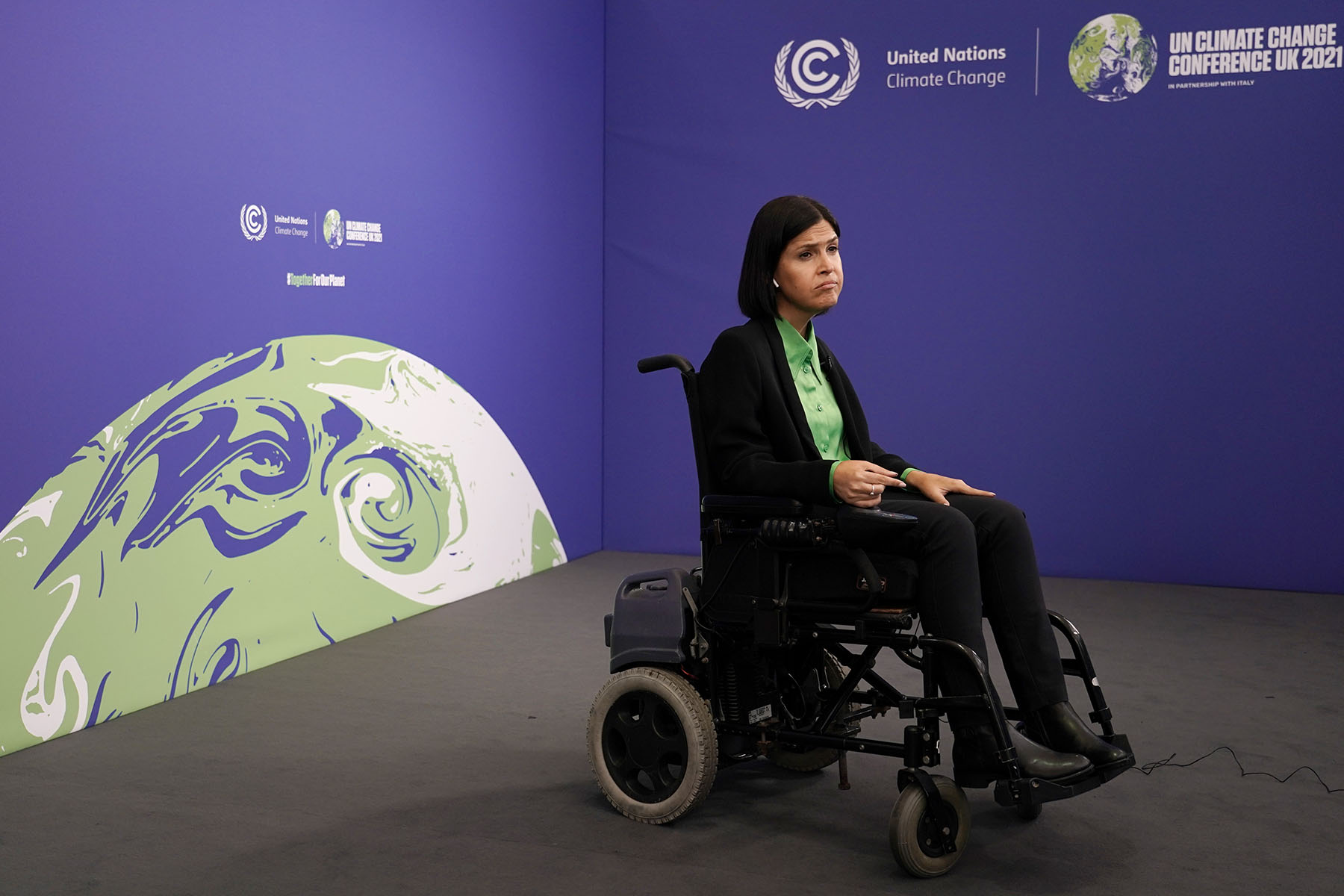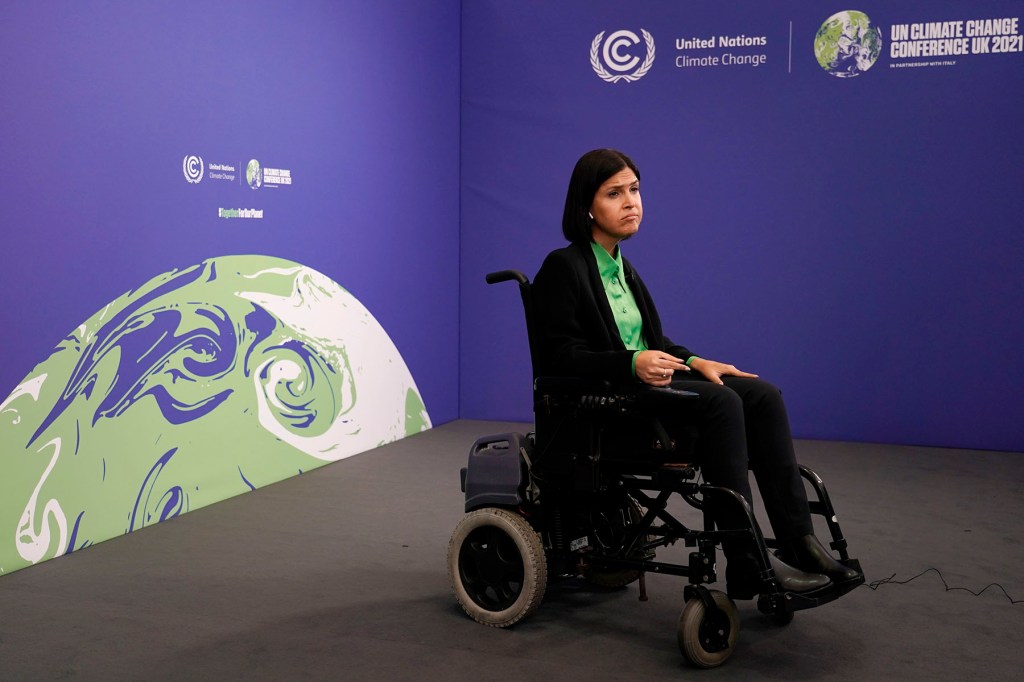 At other climate marches where she was invited as a speaker, the stage sometimes didn't have a wheelchair ramp. On those occasions, she wasn't able to be on stage.
"I'm like, 'You invited me to come here.' I would assume they would know that I need access."
It's just one of many ways that activists with disabilities have found barriers to participating fully in activism around climate change — an issue that has an outsized impact on them.
For Frias, the climate crisis already hits close to home. She has cerebral palsy, a neurological condition. For Frias, cerebral palsy impacts her ability to sweat, which makes it difficult to cope with the heat. Usually she would be able to depend on the seasonal temperatures to provide relief, but with climate change, the heat is lingering longer throughout the year and is becoming more intense.
"It gets really scary, because historically, disabled folks live in poverty. So we don't have access to things like air-conditioning and things like that," she said, remarking how her own family conserves how much they use air-conditioning in the summer to prevent high electricity bills.
She also worries about having to evacuate for extreme weather events. She lives in an apartment with her family in West Harlem that isn't wheelchair accessible. And, while she says she typically isn't concerned about flooding in her neighborhood, a train station 10 blocks from her apartment flooded last summer.
"I always have this anxiety in the back of my mind when it comes to sort of like any inclement weather event or extreme weather because I know that I don't have the ability to as rapidly evacuate from a situation like that as an able-bodied person," she said.
For these reasons and more, advocates say disability justice, and the intersectional nature of the movement across race and gender, should be centered in the fight for climate action and climate justice. As some of the people on the frontlines of the climate crisis, they want to ensure their voices are being heard — that starts with making sure climate initiatives and events are accessible from the grassroots to the global stage.
---
The climate movement's exclusion of people with disabilities extends all the way to the annual United Nations Climate Change Conference, also known as COP. At COP 26 in 2021, the Israeli energy minister, who uses a wheelchair, could not participate in the first full day of the summit because the entrances she tried were not wheelchair accessible and the shuttle was also not designed for wheelchairs. She later tweeted, "It is sad that the UN, which promotes accessibility for people with disabilities, in 2021, does not provide accessibility to its events."
While disability justice advocates have made some strides in promoting their agenda at the annual climate conference, they still lack any formal U.N. recognition as a constituency, which would give them a more prominent voice in climate negotiations. There are nine of these constituencies, including ones for youth, women and gender, and farmers.
Activism around climate change and the environment has been inaccessible in other ways too, often inadvertently harming people with disabilities. An often-cited example was when banning straws became a global environmental cause. Many in the movement saw it as an ableist campaign — one that could impact some people's ability to feed themselves or take certain medicines.
"There was this huge movement to ban straws, which are actually a very important thing for some people with disabilities that they need to drink and eat," said Abby Bresler, who co-founded the Sunrise Movement's disability and accessibility volunteer team in 2019. "By focusing on that, the environmental movement was excluding and like literally threatening the livelihoods of disabled people, but also was not getting to the root of the problem."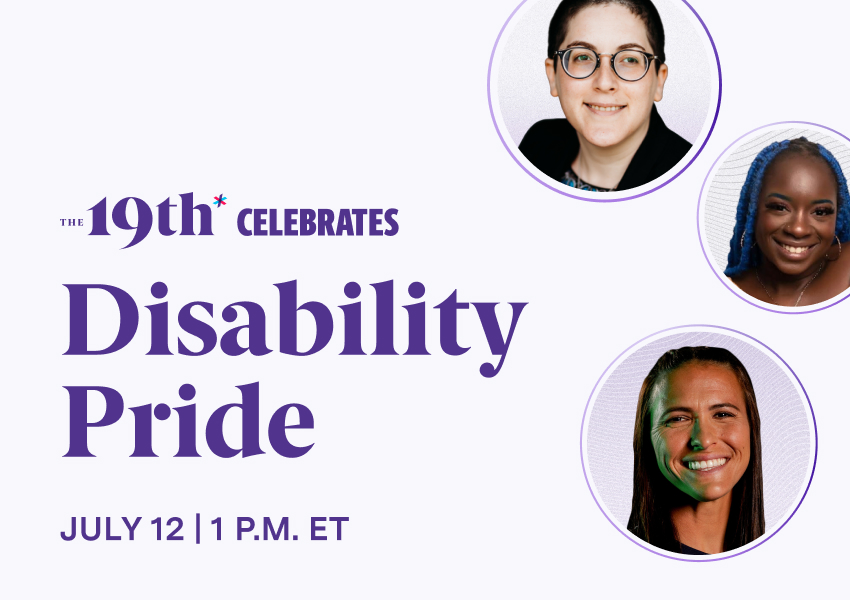 Originally aired on July 12, 2023
For Disability Pride Month, we welcomed Raven Sutton, a disability advocate and influencer, and Carson Pickett, a defender for Racing Louisville FC, to discuss the state of people with disabilities in our culture.
Alex Ghenis, deputy director at Sustain Our Abilities, a U.S.-based nonprofit focused on the intersection of climate, health and disability, said that more broadly, there is a sentiment within the environmental movement that industrial advances are bad for the climate. But for people with disabilities it's more complicated.
"We have, I think, more acute awareness of the importance of an industrial society for our survival — the medical system for our survival," Ghenis said.
In that same vein, advances around the clean energy transition could fail people with disabilities if their needs aren't accounted for in public transportation and infrastructure. Advocates say it is important to center their voices in climate solutions to ensure they work for everybody.
"I think if you're consulting and amplifying the voices and putting people in leadership that are directly impacted, whether they're disabled, people of color, LGBTQ, low-income, or a combination of those or any other marginalized identities, you are going to get better climate solutions," Bresler said. "Disabled people are experts at surviving and thriving in environments that weren't built for us. We really know how to adapt in the face of climate change, and can really lead the way."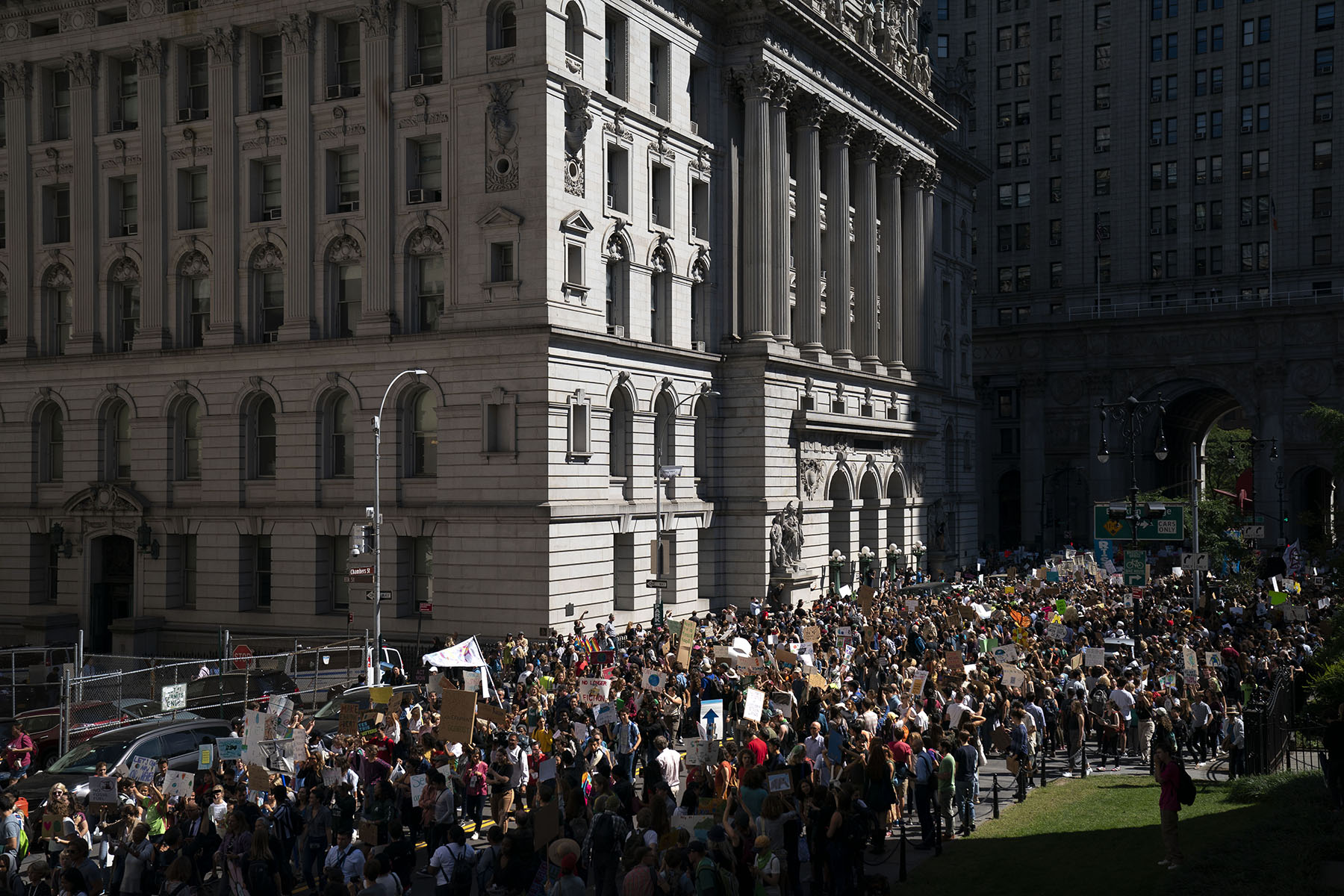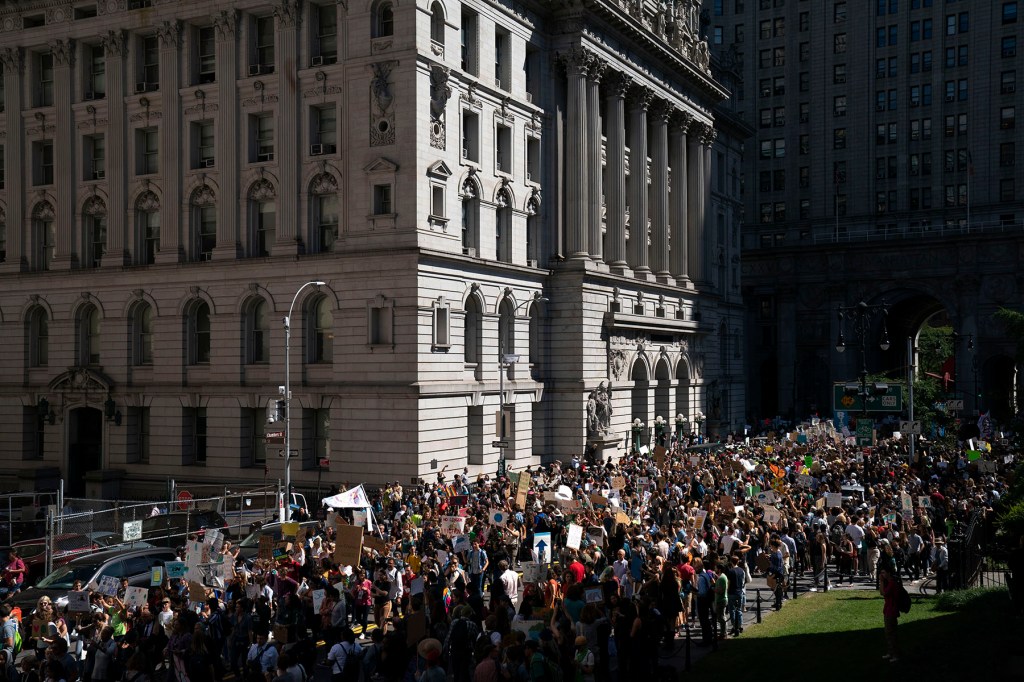 But first, the climate movement has to do a better job of making their events and activism accessible to people with disabilities. That means consulting them when planning events, and also making an event as accessible as possible whether they know someone in attendance has a disability or not.
"When you're thinking about disability for an event, like you have to think across the spectrum, and that's what's beautiful about disability, we're incredibly diverse, with a wide spectrum of abilities and bodies," Frias said. "And you need to be able to accommodate all of us, not just one type of disability."
Advocates recommend having ASL interpreters for events and closed-captioning automatically set on Zoom calls, offering seats at protests and ensuring there is a designated space at the front of stages for people with access needs. They also suggest making sure that meetings or events are being held in accessible spaces and communicate that proactively so people know they'll be able to attend.
Bresler said she hopes the climate movement uses the 10 principles of disability justice to guide its activism. The principles emphasize the intersectionality of identity, the leadership of those most impacted by an issue and cross-movement organizing.
"They were written by a group of people who were queer, disabled femmes and women of color. And so it's inherently intersectional," Bresler said. "[The principles] teach us that it's really not just getting someone in the door physically or metaphorically, but having a culture and a community that would allow them to thrive once they're in that door."
This way of thinking of accessibility often benefits society as a whole. For example, at a 2,000-person climate strike that Bresler helped organize in Boston, along with ASL interpretation and closed-captioning, live translation services were offered in five different languages.
As with any climate justice movement, there also needs to be more dedicated and explicit funding, said Ghenis, who is in the process of applying for grants to expand the work of Sustain Our Abilities, which is mostly run by volunteers. He said oftentimes he applies for grants that are focused on climate justice but don't mention disability.
"I would love to see climate justice rhetoric be more inclusive of assorted oppressed groups, whereas right now it's almost exclusively focused on race," Ghenis said. "And even from the perspective of other oppressed communities, and actually, specifically with disabilities, there are higher rates of disability and higher rates of poverty and the rest of it in our racial minority communities. There are a lot of intersections and overlaps."
Bresler said there is reason to be optimistic that things are changing. Through her own work at the Sunrise Movement, the organization was able to make their mass calls more accessible by providing tools like live transcription. And at a new movement called Jewish Youth Climate Movement, powered by the Jewish environmental organization Adamah, she's seen disability justice principles incorporated throughout the organization from the start.
Bresler, Frias and Ghenis spend a lot of their time educating others, speaking on climate panels, and working for nonprofits and advocacy organizations to raise the profile on the intersection of climate and disability. They believe the broader environmental movement is stronger because of it.
"Disability and the disability community, we lead with joy and love. And that is such a huge thing that I feel like is often missing from the climate conversation," Frias said. "And by leading with that, I think we will be so much further in terms of creating a more symbiotic relationship with our planet, but also with each other."