Your trusted source for contextualizing the news. Sign up for our daily newsletter.
The clouds that blanket Los Angeles in the late spring, keeping temperatures cool and skies overcast, dissipate by the first weeks of summer. The months known in the city near the ocean as "May Gray" and "June Gloom" give way to an exposed July sun that blazes relentlessly until well after the school year starts. It is not unusual for Angelenos to contend with triple-digit heat until shortly before Halloween.
When the mercury rises, many students can't take refuge. They attend campuses with more cement than greenery, unreliable air-conditioning and drinking fountains that go unused due to water quality concerns.
"Oftentimes when we're walking into class, it's really hot," said Romy Griego, who just completed her sophomore year at Eagle Rock High School in Northeast Los Angeles. "The sun is beating down on us, and the concrete gets really hot. Me and a couple of other students have talked about how much better our schools would be if we had more shade and trees and greenery just for us to cool down instead of the heat wearing us out."
The stifling heat students are enduring to get an education led groups of parents, most of them moms, to hold protests on Los Angeles campuses during the 2022-23 school year.
"I've been advocating for so many years for green spaces, since my daughter was in elementary school," said Antonieta Garcia, whose daughter will enter seventh grade at Griffith Middle School in East Los Angeles next month. "Her elementary school was right across the street from a freeway, and there's actually no shade. We've been advocating for more shade, more trees, so the quality of air could be better."
After parents demanded that the Los Angeles Unified School District (LAUSD) do more to protect students from soaring temperatures, the school board fast-tracked a plan to ensure that at least 30 percent of all campuses include green space by 2035. State officials are also working to shield students from the heat. Gov. Gavin Newsom announced last week that the California Department of Forestry and Fire Protection (CAL FIRE) is giving schools $47 million to convert pavement to greenery, and Los Angeles campuses will be prioritized.
Across the country, schools in the Northeast ended their days early in June because the sweltering afternoons made classrooms, many without working air conditioning, dangerously hot for students. This month, Earth reached an average temperature of 62.9 degrees Fahrenheit, an unofficial record high. All over the world, schoolchildren are weathering the effects of climate change.
But in California — a state known for its wildfires, droughts, poor air quality, scorching heat, mudslides and, this past year, atmospheric rivers and the odd tornado — government and school officials are making unprecedented investments to defend students from the climate crisis. The $47 million CAL FIRE is providing schools to green their campuses comes from the first batch of the state's $117 million Green Schoolyard Grant program to help schools eliminate excess pavement, develop drought-tolerant vegetation and foster children's connection to nature.
"We're taking action to protect our kids — especially in underserved communities — from hotter temperatures with our best defense: nature," Newsom said in a statement. "We're helping schools tear out asphalt that can reach 140 degrees on hot days — planting trees for shade and adding other plants to provide kids with safer, cooler spaces at school."
LAUSD, the state's largest school district and the nation's second largest, announced in June that it is using more than $229 million in bond money to, among other projects, upgrade facilities and provide sustainable green spaces for students using a greening index to prioritize the campuses most in need.
The district's investments are, in part, the result of activism by students, parents and advocates to make campuses more sustainable. Extreme heat, they told The 19th, makes it challenging for young people to learn, and it disproportionately affects schools serving communities of color and economically disadvantaged families. To ensure that all students have access to quality learning environments, they want school officials to institute sweeping change to address the climate crisis but say bureaucracy sometimes impedes immediate action. They're also encouraging officials to take a bold approach to greening campuses, revolutionizing the role that schools can play in protecting the environment.
---
For Garcia's young daughter, shelter from extreme heat is not only a matter of comfort, but a matter of health. The middle school student has lifelong asthma and allergies that flare up during hot weather. When it's warm outside, her eyes water and her nose runs — symptoms school personnel have mistaken for COVID-19, "which is not fair," said Garcia, who has protested for better school conditions. "They send her home, so that's not good for her."
The tween has a 504 plan, which specifies the accommodations and supports students with disabilities or chronic health conditions need to access an education. But she suffers in overheated classrooms where the air-conditioning and air filters don't always work properly, Garcia said.
"My daughter and students like her won't be able to have a quality education. Why? Because they're sneezing, they're coughing," Garcia said.
To help her daughter manage, Garcia gives her a few water bottles to take to school during heat waves for fear that the drinking fountains on campus aren't safe. California's Assembly Bill 746 from 2017 mandates that schools built before 2010 screen their water sources for lead, but it stops short of requiring each faucet on a campus to be checked. A 2019 State Water Board investigation found that almost 20 percent of the 8,200 schools that performed lead screenings had drinking fountains with more than 5 parts per billion (PPB) of the contaminant. Even low levels of lead in drinking water may be hazardous, according to the Environmental Protection Agency, but in the spring, the LAUSD school board approved using $33 million to continue efforts to keep the lead level in all school drinking water to under 5 PPB — a standard it says is one of the strictest for a school district nationally. Moreover, a new California bill would require fountains and faucets at schools built before 2010 to be monitored for lead in five-year increments.
Despite these measures, many students avoid school drinking fountains.
"Our water fountains, whenever I use them, the water is gray," said Griego, a leader in the activist group Students Deserve, which is fighting for social justice in LAUSD schools. "Everyone's like 'Yeah, you just have to wait a minute,' but students shouldn't have to wait a minute for clean water."
One teacher at her school is known to stock her classroom with bottles of water, but if those run out and students forget to bring their own, they become drained and dehydrated, Griego said. If it's already baking in the morning, students who walk to school start the day depleted. Their energy doesn't rebound if the air-conditioning goes out, which is not an uncommon occurrence, she added.
"A couple of my classes have had the AC go out, so we had to go in the hallways," Griego said. "It wasn't that much cooler in the hallways, but we had to actually leave our classroom and do our lesson there because it just got way too hot in our class. And, then, other times, we've had to open our doors to let classrooms next door have the AC that is coming in from our room, which is not a lot. It's definitely a disturbance in our learning."
In March, the LAUSD school board approved the use of $26.4 million in grant awards from the California Schools Healthy Air, Plumbing and Efficiency (CalSHAPE) Ventilation Program toward costs for heating, ventilation and air-conditioning system improvements at 163 schools. At that time, the district also announced the board's approval of $33 million to improve drinking water fountains and install water bottle filling stations at all elementary schools.
While inconsistent air-conditioning and questionable drinking water remain top concerns for Griego, she appreciates that her school has more greenery than other campuses, particularly a designated horticulture area.
"That's the one place that we get a lot of shade," she said, noting that the teachers union has also advocated for greening schools. "It's a hope that all schools should be able to have access to horticulture, gardens or spaces like that, because all students deserve to have access to green spaces."
---
Schools without green coverage tend to be in neighborhoods that lack shade, and those communities are disproportionately home to people of color. A peer-reviewed study by UCLA public health researchers published in the journal Environment International in March found that two-thirds of Los Angeles County's Black and Latinx populations live in places with scant green coverage and lower average life expectancies.
These areas constitute heat islands, or urban neighborhoods that are substantially hotter than surrounding communities. The asphalt schoolyards commonplace on Los Angeles campuses worsen matters, as they capture the sun's heat and radiate it out once more, driving up temperatures. Tree-dense communities and those with other natural landscapes do not experience the heat island effect since vegetation and water do not soak up the sun in the way that man-made landscapes do.
"Certain communities don't have access to a green space or a park space, and on top of that, are also facing extreme heat, which makes it really hard to tolerate," said Alicia Morales Pérez, a senior research and policy analyst for Los Angeles Alliance for a New Economy (LAANE), which works toward economic, environmental and racial justice. "The vast majority of schools with high populations of students of color don't have enough greening on campus."
LAANE is the anchor organization for Reclaim Our Schools, a group made up of students, parents and community members advocating for access, opportunities and racial justice in public education. Using infrared thermometers in the fall, students involved in Reclaim Our Schools scanned how hot the asphalt was on various campuses. They found that the blacktop exceeded 130 degrees, nearly hot enough to fry an egg on the ground, even though the temperature outside was a relatively moderate 82 degrees.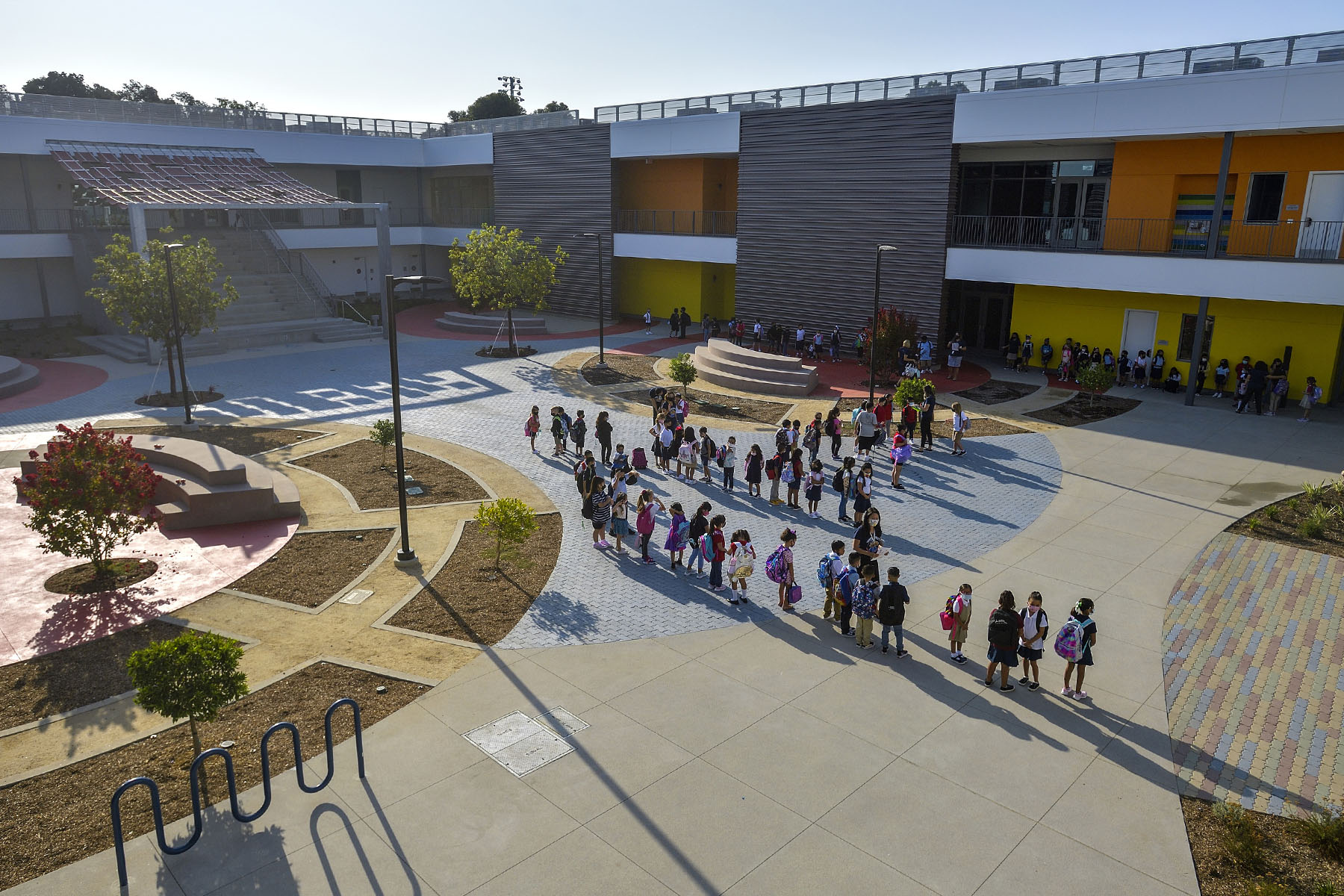 "We know that asphalt contributes to excess heat," Morales Pérez said. "So that's definitely a problem that [schools] are not providing enough natural vegetation that provides relief from extreme heat."
To help their children withstand the heat, parents like Garcia have asked for immediate interventions: permission for their children to wear sun hats, outdoor canopies on campus, chairs with umbrellas, water filtration systems at schools and free bottled water for students. Partly due to permitting concerns and other regulations, their requests have often been denied, delayed or drawn out, they said. The district did not respond to The 19th's request for comment about these specific claims but noted that the school board approved $33.4 million for 35 new greening projects over the 2022-23 school year.
"Our kids are returning back to school in August," Garcia said. "I really want to know how the district is going to help our children stay out of the heat. How much shade are they going to provide? Since the green spaces were approved by LAUSD, I want to know when is this work going to get started?"
Temporary fixes may provide immediate relief, but Aleigh Lewis wants the district to address climate change comprehensively. She's the parent of two daughters attending Mount Washington Elementary School in Northeast Los Angeles, the founder of Angelenos 4 Green Schools, and a member of the LAUSD school board's new Greening Schools and Climate Resilience Committee, which met for the first time in March.
When the district adopted a resolution for all schools to be at least 30 percent green by 2035, Lewis saw it as a chance to do much more than install grass and a tree on every campus.
"Green to a lot of people and for a long time meant beautification," Lewis told The 19th in the fall. "I think with the pressing climate crisis, we really have this opportunity to mitigate a lot of the extreme climate that we're experiencing and going to be experiencing even more frequently. So this is not about just some grass and a tree. This is about how to significantly drop the temperatures at schools."
The focus shouldn't be on preventing schools from being the hottest location in a neighborhood, she added, but on turning them into the coolest location in the neighborhood. Rather than grass, Lewis would like to see native habitat on campuses and schools function as wildlife corridors.
"Los Angeles is a migration hotspot, so all the birds from South and Central America are migrating through Los Angeles every year because we have such a rich diversity of plants to feed off of, but those resources are diminishing every year as we develop the basin," Lewis said. "How can we look at schools in terms of drought resilience and being sources of capturing stormwater instead of losing all that water? It would make us so much more drought resilient. It would help bring down the temperatures. The soil would be healthier."
LAANE echoed Lewis's concerns, stressing that parents want the district to take a multifaceted approach to the climate crisis, whether that's installing solar panels or replacing diesel buses with electric ones. LAUSD recently announced that it will buy 180 new electric buses and chargers by 2026 — the largest single-purchase of new electric school buses and electric chargers by a school district in the nation, it says. The district aims to have a completely zero-emission school bus fleet by 2040. It is also in the process of allowing schools to be used as public parks on weekends to give community members access to green space. As the district addresses climate change on campuses, it aims to teach students about the issue, with the school board passing a resolution last year to enact a comprehensive climate literacy program that covers environmental justice, green jobs and misinformation.
By taking such steps and listening to the community's concerns, Lewis hopes that LAUSD doesn't just green schools but changes perceptions of the role campuses play in the environment.
"Thinking about a schoolyard as a living system — that's really what we are asking the district to do," she said.