Your trusted source for contextualizing LGBTQ+ and politics news. Sign up for our daily newsletter.
For a time in May and June, Ellen Bertels of Kansas woke up every day to more than a dozen emails and messages from strangers who wanted her help.
An attorney for the group Kansas Legal Services, Bertels wasn't surprised by the inquiries about how a person in the state could change their gender identity on legal documents, including a birth certificate. For weeks, Bertels had helped host clinics around the state on this very subject. After every event, she shared her personal contact information with attendees, many of whom were transgender, nonbinary and gender-diverse. Bertels welcomed their outreach.
"I'm making myself available to answer as many of those as I can every day," she told The 19th.
Bertels, along with an informal group of organizers who advocate for LGBTQ+ rights, has been working against the clock to prepare for a law passed by the Kansas legislature this spring that is expected to restrict the rights of trans people.
The legislation, known as SB 180, narrowly defines an individual's sex as either male or female at birth and purports to restrict trans people from using restrooms and other spaces that align with their gender identities. It also contains language that organizers believe will restrict state offices from changing gender markers, the designation used in legal documents like a birth certificate or driver's license to note whether someone is male (M), female (F) or another gender identity (X).
Organizers expect the Kansas law to have a range of harmful impacts on people who are trans, nonbinary, intersex and gender-diverse. While the measure does not stop a trans person from transitioning, it may create several barriers to participating in everyday life — securing housing, social services and voting without discrimination.
The bill, one of several introduced in Republican-leaning states around the country during the first half of the year, is set to go into effect July 1. Conservative state officials are already using the law to enact restrictive policies around legal documentation — on Monday, Republican Attorney General Kris Kobach issued a formal opinion instructing state agencies to list a person's "biological sex at birth" on driver's licenses and birth certificates. LGBTQ+ advocacy groups have already countered, arguing Kobach's opinion is not legally binding.
What comes next are a lot of unknowns. The law, including the restriction on public spaces, is written without enforcement mechanisms or guidance, and there are no provisions that set penalties when someone doesn't comply with the law.
"We don't know what we don't know, at this point, so to speak," said D.C. Hiegert, an attorney with the ACLU of Kansas, which opposed the measure. "I think a lot of what folks are trying to do is anticipate what harms could be coming from this bill — and try to address those harms to the extent that we can now in case we're in a worst-case scenario after this bill comes into effect."
Melissa Stiehler, advocacy director for Loud Light, a Kansas-based organization that focuses on civil rights, including voting rights, said there are layers to the law's potential effect on voting for gender-diverse people. She recalled trans people who, before they were allowed to change their gender marker in the state a few years ago, avoided public spaces including restaurants, out of fear of being carded and being publicly exposed as trans. The same dynamics can exist at the ballot box, when people present either an old ID that doesn't look like them or an ID that does look like them but the gender marker doesn't match up. Currently, Kansas voters are required to show photo identification to vote in person.
"This is creating a circumstance in which going and showing something in public and potentially being questioned about it in public could create a real dangerous situation, especially for rural Kansans," she said.
Dr. Meredithe McNamara, an adolescent medicine specialist at Yale School of Medicine and an expert on gender-affirming health care, said misinformation by policymakers and anti-LGBTQ+ groups has led to policy that aims to justify a legal intrusion into standard health care for trans people.
"That seems to have infected mainstream social consciousness and fuels multisector discrimination," she said.
Stiehler added: "People are terrified. Every day I'm receiving emails, and texts and phone calls from folks across the state about, 'Does this mean that my existence is illegal now? What happens if I need to use the restroom in public? What does this mean for my children whenever they go to school?'" she said. "The enforcement is just so unknown at this point because it is not written into the law. So it's a lot of me saying, 'You're right. This is terrible. This is one of the most extreme laws that's been passed in the country.'"
Ahead of the law taking effect, Bertels' clinics have aimed to help people change the gender markers on their state birth certificates, state IDs or other documents. Bertels, who has since finished a fellowship with Kansas Legal Services, said running such clinics is a form of resistance.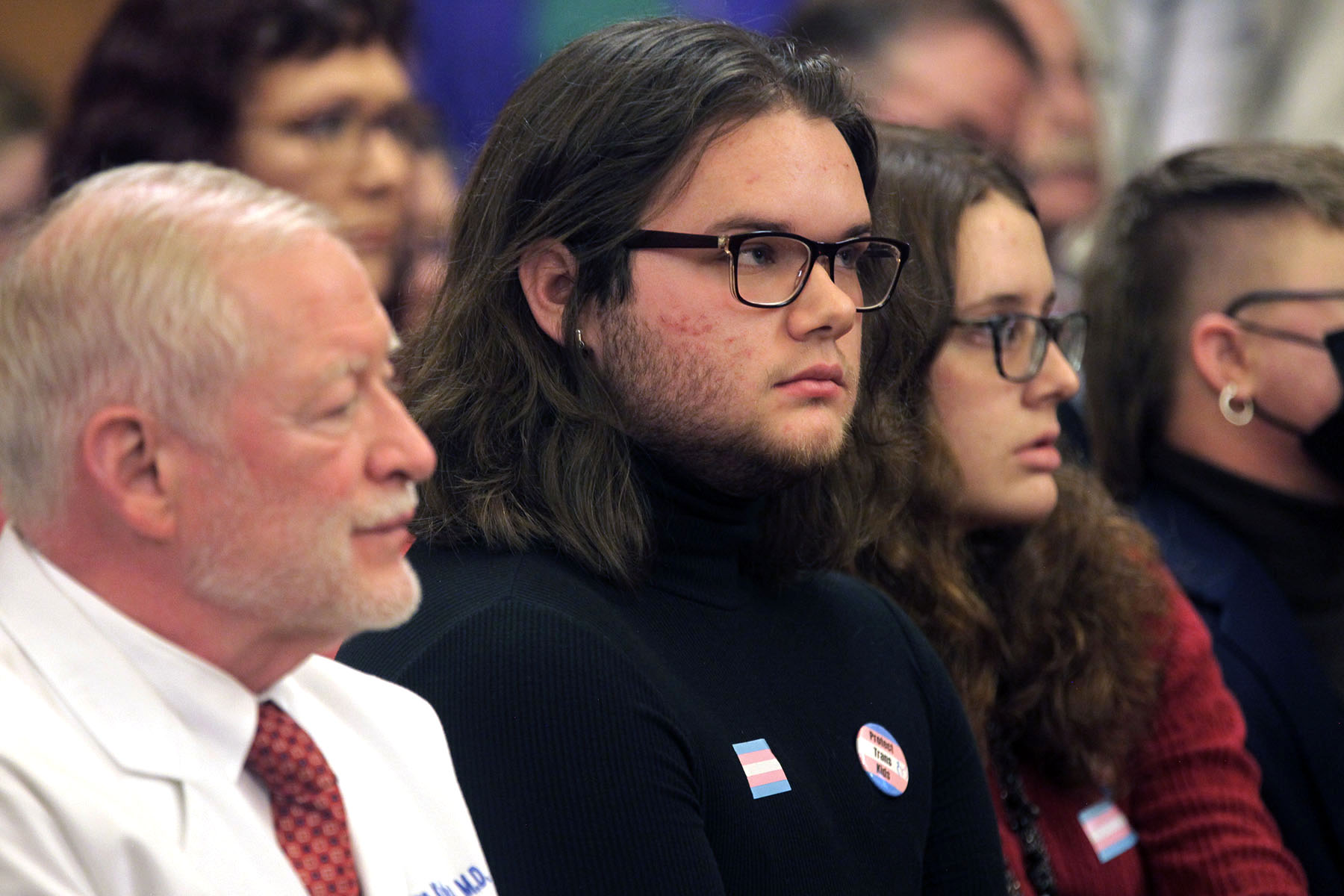 "I keep telling folks in these presentations that what I'm doing is like trauma care. Basically I'm like an ER doctor but for the law right now," she said. "Because it's extremely time-sensitive and we are literally during triage care, looking at where it's bleeding, how do we stop the bleeding. We can't pay attention to anything that's not bleeding."
Taryn Jones is a lobbyist for Equality Kansas, an organization that opposed SB 180 during the legislative session and has helped host gender marker clinics along with Bertels in recent weeks. Jones said the law's ambiguity, coupled with an existing legal settlement in Kansas, raise a lot of questions about what will actually happen July 1.
"The fact is, we really don't know and we expect lawsuits," she said.
Major legal questions exist around the legality of a restriction on gender marker changes —  especially in Kansas. The state was previously sued in federal court for being one of only a few states to ban trans people from changing their gender markers on birth certificates. A 2019 legal settlement forced the state to change that. Days before his new state directive on the law, Kobach filed a request in federal court asking a judge to end the 2019 settlement. The ACLU of Kansas has already pushed back on Kobach's actions, challenging his authority based on the law.
While the work of helping to change gender markers before July 1 has been winding down, Stiehler noted that as the law goes into effect, her group, the ACLU of Kansas and others plan to host events aimed at public education about trans people's legal rights. She said the informal group of organizers are also ensuring LGBTQ+-affirming lawyers are available as needed once the law goes into effect.
Stiehler said that not every person impacted by the new law will want to stay and fight.
"With an unpredictable legislature that doesn't seem to respect individual liberty and constitutional rights such as bodily autonomy, I don't blame people for leaving, and I know a lot of people are," she said.
Jones said Equality Kansas is also helping to host a series of rallies around the state July 1 to protest the new law. She said it's important for allies of the LGBTQ+ community to step up.
Even if the law does not directly impact someone, "it still makes people scared. It makes people who are not trans scared, who are part of the LGBTQ community, get the sense that, 'Well, I guess they're coming for me next,'" she said. "That's the thing to remember — this is just kind of the starting block for everything. They came after gay marriage and they lost, and now they're coming after the trans community because they feel like that's an easy target. But I think we shouldn't mistake that for them dropping everything else."