*Correction appended.
It was a month ago this week that Democratic lawmakers Justin Jones and Justin J. Pearson were expelled from the Tennessee House of Representatives. Their offense was protesting, with their colleague Gloria Johnson, against gun violence in the wake of a mass shooting at a Christian school.
The state representatives, known collectively as the Tennessee Three, were catapulted into the national spotlight. Democrats around the country lauded their actions as courageous — and roundly condemned as anti-democratic the nearly unprecedented actions of their Republican colleagues.
Their fight is part of a larger, longer partisan battle in the state. But the events that unfolded there were part of a behind-the-scenes, coordinated and strategic effort years in the making in Tennessee's progressive politics. Among those leading that fight are four Black women who are no strangers to protest, politics or partnership.
Call them the Tennessee Four.
---
Charlane Oliver and Tequila Johnson co-founded the Equity Alliance in Nashville in 2016 with a mission to "unapologetically build independent Black political and economic power." Zulfat Suara immigrated to Tennessee from her native Nigeria in 1993 and first became an activist pushing back against Islamophobia after the terrorist attacks on September 11, 2001. And Delishia Porterfield, a former educator, now does advocacy work at a nonprofit in Nashville.
Their shared backgrounds in activism and organizing connected the group long before the events of last month. And three of the four had since become elected officials: Suara and Porterfield were elected to the Nashville City Council in 2019, and Oliver was elected to the state Senate last year.
All are Democrats. Tennessee has been governed by a GOP supermajority since 2008. In that time, the legislature has restricted LGBTQ+ rights and voting rights and expanded gun rights — making the "culture war" into policy. Democrats have few legislative avenues to fight back, so they have often turned to the courts, as well as to organizing and advocacy, particularly registering and working to turn out an electorate that's younger and more diverse.
"We're just always conditioned to play defense here," said Oliver.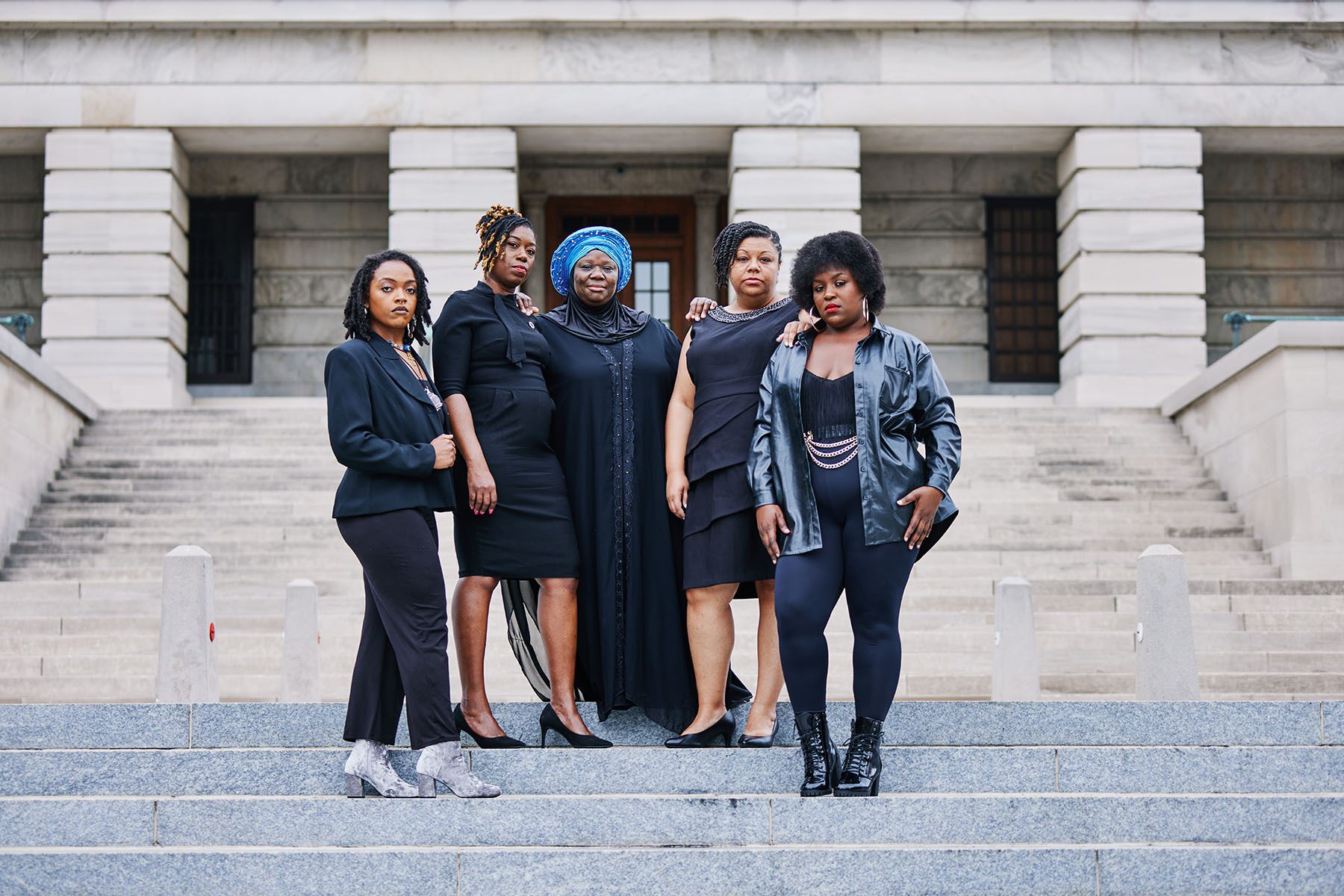 All four organizers cited the examples of a history of Black women's leadership in Tennessee, from suffragist Mary Church Terrell of Memphis to civil rights activist Diane Nash. Porterfield said that those often recognized for their organizing prowess have been men, but that the events of the last several weeks in Nashville are a reminder of the strength of Black women in the push for change.
"You look at the civil rights movement and you hear about John Lewis, you hear about C.T. Vivian and all of the men of the movement, but you don't hear about the women that make this happen— the women that are behind the scenes are the literal glue that makes this happen" she said. "We are the ones that are holding the line. We're holding democracy together by a thread, and it weighs on us, but we do not complain about it. We just get this shit done."
---
The March 27 mass shooting at Covenant School rocked the community. Three days later, grief turned to anger as hundreds of people protested outside the capitol in Nashville.
Inside, a protest was also brewing. Frustrated by the response from their Republican colleagues, Jones, Pearson and Johnson took to the House floor in violation of decorum rules to speak to the issue of gun violence and to call for reforms.
The backlash was swift as the House speaker vowed to take action in the coming days. And a plan was already forming to respond to the recrimination, with Black women at the center.
"I think what's important to really highlight in this is that those initial actions were being led by Black women," Tequila Johnson told me.
Johnson said she called on Black women and other women of color for resources so they could make sure their voices were heard.
"There were a lot of things that went into setting the stage for this to be this national moment … for us to combat what we saw happening," she said. "This movement cannot just be about the expulsion of two lawmakers. This is a moment in a movement that has been built."
Before the expulsions were even official, Oliver reached out to Porterfield, who serves as the chair of the Minority Caucus for the Nashville City Council, to start whipping the necessary votes to reinstate Jones.
Porterfield had run against Jones for the state seat and lost just a few months before. Given his impending ouster, which came along with a vote to eject Pearson on April 6, she could have sought to be appointed in his place.
"There were just a lot of emotions happening in that moment, but for me, the biggest thing was that we upheld democracy, and that we listened to the will of the voters," Porterfield said, adding that she was also thinking about the community she had called home for two decades.
"These are my people, so to have our voices silenced, it was deeply personal," she said, adding that she also worked with lawmakers in Shelby County as they navigated the process to reinstate Pearson two days later.
Porterfield, Suara and Johnson all knew they needed to mobilize a show of support. They planned a march to the Capitol from City Hall. In drawing up the route, Suara was intentional: The marchers would walk uphill, along both Rep. John Lewis Way and Martin Luther King Jr. Boulevard.
"Nashville is the citadel of resistance, the home of the movement," Suara said. "People have been doing this work for generations."
---
Johnson noted that the Tennessee Four and the Tennessee Three all had backgrounds in organizing that informed their approach.
"What organizing embodies is a boldness and an out-of-the-box sense of reaching people where they are," Johnson said. "And so what we saw exhibited was not just a reflection of what is happening in democracy, but it was a reflection of what the people want. The people want boldness, they want people who are not afraid to leverage their position to go to the well for their communities and what their communities say they want."
Oliver said that time and again, it is Black women who are showing up to save democracy.
"When we see some bullshit going down, we're going to always immediately respond," Oliver said. "You never have to question our moral compass. When you need to know where to stand on the right side of issues, find a Black woman."
While these women and the ousted lawmakers won this fight, they know there will be more fights ahead — particularly on the issue of gun violence. But they noted that Republican Gov. Bill Lee recently signaled that he is willing to explore legislation on red flag laws, a sign the needle is moving, Porterfield said.
"The governor, at least, has now made declarations that he was not making before," she said. "We know we still have fights to fight, but prior to this, there was no movement on gun control by the Republican Party. It hasn't happened yet, but at least now he's acknowledging it."
Correction: An earlier version of this article misspelled the name and gave an incorrect role on the City Council for Delishia Porterfield. It also gave an incorrect year for Charlane Oliver's election to the state Senate.