Editor's note: This article has been updated.
Your trusted source for contextualizing this developing news. Check back for updates and sign up for our daily newsletter.
In a country known for frequent shootings in school halls, the violence enacted at a Nashville private school on Monday stood out because it was carried out by someone who is not a cisgender man — the demographic that perpetuates the vast majority of shootings in the United States.
The 28-year-old assailant shot and killed three children and three adults at the Covenant School, a private school within the local Covenant Presbyterian Church, before being killed by responding law enforcement officers, according to the Nashville police. The shooter had at one point attended the school, according to initial police statements and a subsequent press release.
The victims' names, according to police: Evelyn Dieckhaus, Hallie Scruggs and William Kinney, all age 9, Cynthia Peak, age 61, Katherine Koonce, age 60, and Mike Hill, age 61. The Woodmont Christian Church, where a vigil was held to honor the deceased, plans to organize fundraising for families affected by the tragedy, according to The Tennessean.
"Yesterday, six families got the worst news that they could possibly get — that their loved one is not coming back, that someone that they loved was killed in a mass shooting," said Kelly Drane, research director at the Giffords Law Center to Prevent Gun Violence. "As someone that studies this, I know that this is a preventable public health issue."
Law enforcement officials in Nashville released the identity of the shooter, whose last name was Hale. Chief John Drake of the Nashville Police said the authorities currently believe that the shooter is transgender. However, local authorities and news media reports have varied on how they refer to Hale's gender identity, as well as what pronouns they have used. The 19th is waiting on further information related to Hale's identity before publishing a first name.
Drane said that policies that have been proven to reduce the frequency and lethality of shootings — such as universal background checks and extreme risk protection orders that suspend an individual's ability to legally buy guns if they present a significant risk of self-harm or violence — would make a difference in mass shootings.
"But too many lawmakers have refused to take action," she said.
Tennessee in particular has "extremely weak" gun laws, Drane said — citizens can carry loaded handguns in public spaces without a permit, meaning people can carry those firearms without a background check or firearm safety training. There is also no state restriction on the sale of military-style assault rifles and large-capacity magazines, she said.
In Nashville, the shooter was armed with three guns, according to a police press release sent out on Monday. Two of them were "assault-type weapons."
In his response to the tragedy, President Joe Biden on Monday called for Congress to pass his federal assault weapons ban — a policy that has stalled in Congress multiple times.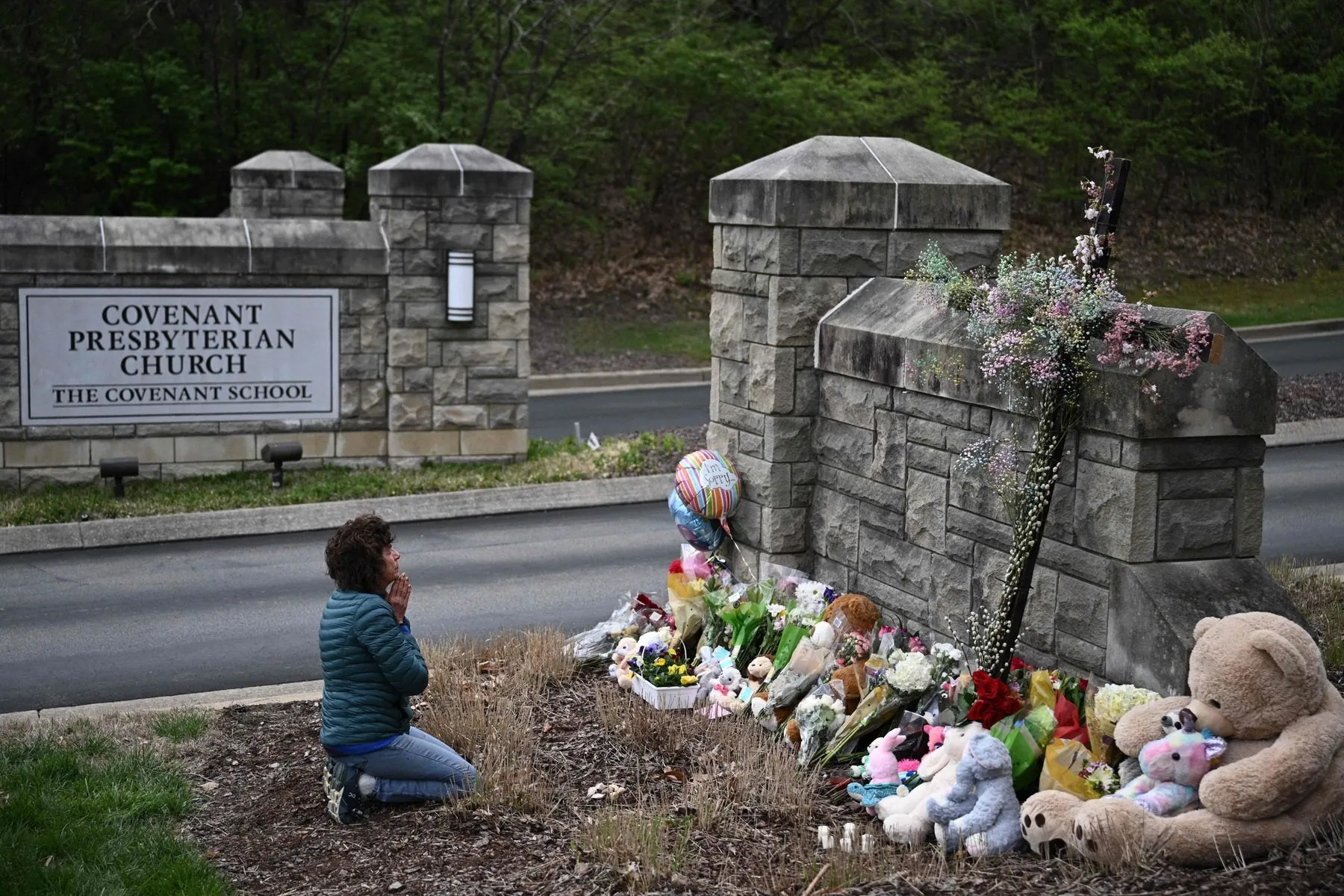 Amid the confusion, several conservative and far-right media personalities have used the reported identity of the shooter as an opportunity to shift the conversation away from gun control and onto restricting gender-affirming care for transgender people, or simply to focus on anti-trans rhetoric. Georgia Republican Rep. Marjorie Taylor Greene shared a tweet in a similar vein — saying that "everyone can stop blaming guns now" and speculating on whether the shooter was taking hormone replacement therapy.
Ari Drennen, LGBTQ+ program director for Media Matters, a progressive nonprofit and media watchdog, responded to the tweet: "The Republican party will blame anything and everything before they do a thing about guns. And so this will just keep happening," she said.
Drennen was a senior in high school when another student planned a shooting, brought weapons to school but decided to kill himself on the grounds rather than killing anyone else. Her girlfriend was in the gym, near the entrance that the gunman used. "I can't imagine how horrible it would be to lose somebody in that way," she said in an interview.
As anti-trans legislation and rhetoric has reached a fever pitch across the country, Drennen is worried that rhetoric surrounding the gender identity of the Nashville shooter will be used to further attack transgender people.
"I am concerned that this one crime by a bad person will be used to justify stripping more rights away from a vulnerable group, as we've seen in other moments in history," she said. Several far-right media personalities have, in the aftermath of the shooting, used the moment to portray being transgender as a mental illness, she said — rhetoric that is being spread as politicians across the country are trying to ban gender-affirming care and spreading falsehoods about what it means to be transgender.
Tennessee, in particular, has pushed a wide variety of anti-LGBTQ+ policies, Drennen said — including efforts to criminalize public drag shows, banning the ability of trans youth to access gender-affirming care, restricting insurance coverage of such care, and rejecting federal funding for HIV treatment.
Mass shootings, including school shootings, are almost always carried out by cisgender men in the United States — which is part of a greater picture of how most forms of violence are gendered in our country as well as others, said Ron Avi Astor, a UCLA social welfare and education professor and expert in school violence.
Young men are the typical perpetrators of school shootings — and boys are also more likely to get into school fights or to threaten other students with weapons, Astor said. Boys also tend to show higher rates of nonphysical violence towards others, such as emotional or psychological harm.
Astor cautioned that media coverage of such shootings should name the victims, instead of the shooter, in order to avoid encouraging the kind of attention that perpetrators often want, regardless of their gender.
Lance Strate, a faculty member in communication and media studies at Fordham University, said breaking news events often create breeding grounds for disinformation because there is a "thirst for more information than is available at the moment." Reporters press public officials and law enforcement for details, motives and causes — and the officials in turn feel pressured to respond with scraps of information, whether confirmed or not.
Strate said another problem is the news media tends to focus on any atypical or surprising elements — in this case, that the shooter was identified by the police as a woman, then as transgender. The news media, he argued, should not focus on what is uncommon about this mass shooting, but instead highlight what is shared by the vast majority of mass shootings in the United States.
"There will always be individuals with mental health issues and individuals who snap at some point, but it is the incredibly easy availability of weapons of war that ought to be the focus," Strate said. "Not what is different about this case, but what has become all too commonplace over and over and over again."