Editor's note: This article has been updated to reflect the attorney general's order being delayed.
Your trusted source for contextualizing the news. Sign up for our daily newsletter.
A court on Monday temporarily blocked an emergency order by Missouri's state attorney general that would have made accessing gender-affirming care for minors and adults nearly impossible. The order — an unprecedented move, according to legal experts — will be paused until May 15. 
The temporary restraining order was granted by Judge Ellen Ribaudo of the St. Louis County Circuit Court, in response to a lawsuit by the ACLU of Missouri and Lambda Legal on behalf of the families of two trans youth, as well as a transgender adult man and Southampton Community Healthcare in St. Louis. A preliminary injunction hearing is scheduled for May 11, and the judge can extend the temporary restraining order further past May 15.
The emergency rule by State Attorney General Andrew Bailey, which was set to begin on April 27, introduced a list of requirements that stretch waiting periods and exclude categories of patients — leaving transgender people with few or no options for care.
The order requires transgender patients — without specifying age — to undergo at least 15 hour-long sessions of therapy over the course of at least 18 months before seeking gender-affirming care. It also requires physicians to track "all adverse effects" of gender-affirming care for at least 15 years, and to determine whether the patient has autism.
Having any mental health issues, including depression and anxiety, would apparently disqualify trans people from accessing gender-affirming care in the state.
The day the restrictions were announced, 32-year-old Jaina Keller of Belton, Missouri, asked her nurse practitioner's office what she should do.
Given the news, Keller wanted to know if there was a way to increase her prescribed estradiol — estrogen replacement therapy — and get a refill that would hold her over long enough to find someplace to live in a safer state.
In response, she received what read as a boilerplate message from her provider, the Northland Planned Parenthood location in Kansas City, Missouri. No immediate changes would be made to the care that the location provides, the response from her nurse practitioner said — but that may change: "Until April 27 there is no way to know for sure what will happen, but we are hopeful that some lawsuits and challenges to the ruling will keep it from taking effect."
The attorney general's order heaps extensive requirements on physicians providing gender-affirming care — enough to render the provision of such care virtually impossible, advocates say. It forces trans people to jump through expensive, and for many, unattainable, hoops.
No other state attorney general has issued a rule like this on gender-affirming care, legal experts tell The 19th. There is no precedent to point to, even in Texas, where the attorney general penned a non-binding legal opinion that labeled gender-affirming care for minors as child abuse.
Across Missouri, transgender adults have found themselves in the same position as Keller: making a plan to get health care that has been unilaterally restricted by the state and scrambling to understand the implications of these new restrictions. Attorneys say that it is unclear whether the rule blocks access to gender-affirming care for trans patients already receiving it, although in at least one case, a health care provider plans to halt all care after April 27.
Shannon Minter, legal director of the National Center for Lesbian Rights, said that a fair reading of the rule is that if someone is already receiving a specific kind of care, they can continue to receive it — although it still requires providers to start complying with "ridiculous" requirements.
"It is completely clear that the whole point of this order is to deter providers from Missouri from providing this care," Minter said. "The point of this order is to make it so burdensome and so contrary to medical ethics and the standard of care that providers give up and no longer treat transgender patients."
However, other attorneys say it does not appear that trans patients already receiving care are safe from losing health care.
The rule is "incredibly vague" as to how it works and who it affects, said Omar Gonzalez-Pagan, an attorney and health care strategist at Lambda Legal. The rule does not say when physicians will have to adopt new requirements for existing patients, and it's an open question as to whether current trans patients are protected from losing care.
"It could arguably affect some people. I think that's partly why this is so unlawful," he said.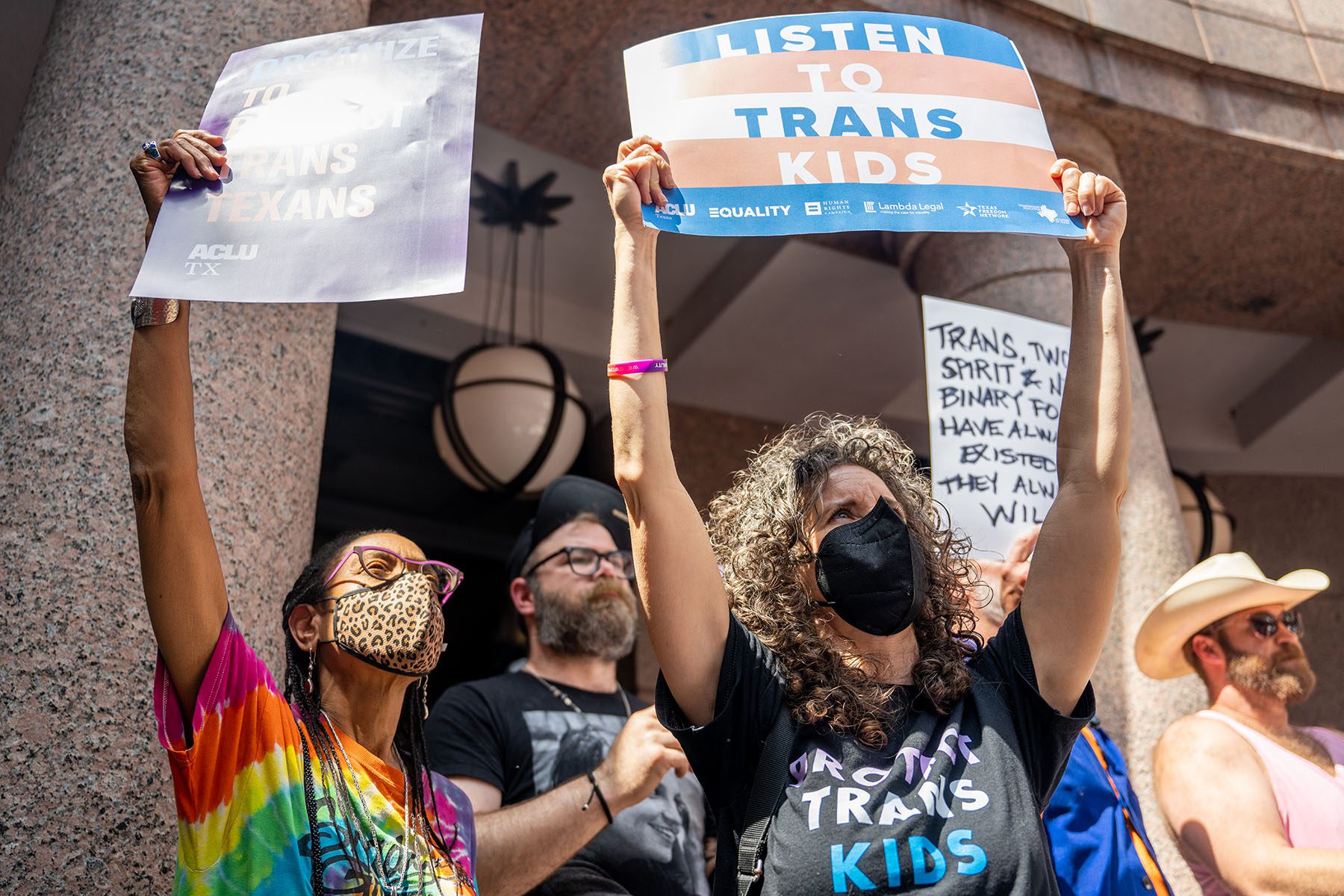 Devyn Taylor is already vulnerable to the effects. Taylor, who started transitioning over a decade ago, does not produce her own hormones due to gender-affirming surgeries that she has undergone.
When she asked her health care provider, CoxHealth, what would happen, the practice informed her that as of April 27, when the rule was originally set to go into effect, her doctor would no longer be able to fill prescriptions for gender-affirming hormone therapy.
"I do not currently have the processes in place to defend my license to practice gender-affirming care should the state investigate me under the new Attorney General emergency rule," the note from Taylor's doctor reads. Her doctor recommended requesting a 90-day supply of medication and advised patients to set up regular appointments to build documentation required by the emergency rule. "If this rule is overturned, I will reinstate your plan of care immediately," the note says.
The same day that the Missouri attorney general's order came out, Gray D'eon — a 21-year-old trans woman in Springfield, Missouri — marked her one-week milestone of starting hormone replacement therapy (HRT).
A lot of what prompted her to take the jump into starting HRT was all the pending anti-trans bills around the country, she said.
The only provider that she was able to find in order to start HRT — especially without insurance — was Plume, a telehealth company that offers gender-affirming care. Without access to Plume, D'eon would have to stop taking hormones right after starting them, or pursue "DIY" methods of HRT, which she described as unsafe and unregulated.
"I will not have any other choice," she said. "I'm working in a job where I do not have insurance. I do not have the funds to self-pay for that stuff."
Jerrica Kirkley, co-founder and chief medical officer at Plume, said that she is not sure whether the organization will be able to continue offering hormone replacement treatment to trans people in Missouri if the attorney general's rule goes into effect. The organization is working to get refills through before April 27t, she said, to set up existing patients with needed medication to bridge the gap until a possible legal injunction.
Tony Rothert, director of integrated advocacy for the ACLU of Missouri, said that the organization plans for there to be a lawsuit in place before the emergency order goes into effect.
The situation in Missouri will particularly hurt transgender people who don't have the funds to move or to pay out of pocket for the new requirements laid out in the attorney general's order, including extensive therapy appointments, local advocates say.
White trans people typically are the ones with resources to move out of state, said Merrique Jenson, executive director of local nonprofit Transformations, which offers microgrants to young trans people in survival mode and distributes other resources focused on trans people and women of color.
Many transgender people of color cannot afford gender-affirming care altogether due to systemic racism and financial oppression, and their concerns need to be prioritized as LGBTQ+ groups respond, Jenson said. In Missouri, the response from advocacy groups to anti-trans policies has not prioritized their perspective, she said.
"Trans girls, especially trans girls of color, often don't transition until they're almost legally an adult just because the resources and support are not there the way that they are for White trans nonbinary youth," she said. White and privileged trans people may be losing access to gender-affirming care that many trans people of color were never able to access in the first place, Jenson said.
Emerson Gray, a transmasculine genderqueer person living in Madison County, Illinois — a short drive away from Missouri — is one of those who could afford to move. For him, the attorney general's ruling is the latest sign that living in the state he used to call home isn't safe anymore. He's looking for a new primary care doctor, since he currently gets HRT from a doctor in St. Louis.
Gray, 24, moved from Missouri to Illinois last October due to increased legislation aiming to ban gender-affirming care. A debate on whether care should be banned for 25-year-olds pushed him to make the move. Now, he's watching as Missouri implements restrictions that specifically target people like him — both as a trans person, and as someone who was diagnosed with autism as a child.
"I don't want to live in a state that's trying to eradicate me anymore. It didn't feel safe. It didn't feel feasible to stay there," he said.