*Correction appended.
We're telling the untold stories of women, women of color and LGBTQ+ people. Subscribe to our daily newsletter.
Her website bio describes her as a feminist plumber, but Judaline Cassidy is more than that. She's nothing short of a tradeswoman evangelist, preaching the gospel of tradework to the masses, and she hopes women are listening.
Cassidy was raised by her grandmother in Trinidad and Tobago. Without money to attend college, she began to look at trades, which she saw as the one way she could learn an employable skill and get paid doing it. She chose plumbing.
At the age of 19, after moving to New York and working as a nanny and a housekeeper, she found her way back to the industry and into a union apprenticeship.
"It's taken me from being a poor girl growing up in Trinidad — loving it, not knowing any other way — to being able to get a job as a union plumber, and make good salary, have a 401(k) plan, great medical [benefits], and a skill that is transferable," Cassidy said.
"I've never looked back since," she said on a call from Las Vegas, where she attended the launch of a new children's coloring book about women in plumbing in which she is featured.
Cassidy is one of a small but growing number of women who've entered the trades in the last few decades who are urging others to join a fast-growing industry where union-protected jobs provide good pay and benefits. Historically, trades have overwhelmingly employed men. Now, the lack of women in these jobs could hurt the country's ambitions to fix the country's aging roads and bridges and transition more quickly to renewable energy like wind and solar.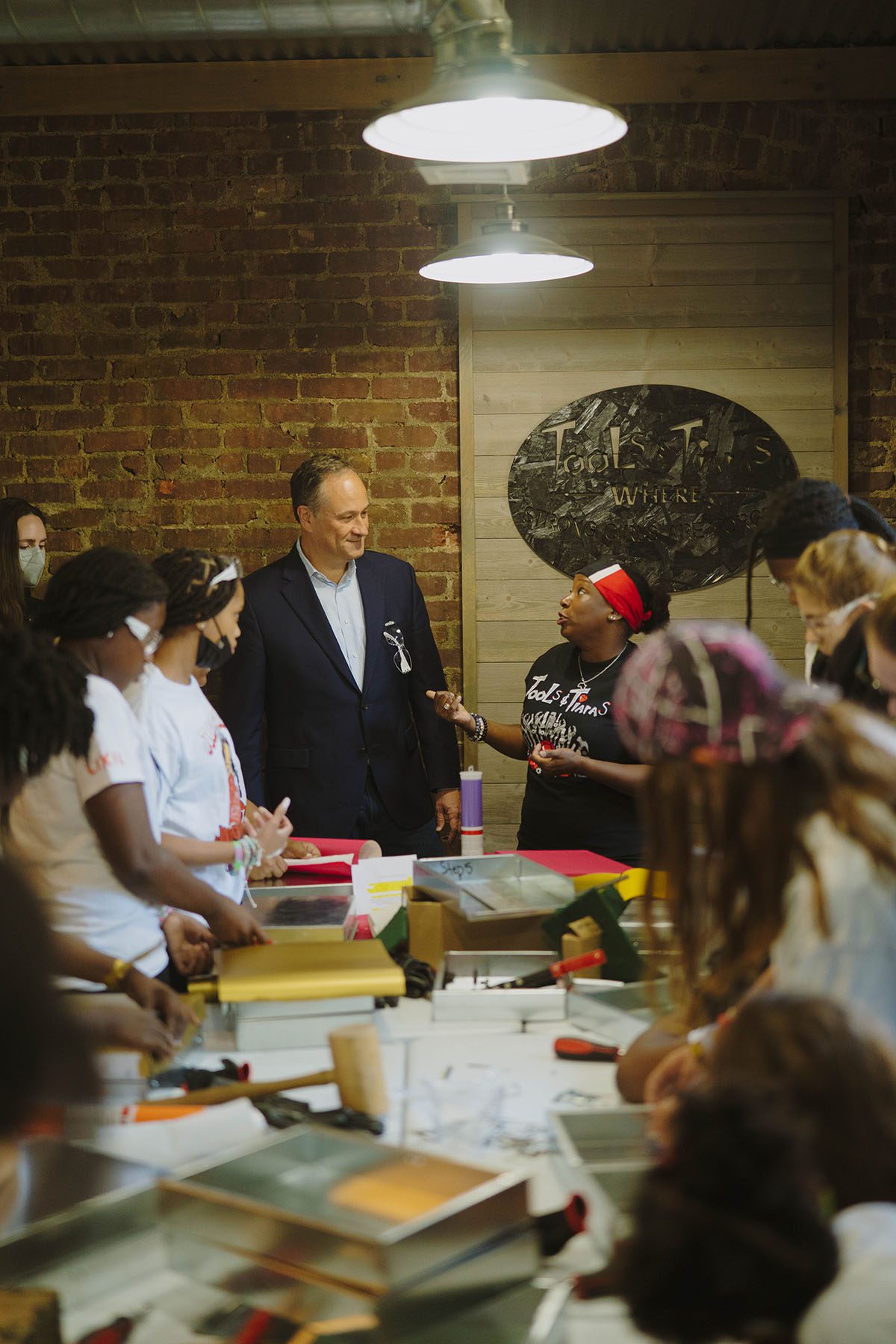 This point was driven home at a forum on workforce development held by the North America's Building Trades Unions (NABTU) in January, where union leaders and industry executives met in Washington, D.C., to address the shortage of skilled trades workers.
"There are simply not enough workers out there. We have to add hundreds of thousands of construction workers to meet the demand today," Sam Lyon, principal vice president of Bechtel, a construction company. "And when we look at what is coming in the future it is even scarier."
The Bipartisan Infrastructure Law and the Inflation Reduction Act together invest more than $1 trillion into the U.S. economy, with hundreds of billions of dollars going to infrastructure upgrades and clean energy production. This creates an opportunity to bring more people into the middle class in what union workers call "family-sustaining jobs" that don't require a college degree.
Already NABTU has signed a labor agreement with Ørsted, a Danish company constructing offshore wind farms on U.S. coasts. The industry is expected to create 80,000 jobs.
But these fields where most of the job creation is happening continue to be difficult for women and nonbinary people to access. Only about 2 percent of building trades workers identify as women, and there is no data on nonbinary people. About 10 percent of workers in the construction industry as a whole are women.
A first-of-its-kind report released at the forum offers clues as to how to address the problem with a straightforward solution: invest in union workers. The main takeaway of the report, conducted by the Institute of Construction Economic Research, which conducts nonpartisan research on the industry, is that unions have been more successful at creating pipelines that attract and retain women and people of color in the industry over nonunion initiatives.
According to the report, in 2019, the percentage of women in apprenticeships run jointly with unions, which are multi-year training programs that pay people to learn a trade, was double that of programs that aren't union-affiliated.
But the wins are marginal when looking at the bigger picture of trades worker demographics. In 2019, women made up only about 4.8 percent of participants in those apprenticeship programs, and more than half ended up dropping out. These dropout rates were even higher in nonunion programs.
However, the report pointed to pilot programs around child care and maternity leave, most of which have been spearheaded by women in the industry, that aim to bring more women along as the demand for workers grows.
One initiative mentioned in the study was created by Vicki O'Leary, director of diversity for Ironworkers International and chair of the NABTU Tradeswomen's Committee. In 2017, for the first time, the union offered maternity leave for apprentices and journeywomen.
"It was one of the best things we could have done at the time," O'Leary said at the forum. "Women were hiding their pregnancies on their jobs and not being honest with their doctors about how hard and grueling the work actually was."
So far 143 women ironworkers have used the policy, which offers ironworkers up to six months paid leave during the pregnancy and up to six to eight weeks paid leave postpartum. Eighty-three percent of the workers returned to their jobs after they had their children.
"That's a great bang for our buck, quite frankly, because we're spending up to $50,000 to get them through the apprenticeship," O'Leary said. "To know that 83 percent come back is huge."
Several other unions representing painters and carpenters, plumbers and sheet metal workers have since followed suit, developing their own maternity leave policies.
Finding child care presents another barrier to caregivers in construction trades due to the cost and the often early hours of the job that fall outside of normal child care operations.
A new nonprofit, TradesFutures, which is supported by NABTU and formed to raise money for workforce development, is currently running two pilot programs in New York and Wisconsin that issues vouchers to tradeswomen to pay for child care. It has also negotiated with one center in Wisconsin to offer early hours care.
"This is our action research to try to figure out what we can recommend to apprenticeship programs across the country as ways to help maintain and recruit more women in the industry," said Nicole Schwartz, executive director of the nonprofit.
But, Schwartz added, "I think that that's one of the areas where you really find that the problems are more severe now than before the pandemic, just because the child care industry still isn't fully recovered."
The report pointed to other persistent barriers, too. Women still do not feel welcome in the industry, sexual harassment is pervasive, and work environments can be isolating, difficult and hostile.
An annual tradeswoman conference, where workers can find mentors and advocate for new policies, has helped build camaraderie for workers, with over 3,000 people attending last year, O'Leary said. However, as the report has pointed out, there is still an urgent need to make the trades more appealing to women.
"It just shows me how much work we need to do," O'Leary said. "So instead of patting myself on the back, it shows me that we still have an awful lot of work to do. I don't think you'll see NABTU or any of our affiliates sitting on their laurels. I think that this is the wake-up call that we all need to do better and be better."
For Cassidy, it's also a matter of gender equality and helping lift other women out of poverty through union jobs that offer equal pay.
"Women that are single moms … and have to take care of themselves, if they got the opportunity to learn a trade, they could change the whole trajectory of their family, their community and the nation," she said. "A lot of money has been invested in our country, to build infrastructure. … Women are 51 percent of the population and we are losing out on that big amount of income."
Correction: An earlier version of this article misattributed a quote from Sam Lyon.