Last month, on the second anniversary of the January 6 attack on the U.S. Capitol, Minnesota state Rep. Emma Greenman stood alongside a group of her colleagues to announce the creation of a democracy caucus aimed at elections policy and ways to expand voting.
For Greenman, a voting rights attorney, the symbolism of announcing this specific caucus on this specific day was clear. She thought about everything that's happened since the violence in early 2021 — including a congressional committee releasing evidence that showed the full scope of former President Donald Trump's actions to overturn the 2020 presidential election.
But Greenman doesn't want subsequent anniversaries to be just a reflection on Trump and the attempted coup. She also wants them to highlight the policy work that remains.
"It was really important that we recognize this not as a memorial of what happened, but as a day where we are recommitting and actually saying, 'We are taking action to protect our democracy, to improve our democracy, and to strengthen our democracy,'" Greenman said.
Greenman is among several women in the Minnesota Democratic–Farmer–Labor (DFL) Party, the state affiliate of the national Democratic Party, who are tackling elections policy this year, in part through an omnibus bill with a host of proposed changes aimed at expanding access to the ballot. She will co-chair the so-called Inclusive Democracy Caucus with Sen. Liz Boldon and Rep. Cedrick Frazier under a new Democratic trifecta in the legislature and state government. The trio plan to work on moving bills through two legislative chambers also led by women, House Speaker Melissa Hortman and Senate Majority Leader Kari Dziedzic.
Boldon noted that many — 19 of 34 — DFL members in the Senate are women, so it's only natural that they would lead on improving policy like elections. (In the House, just over half of the party's 70 members are women.) But she also said women see voting access as a link to other priorities.
"We are stepping up to try to work on some of the issues that are affecting our lives," she said. "This is an intersectional issue. We all have that recognition that there's work we want to get done — whether it's reproductive freedoms or health care or education or child care. All of those things require democracy to be strong and functional and participatory."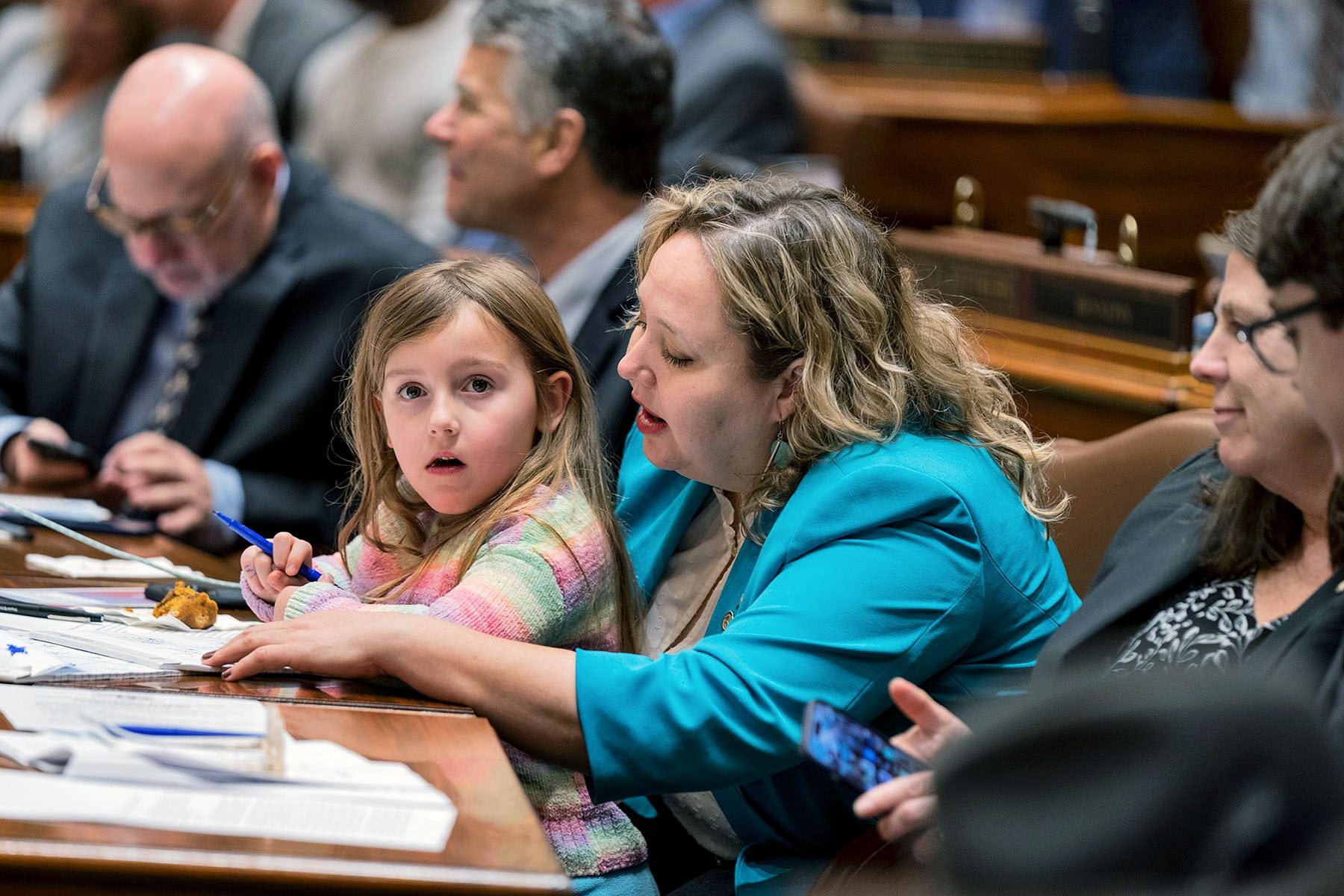 The package of legislation spearheaded by the Inclusive Democracy Caucus is named the Democracy for the People Act, though some measures are expected to advance as stand-alone bills. It would establish automatic voter registration; allow 16- and 17-year-olds to pre-register to vote; allow people to opt into a permanent absentee voter list; and restore the right to vote for people with a felony conviction who are no longer incarcerated. Lawmakers also want to add protections for election officials.
It's unclear whether Republicans will back the bills. At least one faction of the minority party voted this week against the bill to restore voting rights for people with felony convictions — but two Republicans voted for the bill when it advanced out of the full House on Thursday night.
During the January 6 conference, Greenman noted that several of the policies in the package have passed in other states with bipartisan support. She said the proposals are being shaped by what's good for voters — Democrats, Republicans and others.
"I would love to have been engaging on this bill and a lot of bills, our folks across the aisle. I think that that's what's best for democracy. It's what's best for all of our voters," she said. "But that's certainly not going to be our litmus test, what we want. It's going to be what Minnesota voters want and need."
Minnesota's democracy caucus appears to be one of the first of its kind, at a time when legislators across the country are filing numerous election-related bills. Even as some lawmakers work to shore up voting access and many election deniers' campaigns failed in last year's midterms, some legislators are also set to consider bills that would add restrictions around elections. The nonpartisan Voting Rights Lab estimates at least 373 laws nationwide that impact elections and how people vote have been enacted or adopted since the 2020 election. Of those, they categorized 177 laws as improving voter access and/or election administration; they believe 81 would restrict it; and the remaining 115 the group considered either neutral or mixed in their impact.
Minnesota is one of a number of states where Democrats took a narrow majority win and are now looking to expand voting. In Michigan, where women are leading in a legislature newly under Democratic control, policymakers have announced voting rights as a priority following an approved ballot measure that will expand early voting. In Arizona, where lies about election fraud have been pervasive, newly elected Democratic Attorney General Kris Mayes plans to redirect a unit aimed at unfounded voter fraud toward voting rights.
Christina Harvey, executive director of Stand Up America, an organization that supports voting access, believes elections-related proposals like the ones moving through Minnesota will make it more likely that women run for public office.
Harvey said that's crucial "at a time when it is clear that the current system is not working for [women], because in spite of us being the majority of the population in the United States, it has been made clear to us that our current government at many levels does not care if we live or die."
Greenman, who has traveled the country as part of her work, said that efforts to enact elections policy is not limited to women, noting the involvement of Frazier, a Black man, and other people of color. She said it's led by people who have a long history of fighting for their communities.
"Democracy is a space where communities need to come together to solve problems … and I think that is a role that women and that BIPOC community leaders have often played," she said.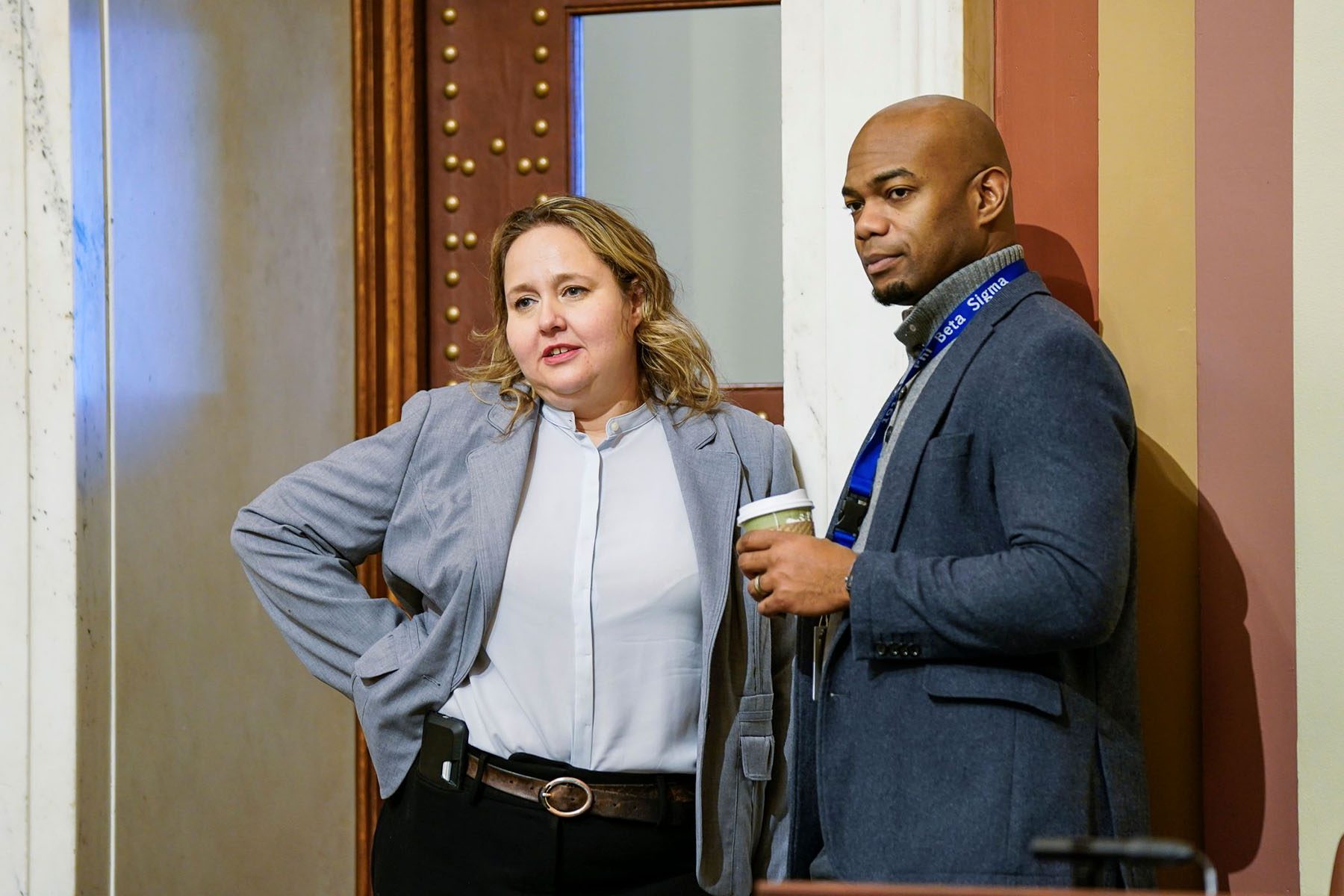 The policy activity comes as the country is still reeling from the ongoing effects of election denialism on free and fair elections.
Lilly Sasse is campaign director for We Choose Us, a coalition that supports the omnibus bill in Minnesota and plans to have an ongoing presence at the state Capitol this year. She believes the bill's chances are good with a Democratic trifecta. But she also said the public's understanding of the ongoing threats to democracy have been heightened. She noted that Secretary of State Steve Simon — a Democrat who defeated Republican Kim Crockett, who claimed the 2020 election was rigged — garnered more votes than any other Democrat running statewide.
"Minnesotans clearly understood that they weren't just showing up in November to participate in democracy," she said. "They were showing up to protect it."
Harvey added: "I think including more people in our democracy means that we will have a government that is more representative of everyone who's part of our society and better represents the interests of women in particular, but also of people of color and everyone whose voices have traditionally been marginalized."
Senate lawmakers also met Thursday to discuss the Minnesota elections package, one of several legislative steps in the process. Boldon said ensuring the legislation's passage will come down to not running out of time in a session with several priorities. She pointed out that the main bill's numerical ranking in both chambers — House File 3 and Senate File 3 — reflects its importance.
"It conveys the level of priority at which we are taking this," she said. "There is a recognition of the moment that we are in, and this is work, frankly, that is overdue and needed. So I am really hopeful that there is support and that we're able to move things through."