Your trusted source for contextualizing the news. Sign up for our daily newsletter.
Amanda Zurawski was one of the many Austin, Texas, residents camping out at a crowded coffee shop after losing power at her home on Friday when she got a call from a number she didn't recognize with a Washington, D.C., area code. It turned out to be an invitation — on behalf of First Lady Jill Biden.
Zurawski's immediate reaction was "complete shock and disbelief" as an aide to the first lady explained that she and her husband, Josh, were invited to come to Washington to attend a dinner at the White House and then watch the State of the Union address from the first lady's box.
"I think I just kept going, 'Oh, my God. Oh, my God' the whole time, it was just incredible," Zurawski told The 19th in a Wednesday interview.
The 26 guests invited to attend the 2023 State of the Union in the first lady's box telegraphed the themes of the speech and reflected the White House's priorities. Amanda and Josh Zurawski represented the millions of Americans who have been adversely affected by the strict abortion bans that states such as Texas have enacted since the Supreme Court overturned Roe v. Wade.
Biden devoted only a few lines of his speech to addressing abortion, again calling on Congress to pass federal protections, vowing to veto any potential national abortion ban and decrying "extreme" state-level bans. Yet for Zurawski, it was an honor and "humbling" to be able to represent Texans, who were the first in the country to lose their abortion rights, and millions of others with stories like hers.
Zurawski said she and Josh each got to bring both of their parents to a private dinner at the White House before the speech with the other guests invited by the first lady. They included RowVaughn and Rodney Wells, the mother and stepfather of Tyre Nichols; Paul Pelosi, husband of former House Speaker Nancy Pelosi; and U2 singer Bono. 
"Being in that room with all of those inspiring, amazing people, it was just incredible," she said.
Then, she and the other guests were ushered into the winding halls of the Capitol through the crowds and past multiple security lines up to the first lady's box in the House gallery. Zurwaski said Biden did "a great job" emphasizing unity in his speech — though she was "very surprised" by the amount of heckling and shouting from Republican lawmakers.
"It was a once-in-a-lifetime experience," she said. "I don't even know how else to describe it."
Zurawski's "whirlwind" journey to the State of the Union began only a few months ago, when she publicly spoke out about experiencing pregnancy loss — and nearly losing her life — in a state with a strict abortion ban.
Zurawski was 18 weeks pregnant in late August when her water broke early, ensuring she would lose her pregnancy. Performing an abortion is a felony under Texas' near-total ban, which allows exceptions only in cases where the parent's life is in danger. Zurawski had to wait three days to receive care, developing sepsis, a life-threatening infection, as a result.
Zurawski shared her story for the first time in an essay and a video for The Meteor, a storytelling site focused on women's stories, hoping it would help spur a change. The couple's story generated local and national headlines — and got them on the White House's radar.
"It's obvious that this is a very important issue to them," Zurawski said. "And I think having me and my husband there as representatives of people who have been impacted shows that they're very sincere in their belief."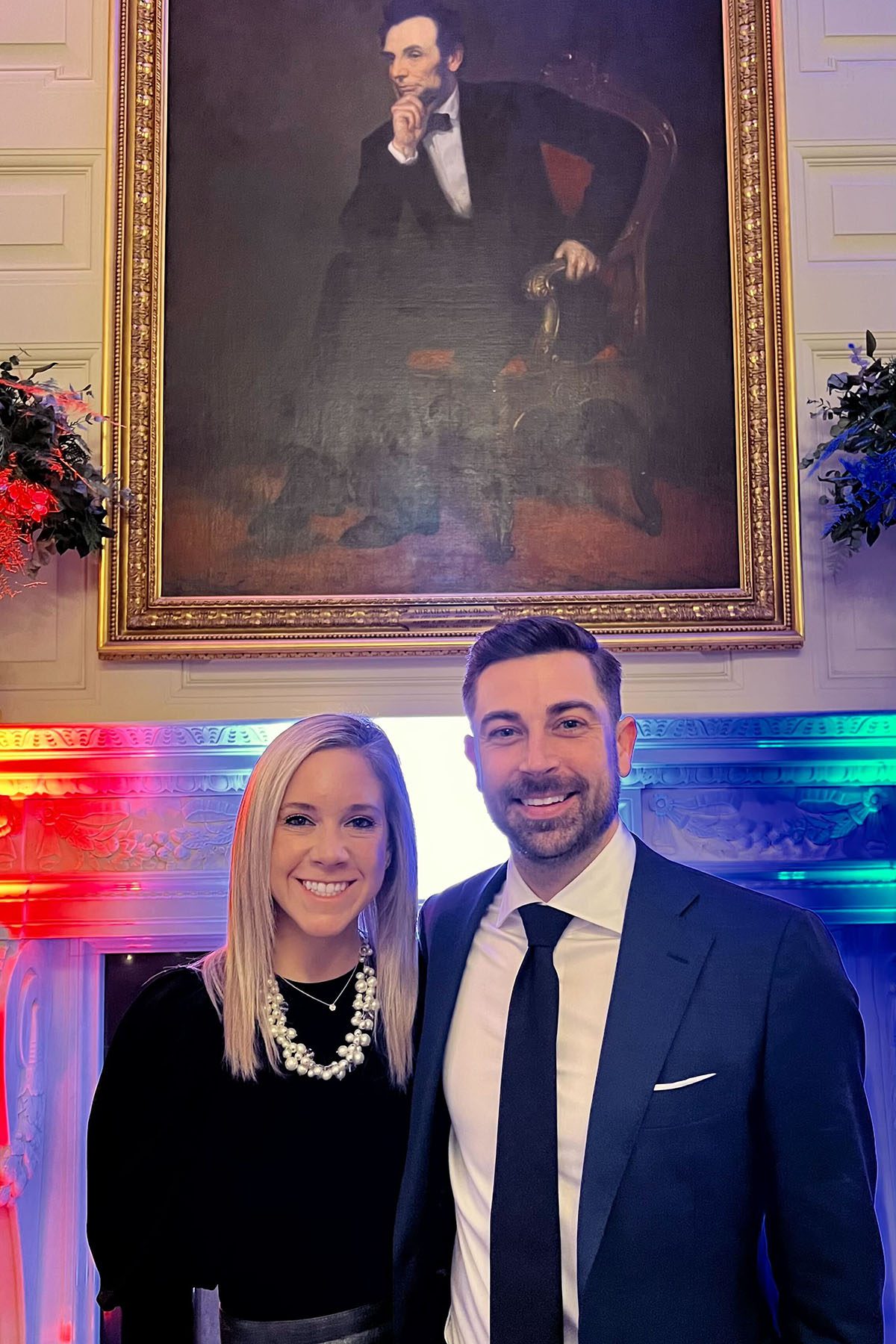 Two weeks before the State of the Union, Vice President Kamala Harris' office invited Zurawski and Josh to attend the vice president's speech marking the 50th anniversary of Roe v. Wade in Tallahassee, Florida. Harris, who has spearheaded the White House's response to the Dobbs decision, spoke directly about the couple's experience, saying "thank God Amanda survived."
"And I want to thank them both for having the courage to tell their story in a way that will inspire so many individuals and their families to know they are not alone," Harris added.
"We knew that maybe she was going to reference our story, but we certainly weren't expecting her to call us out," Zurawski said, adding that multiple people came up to her after the speech to show their support.
Texas was the first state to put a six-week ban on abortions with Senate Bill 8, which went into effect in September 2021, over nine months before the Supreme Court's decision in Dobbs v. Jackson Women's Health Organization. Texas then put a near-total ban in place.
Zurawski said it wasn't until speaking with her representative in the House, Democrat Lloyd Doggett, before the speech that she realized she'd be standing for millions of Texans with her spot in the first lady's box.
"It really hit home with me because I hadn't thought of it like that before, that I'm representing Texans," she said.
Zurawski says that as she and Josh have spoken up and continued to share their story in the public eye, women from around the country have reached out to offer condolences, share their own stories and thank her for speaking up.
"Even beyond Texans, there have been a lot of women who reached out to me in the past couple of weeks or months, who have said, 'I've been through something similar' or 'I'm afraid this is gonna happen to me,'" she said. "And oftentimes, they thank me for sharing, and it's just so humbling."
Zurawski says she and Josh are taking things "one day at a time," but they plan "to keep advocating until something changes, and until women don't have to be scared for their lives when they get pregnant."
"My husband and I never wanted to be the poster people for this cause, but this is the hand we were dealt," she said. "And so as long as there's a fight to fight, we will do it, and we're happy to speak up for those who can't. For the people that do reach out, it just means so much. That's what keeps us going."