The messages haven't stopped coming in for Mallory McMorrow since the Michigan state senator took to her chamber floor last month and gave a nearly five-minute speech calling out anti-LGBTQ+ rhetoric.
The emails, letters, phone calls and voicemails have been largely positive, coming from constituents and strangers — including President Joe Biden — who want McMorrow to know they saw her viral April 19 speech taking on a Republican colleague who accused McMorrow of being a pedophile because she supports LGBTQ+ people.
Almost overnight, McMorrow, 35, has become someone Democrats are pointing to as a potential guidepost for their party as it tries to effectively confront Republican messaging on social issues that have dominated statehouse agendas this year. While some Democrats, including women of color, have been sounding the alarm for some time, McMorrow's speech through the lens of her identity as a "straight, White, Christian, married, suburban mom" seems to have broken through with a party facing tough 2022 midterm elections.
McMorrow now wants other White women to stand up with marginalized communities against rhetoric that she described as "vile and terrible and wrong." She sees a winning message in calling out the vitriol.
"​​This is not helping to fix the roads. This is not bringing more teachers into the profession. This is not bringing health care costs down. And I think that is the really powerful message that Democrats can and should get aggressive about," McMorrow told The 19th. "Because if we're standing up against hate, I don't think we can lose."
McMorrow's speech was in response to Lana Theis, another state senator, who claimed in a fundraising email that McMorrow is "outraged they can't groom and sexualize kindergarteners." The term "groomer" has been used by some on the right to malign supporters of LGBTQ+ rights by comparing them to pedophiles who prepare children for sexual expoitation.
"I want every child in this state to feel seen, heard and supported, not marginalized and targeted because they are not straight, White and Christian," McMorrow said in the speech, which has been viewed on YouTube millions of times. "We cannot let hateful people tell you otherwise, to scapegoat and deflect from the fact that they are not doing anything to fix the real issues that impact people's lives. And I know that hate will only win if people like me stand by and let it happen."
McMorrow said she is mindful of what it means to get media attention because she is a White woman. She highlighted Erika Geiss, a Black state senator, and Jeremy Moss, a gay state senator, who both gave impassioned speeches recently about inequities that have received far less attention. McMorrow said it shouldn't be on marginalized people to do all the work.
"If those of us who are not the ones negatively impacted by these attacks are comfortable and stand by and just let it happen, then it's going to keep happening," she said. "So now I'm looking at how I can make sure we're elevating those voices."
Kelly Dittmar, director of research at the Center for American Women and Politics, said it's a balancing act for an elected official to focus their messaging on White voters when the subject matter is about marginalized communities.
"Hopefully, and I think in her case she's acknowledging this, there's a recognition of privilege and then trying to leverage that privilege … in a way that is supportive of those who have greater threats against them, in whatever way that looks," Dittmar said.
McMorrow believes Democrats could act ahead of the midterms in a way reminiscent of the collective response they had after the 2016 election of former President Donald Trump. McMorrow attended a local Women's March in 2017 before running for office, and later joined a surge of Democratic women candidates up and down the ballot in 2018. Their elections are credited with record representation for women in the U.S. House of Representatives, including flipping control of the chamber from Republican to Democratic control. On a state level, McMorrow flipped a Republican Senate seat, becoming the youngest woman ever elected to the chamber.
"Donald Trump got elected because of White women who were either apathetic or too comfortable … and we saw how powerful that can be in the other direction in races like mine," McMorrow said.. "I've talked to a lot of women … who realize, I think, in the wake of 2016, we have been on the sidelines for too long and we have been too comfortable and afraid to rock the boat, and looking at a lot of issues that face people who don't look like us and have said, 'You know what, it's not my issue. I'm not going to get involved in that.'"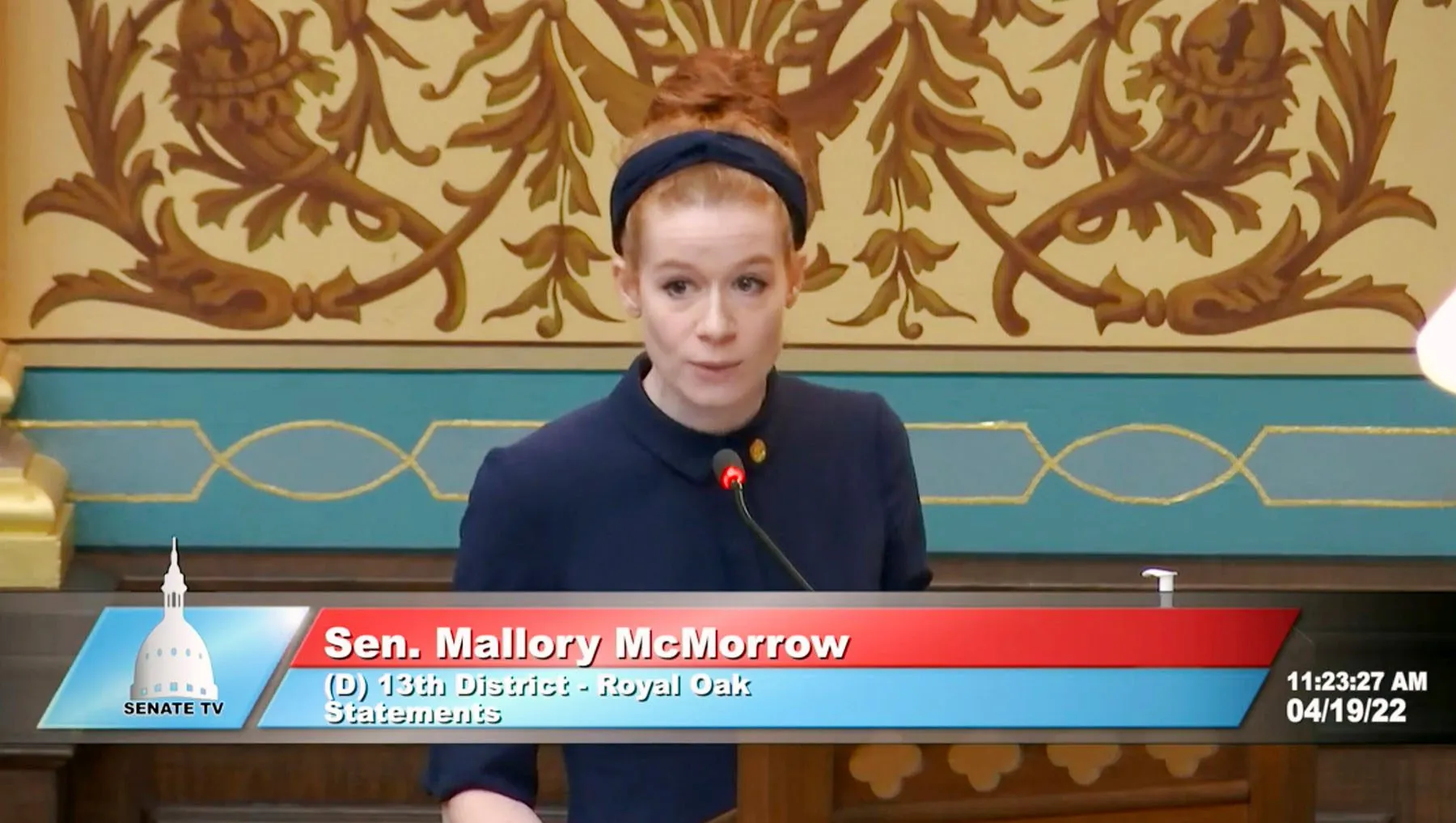 McMorrow believes her speech grabbed attention because so many social policies advanced through Republican-led statehouses this year have been framed around parental rights — whether restrictions on school curriculums and books or anti-trans legislation that impacts children's sports. She said that framing offends her to her "core" as the mother of a toddler.
"I'm a parent, and I'm pissed off," she said. "And it is not something that speaks for all parents … only one voice coming for groups like that right now. And it's really hateful, and it's not OK."
McMorrow's pitch for more civic engagement comes as recent polling shows 41 percent of women say they're more tuned out from politics ahead of the midterm election. That figure was higher for women of color (49 percent) than for White women (39 percent).
As McMorrow seeks reelection to the state Senate, running in a newly drawn district against another incumbent, she hopes to raise money for Democrats, including fellow Michigan Democrats trying to take control of the chamber. After her speech she wrote a national email on behalf of the Democratic Legislative Campaign Committee (DLCC), the party's fundraising arm focused on statehouse races. The DLCC said the email was its "best performing" email of this year, and "performed nearly 30 percent better" than the group's next highest fundraising appeal from this year. The group declined to release more information.
Christina Polizzi, national press secretary for the DLCC, said McMorrow is one of several young state lawmakers who have been on the group's radar for years.
"I think for us, we have always known that there is an incredible power in having lawmakers who are able to use their voice and their identities to speak to their communities, and that's true of lawmakers from every background," Polizzi said.
Amanda Hunter, executive director of the Barbara Lee Family Foundation, which advocates for women's political representation, said the group's research shows that elected officials who share their lives in personal ways stay with voters.
"It resonates with voters when women bring the entirety of their lived experience to the job, because authenticity is so important," she said. "And that speech was incredibly authentic. You could feel exactly how she was feeling."
McMorrow said she's still figuring out the specifics of how she may further help her party in the months ahead. But her message for national Democrats is to "use me as you see fit."
"If this has sparked a fire in people and I can come help raise money for Democrats nationally, specifically for Michigan, or just get people excited about participating again, if we can recreate the energy that led to 2018, I am thrilled to be able to do that in my capacity," she said.
But McMorrow is also hesitant to make her viral speech all about her. Wendy Davis, the former Texas state lawmaker who led a filibuster over abortion rights, tweeted about the need for more people like McMorrow. But McMorrow said she wants to elevate other people to get involved.
"In my head, I'm like no, we need thousands of more non-marginalized, you know, comfortable, suburban White moms to do the same thing," she said. "And that's where my head is at right now. So I'm hoping to kind of push people and inspire them. Like what is your version of this to make sure that we're not letting outright hatred and targeting of marginalized kids be a winning strategy?"
McMorrow hopes individual outreach to constituents through local party events and volunteer opportunities will begin to pave a path. She noted that some White women have reached out personally to her since the speech.
"I talked to another mom who said that it's just been so disheartening and they felt so burnt out over the past few years, with the pandemic and school closures and having to be at home with their kids and to manage work that isn't flexible, all of that," McMorrow said. "But she said to me very candidly, 'This has lit the fire again that we can fight back.'"