Even as anti-abortion groups celebrated the news that the Supreme Court is poised to overturn Roe v. Wade, they told The 19th they would focus on shoring up social safety nets for pregnant people and young parents — systems that tend to be weaker in the states passing the most restrictions on abortion.
If the leaked draft decision by Justice Samuel Alito maintains its 5-to-4 majority, the national battle over abortion rights will largely move to statehouses. Already, more than a dozen states are poised to ban abortion once the final ruling is released later this year.
Lauren Enriquez, deputy media strategist for Students for Life of America, said that "the pro-life movement has spent the last 49 years preparing for this moment" but that they will push for policy to support pregnant people at the state level. Every pregnant person in a post-Roe future, Enriquez said, should be "surrounded by support services and care."
Destiny Herndon-De La Rosa, the president of the New Wave Feminists, an anti-abortion organization whose members belong to different political parties and religious backgrounds, said now is "not the time to brag or gloat."
"Now is the time to get to work and create a world that supports and protects not just the unborn person in the womb, but the equally as human and valuable people carrying them," Herndon-De La Rosa wrote in a Facebook post. "If we do not do this, this moment will not last. More deaths will follow than any of us can even fathom, and there is nothing pro-life about that."
Herndon-De La Rosa, who experienced an unwanted pregnancy when she was 16, said she understood the "sheer terror" that people are feeling in this moment.
"They're scared that an unplanned pregnancy is going to derail someone they love's life, destroying all of their future hopes and dreams," Herndon-De La Rosa said in the post. "And that's valid. It's valid because it absolutely can. It happens every day. I've seen it and could've easily lived it myself."
Overturning Roe v. Wade doesn't ban abortion; it just leaves the decision up to the states. Research shows that many states poised to restrict abortion outright tend to be the states with weaker social safety nets for marginalized and vulnerable populations — particularly after they give birth.
Medicaid, for example, has long prioritized coverage of pregnant women over new parents. The public social assistance program now finances more than 4 in 10 births in the country, according to a recent Kaiser Family Foundation brief. Yet, in a dozen states — including Texas, Alabama, Mississippi, Florida and Georgia — pregnant people who relied on Medicaid become uninsured 60 days after giving birth. Postpartum care encompasses recovery from pregnancy complications, management of chronic health conditions and access to family planning. A lack of proper care in the months following a birth can lead to long-lasting health issues for birthing parents and their children.
Herndon-De La Rosa, who said she was fortunate to receive support from her family in her time of need, called this a "make or break" moment for the movement. If the landmark Roe court decision is overturned, Herndon-De La Rosa argued, the country needs to provide housing, child care and transportation solutions to ensure that a person can give birth without it ending an education, career or future.
"I get why people are scared tonight, and it breaks my heart," Herndon-De La Rosa said in her post. "I hope with everything in my being we're able to prove to them that their fears were unfounded by actually creating the support system they and their children will need, have needed and can finally have."
Most abortion opponents did not address abortions for people whose health is endangered by pregnancy. Many of the states banning virtually all abortions have small exceptions for the health of the pregnant person, but some are so narrow that it's unclear who they would help.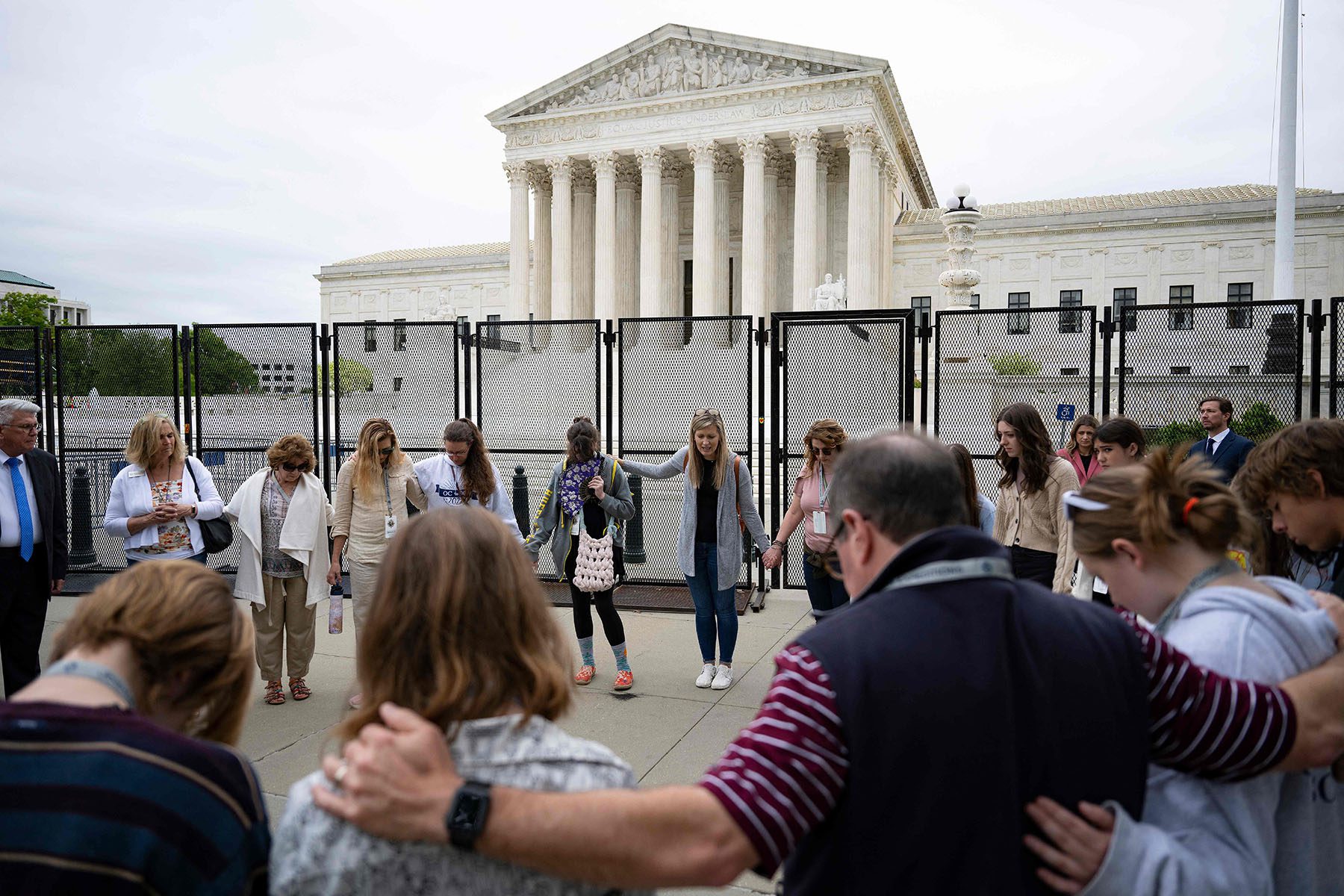 Mary Elizabeth Castle, a lawyer and senior policy adviser with an Austin-based religious freedom advocacy organization called Texas Values, said that if Roe is overturned in the coming months, there's still more work to be done to protect "the whole lives of the children" and their mothers.
"We need to make sure women can access the resources they need at pregnancy centers, can get the Medicaid they need, the job training, the parenting classes, the doctors," Castle said.
Often, anti-abortion groups mobilize at the grassroots level rather than pushing for government assistance or larger policy change.
Groups including Students for Life of America say they have been putting together resources for pregnant people in their communities long before this moment. One of the group's main priorities is making pregnant students more aware of support systems, including crisis pregnancy centers, adoption agencies and maternity homes. The group encourages its student members to become familiar with the legal rights of pregnant students guaranteed under Title IX and to provide campus-level resources by planning baby item drives, writing letters of support, arranging gift baskets, and providing meals to mothers.
"Our work as a movement remains the same," Enriquez said. "To continue creating a culture where abortion is both unthinkable and unavailable in all 50 states."
And many anti-abortion groups are mobilizing to raise money through churches or religiously-affiliated nonprofits. Anti-abortion sentiment has been around as long as abortion itself, but the modern political movement emerged largely from religious groups in the years leading up to the Roe v. Wade ruling, according to Jennifer Holland, author of a book on the modern anti-abortion movement and assistant professor of history at the University of Oklahoma.
In the United States, abortion was a largely stigma-free experience before the 1840s, typically involving herbal concoctions. As per British common law, abortion was considered a misdemeanor only if it occurred after a pregnant person could feel the fetus move, typically in the second trimester, Holland wrote in The American Historian, a journal published by the Organization of American Historians. The system of "quiet abortions" fell apart in the 1800s as physicians sought governmental licensing and regulation, and by 1900, every state had a law forbidding abortion at any stage of a pregnancy.
But in the late 1960s, state legislatures began passing new laws on abortion, making exceptions for women who were raped, whose fetuses were not developing as expected, or whose mental or physical health was in danger. And amid these changes, the Catholic Church mobilized to push against these policies and the modern anti-abortion movement was born.
Now, White evangelical Protestants are the religious group least likely to support legal abortion, according to a 2021 Pew Research Center survey. More than three-quarters said abortion should be illegal "in all or most cases," compared with 63 percent of non-evangelical Protestants and only 43 percent of Catholics.
The Catholic Medical Association, an organization that consists of more than 2,400 physicians, dentists and health care professionals, and National Right to Life, one of the nation's largest and oldest grassroots anti-abortion organizations, said they would not comment until the court's ruling is official. Dr. Christina Francis, the board chair of the American Association of Pro-Life Obstetricians and Gynecologists (AAPLOG), a professional medical organization, said she hopes the final court decision matches the leaked draft. 
The anti-abortion movement's approach is two-fold: mobilize on a community level to support pregnant people and young parents in need and push every level of government for legislation that restricts abortion access.
Katie Glenn, government affairs counsel at Americans United for Life (AUL), an anti-abortion law firm and advocacy group, said the leaked draft now puts more onus on state lawmakers: "Americans United for Life calls on state lawmakers to meet in special session the moment the Dobbs decision is officially released to enact the strongest possible pro-life laws," Glenn said in a statement.
Despite the work ahead, many anti-abortion activists acknowledged the end of Roe as a key turning point for the movement.
"We're very elated that we could see the end to Roe very soon," said Castle, whose organization for years has helped pass anti-abortion state legislation, including a bill that required abortion providers to provide patients with a sonogram before performing the procedure; a bill that effectively ended any state funding for Planned Parenthood; and Senate Bill 8, the first bill in the country to prohibit abortions after the detection of a heartbeat.
"If the draft opinion made public tonight is the final opinion of the court, we wholeheartedly applaud the decision," Marjorie Dannenfelser, the president of Susan B. Anthony List, a national group that backs anti-abortion candidates for elected office, said in a statement following the leak.
Catherine Glenn Foster, the president and chief executive of AUL, said the news brought "courage and hope" to the anti-abortion movement.
"We stand alongside all Americans who have waited so hopefully and for so long for the Supreme Court to reverse Roe, to set America on the path to abortion abolition and to restore justice to our nation," Foster said in a separate statement.