In August 2019, six weeks after Rodrigo Heng-Lehtinen joined the National Center for Transgender Equality (NCTE) as deputy executive director, news broke that the Justice Department, under President Donald Trump, had asked the Supreme Court to legalize firing transgender workers on the basis of their gender identity.
But at one of the moments it was needed most, the nation's premier transgender policy nonprofit, which had worked shoulder-to-shoulder with presidential administrations, sat empty. Earlier that same day, the staff had walked out over the way the organization treated its employees of color.  The incident would prelude the effective dissolution of the storied organization. 
By November 2019, even as states across the country were gearing up to introduce a barrage of anti-transgender bills, NCTE staff were leaving en masse. Facing allegations of racism and union-busting, Mara Keisling, the executive director at the time of the walkout, presented employees with a choice: align with leadership (staff had called for their resignation) or take a buyout. Nearly every one of the top trans policy minds in the country severed ties and left. NCTE, the organization that helped secure protections for transgender people in health care, that gave them IDs that reflected who they were, was at risk of folding.
As a senior leader, Heng-Lehtinen was party to the dismissals, which whittled a staff of more than 20 down to just seven. Today, only three people remain from that time, including Heng-Lehtinen, who spoke with The 19th at length about the organization's efforts to rebuild and re-engage on national policy goals spearheaded by former staff .
Last July, Heng-Lehtinen was appointed as executive director. Since that time, he has been slowly trying to rebuild NCTE into the policy powerhouse it once was while breaking the organization of habits that drove out staff members of color, he said.
Heng-Lehtinen can hardly afford time, not in terms of anti-trans bills, and not in rebuilding the brand of the organization he now helms. NCTE has historically not only been the largest transgender policy organization in the nation, but in many ways, it is the only one that consistently tackles federal policy.
It also publishes the U.S. Transgender Survey, the only comprehensive study of transgender life in the country. Though it does not collect its own robust data on trans people, the federal government relied on the survey to make policy decisions like issuing gender-affirming passports, protecting transgender people in shelters and crafting healthcare rules that cover trans people.
After the staff dissolution, a Black transgender blogger and movement leader Monica Roberts accused Keisling of racism against her dating back years. The fallout fractured the movement for transgender equality in the nation and hit major media.
Heng-Lehtinen and his 15-person staff now face the unenviable task of restoring community trust at time when transgender kids are facing unprecedented attacks in state legislatures. In two years, 11 bills banning transgender kids from playing sports have been signed into law, as well as a bill barring doctors from providing trans kids the gender-affirming care recommended by all major medical associations.
Yet Heng-Lehtinen is hopeful for the future of NCTE and the future of transgender rights.
"With the anti trans-bills, this is what 2008 to 2011 more or less felt like on marriage equality and LGBT umbrella protections," he said. "We lost those all around the country for years. We were just getting clobbered until we started winning and the tide turned."
Heng-Lehtinen's roots are in politics and LGBTQ+ organizing. The Miami-born 35-year-old is the first out trans child of a member of Congress: His mother is former Rep. Ileana Ros-Lehtinen, a Republican from Florida. He launched into queer organizing after Proposition 8, the ballot measure that rescinded marriage rights for same-sex couples in California, passed in 2008.
His first job in the movement was as a field organizer for the National LGBTQ Task Force in 2009, a moment when the future of marriage equality looked imperiled in the United States. Heng-Lehtinen describes that time in California as terrifying for LGBTQ+ people who tasted the joys of marriage rights and then saw them stripped by their own neighbors at the ballot box in a few short months.
"It felt hopeless for a lot of people, 'Like, wow, if we can't even win in California, which everyone perceives as this liberal bubble. How in the world are we gonna win anything?'" he recalled.
But LGBTQ+ responded by pivoting to personal stories, both their own and those of others in the community. Heng-Lehtinen sees the transgender movement at a parralel stage. Pew Research found last year that 42 percent of Americans personally know someone who is trans. As those numbers grow, however, advocates hope support for the community will, too.
"As a trans rights activist, I believe in the work and I believe that NCTE does something that no one else is doing," he said.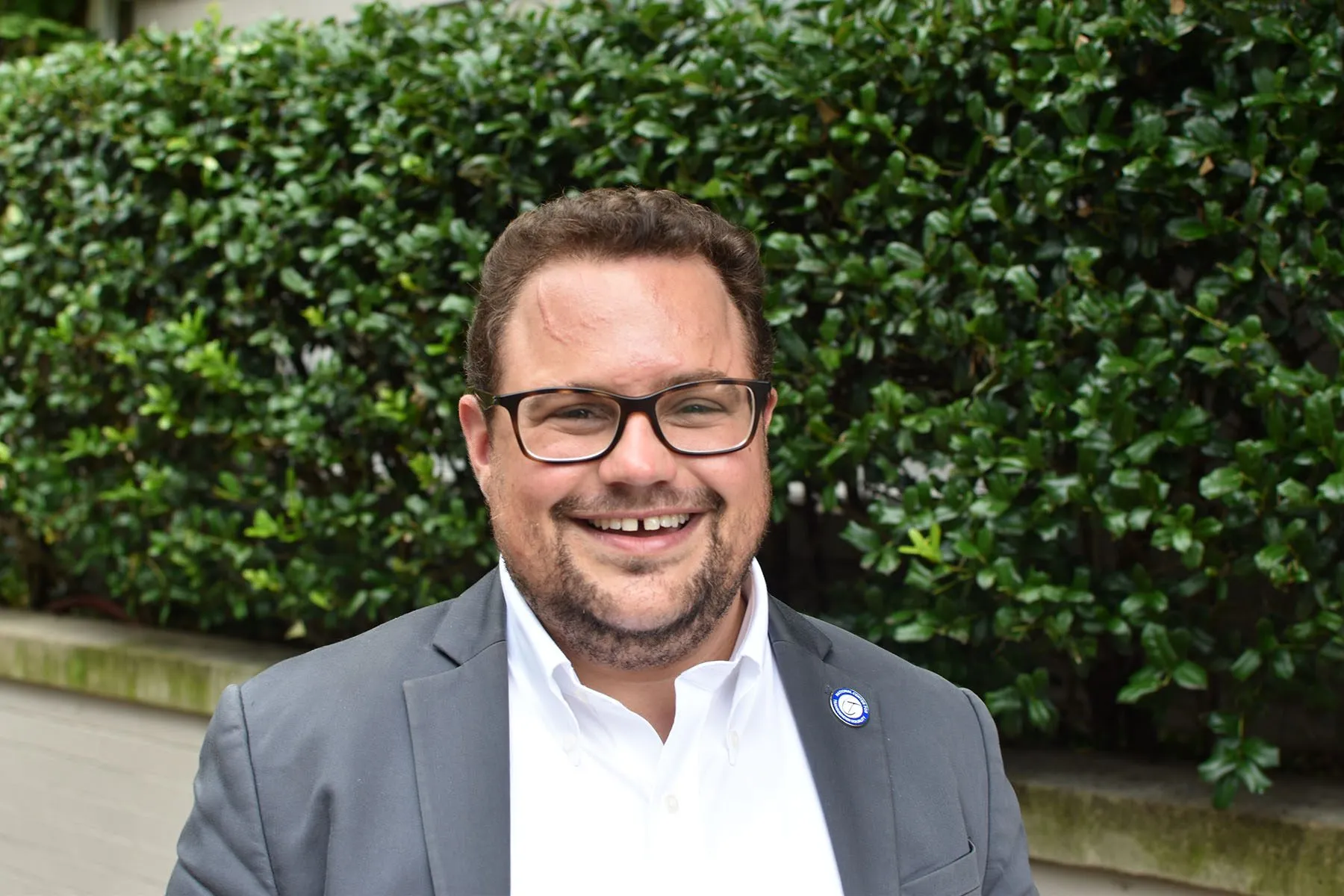 At its peak, NCTE laid the groundwork for the most substantial advancements for transgender people in the country's history. The group had a hand in nearly every major gain under the Obama administration from housing to health care to workplace protections to schools. Under the Trump administration, it served as the first line of defense against a blitz of anti-transgender policy moves. When The New York Times reported that the Department of Health and Human Services was preparing to legally define trans people out of existence in October 2018, NCTE launched the now-ubiquitous #WontBeErased campaign to demonstrate the community's resilience.
But allegations of racism against the organization have eroded community trust. In January, Heng-Lehtinen put out a statement conceding what the organization had long denied: NCTE drove out employees of color.
"NCTE, like many nonprofits, was using a totally White-dominant style and not even noticing," he told The 19th.
Heng-Lehtinen said past leadership struggled to delegate, leaving junior staffers of color feeling untrusted in their roles. He also said the organization failed to operate with transparency. In this, Heng-Lehtinen tries to distance himself from Keisling and his predecessors.
Keisling did not respond to a request to comment for this article.
While the organization is working to staff back to full capacity, Heng-Lehtinen has prioritized diversifying its roster: nine of its 15 staffers are people of color. NCTE has formally recognized its employees union. The organization is actively partnering with smaller transgender organizations that serve people of color, especially in relaunching its now two-year delayed U.S. Transgender Survey.
It's unclear what former staff make of the changes. Seven former employees declined to be interviewed for this piece, some citing a need to continue to seek employment in LGBTQ+ advocacy. Heng-Lehtinen said he has not been in touch with past staff.
"I don't want to intrude on someone," he said. "But my door is open."
Heng-Lehtinen said this new iteration of the organization will not just stick to playing defense on anti-trans legislation. The group has major policy goals and is back at the table with the Transportation Security Administration, the Department of Justice among other federal agencies, he said.
"We're not being as loud about it, as we maybe used to be… we really wanted that to be real and thoughtful before kind of bragging on that policy work again," he said. "It might sound like a strange strategy, but we take that trust rebuilding really seriously."
Much of that reinvention has been internal, according to Heng-Lehtinen. The organization reports that it has undergone four staff retreats devoted to anti-racism and cultural training. The group has implemented a pay structure to promote equity across staff. It has updated its disability accommodations. And it has nearly replaced all of its old board.
Those changes also mirror a reckoning happening throughout the LGBTQ+ movement. Keisling founded NCTE in 2003 and turned it into a national powerhouse at a time when transgender Americans were deeply disenfranchised.
"What does it mean for an organization to stand independent of the founder, knowing that the organization wouldn't exist without the founder?" Heng-Lehtinen asked.
Keisling departed as other White leaders retired their posts in LGBTQ+ advocacy to be replaced by younger rising stars in the movement, many of them leaders of color. In 2019, The National Center for Lesbian Rights appointed Imani Rupert-Gordon, a celebrated Black LGBTQ+ advocate, to helm the organization. That same year, Human Rights Campaign appointed its first Black president in Alphonso David. (David was fired in 2021 facing allegations of conspiring to discredit Cuomo sexual assault accusers, but has alleged discrimination.) In September 2020, Kierra Johnson was appointed as the first Black executive director of the LGBTQ Task Force, the organization where Heng-Lehtinen got his start.
Now, Heng-Lehtinen sees those groups, with new visions, working collaboratively in ways they previously did not, resisting the urge to fight for airtime and funding.
"I happen to be 35 years old and have worked in the movement long enough that I have lived experience. I have it kind of in my bones and in my muscle memory," he said. "It is such a slow burn, that you don't secure victory in one or even two or even three legislative cycles…. Keep going, we're gonna win eventually."