Judge Ketanji Brown Jackson's confirmation hearings concluded Thursday after outside witnesses spoke. On Tuesday and Wednesday, Republican senators pressed Jackson on sentencing decisions she made on the district court, while several Democrats heaped praise on her, causing her to get emotional at points. Jackson's confirmation process comes less than a month after President Joe Biden announced her history-making nomination. The Senate is charged with confirming nominees to federal courts, and it's Jackson's fourth Senate confirmation hearing but the first time a Black woman has been considered for a role on the highest court. Here's what to know.
What comes next?
The members of the Judiciary Committee are expected to vote April 4 on whether to recommend that the full Senate confirm Jackson. The nomination will then go to the full Senate, which will debate and vote. She needs a simple majority to be confirmed.
Last June, three Republicans voted to confirm Jackson to the federal appeals court: Sen. Lindsey Graham of South Carolina, Sen. Susan Collins of Maine and Sen. Lisa Murkowski of Alaska. It's unclear whether they will support her Supreme Court nomination.
What happened Thursday?
Senators heard testimony from panels of witnesses requested by lawmakers from both major parties. The day began with three members of the American Bar Association's standing committee on the federal judiciary, which on March 18 designated Jackson as "well qualified," its highest rating, in evaluating her "integrity, professional competence and judicial temperament," according to the organization's website.
The process for determining this rating was an "exhaustive, comprehensive peer review" by committee members who represent varied backgrounds and professional experiences, retired federal appellate judge and standing committee chair Ann Claire Williams told senators.
"Everyone we talked to, interviewed, or had substantive contact with uniformly gave the highest praise," she added. Witnesses brought by Democrats also included Captain Frederick Thomas, the national president of the National Organization of Black Law Enforcement Executives.
Witnesses on the minority party's side included Alabama Attorney General Steve Marshall, who expressed concern about what he characterized as an "anti-police movement" and questioned whether Jackson would give "voice to the voiceless victims of sex crimes." Previously in her testimony, Jackson described her efforts to center the stories of victims when she sentences criminal defendants. Other witnesses brought by Republicans noted concerns with the length of some of Jackson's sentences, which became a key focus throughout the hearings.
What happened Wednesday?
Jackson answered a question that had been raised about a potential conflict of interest in an upcoming affirmative action case involving her alma mater, Harvard University, that will appear before the Supreme Court next term. Jackson has been on Harvard's Board of Overseers since 2016. In response to a question from Republican Sen. Ted Cruz of Texas, also a Harvard graduate, Jackson stated that she plans to recuse herself from the case if confirmed to the high court.
On Wednesday, each senator got 20 minutes for a second round of questions, much of which followed up on subjects discussed at length the previous day, including Jackson's sentencing decisions as a district court judge. Somewhat surprisingly, Jackson's rulings against the Trump administration have not gotten much time in the hearings. Georgia Sen. Jon Ossoff, a Democrat, pointed to a 2019 opinion in which she wrote that "presidents are not kings" in ruling against the Trump administration's attempts to stop then-White House counsel Don McGahn from testifying as part of Congress' impeachment inquiry.
"The separation of powers is crucial to liberty," Jackson said when Ossoff asked about her thinking in that ruling. "It is what our country is founded on, and it's important, as consistent with my judicial methodology, for each branch to operate within their own sphere. That means for me that judges can't make law. Judges shouldn't be policy makers. That's a part of our constitutional design and it prevents our government from being too powerful and encroaching on individual liberties."
As the day went on, Jackson responded to more questions from Republicans about several child pornography cases she worked on. When Republican Sen. Josh Hawley of Missouri asked whether she regretted one sentence in particular, Jackson responded: "What I regret is that in a hearing about my qualifications to be a justice on the Supreme Court, we have spent a lot of time focusing on this small subset of my sentences."
What happened Tuesday?
On the second day of hearings, Jackson repeatedly defended her judicial methodology and pushed back against Republican accusations that she is soft on crime and attempts to tie her to critical race theory.
Tuesday was the first of two days that the senators will have to question Jackson at length. Democrats largely used their time to head off anticipated lines of criticism from their Republican colleagues, giving Jackson more time to explain her position in a friendly exchange. One popular line of questioning concerned her judicial philosophy, or how she interprets the Constitution and applies it to cases. Jackson resisted giving herself a label and instead outlined her approach to trying to make a fair decision. "I have developed a methodology that I use in order to ensure that I am ruling impartially and that I am adhering to the limits on my judicial authority," she said to Senate Judiciary Chair Dick Durbin. "I am trying, in every case, to stay in my lane."
The day — while mostly calm and uneventful — saw points of tension and emotion, particularly when Republicans questioned Jackson's sentencing decisions in a number of child pornography cases.
Her exhaustion showed as Hawley listed multiple sentences Jackson gave to offenders in such cases. He repeated a misleading assertion that Jackson was lenient in her decisions, though multiple legal experts have noted that Hawley's argument lacks context, and that Jackson's decisions fall in line with those of other judges.
The issue of how Jackson views child sexual abuse has been given considerable attention as some Republican senators attempt to paint her as soft on crime. Republican Sen. Tom Cotton of Arkansas tried to push this idea further by asking Jackson broadly about the appropriate sentences for murder and rape and questioning her discretion in drug cases. Jackson repeatedly returned to the fact that Congress sets guidelines on sentencing and demurred on questions on how long sentences should be — as well as other issues under the purview of the legislative branch, including whether the number of justices on the Supreme Court should be increased.
The narrative being constructed by Hawley and Cotton that Jackson is sympathetic toward criminals holds added weight for the first Black woman nominee to the country's highest court. Black people continue to be affected by the country's legacy of harsh and unevenly applied criminal sentences. Law professors have told The 19th that Black judicial nominees tend to be painted as more radical and biased due to their race.
Cruz asked a number of race-specific questions, seeking to connect Jackson to the national culture war on critical race theory and teaching racism in schools. Cruz raised Jackson's position as a board member for a private school that teaches about racism with books including "How to Be an Anti-Racist" by Ibram X. Kendi. He asked Jackson about her understanding of critical race theory, an academic framework developed by legal scholars in the 1980s. Jackson pushed back against Cruz's lines of questioning, saying she's not involved in setting the school's curriculum and also has never applied critical race theory in her work as a judge.
What happened Monday?
The first day of hearings yielded few surprises. Republican senators outlined several lines of criticism against Jackson that were highly anticipated, many of which surfaced Tuesday. Democratic senators celebrated the significance of Jackson's nomination to the high court and touted the value of her diverse professional and personal background as a former federal public defender and vice chair for the U.S. Sentencing Commission.
Republicans also spent a notable portion of time expressing grievances over how Democrats have treated past conservative Supreme Court nominees — most notably current Justice Brett Kavanaugh, whose confirmation process in 2018 was consumed by allegations of sexual misconduct.
The day ended with Jackson's opening statement, during which she retold her life story and noted key people like her parents and a high school teacher who encouraged her to pursue whatever she wanted to do in life.
Who is Ketanji Brown Jackson?
Jackson, 51, is a judge on the U.S. Court of Appeals for the D.C. Circuit. If confirmed, she will be the first Black woman on the Supreme Court. She'd also be the first former federal public defender in the court's 232-year history.
She's previously been confirmed by the Senate three times, including last June, when she took the appeals court seat vacated by Attorney General Merrick Garland.
Jackson was born in Washington, D.C., and raised in Miami. Her parents were both public school teachers and graduates of historically Black colleges. Jackson got both her bachelor's and law degrees from Harvard, and in 1999 took a clerkship with Supreme Court Justice Stephen Breyer, whose pending retirement opened the door for her nomination. She then went on to a number of positions in private practice and government, including stints on the U.S. Sentencing Commission.
She became a U.S. district judge in March 2013, and in that role and in her current appeals court post, she has ruled in several high-profile cases, including some involving the Trump administration. In 2019, she ruled against then-President Donald Trump in an immigration case and then again against his administration's attempts to stop then-White House counsel Don McGahn from testifying as part of Congress' impeachment inquiry. More recently, she was on a three-judge panel that rejected Trump's request to block the release of documents to the House committee investigating the January 6, 2021, attack on the U.S. Capitol.
Who is on the Judiciary Committee?
Democrats control the evenly split Senate and will lead the confirmation process. The Judiciary Committee is chaired by Sen. Dick Durbin, a Democrat from Illinois. Senators speak in order of seniority, with parties alternating.
The other Democrats on the committee, in order of seniority, are:
Patrick Leahy of Vermont
Dianne Feinstein of California
Sheldon Whitehouse of Rhode Island
Amy Klobuchar of Minnesota
Chris Coons of Delaware
Richard Blumenthal of Connecticut
Mazie Hirono of Hawaii
Cory Booker of New Jersey
Alex Padilla of California
Jon Ossoff of Georgia
The top Republican on the committee is Sen. Chuck Grassley of Iowa.
Other Republicans on the committee, in order of seniority, are:
Lindsey Graham of South Carolina
John Cornyn of Texas
Mike Lee of Utah
Ted Cruz of Texas
Ben Sasse of Nebraska
Josh Hawley of Missouri
Tom Cotton of Arkansas
John Kennedy of Louisiana
Thom Tillis of North Carolina
Marsha Blackburn of Tennessee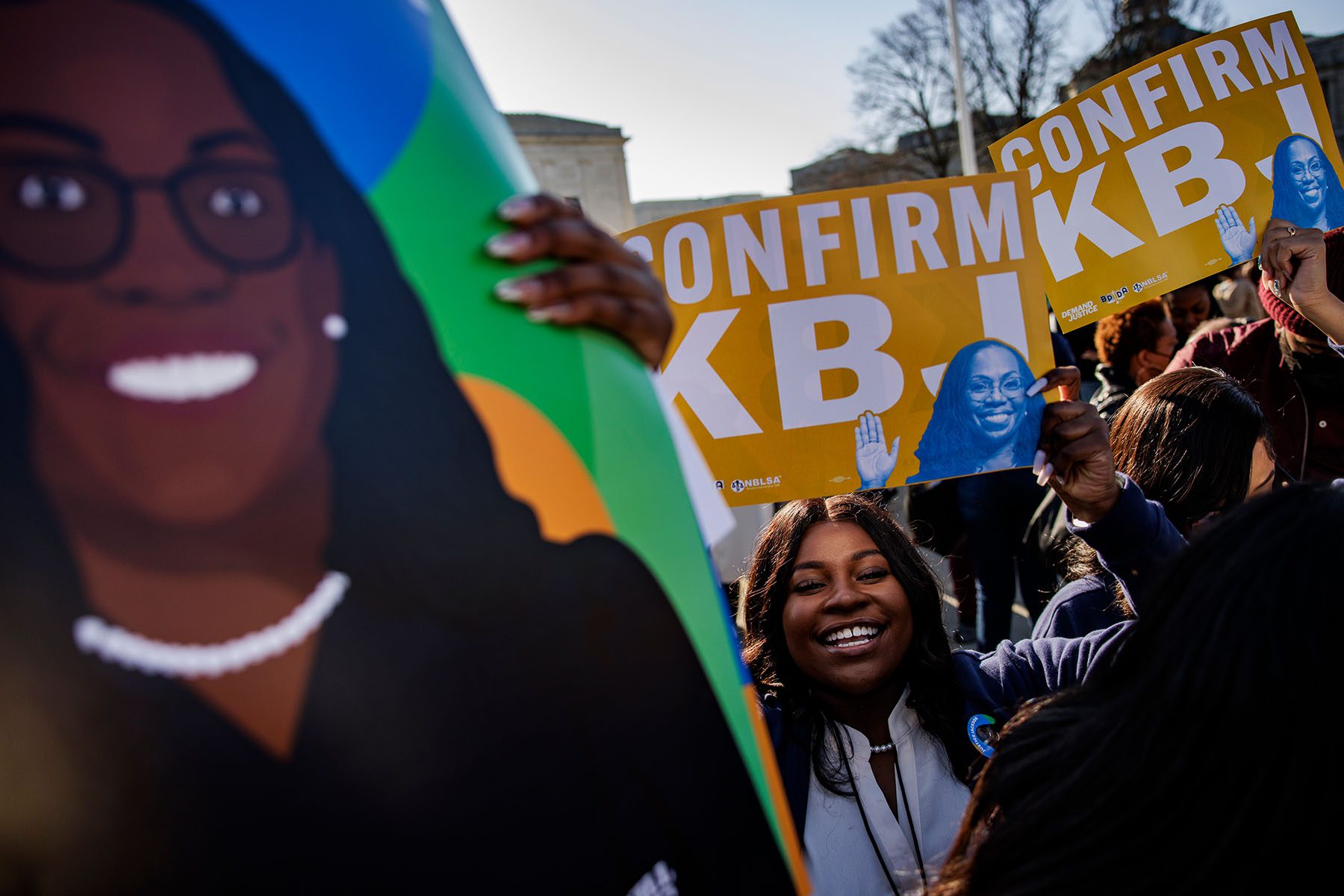 If confirmed, how would Jackson change the Supreme Court?
Jackson would be replacing Breyer and would not change the ideological alignment of the court, on which conservatives currently hold a 6-3 majority. But she does bring different experiences than the other justices, including her background as public defender.
She has said that work prompted her to communicate more clearly with defendants when she was a judge.
"I speak to them directly and not just to their lawyers," Jackson said. "I use their names. I explain every stage of the proceeding because I want them to know what's going on."
In her last confirmation hearing, Jackson was asked about her judicial philosophy.
"I do not have a judicial philosophy per se, other than to apply the same method of thorough analysis to every case, regardless of the parties," she said. She added: "Given the very different functions of a trial court judge and a Supreme Court justice, I am not able to draw an analogy between any particular justice's judicial philosophy and the approach that I have employed."
How many Supreme Court justices are there, and who are they?
Nine justices sit on the Supreme Court. Breyer, 83, was nominated by President Bill Clinton, a Democrat, and has been on the court since 1994. The other justices, in order of seniority on the court, are:
John Roberts, 67, the chief justice, nominated by President George W. Bush, a Republican, in 2005
Clarence Thomas, 73, nominated by President George H.W. Bush, a Republican, in 1991
Samuel Alito, 71, nominated by George W. Bush in 2005 and joined the court in 2006
Sonia Sotomayor, 67, nominated by President Barack Obama, a Democrat, in 2009
Elena Kagan, 61, nominated by Obama in 2010
Neil Gorsuch, 54, nominated by President Donald Trump, a Republican, in 2017
Brett Kavanaugh, 57, nominated by Trump in 2018
Amy Coney Barrett, 50, nominated by Trump in 2020