Even before she was pregnant, Athena Salman was extra cautious about avoiding exposure to COVID-19. The Arizona representative has asthma, which means she's more likely to be hospitalized if infected.
So Salman was relieved when the Arizona legislature approved several mitigation policies for the 2021 session. Lawmakers could cast votes virtually for committee meetings and chamber floor activity. There was a mask mandate and plexiglass separating lawmakers when they chose to meet in person. The public could also testify on bills virtually, reducing crowds.
Those measures limited Salman's exposure to the virus in more than one way: Her husband, Juan Mendez, is also an Arizona lawmaker.
The hybrid setup meant the couple felt safe when Salman, 33, became pregnant during the final months of session with their first child, upping her risk for COVID complications. Their daughter, Nausicaa Mendez Salman, was born in January this year, within days of the start of session.
Now Salman and Mendez face tricky decisions familiar to families with health complications or children too young to be vaccinated: As the country reopens, they want to keep working remotely to reduce their newborn's exposure to the effects of a global pandemic that scientists warn is not over.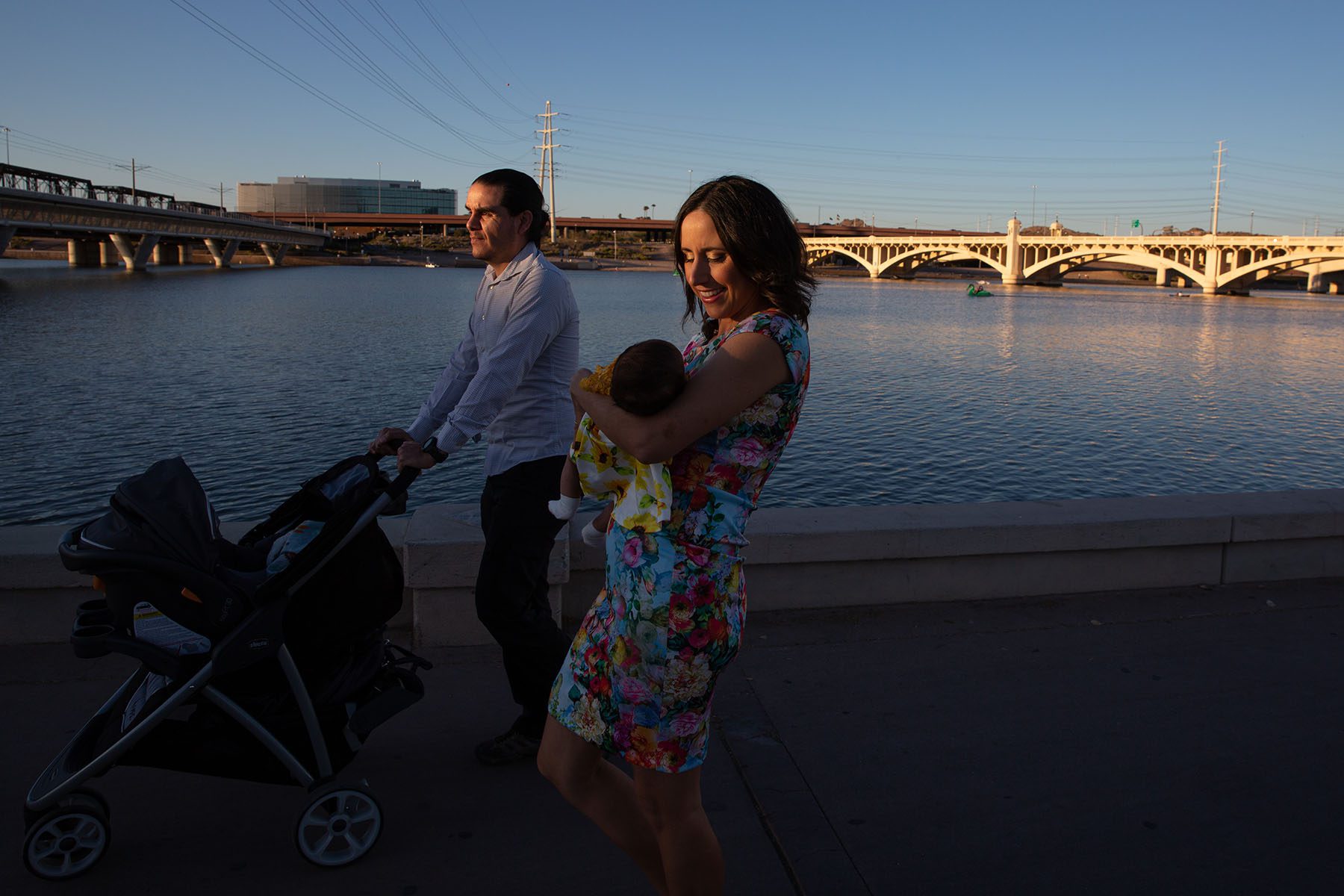 But Republican lawmakers who control the workplace rules at the Arizona legislature have recently lifted most COVID-related accommodations. Arizona lawmakers now must participate in committee work in person. They can cast floor chamber votes remotely from their offices at the Capitol, but only with a doctor's note. The public is no longer permitted to give remote testimony. The actions follow similar moves in statehouses and other workplaces around the country, as governors lift mask mandates and other mitigation measures related to the pandemic.
Salman and Mendez, both Democrats, have asked Republican leadership in both legislative chambers for permission to keep doing their jobs from home. Neither has received a formal response. Salman's letter to leadership noted that COVID-19 is a leading cause of death in the state and that Arizona ranks second highest in the nation for COVID-19 pediatric deaths. The couple also has a doctor's note recommending they work from home to reduce Nausicaa's risk of infection.
While reported cases of COVID-19 have declined nationwide following a surge tied to the Omicron variant, the virus is still killing more than 1,000 people a day in America, most of them unvaccinated.
Dr. Katie McHugh is an OB/GYN and serves on the board of Physicians for Reproductive Health, a national advocacy organization. She said while COVID-19 tends to not be severe in newborns, that doesn't mean a baby can't be symptomatic and have related medical complications. People who are pregnant or were recently pregnant are also more likely to get very sick from COVID-19, according to the Centers for Disease Control and Prevention. McHugh said she has recommended to all her patients that they err on the side of caution.
"This is really serious, and having a newborn is scary enough," McHugh said. "Then you introduce COVID on top of that fear, and it is completely reasonable for parents to want to do everything possible to keep their baby and their family safe."
In late February, the CDC relaxed its guidance on indoor masks, saying they are not necessary if COVID hospitalizations in the area are low. But Salman and Mendez are still worried about infection in a building with an old ventilation system that easily gets crowded during policy debates.
Mendez, 36, noted that few lawmakers these days from either major party wear masks at the Capitol.
"Sometimes we're afraid that we're just on our own, trying to make noise about why this isn't right for us to have to endanger our child," he said.
The CDC recommends infected people isolate or avoid caring for a newborn — a potentially tricky situation if both Salman and Mendez contract COVID at work. There's already been at least one COVID outbreak among lawmakers at the Capitol, right around when Nausicaa was born.
The heads of both legislative chambers, House Speaker Russell Bowers and Senate President Karen Fann, did not respond to requests for comment from The 19th.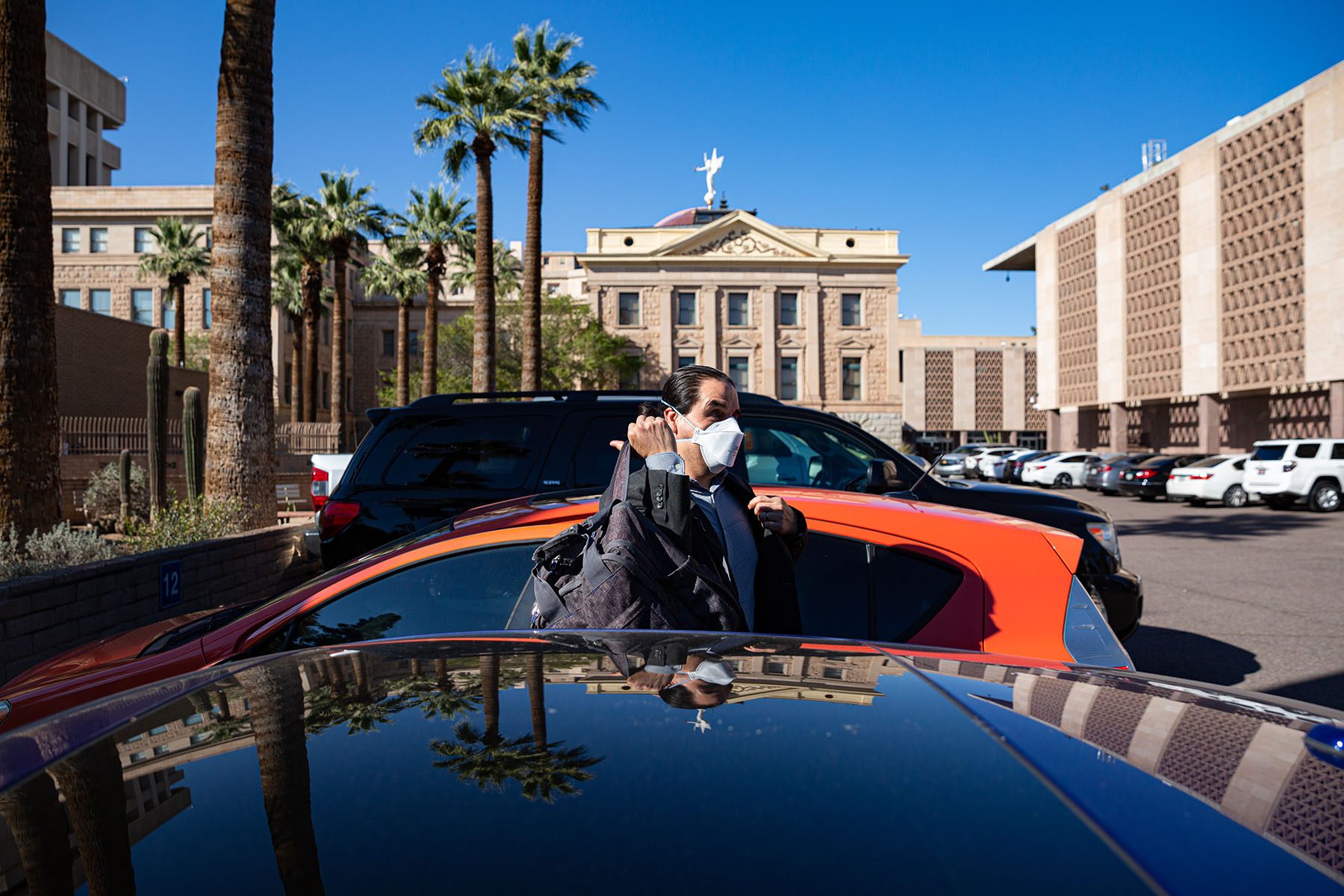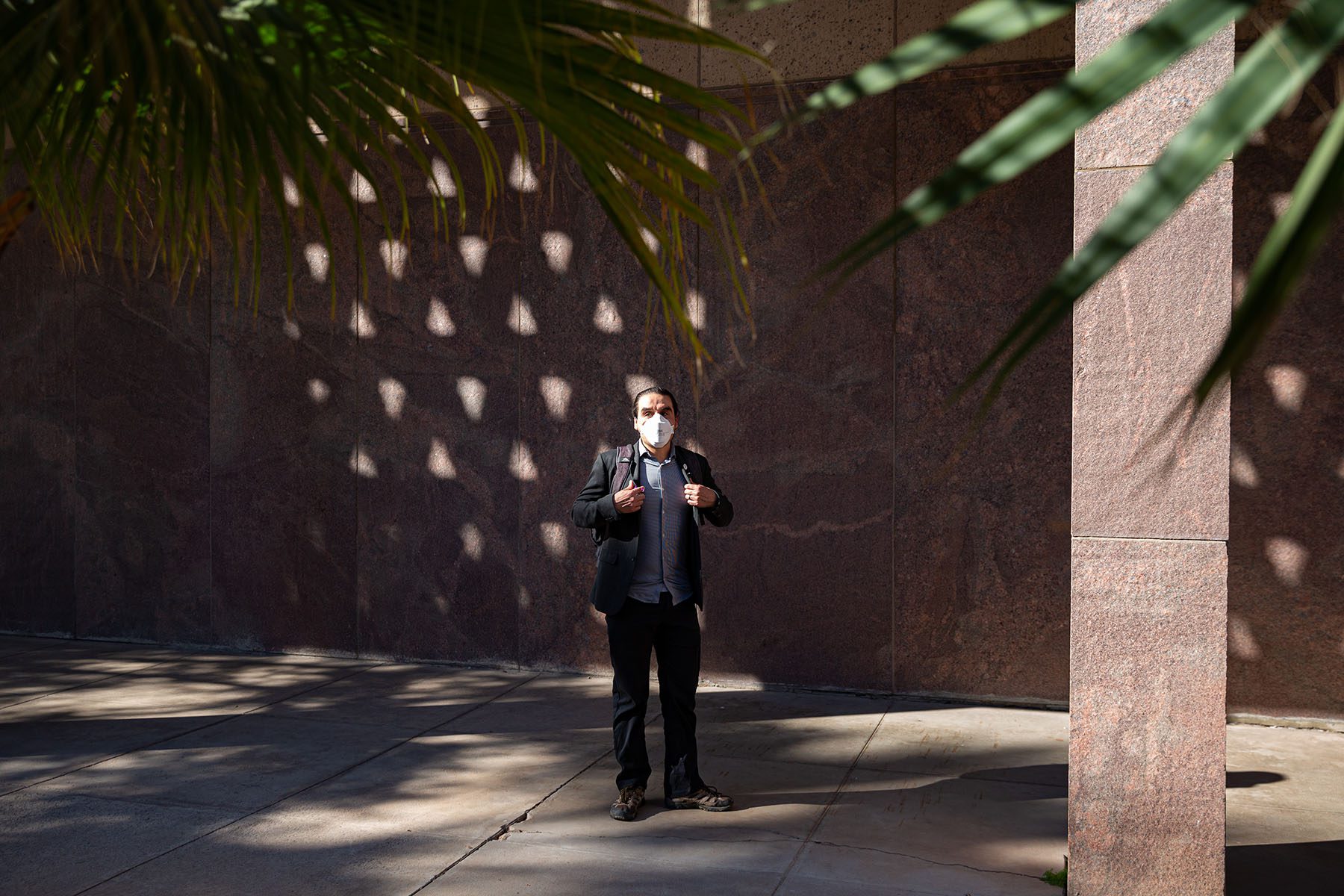 Salman has not been back to the Arizona statehouse since Nausicaa was born. She is now more than halfway through a 12-week parental leave (the Arizona legislature, like many statehouses, has no formal policy for parental leave) and doesn't know what she will do when it's time to return. Some are concerns familiar to many parents returning to work: How will a babysitter feed the baby if the newborn doesn't take a bottle? Others are specific to her job as a legislator: Does she come back for votes only when hers might change a policy outcome? Does she avoid public spaces like the chamber floor? What about private in-person meetings with colleagues?
"It's definitely stressful," Salman said. "It feels like a ticking time bomb."
Mendez has taken mitigation steps that include limited time at the Capitol. He has returned just a handful of times after wrapping up six weeks of parental leave. Mendez has resorted at times to waiting in his car ahead of a vote at the Capitol, timing his entrance with the help of legislative staff to the moment he needs to go to his office to vote remotely. Then he turns around to leave, trying to avoid interactions.
"I have the privilege of being able to limit my exposure, and so when I do take those chances, it feels like I'm bringing home the disease. It's just hard," he said. "I mean, sometimes it just feels like luck, where it's like some people are just very unlucky and some people are lucky. It is stressful."
Salman recently reached out to Vote Mama Foundation, an organization that advocates for policies that help parents and elected parents and is working now to collect information about lawmakers who are mothers of young children. The group has launched a public petition calling on Republican leadership to accommodate the couple's request.
Liuba Grechen Shirley, the founder and CEO of Vote Mama Foundation and Vote Mama PAC, told The 19th that remote work should be a permanent feature in statehouses, a policy that she said helps not just parents but caregivers and people with medical conditions.
"There was always pushback on whether or not we could have things like remote voting and remote testimony," she said. "During the pandemic, we proved that it was possible. It actually opened the process up so that more people could participate."
Ellen Galinsky is president of Families and Work Institute, a nonprofit that studies workplaces, the workforce and family life. She said the pandemic accelerated some ongoing questions about how workplaces can improve accommodations for employees with families.
"I think as a society, we're trying to figure out case by case, employer by employer — which is the way it works in the United States — are we going to heed the lessons from the pandemic?" she said. "Are we going to try to create workplaces that work better for both employers and employees? And if so, what does that mean?"
Arizona Democrats have sent a letter to Republicans in support of the couple's request.
"None of us wanted to be in a situation where we must continue to wear masks and social distance, but that's what we must do in order to stay healthy, and it's the only way to be responsible for the most vulnerable among us, especially young children who can't be vaccinated," according to the letter, which was attributed to the party's minority leaders in both chambers.
The couple, who are both fully vaccinated and have not contracted COVID, have faced pushback from some colleagues. When Salman raised concerns about her circumstance in a social media post in January, Republican state Sen. Michelle Ugenti-Rita tweeted back that she gave birth to her third baby five weeks before the start of a session.
"You have choices, you just don't like your choices," Ugenti-Rita wrote, saying in a subsequent post that Salman was "blaming others."
"Try to think of ways to find a healthy balance between your legislative and new mom responsibilities. You can always call me. I am happy to help and share some tips," she added.
Salman said the message lacked key context: The senator's babies were born before the pandemic.
"I appreciate her support of the idea of young mothers working being in the workplace, but hope that she acknowledges that the circumstances between when she was a new mother and when I'm a new mother are night and day," Salman said.
Legislative staff for Salman and Mendez have continued constituency services during the couple's parental leave. Mendez is also meeting virtually with people who schedule video calls with him and going to public events masked to collect signatures needed to qualify for reelection this year. (The couple, who first met in college before dating years later, have represented the same Phoenix-area district since they were elected as part of a three-person slate in 2016.) He noted his fellow Democrats have taken the couple's committee assignments this year — acknowledging the extra work for his colleagues.
"I definitely had that guilt, where it's like, 'Man, these people don't like me anymore,'" he speculated. "Because I'm making them do all this extra work. And so just feeling that kind of stress."
Salman said the process of seeking work accommodations at the statehouse has been demoralizing.
"What I'm experiencing, and what we're witnessing right now, is a very real barrier as to why more young mothers don't end up running for office. And even if they run for office and get elected, why so many leave early on," Salman said.