When money started pouring into Maggie DeCan's Georgia child care center in the latter half of 2021, it felt like the excruciating financial squeeze of the pandemic was finally, at long last, loosening.
About $750,000 went to her center, the Children's Development Academy, a nonprofit in Roswell that has been serving low-income families — many of whom don't speak English as a first language or are considered at risk — for 55 years.
That kind of money was tide-turning, amounting to nearly half of the center's operating budget for the entire year. It came through the American Rescue Plan, a package passed a year ago this month that allocated $39 billion in child care relief to states and providers — the largest child care allocation ever in U.S. history and more than the federal government spent on the industry in the previous five years combined.
The funding also came with a big promise to stabilize an industry that was in total collapse. About 1 in 3 child care workers lost their jobs at the onset of the pandemic, and more than 16,000 centers in 37 states had closed permanently by March 2021. Those that have remained have faced temporary closure after closure due to ongoing coronavirus infections. Staffing and retention issues in child care are at historic highs, making most centers unable to operate anywhere near stability and far outside the universe of profitability.
That was some of the story for DeCan's center, too. It closed for three months at the start of the pandemic and has struggled like most to hold on to staff and hire new staff. Even now, two years later, enrollment in her program is still at about 75 percent of capacity. And yet it only got there thanks to the American Rescue Plan dollars, which started to roll out to providers in the second half of 2021, DeCan said.
"It's really the stabilization funds that have us more confidently navigating the unknown," DeCan said. "Nobody knows when this is all really going to normalize, but our teachers don't feel insecurity in their roles. Our parents don't feel insecure in our center. And therefore our children feel secure and able to learn." 
The Children's Development Academy put almost all the funds toward staff and families. It raised wages so that teachers are starting around $15 an hour and expects to raise wages again this summer. (The average hourly wage for a child care worker in Georgia is about $11, according to the Bureau of Labor Statistics.) The funding also helped the center hold on to health benefits for its staff without raising co-pays. DeCan's center even opened a room onsite for staff members' children to use on the days they have virtual learning.
The money allowed DeCan to keep rates flat, with plans to lower them further for many families in the coming months. The center directly helped about a dozen families who had the most extreme need during the pandemic with food and financial assistance for about 60 to 90 days.
The center now expects to enter the 2022-2023 school year fully staffed and enrolled.
DeCan sees the investment in child care as a long-overdue recognition of the importance of the industry. The question now is how effective the grants can be over the next couple of years to help child care survive, and whether they could change the way funding for the industry is approached in the long term. 
The pandemic "demonstrated to the country in a real way that child care and public education are part of the gas that makes the economy go," DeCan said. "Maybe I'm a Pollyanna, but I don't think we could ever go back to zero."
Across the country, the child care funds from the American Rescue Plan have been viewed as a needed lifeline that has successfully kept centers and at-home child care providers afloat.
A January survey of nearly 5,000 child care workers by the National Association for the Education of Young Children (NAEYC), a nonprofit that represents early childhood educators, showed that 92 percent of respondents said the stabilization grants have helped their programs stay open. About 75 percent of the surveyed workers said their programs used the money to improve compensation, and 38 percent said it led to increases in their base pay.
"There is no question that the money was necessary and has essentially done its intended job of stabilizing child care," said Lauren Hogan, the managing director for policy and professional advancement at NAEYC. "Programs did close but not nearly as many as would have closed in the absence of this kind of scope and scale of the investment. And it is laying the groundwork for important changes to come," with the caveat that more federal investment will be needed to see those changes come to fruition. 
Anne Hedgepeth, the deputy chief of policy at Child Care Aware, a leading child care advocacy organization, said the funding has given states the flexibility to address key pressure points in their child care systems. Most states focused the bulk of their funding on worker retention, bonuses and raising staff pay. But the funding has also gone to make infrastructure and technology upgrades, create training programs, reach families in child care deserts, expand eligibility qualifications for families, lower costs, grow mental health consultation and create scholarships for workers seeking additional education.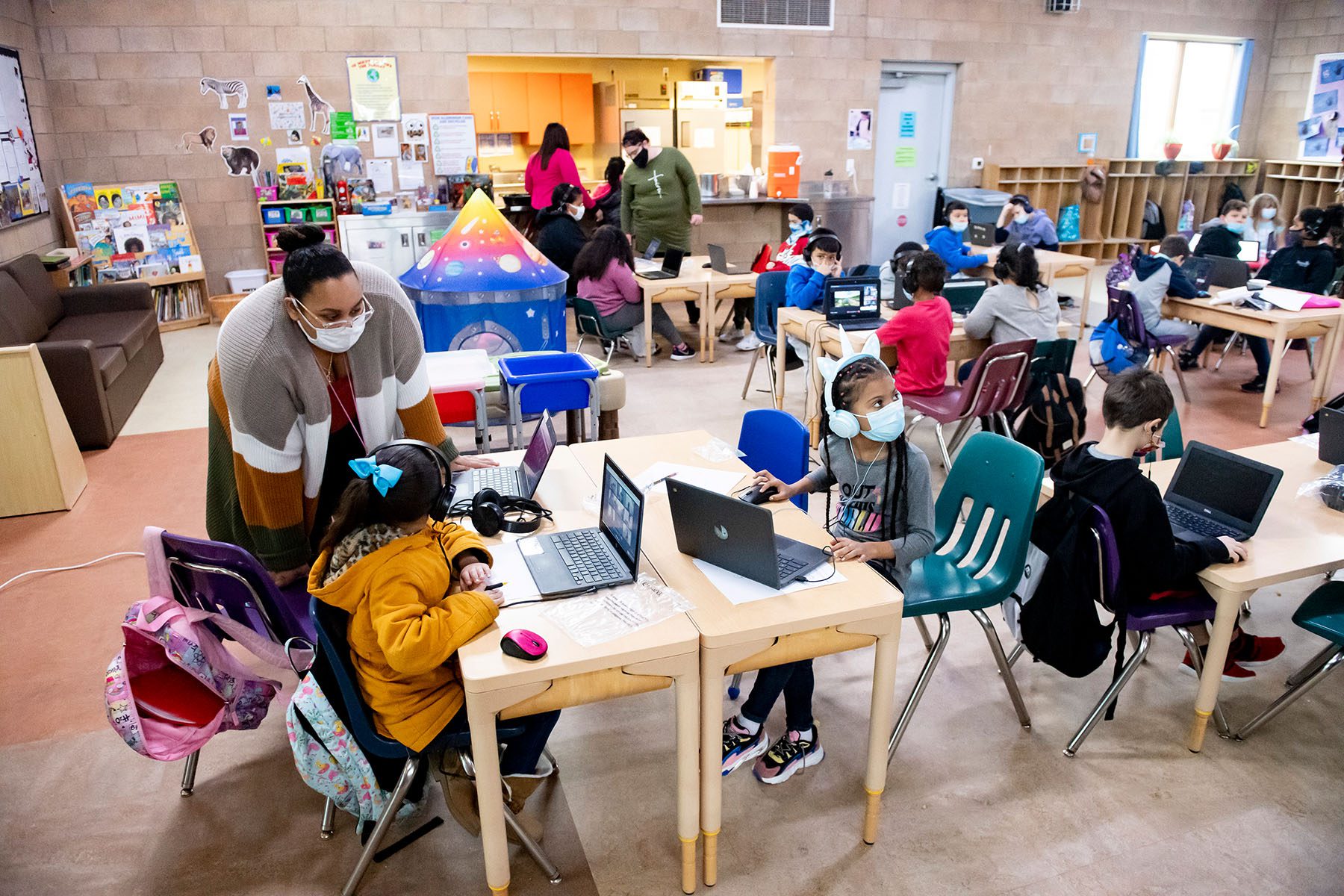 Overall, states got $39 billion that was split into two buckets: $24 billion in stabilization grants to help programs stay open and $15 billion in discretionary funds to make child care more affordable and accessible to families. States were asked to dedicate half of their funds to programs by December of 2021, though the Department of Health and Human Services has given states leeway on that timeline. So far, 47 states have obligated their funds and many already have money out to providers, while the remaining states — Florida, Texas and Missouri — have just recently done so or plan to start sending those funds out to providers through grants in the next few months.
All of the stabilization grants have to be spent by September 2023, and all of the discretionary funds have to be spent by September 2024.
"Where we find effective strategies, we're gonna push every policymaker who will listen to help make those permanent," Hedgepeth said. "Even resourcing something now will lead to long-term changes [through] just using the evidence that we're gaining."
Hogan added that the short-term struggle is staff recruitment and retention. About half of respondents to NAEYC's survey said they are serving fewer children due to staff shortages and more than a third had longer waiting lists.
"The challenge now is not around demand — there is demand — the challenge now is they don't have enough staff to keep their programs serving the number of kids and families who want them," Hogan said.
In that respect, the American Rescue Plan funding has eased some of the pressure.
In Georgia for example, where DeCan's center is located, providers are required to use 60 percent of their stabilization grant money on staff. The state is also giving out three rounds of $1,000 bonuses to child care workers. And it's covering all costs for families already on subsidized child care, saving families in need — which includes low-income families, grandparents raising grandchildren, teen parents, victims of domestic violence and others who qualify — about $130 a month on average. 
Although the state is waiting on additional data, there's already evidence it has helped stabilize child care in Georgia because the number of licensed child care providers in the state has stayed stable compared with pre-pandemic, said Amy Jacobs, the commissioner of the department of early care and learning.
"We haven't seen this drastic decline in child care programs in Georgia. I do believe these dollars have helped them survive through the pandemic because they're facing unpredictable and decreased enrollment," Jacobs said.
The issue now turns to what happens after the money runs out. Jacobs is using the data from the American Rescue Plan initiatives to make the case for what comes next.
"That I think is an opportunity that we didn't expect from this money that is really going to be useful as we think about, 'OK so what is appropriate for the state to do at what level based on the data that we have?'" Jacobs said.
States are already thinking about how they can use the current funds to lay the groundwork for initiatives that will impact the industry beyond 2024. For instance, Jacobs still has a couple hundred thousand dollars to obligate, and she's considering how that could go into business training for child care providers to help them better manage the business side of running a center, as well as recruitment to help build up the pipeline of child care workers.
In Minnesota, recruitment has been a central focus. The state is creating a network for recruiters that will do on-the-ground outreach to encourage people to join the field and also provide training to those who may be switching over from another industry — a first-of-its-kind venture for the state. About 31 recruiters will be hired across Minnesota to help place "economically challenged" people in child care jobs, offering them wraparound tech, training and in-language support to turn the job into a career, said Ann McCully, the director of Child Care Aware Minnesota. 
Minnesota is also using funding from the plan to expand two programs: One gives scholarships to current child care workers who want to return to school to get their associate's or bachelor's degree, and the other allows those who have a child care certification or degree to apply for an annual bonus from the state. (In 2021, the average bonus was $2,150.)
Beyond those programs, the state is setting up a task force to analyze a long-term, 10-year solutions plan to make child care more accessible for parents and sustainable for workers as a lifelong career.
"We are doing this with an eye toward longevity and using it to send the messages that we need to send to policymakers and to folks in the field," McCully said. "In our case in Minnesota, we've been sort of working to unapologetically talk about the adults in the room — it's ultimately about what's the best for children, but sometimes it gets to the point where we can't remember to talk about people behind that."
Minnesota Gov. Tim Walz, a Democrat who is running for reelection this year, has already proposed additional child care funding for another year beyond the timeline of the Rescue dollars in his state budget. The money would go toward expanding provider payment rates, expanding the child care assistance program for low-income families to eliminate wait lists and continuing to provide stabilization funding to providers to help with recruitment, technical assistance and other support.
Despite those strides, states are still facing challenges getting the money out, many of those around equitable distribution. The timeline to obligate the funds is short when considering most states are handling multitudes more in funding than they are used to in one year and are setting up programs often for the first time with the help of little staff. 
In Minnesota, most child care providers are at-home providers — the split is about 80 percent at-home day cares and 20 percent center-based day cares, McCully said — and many of those are places without IT staffs or finance departments, with operators who may speak languages other than English or who may not be signing up for grants because they are unfamiliar with the process or worry how it could affect their taxes. Some might not seek out the funds simply because they do their work on a mobile device instead of a computer and don't have the technological infrastructure to sign up.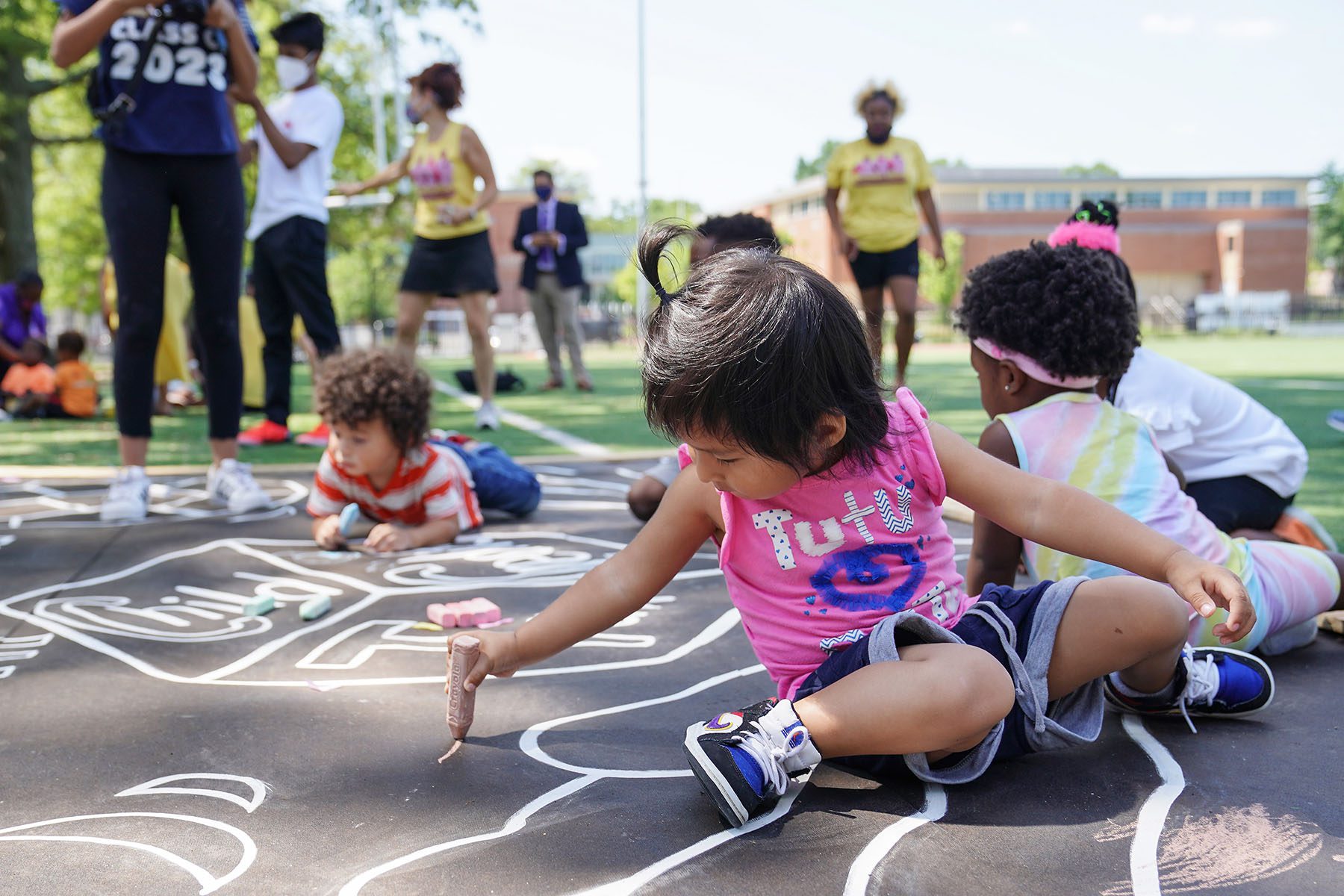 "One of the things that we will do a little bit more analysis on are the folks who did not get to that stabilization grant and why? If it was eligibility, if it was fear?" said Hogan at NAEYC. "Really just doing the sort of relationship-building work of, 'OK, Here's why this is going to help you. Here's what it's gonna mean for your taxes. Here's how you can get your receipts together to apply.'"
Hogan said that work can happen now because the support is there, but when the support ends, despite some long-term investments, states are likely to face child care shortages again, particularly because the implementation of the American Rescue Plan across the states is so varied. President Joe Biden's Build Back Better package, which initially planned to invest $250 billion more in child care, has been tabled, and it's unclear if any of the child care provisions will move forward.
"If the rest doesn't come, then everything we predicted in the early days of the pandemic around the collapse and mass closure of programs, relief will only have delayed it," Hogan said.
Even with the new funding, the problems in the child care industry are substantial and structural. Parents pay a significant amount of their income for care, but centers are barely able to bring in enough money to pay their staff above minimum wage.
It's why even after the help from the funding, Robin Slaton is putting her center up for sale this week.
Slaton has used most of the money from the American Rescue Plan to help hire staff, catch up on rent, buy necessary equipment and make building improvements at Kiddie Campus Childcare Center in Fayetteville, Arkansas. It's not enough.
Only five of her 10 classrooms are open because she can't find enough staff — let alone qualified staff — and three of her teachers are out this week because of COVID-19 cases that have forced her to quarantine classrooms. She lost 34 staffers last year. Her clients, all of them low-income, are calling to complain the closures are not allowing them to return to work. One mom called her Wednesday morning to tell her she doesn't even have enough for bread.
"Our industry — it's a sinking ship. If Build Back Better does not come through, I hate to see what's going to happen," Slaton said.
She's planning on closing her center once it's sold and focusing on creating a support network for child care center owners and directors — the only way she sees she can support the industry long-term now.
"This [money] is a bandaid," Slaton said. "We have been fragile for years, and now COVID-19 broke us."