One year ago, a mob of Donald Trump's supporters stormed the U.S. Capitol. Their goal: Stop the lawful certification of the results of the 2020 election. Though it failed to prevent Joe Biden from becoming president, the attack was not just on the Capitol, but on the functioning of American democracy.
More than 700 people have been arrested in connection to the January 6 attack. A congressional committee, which includes two Republicans but not the support of GOP leadership, is investigating what happened and how. Lawmakers have interviewed hundreds of witnesses, announced more than 50 subpoenas and fielded hundreds of calls through a tip line. Still, the push for accountability appears to be increasingly partisan, as many Republicans continue to spread false narratives and conspiracy theories to minimize the violence of that day.
Last February, The 19th reached out to all of the women members of Congress to talk about the attack of January 6; 23 told us about the terror and violence of that day. Ahead of the anniversary, we wanted to hear how they were reflecting on the failed insurrection and its reverberations in the U.S. Capitol and in American democracy. We reached out at least three times to all 144 women who have a vote in Congress; we spoke with three senators and 35 members of the House, all Democrats.
The majority voiced the same concern: American institutions are increasingly grappling with hostility, from outside and from within, and democracy is on shaky ground. A handful remained hopeful that the Capitol riot would act as a wake-up call to Americans and create a strengthened, more unified country.
Here's what they said, starting with how they think about that day now.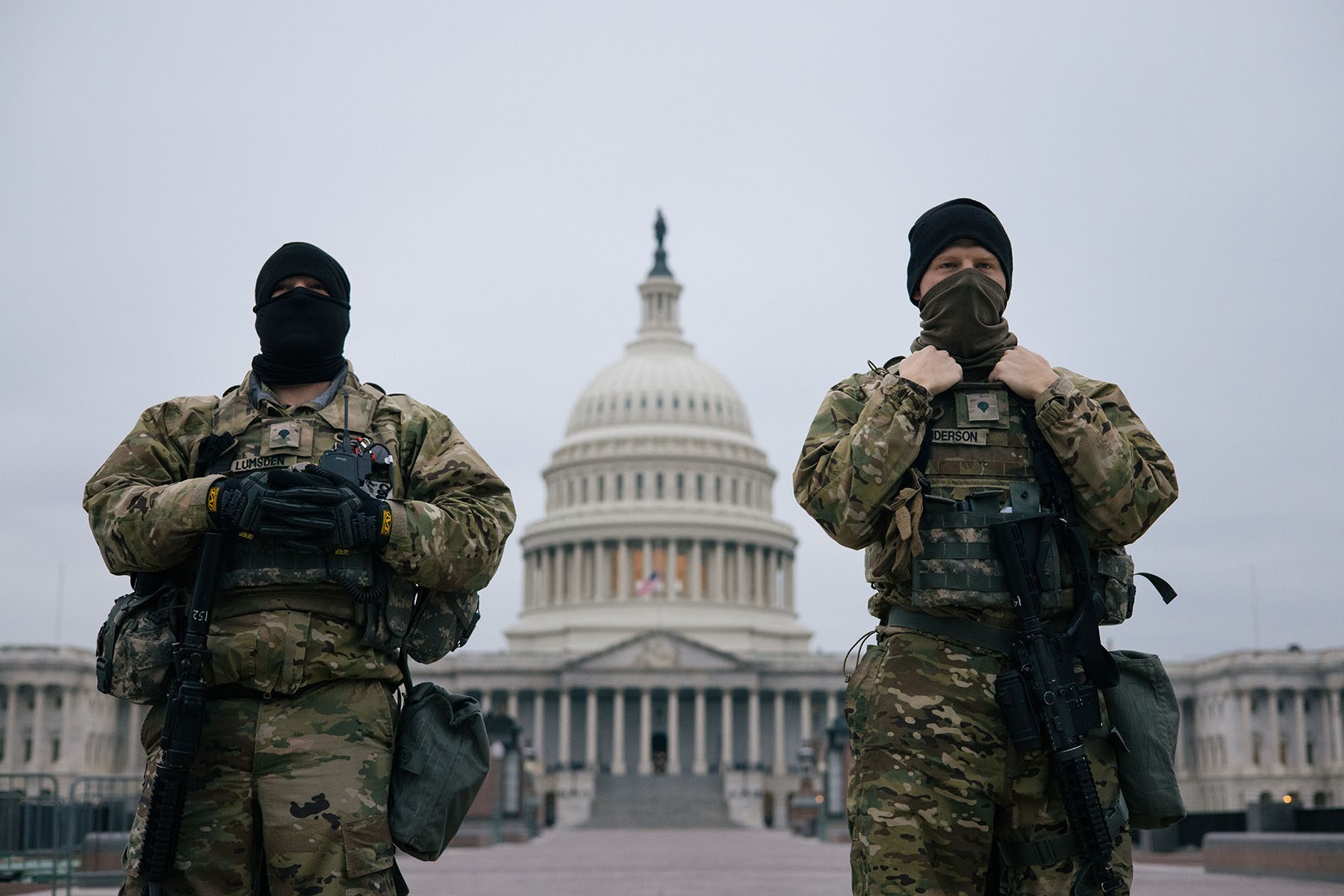 Rep. Val Demings of Florida: It started off being a historic day for the right reasons. It went down a historic day for the wrong reasons: A group of people refused to accept the will of the people and decided to try and overthrow the government. Part of who we are is our democracy — accepting the will of the people — and I hope that America understands or was reminded in a very painful way that our system of government is supposed to be a model for the world to see and to follow. It was a dark day for America.
Rep. Pramila Jayapal of Washington: I think it really was a collective trauma for the country. It led to a realization that our democracy is far more fragile than perhaps many people assumed. There was so much that happened on January 6, and in the lead up to January 6, and in the wake of January 6, that people never thought was possible in the United States. And we were proven wrong.
Rep. Jennifer Wexton of Virginia: It was definitely a loss of innocence for us as a country. … I just felt kind of numb at the end of the day, and it was obviously a very long day. And I felt kind of like I did on September 11. Except I felt even worse, in a way, because the people attacking us were us. Right? They're Americans.
Rep. Suzanne Bonamici of Oregon: In some ways, it feels like it was just yesterday, because as we walk through the hallways, past places where we know the insurrectionists entered the building, I remember what it felt like that very day. So I think these repercussions have been felt throughout the year. I just had a telephone town hall recently, and a lot of people are expressing concern about political tension and what's going to happen, and we've seen an increase in threats and nasty language. I think it's all related.
Sen. Tammy Duckworth of Illinois: I think that January 6 heightened the divisions within the country in a very significant way. I think most Americans were appalled that fellow citizens sacked the nation's Capitol. I mean, the last people to do that were the British in the War of 1812. The Capitol didn't even fall during the Civil War. And it is incredible to me that we all watched as it happened, and what has happened since, and how we've treated what happened is really further dividing us.
Rep. Norma Torres of California: We were so close to abolishing the rule of law as we know. Our democracy is worth so much, and the world looks to us. I don't think that people truly understand how close we were. … Think about that for a moment: how close we came to going from a world-admired democracy to a dictatorship. And we cannot forget that.
Rep. Jan Schakowsky of Illinois: This was a day of shame, when Americans carried American flags as weapons and flags of the Confederacy, who described themselves as patriots. This is a day that can never ever be tolerated.
Many members are still living with the trauma of the attack, working in a building with constant reminders of the vitriol and violence that exposed the vulnerabilities of democracy.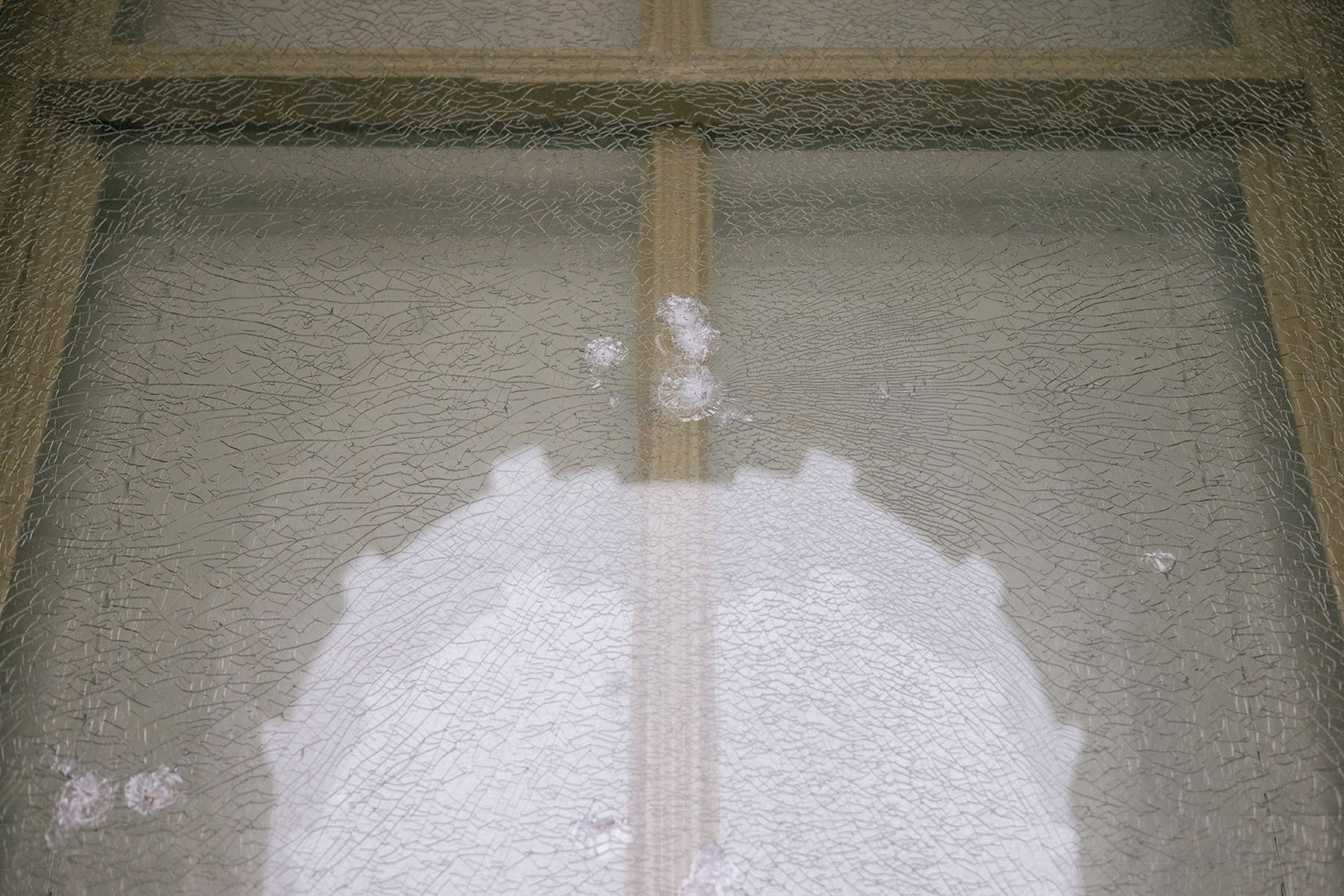 Rep. Barbara Lee of California: I'm not sure if the public really understands what an attempted coup means. January 6 almost prevented the peaceful transfer of power, and coups occur in countries where there is a dictatorship — and what took place on January 6 reminded me of this. And I was sitting on the floor, so the personal experience was haunting and traumatic and unduly horrific, and I've been in many before, but this was the worst.
Rep. Kathy Manning of North Carolina: To this day, I can't understand how people did something that was so clearly beyond the bounds of appropriate behavior. People died as a result of what they did, people were seriously injured, and many of my colleagues — particularly those in the gallery — were traumatized by what we all went through. There were members in the gallery who weren't sure they were ever going to see their family members again, that's how terrifying it was. And having this been my fourth day in Congress, it was a pretty stark reminder of how divided the country has become.
Rep. Kathleen Rice of New York: I think about January 6 every day. Literally every day. You can't help but think about it whenever you're in the Capitol. It comes back to you. Every time I hear some more of the mis- and disinformation and the perpetuating of the "Big Lie" coming from the Republicans, it just reminds me of that day. What more had to happen to wake us up and say, "My God, this country cannot be about one man"?
Jayapal: We have had some group sessions with counselors. We have had individual sessions with counselors, and the trauma is real. It continues for us. And I think it's important to talk about it, because I think it is an opportunity to also say to the American people, that trauma is real and is important to process, but there are many things that bring it back. It is not something in history. It is very much in our beings and in our present and in our fears of what could happen in the future.
Rep. Ann McLane Kuster of New Hampshire: It's complex. It's like I'm a victim, I'm a witness and I'm part of the insurrectionists' intention to block the results of the election. And at the same time, my colleagues and I are processing the trauma that we felt.
Rep. Teresa Leger Fernandez of New Mexico: As women, we experienced the feeling of vulnerability and powerlessness in a different way because so many of us have encountered assault, abuse and rape. So we need to layer that on. As women, we are often attacked, and I think that is something you keep in mind. So what do you do? You say: "What do I have in my control to strengthen my ability to withstand any of that?"
Though The 19th tried repeatedly to reach lawmakers from both parties, only Democrats responded. Last year, 147 Republicans objected to certifying the election results.
Many of the Democrats we spoke to said the tension between lawmakers, in part stemming from that day and the denial of the lawful election, as well as dispute over how to investigate it, has made working across the aisle harder than ever.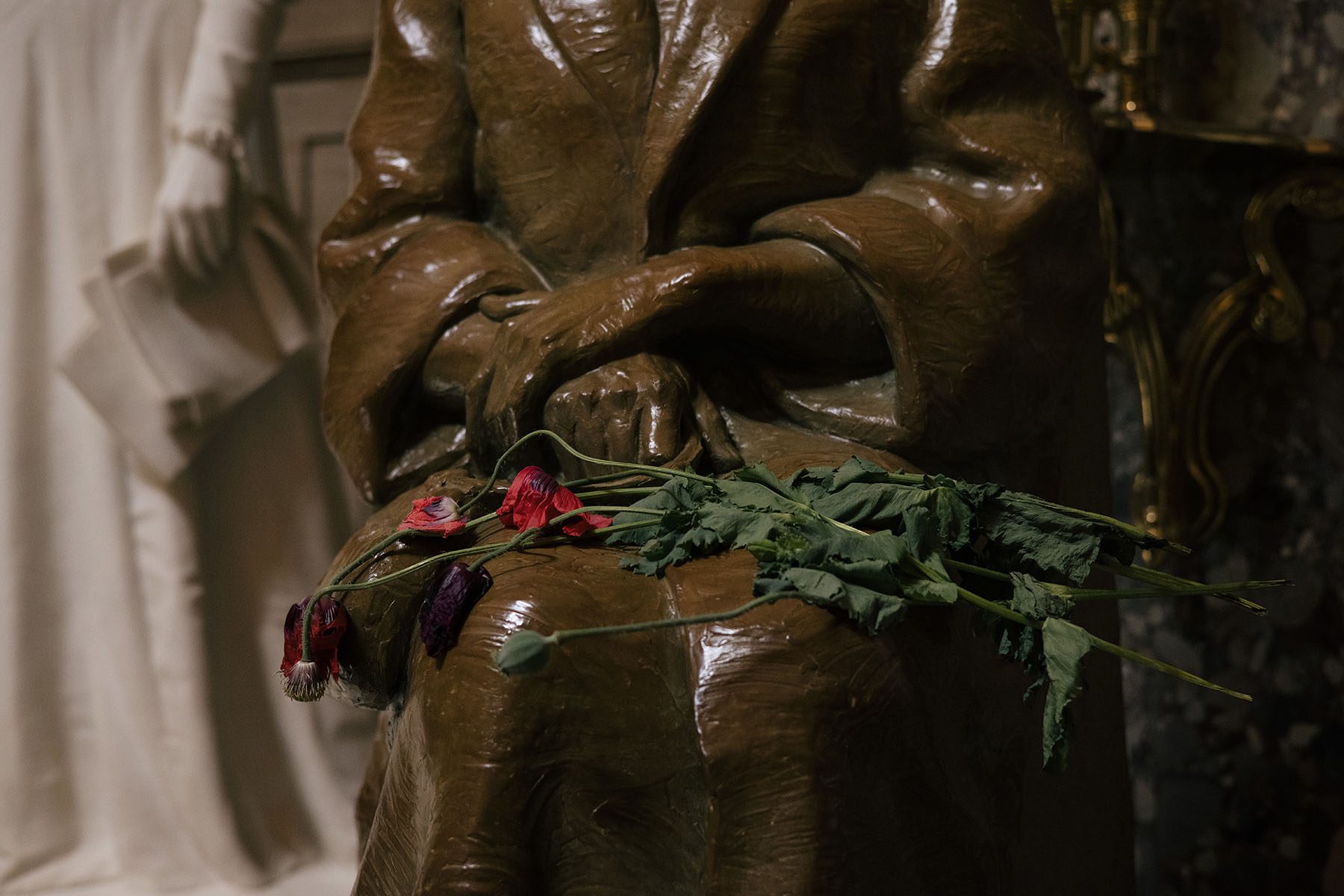 Rep. Julia Brownley of California: The political atmosphere after the insurrection is tougher, honestly, than I've ever seen it. On one side of the political spectrum, there are those of us who want to get to the truth and determine all the facts of that day. And then there's others who just want to move on. So it makes doing our job more difficult and even more challenging.
Rep. Grace Meng of New York: I think it's really hard to see what I viewed as a home for anyone in America — to be able to come and watch democracy at work, a place where people whispered, it was so revered — to be attacked in that manner. And it's hard to see some people not understand why it was so offensive to Americans and democracy. … It just really bothers me that some people think that the country's being overdramatic in assessing the events of that day. That was such a flagrant violation of our country and our democracy, and I don't see how anyone can be OK with that.
Rep. Abigail Spanberger of Virginia: There are people in the halls of Congress who are telling their constituents that there was fraud, that there was something wrong, that Joe Biden is not really the president. Because they're absolutely delusional and don't even really understand how democracy works.
Jayapal: The Republican Party as a whole is the party of the "Big Lie." They're the party of the cult, and they seem to be unwilling and unable in their leadership and in their rank-and-file to call out things that just a couple of years ago would have been untenable for a member of Congress to say or do or represent. It has changed the way I think about things, because to continue to talk about bipartisanship in this — where Republicans are so actively undermining democracy — is not real.
Rep. Cheri Bustos of Illinois: If I were to assign an emotion about how I feel about what happened that day — I am still angry. I'm not proud to say that that's my emotion, but it is. I'm very, very angry. I feel like my anger about it has grown because of the people who now deny that this was any kind of anti-government act, the people who described it as just another day of tourism at the Capitol building, the people who downplay this, as if it was not something terribly, terribly, terribly serious: an attack and an assault on our democracy.
Rep. Dina Titus of Nevada: I thought society was making progress … but January 6 demonstrated an attempt to stop the elections … What it really showed is that improvement is just a thin veneer. If given the opportunity or the encouragement, some people will revert to their worser angels, I guess. All the racism, all the homophobia, all the sexism just comes spilling out. We see it in Congress with some of the members who just don't mind saying these kinds of things on the floor of the House.
Rep. Veronica Escobar of Texas: I feel as though the risk and the danger and the threat has spread like wildfire, and we're seeing it in various ways. We're seeing it through extreme partisan gerrymandering. We're seeing it through voter suppression legislation. We're seeing it in attempts to plot out — and these are successful attempts — to essentially try to overturn future elections.
Many members used similar language to describe what worried them: Democracy is fragile, more than many Americans realized before — and more than some acknowledge now.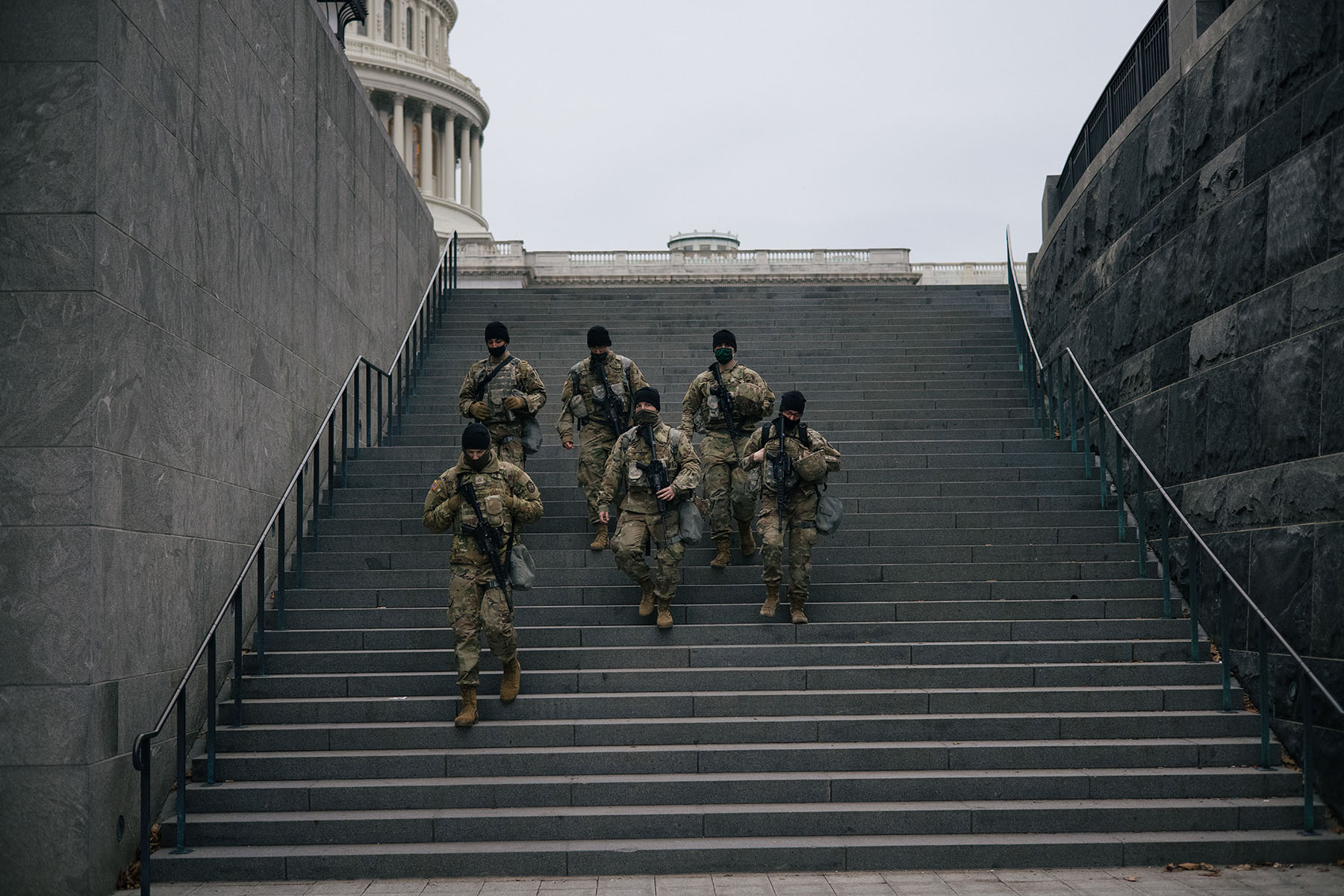 Rep. Judy Chu of California: The breach of the Capitol was a breach of our confidence in the whole system that would have protected us. … It made me think how we are kind of like that frog that is in a pot where the water is boiling, and where we don't jump out of the pot because we've gotten used to even more and more breaches of the rule of law in our country. We had gotten used to so many outrageous actions by the former president that we weren't as much on guard as we should have been on January 6.
Rep. Sara Jacobs of California: For me, as a member of Congress, it was also very clarifying about my role and my job, especially being a new member. This was not going to be a congressional term that was about fighting over which side of a policy debate we're going to land on. It really is about if we're doing what we need to do to protect and preserve our democracy.
Rep. Lois Frankel of Florida: I think people realize that this is a pretty scary time in terms of our democracy. It's become a very divided country. I will tell you this: I know that my constituents worry about democracy. They talk to me about it all the time. They see the lack of cooperation in trying to get to the bottom of January 6, voter suppression efforts all over the country — including here in Florida — and the very unfair redistricting happening all over the country.
Rep. Deborah Ross of North Carolina: I would say democracy was fragile then, and it's fragile now. But our eyes are wide open now, and we're determined in a steely fashion to protect it with all our might. On January 6, we just took so much for granted: that everything would just continue to proceed, that the United States — the oldest and longest democracy — would always be around.
Rep. Frederica Wilson of Florida: I am so afraid. … To me, that day was the beginning of us dismantling democracy.
Rep. Jackie Speier of California: My biggest concern is the fact that the insurrection was an attempted coup, it was premeditated and that the president and all of the king's men were attempting to overturn an election — and this has not really registered with the majority of Americans. I don't believe they realize that this is a four-alarm fire. We have become so accustomed to the antics of the former president that it just seems like more of the same, but it was a dastardly deed and the criminal charges and convictions now should be a message to all of the militias and wannabe militia members that this is not going to be tolerated.
Chu: President Trump was a poison, and he was a poison to our democracy. Now, the origin of the poison has been removed from the White House, but the after effects of the poison are still there. And that is what I think is at the core of the blatant ugliness that is now in Congress.
Rep. Rosa DeLauro of Connecticut: Democracy is not a given. Democracy is fragile, and it has to be nurtured, because it can easily disappear.
Sen. Mazie Hirono of Hawaii: There is an all-out assault on democracy and our right to vote. … If all of these voter suppression laws are allowed to stand, then we don't have a democracy.
Rep. Debbie Dingell of Michigan: I think that what we really need to do is to be concerned about what's happening in this country. The House of Representatives is a representative body of our country, and I think that part of our democracy is still working — it's representative. But what I am concerned about is the fear, the hatred, the anger, the vitriolic-ness that is tearing communities apart. I don't think anybody ever thought, in this day and age, we would see the kind of mob that attacked the Capitol. People came to kill people that day.
Leger Fernandez: Our democracy was clearly embattled on January 6. It was the first time we had ever had the attempt to have violence interfere with the peaceful transfer of power. So that was an incredible low point. But because of the fact that many in the Republican Party are trying to now minimize its impact, I think we haven't climbed out of that low point. We are still vulnerable. … Our recovery is slower than it should be.
Rep. Bonnie Watson Coleman of New Jersey: The state of our democracy scares me. … We don't want to be a moment in history that people will examine in 100 years as the years of a failing democracy. We were an experiment, one that is respectful of human life, opportunity, liberty and the pursuit of happiness. That is an experiment that needs to succeed.
Many pointed to misinformation, both on- and offline, that has flourished, leading people to deny the facts about the pandemic, about election results — or that the events of January 6 were carried out by Trump supporters.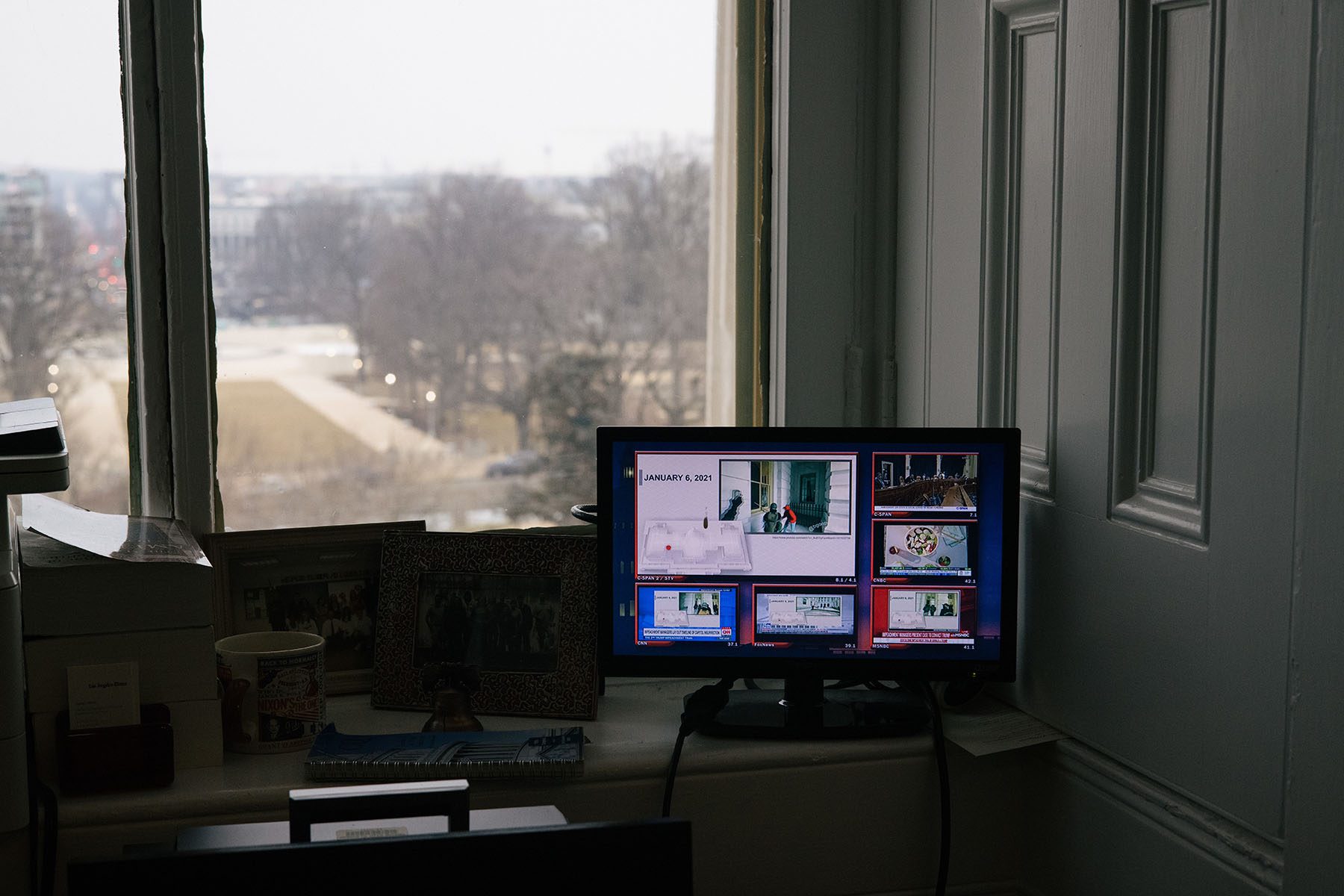 Bonamici: There's a tremendous amount of misinformation, and people are relying on that, and it's affected the health and safety of our country and our democracy. Between the political election issues and COVID, it's been really challenging.
Rep. Betty McCollum of Minnesota: We need people to speak the truth, whether it's about COVID and the devastating effects that that has or what happened on January 6. We need to look at science and be a country that respects science when it talks about climate change. We can have different approaches on how to solve a problem, but we have to recognize when we do have a problem. And that's why I think democracies are so vibrant. Because with freedom of expression, with freedom of speech, with freedom of thought, you can have more ideas put forward on how to solve and resolve a problem rather than just have a small clique of people decide how it's going to move forward.
Escobar: The question remains: How do we de-radicalize people who have been radicalized? And those vehicles for radicalization are still there: social media, Fox News — it's not news, but so-called Fox News — and sitting members of Congress. There are people and outlets and institutions that are still vehicles for misinformation, and that's part of why I think we are still under a direct threat.
Rep. Madeleine Dean of Pennsylvania: I always just try to remind myself that it was not a single day. It was a culmination of many, many, many days and months — systematic, although executed in chaos — to sow seeds of doubt among American citizens.
Barbara Lee: It's hard to deprogram people, but I believe there's so many people out there who we need to educate and talk to about where we are in this country and work politically with all of our institutions to protect our democracy. I believe in the American people, and I believe that they are beginning to see what some of us have seen all along — that we were on the brink of a dictatorship, and that's a fact.
Rep. Marie Newman of Illinois: We almost lost our democracy that day. It was a vile, orchestrated domestic terrorism event, tantamount to a coup. So we have to understand what that is, and then build back from that. And the way we do that is to address social media. We have got to put regulation into our social media platforms and stop the power that they have to create chaos in the world.
Rice: I think we need to get off our electronic devices, stop staring at a screen and looking at mis- and disinformation telling us what to buy, how to act, who to like, who to hate, and reengage with your fellow American. I mean it's really that simple. … We have to get back to what makes this country so great, which is our rich diversity, our patriotism and remembering that it's all for one, one for all, you know? Stop the divisive language and remember that there is more that unites us than divides us.
How can we move forward? Lawmakers said truth and accountability are key to helping the country heal. Many described January 6 as a wake-up call.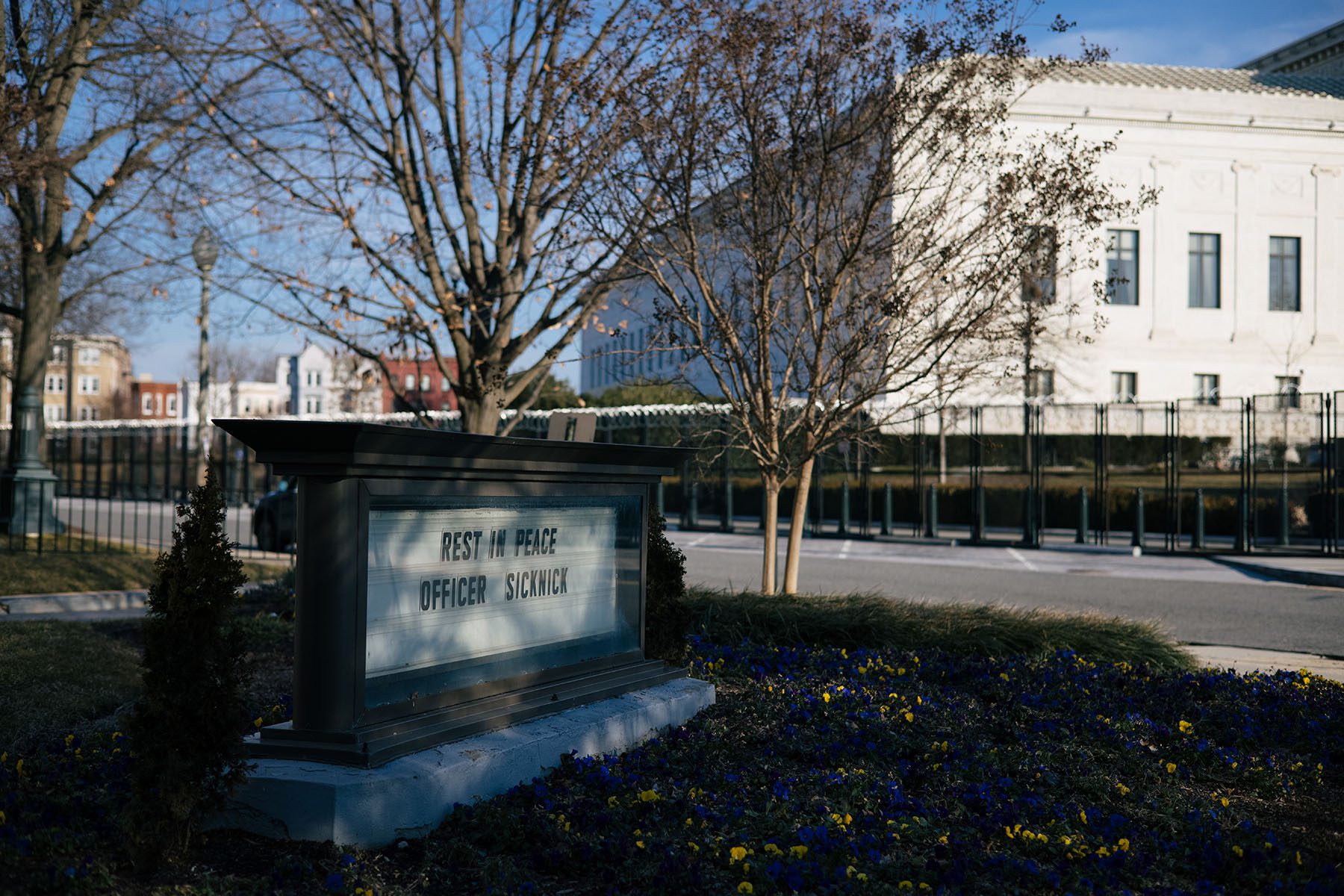 Rep. Mikie Sherrill of New Jersey: I grew up during the Cold War, and all an American had to do during the Cold War to understand just how important our values are, our Constitution is, is to look at the Soviet Union, to see the rollbacks on freedoms, the spying on each other from neighbor to neighbor. If you spoke out against that government, you would find yourself imprisoned. There just simply wasn't any flourishing of the human spirit in a way that we have in this country. And so it's very obvious what our values were and what needed to be protected. We need to come together in that understanding now, because what I think so many of us are feeling is that we're not united in this effort.
Rep. Nikema Williams of Georgia: The things that we saw happen on January 6 — we would go to other countries and hold them accountable. And so we have to do the same thing right here at home. … We've seen some people that have been charged for the crimes that they committed on January 6. There's a lot of people that still have to be brought to justice, and that includes some leaders in this country who were a part of everything that happened.
Sen. Amy Klobuchar of Minnesota: The answer here is making sure that we are defending the Constitution. That is what we said when we took an oath. Now I realize that these oaths are drafted to defend the Constitution, and that means this is game day.
Rep. Haley Stevens of Michigan: The facts are essential. The American public deserves to know what happened that day, understand the involvement and also understand that when people are in elected positions in the highest offices in our land, that they have a responsibility to guide and influence the public and the public mindset.
Rep. Mary Gay Scanlon of Pennsylvania: It has to be a time for reflection and understanding that a democracy, a republic, takes work. You have to pay attention. Concepts are complex. You can't tweet everything, because the world is more complex than Twitter. You know the famous line from when the Constitution was written? A woman approaching Ben Franklin said, "What kind of government do we have here?" And he says: "A republic, if you can keep it."
Leger Fernandez: Accountability is key, and consequences are important. So the Justice Department needs to continue to bring those criminal lawsuits, those criminal proceedings, to hold those who engaged and who orchestrated the insurrection accountable.
Williams: And it only strengthened our resolve here on the ground to stand up for our democracy and make sure that we are doing everything that we can to show people that we are not going to stop until we make sure that our elections are free and accessible to everyone.
Duckworth: That day was a clear siren warning that our democracy is on the brink, headed towards no longer being a democracy. … And it's not just a warning siren for us, but for the rest of the world watching. They are apprehensive, because we have always been that shining light that no matter what — through thick and thin, through good times or bad times — American democracy prevails. And nobody, least of all me, ever thought that there would be a need to defend the U.S. Capitol from insurrectionists in the 21st century.
Wexton: All of us have grown up thinking that it can't happen here and that the United States is exceptional and our wonderful democracy is so resilient and can withstand anything. And that day was really a wake-up call that it is under attack, and we need to redouble our efforts to save it.
Schakowsky: The lesson is that yes, our democracy can be attacked, physically, in person, violently. It can be attacked in legislatures. It can be attacked at school boards. It can be attacked in all these places, and we have to be vigilant and organized and mobilized. This is a job for everyone.
Sherrill: As I go around my district and speak to people about their belief in this country, their faith in our democracy, their faith in our system, the work that our elected officials here in New Jersey are doing to ensure that people know that their vote is counted and their voices are heard — I think we are strengthening our democracy brick by brick by brick.
How will we remember the insurrection at the Capitol? The members all agreed it should be remembered as an important day, one that laid bare divisions among Americans, a frightening day. But several remained hopeful that the worst is behind us.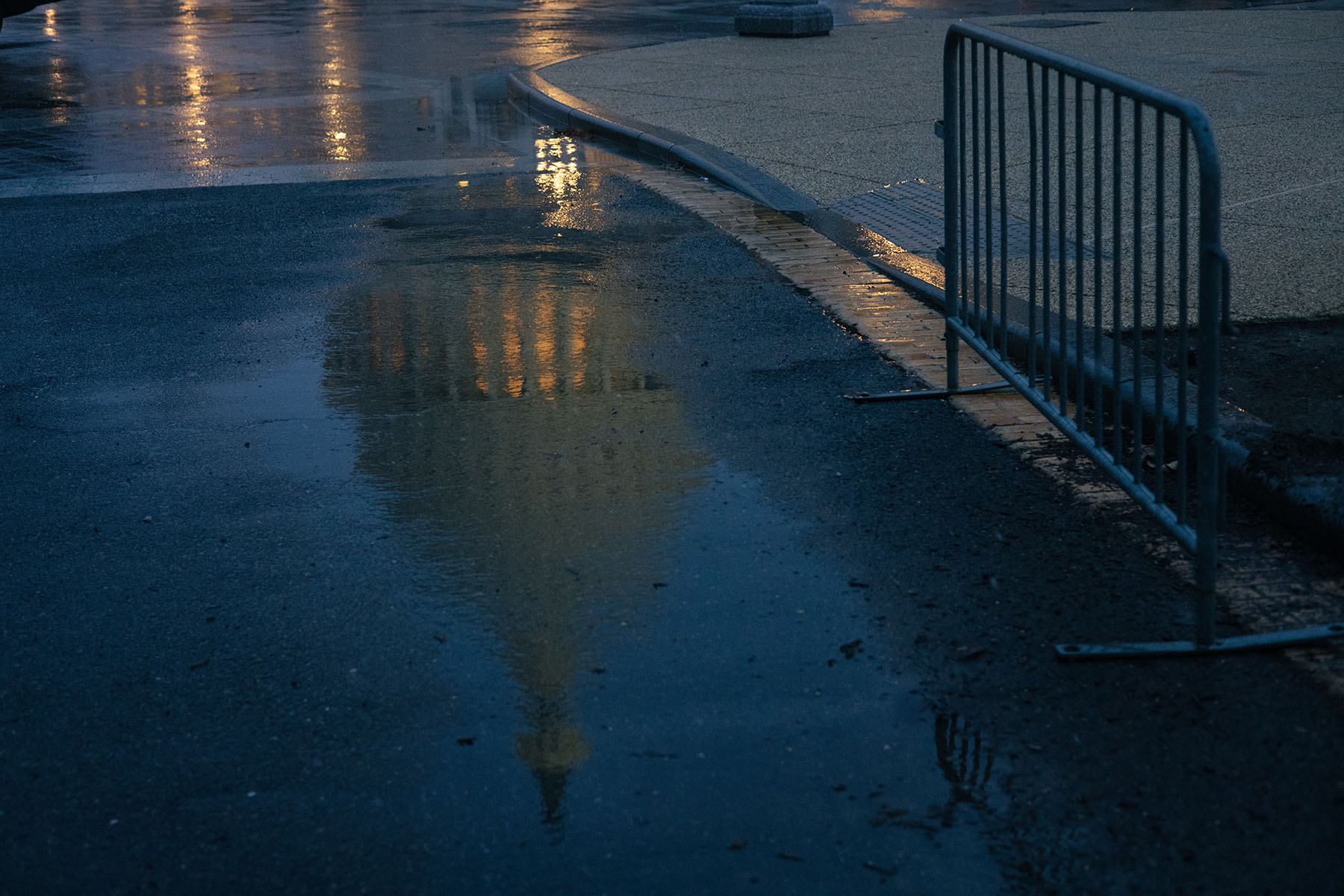 Wilson: I think it should be remembered as the darkest day that this country has ever faced since the Civil War, worse than 9/11, to me. Who would even dream that people would climb up the sides of the Capitol, break the windows of the House of Representatives and the Senate, and members of Congress would be scrambling like rodents and running from rioters?
Dingell: Historians are comparing this time to what this country was like before the Civil War. I hope people will reflect that there were disagreements, there were divisions and that it came to a head — but that the goodness of people, the courage and the decency, won out against those that were trying to divide us.
Bustos: It should be remembered as one of the worst days in American democracy. I hope it will not be viewed as the beginning — or the middle, depending on where you want to mark it in history — of the unraveling of democracy. Like I said, I have grave, grave concerns about democracy right now.
Jacobs: It's very important that we recognize that January 6 was the beginning, not the end. We will fall down a dangerous path if we think of it as the culmination of the Trump presidency, rather than the start of the next chapter, where we have to continuously be vigilant and defend against attacks against our democracy. I hope that in years to come, it will be seen as a pivotal moment where we were able to do what we needed to do to bring our country back together and find a way to move forward. But I'm not confident yet that that's how it will go.
Manning: I would love to see a permanent exhibit in the Smithsonian. Just as in the Holocaust museum, we have film of people who experienced Holocaust firsthand telling their stories, we ought to have that. Testimony from the Capitol police, firsthand experience of violence and extraordinary behavior of insurrectionists, testimony from staffers in the House at the time as well as members of Congress and senators. I think we ought to have photographs so that people won't be able to rewrite history.
Rice: The rightful place for January 6 in the history books is one of the most egregious attacks on our democracy, ever, in the history of this country.
Escobar: The Capitol riot can either be remembered as a turning point, essentially the beginning of the end of our democracy, or it can be seen as a turning point for Americans who want to preserve our democracy. And it is my hope that it is remembered as the latter.
Rep. Susie Lee of Nevada: I hope that it will be remembered as a wake-up call and how fragile our democracy is and how for every person in this country, it is incumbent upon them to fight for basic democracy, and that means understanding civics and voting every year and holding your elected officials accountable. I hope that we will turn back and remember that we came to the brink, and then we were able to repair ourselves and get back to a strong and vibrant democracy.
Dean: I hope it's also remembered as one of the lowest days in American history — when Americans attacked Americans.
McCollum: It needs to be remembered as a day in which Capitol police and many members came together to defend the chamber of the House, and senators and House members reconvened themselves to count the electoral votes and certify the presidency. A day to remember that democracy is only as strong as the people who are willing to defend it.
Sherrill: Despite the horror of that day and despite the heartbreak of that day, I think what should be remembered is democracy prevailed. We were in fact able to certify the election. There was a transition of power. I wish I could say it had been peaceful, but there was a transition. And then later that month, we swore in a new president.
Rep. Cori Bush of Missouri: I'm still hopeful, because there are people who aren't allowing this to just go away. They aren't allowing the insurrection to just be rewritten. There are people all over this country who are not only fighting this on the federal level, but they're fighting it in their state and local governments, fighting it on school boards. I'm hopeful because I still have this desire in my heart to fight this to the end, and there's nobody that I fear that would make me turn back and go the other way.