Editor's note: This article has been updated throughout.
The closing of a prominent gender-affirming care program for children in Dallas has dismayed parents across Texas who say that options for their children's care are few and far between — and they don't know what comes next for kids who need similar care.
The program, run by Children's Medical Center in Dallas, will no longer provide care like hormone treatment and puberty blockers to new patients after dismantling its program dedicated to that care and removing all reference to the program from its website this month.
Texas parents living in Dallas, the Rio Grande Valley and Denton told The 19th that they wouldn't know where else to go to get the care that their transgender children currently receive at the center, though the hospital has not indicated that it will stop care for existing patients.
The hospital's decision to turn away new patients has those families worried about the future of local gender-affirming care — which comes after they've already endured months of proposed (and unsuccessful) legislation that aimed to ban this same care for trans kids in Texas.
The now-defunct GENder Education and Care, Interdisciplinary Support program (GENECIS) was known for years as the first and only one of its kind for people living in Texas and its surrounding states.
In a joint statement from the hospital and UT Southwestern Medical Center, which jointly ran the program and at which several medical staff treating patients for gender dysphoria work as professors, spokespersons Rian Russell and Virginia Hock said that they "do not anticipate any interruption of care or services for our existing patients."
The hospital will "accept new patients for diagnosis, including evaluation of gender dysphoria, but will not initiate patients on hormone or puberty suppression therapy for only this diagnosis," Russell said over email.
The clinic saw over 400 patients in 2017, a local NBC outlet reported at the time. The clinic currently has around 500 patients, one of the staff members told The 19th. Spokespeople for the hospital declined to comment.
Adamalis Vigil drives her daughter eight hours from the Rio Grande Valley to Dallas for every doctor's appointment at the hospital so she can receive gender-affirming care, she told The 19th.
She makes the drive about every three months with Adelyn, who's 13 years old. It's hard in the Valley to find counselors and any providers who know how to care for transgender youth, she said. Although a local pediatric endocrinologist is available, his resources are limited.
"We did try a couple of counselors here in the Valley, but I would have to educate them about trans-related issues and things Adelyn would be facing," Vigil said. "For them, it was like a first-time experience. … That doesn't make me feel comfortable."
Rachel Gonzales, who takes her 11-year-old daughter Libby to receive care at the hospital, said that although her family has access to high-quality care in Dallas, there are no other options that are as comprehensive as the program, which brought together a team of endocrinologists, psychologists and specialists in adolescent medicine, among other departments.
"We don't have other options. I mean, GENECIS is it," she said.
When asked why care for new patients has been shut down, Russell said in an emailed statement that "the choice to remove branding for this care offers a more private, insulated experience for patients and families."
Medical professionals who had worked in the GENECIS program — and whose affiliation with the gender-affirming program have now been removed from the hospital's website — did not respond to requests for comment. Multiple members of the hospitals' leadership teams did not respond to calls and emails for comment on the program's status and why it was dismantled, including Daniel Podolsky, president of UT Southwestern Medical Center.
When first attempting to reach Podolsky, The 19th was informed that he was in meetings for the rest of the day. He was again unavailable for comment two days later.
Gonzales, a member of the Human Rights Campaign's parent council for transgender equality, said that she knows other families like the Vigils who travel from all over, but she doesn't know whether they have a place to stay. Vigil and her daughter have stayed the night at their house before, sometimes for less than 24 hours, after making the drive.
Vigil estimated that she pays about $160 for gas to travel to GENECIS and back. That's not even taking food and lodging costs into account.
GENECIS was the first place that Gonzales and Vigil were able to find gender-affirming care for their daughters. From what they remember, they both first started appointments right before the pandemic.
Amber Briggle, who lives in Denton with her husband, Adam, and their son, said the family first started going to GENECIS when their son was 8. He's now 13, going on 14 in February, and they attribute his gender-affirming care from the hospital as one reason that he's been able to flourish academically and emotionally.
They also remember that when they first looked for options for their son — with a focus on mental health resources, since they weren't looking to initiate hormone therapy at his young age — there wasn't much information available.
"It's only recently that parents of trans kids have actual, valuable resources on the internet to guide them on best care for their kids. … Five, six years ago, there was hardly anything out there," she said.
If GENECIS wasn't available to her son, Briggle said that "I just literally don't know where else we would go or what we would do."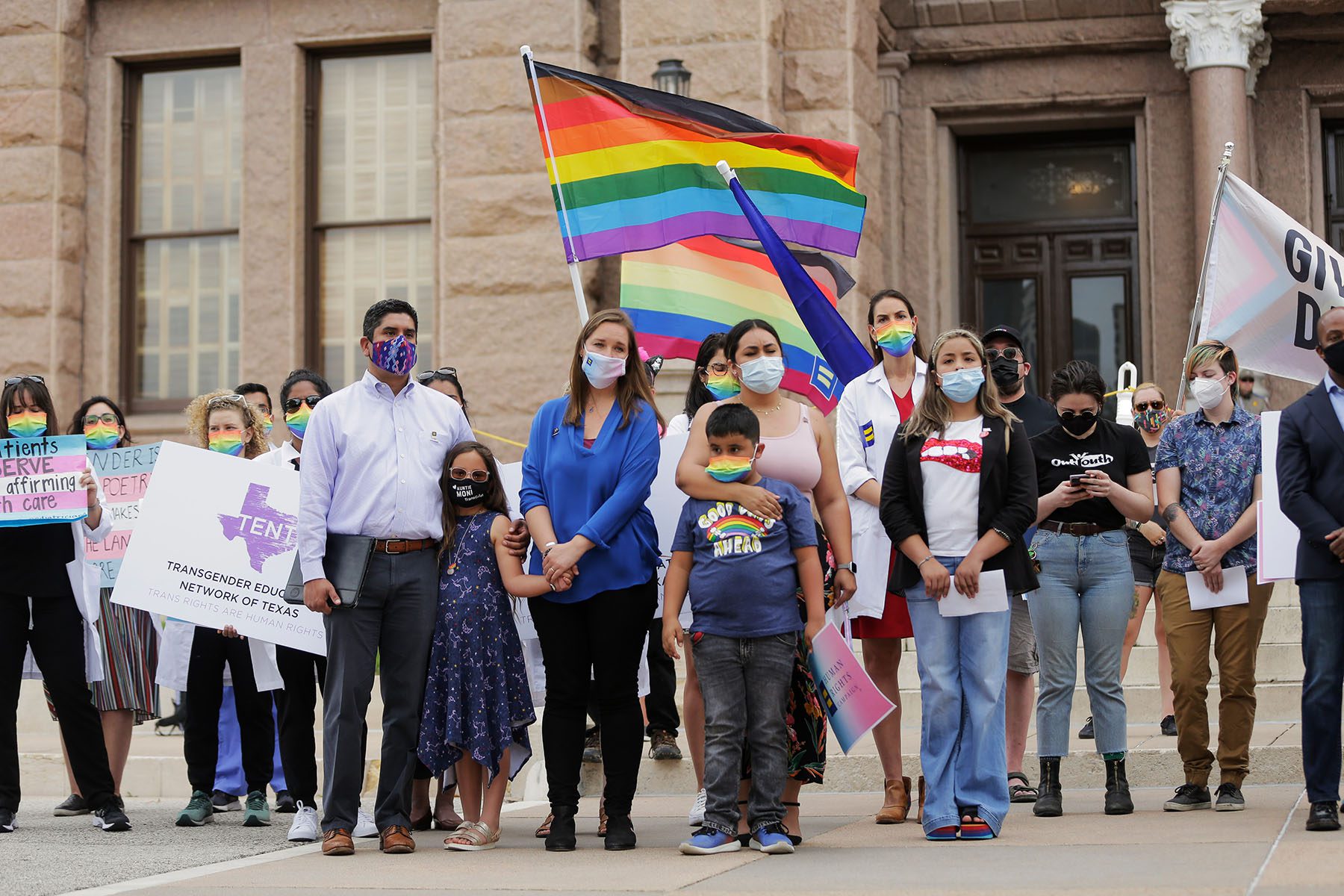 In addition to being diagnosed with gender dysphoria, new patients are accepted for psychiatric evaluation and counseling, a hospital spokesperson said in an email that was sent after this article was published.
Vigil said that her daughter's anxiety levels noticeably improved when they found doctors that could help — so much so that her panic attacks are now almost gone.
"Before she had the health care, she was constantly worrying about how was she going to get help before she went through puberty. And that was her worst nightmare," Vigil said.
Gender-affirming care is seen as crucial for trans kids by advocates for many reasons, including that trans and nonbinary youth are more likely to struggle with anxiety, depression, and suicidal ideation. That has been shown to decrease when families support their social transition, and when trans kids have access to puberty blockers and hormone treatments.
Kids who received one year of hormone therapy through GENECIS reported large improvements in body dissatisfaction as well as small to moderate improvements in symptoms of depression, per research by leaders of the program published in the American Academy of Pediatrics in March 2020.
Forgoing gender-affirming care, when needed, "can have tragic health consequences, both mental and physical," the American Medical Association said in April in protest of anti-trans bills being brought around the country.
GENECIS did not provide any gender-affirming surgeries for its young patients, as surgery for minors is rare and standards of care from the World Professional Association for Transgender Health say genital surgery should not be carried out until patients are 18 or the legal age in their country.
"It's just wrong to close this clinic to new patients," said Steve Rosenthal, who is medical director of the child and adolescent gender center for the University of California, San Francisco Benioff Children's Hospitals; a member of the WPATH board of directors; and former president of the Pediatric Endocrine Society.
The decision denies potentially life-saving standards of care laid out by all major professional societies working in this arena, he said.
When co-founding the California-based gender clinic, which began seeing patients in 2012, Rosenthal recalled seeing patients from Alaska, Florida, and even one American family living in Saudi Arabia.
"Maybe some of them are going to have to travel long distances or may not be able to organize to get the care," he said, reflecting on patients seeking gender-affirming care in Texas.
Ximena Lopez, formerly the medical director of GENECIS, formed the idea for the program after treating several young patients who had received diagnoses of gender dysphoria, she wrote in a first-person Cosmopolitan essay in 2016. The clinic opened in 2015, per the hospital's deleted website page. "As soon as we opened the door, patients started coming," Lopez wrote, saying the work included patients as young as 4 years old and as old as 17. As of 2016, the program had over 200 referrals from border states and from cities across Texas, including San Antonio, Houston and Austin, she wrote at the time.
"The parents feel like you're saving their children, and these patients feel like you're saving them," Lopez said at the time. Lopez declined to be interviewed about her work and the current status of the program.
The clinic treated more patients than initially expected after its launch, according to data presented in 2017 by Lopez and other medical professionals working at the clinic at the University of North Texas' equity and diversity conference.
The gender-affirming program was seeing at least 20 referrals a month after less than a year of being open, per the presentation, which also explored barriers to insurance coverage for some patients and the unexpected support from families and the community.
Resources for transgender youth and their families have now been deleted from the hospital's website, including links to PFLAG, the Trevor Project, Lambda Legal and the Transgender Education Network of Texas.
Confusion ensued after the program was removed from the website, at a time when families living in Texas are already on edge after fighting in the state legislature for their childrens' ability to have access to gender-affirming care. Republican Gov. Greg Abbott signed a ban on trans kids' participation in school sports in October after naming the legislation a priority across several special sessions.
GENECIS' closure also comes after Save Texas Kids, a local activist group that has protested against critical race theory, organized protests outside the home of at least one hospital board member to lobby for the closure, as seen in several of the group's Facebook posts.
"It's just been really nerve wracking," Vigil said. "It feels neverending. … They keep coming at us from every direction, they keep attacking these kids."
"We're just tired," Gonzales said. "Just waiting to hear what's going to happen is a scary place to be, because your kid's going to be looking to you to figure out what their next steps are. And I'm not sure if I know what the next steps are."
Briggle said she is worried about the hospital not seeing new patients, especially when she thinks of trans kids who recently came out to their parents and who can't stand another day of going through puberty. Those supportive parents now can't get their kids the care that they need at GENECIS, she said.
She's also worried about kids aging out of the program after they turn 18 — and what happens to the future of gender-affirming care at the Dallas hospital after that. As patient numbers dwindle and medical staff aren't needed, she's worried that all services offered by the program will be cut entirely.
At the end of the day, Briggle wants to know why. "This is vital care," she said. "There's a demand. And they just stop? It makes zero sense from a medical standpoint why they would do that."