*Correction appended.
The images of protest in 2017 were vivid: men and women being pulled out of their wheelchairs by Capitol Police, a blind man being dragged down a hallway with his white cane, a woman zip-tied in her pink wheelchair.
Then, the advocates of ADAPT were pushing to preserve Medicaid-funded home care, which they rely on for help with everyday tasks like bathing, eating and getting out of bed. Now the group is resuming its action at the Capitol for the first time since the start of the pandemic, this time focusing on keeping funding for home care in legislation under debate in Congress.
Last week, dozens gathered for a 24-hour vigil outside the Capitol. The group — 40 to 50 people at its peak, less than a dozen in the small hours of the morning — was made up of disabled people, family members, and professional caregivers sharing their own stories and reading the stories of thousands of others. ADAPT was founded in 1975 to protest the inaccessibility of Denver's public transportation system for wheelchair users.
As part of his Build Back Better Agenda, President Joe Biden pledged to radically expand home care. A large infusion of funding could help rectify long-standing problems like low wages for home care workers and lack of accessibility — many states have years-long waiting lists to access home care. The measure is part of a $3.5 trillion reconciliation bill that is part of intense negotiations in Congress over what it contains, and at what cost.
In response to reports that the amount could be cut by more than half, a dozen organizations from all over the United States collaborated to bring the vigil together. The Arc of the United States, a nonprofit representing people with intellectual and developmental disabilities and their families, provided the bulk of the stories shared: approximately 7,500, according to Kristin Wright, the group's director of communications. Common themes included years-long waiting lists to access services; unwanted confinement to nursing homes; and the freedom that quality, professional care at home can bring for disabled people, seniors and their families.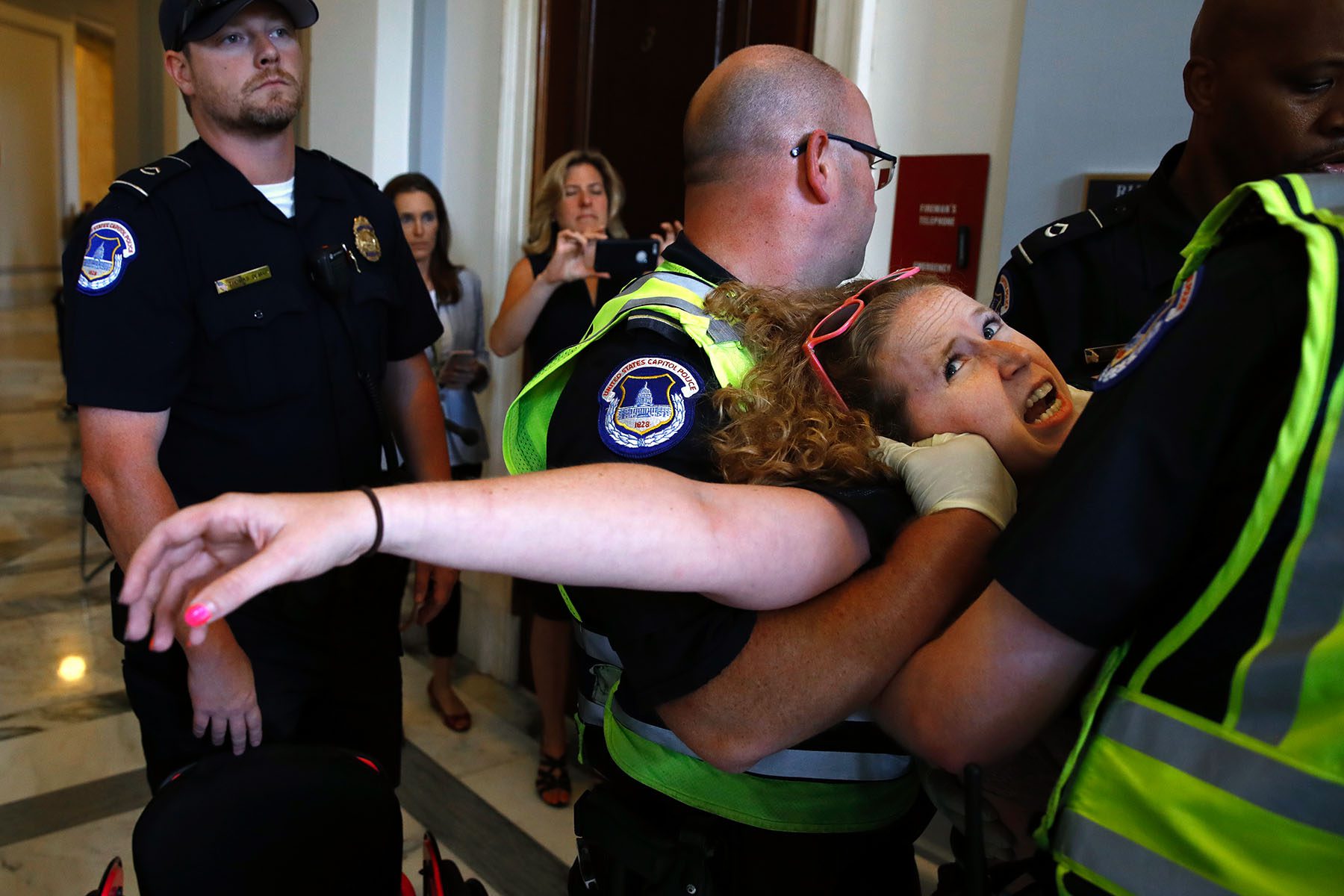 Josue Rodriguez, an organizer for El Paso Desert ADAPT, was arrested in 2017 for disrupting an Affordable Care Act repeal hearing. Rodriguez has cerebral palsy and relies on home care to shower and get dressed in the morning. Rodriguez, who is at high risk for complications from COVID-19, told The 19th that traveling to support home care funding was, for him, worth the risk.
"Of course I'm worried about getting sick," he said. "But it's also important not to be too afraid of [the pandemic] because it stops us from coming in and demanding our rights."
Rodriguez was careful to note that not everyone would make the same calculation he did. "It's a dance … There are other things [people] can do to participate and be active as well," Rodriguez said.
Before the vigil, ADAPTers had gone to protest outside the office of Sen. Joe Manchin of West Virginia. Sixteen people were arrested, said Mike Oxford, a longtime ADAPT organizer from Topeka, Kansas. ADAPT had neglected to invite press, but they showed The 19th some of the citations members received from Capitol Police. They were charged with "crowding, obstructing, or incommoding" and unlawful demonstration and each received a $50 fine.
Some members of Congress stopped by the vigil. In the afternoon, Rep. Pramila Jayapal of Washington paid an unexpected visit. Jayapal is the chair of the Congressional Progressive Caucus and has pushed Biden to "hold the line" on proposed funding for expanding and strengthening care programs.
"For me, it's about women in particular, the majority of women, largely immigrant women who do [care work] every day, to care for our elderly, our most vulnerable folks with disabilities. We need to reward that work," Jayapal told The 19th. Jayapal took issue with an idea, reportedly embraced by Manchin, that Democrats choose just one policy priority to aid working families.
"We're not going to pit child care against [home care]. We're not going to pit care against climate … This is about real people, and we're not leaving people behind," Jayapal said.
Later that afternoon, Rodriguez stepped up to the mic to speak. In addition to telling his own story off-the-cuff, he shared the pre-written story of Francisco Grajera, a home care worker from El Paso. The story was originally in Spanish, but Rodriguez translated it into English for the audience. Home care workers "have no benefits, no health insurance, no vacation time. We have nothing. If we get sick, we leave and no one backs us up. We're not going to have anyone to take care of us" when we get old, Rodriguez read.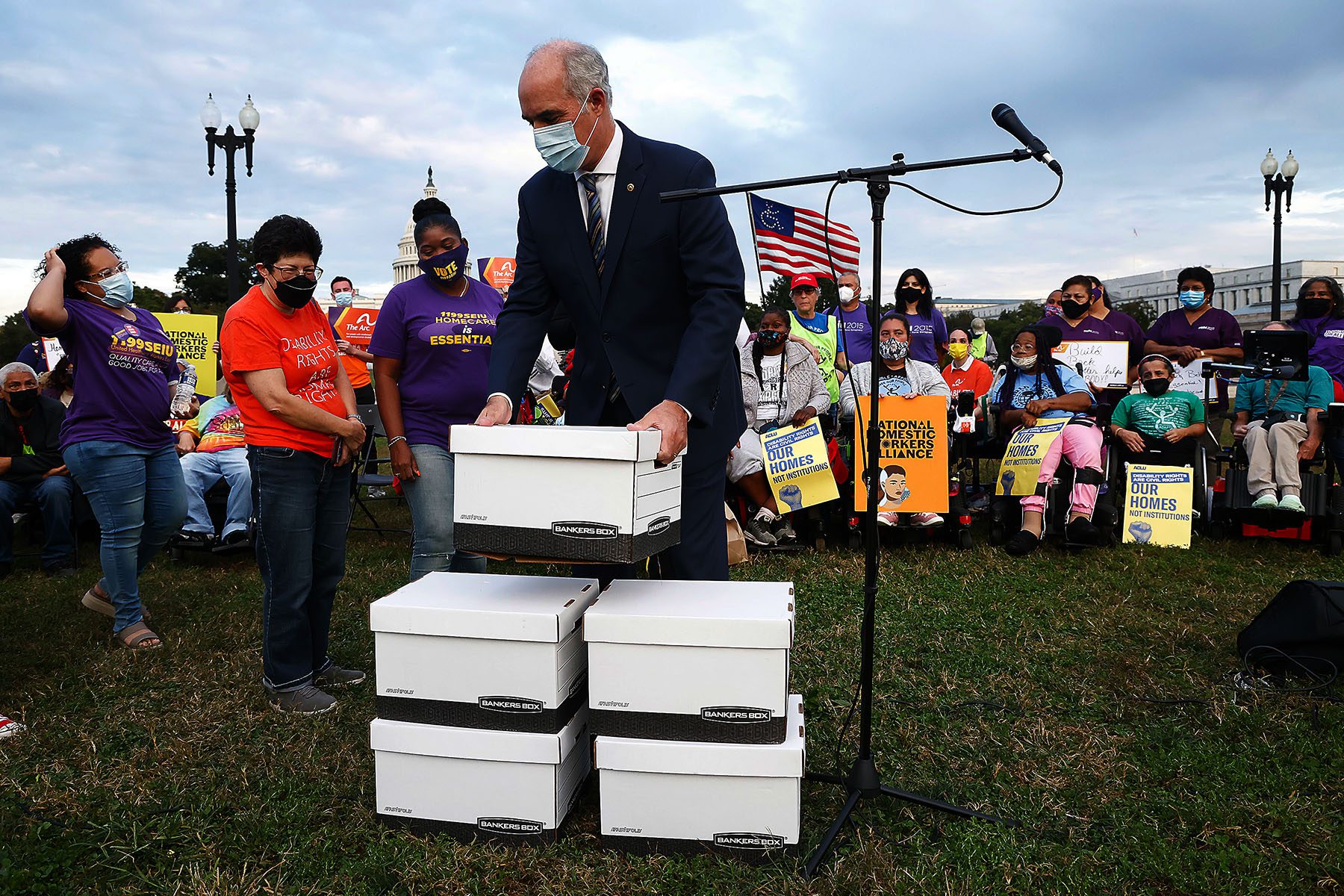 Sen. Bob Casey of Pennsylvania closed out the vigil, with ADAPT members in their wheelchairs and neon regalia, home care workers in purple SEIU T-shirts and more protesters standing behind him. Casey, a Democrat, has been one of the biggest and most consistent supporters of home care funding in the Senate, not just for this reconciliation bill, but for his entire career. He spoke to rally the same protesters and advocates in 2017, in support of preserving funding for home care funded by Medicaid, as well as the Affordable Care Act as a whole. This time, Casey read a few stories himself, before his staff accepted five cardboard file boxes filled with pages of home care workers, family members and disabled people desperately asking for relief.
After he finished addressing the crowd, Casey told The 19th that he planned to get as many of the boxed stories on the congressional record as possible.
"The more we tell these stories, the more we make the connection for [other legislators], to help them understand" the importance of home care, Casey said. He seemed optimistic about the fate of home care funding in the Build Back Better Agenda.
"There's very strong support for this policy," he told The 19th, "and very strong support to make sure the number is high enough to expand services and lift the workforce up."
Correction: An earlier version of this article had an incorrect version of ADAPT's name.