A new Texas law banning nearly all abortions is shaping the final weeks of a historic lieutenant governor's race in Virginia, with two women candidates seeking the number two seat in state government that could play an outsized role on policy decisions, including abortion rights.
Democrat Hala Ayala, a lawmaker in the state's House of Delegates, and Winsome Sears, a Republican who served in the chamber in the early 2000s, have been clear throughout their campaigns about their position on abortion: Ayala supports abortion access, Sears opposes it. But the topic is front and center after the Texas law, which bans abortions after six weeks of pregnancy, went into effect this month.
The race between Ayala and Sears was already slated to make history: Ayala is Afro-Latina and Sears is Black. Voters have never elected a woman as lieutenant governor of Virginia, nor a woman of color to statewide office. Their campaigns are among the 2021 races that may preview how abortion is framed in next year's midterm election cycle.
Sears was asked during a recent interview with conservative cable news channel Newsmax whether she would back a Texas-style abortion law in Virginia.
"I would support that," she said. "Because here's the thing, when did it become the wrong thing for us to support the babies in the womb?"
Ayala shared a link of part of the interview on social media and tweeted: "I will always vote to protect your right to make decisions about your body. Unfortunately my opponent can't say the same." She also said it has "never been more essential to have a pro-choice Democrat" as lieutenant governor.
Virginia has increasingly leaned Democratic in recent elections, but some upcoming races for the House of Delegates and other statewide offices could be close. Some recent polling in the gubernatorial race shows a potentially close match-up between Democrat Terry McAuliffe and Republican Glenn Youngkin. (That race has also put a spotlight on abortion, with Ayala and McAuliffe both appearing alongside other Democrats recently at an event with the podium sign, "NO TEXAS ABORTION BAN IN VIRGINIA.") In Virginia, same-party candidates for governor and lieutenant governor do not appear on the ballot together.
Sears' campaign, which reportedly fired several staff recently, did not return requests for comment about her remarks. A now former spokesperson for Sears, who was among those let go, told The Washington Post: "While Winsome personally supports protecting life and the most vulnerable, as a former legislator herself she also recognizes that Virginia is very different from Texas, and that legislation could never have the votes to pass the Virginia General Assembly."
Under a "pro-life" headline on her campaign website, Sears stated, "The baby in the womb wants to live! God creates life: whether by test-tube or natural means. As a mother, I understand the importance of protecting life. As the next Lt. Governor of Virginia, I will fight to protect life, not devalue it." The language appears to have been removed from her site in recent days.
There are unique dynamics in Virginia that make the election between Ayala and Sears — and their positions — potentially consequential when it comes to abortion access. The lieutenant governor has tie-breaking power in the 40-member state Senate, where Democrats currently hold 21 seats and Republicans hold 19, a close split that sometimes leads to unpredictable outcomes. No Senate seats are up for election this year.
The current lieutenant governor, Democrat Justin Fairfax, cast a tie-breaking vote in 2020 on legislation repealing several abortion restrictions, including state-mandated counseling, an ultrasound requirement and a 24-hour waiting period before an abortion. (Joe Morrisey, a Democratic senator, sided with Republicans on the vote.) Fairfax has cast more than 50 tie-breaking votes in his time in office, including on Medicaid expansion and marijuana legalization.
"We are the firewall. So this is why the lieutenant governor's seat is so important," Ayala told The 19th. "Choice is on the ballot this November."
Republican lawmakers across the United States have expressed a willingness to pass abortion bans similar to the one in Texas. And in the days following Texas' law going into effect, governors have taken or urged action on other abortion policy. In South Dakota, Republican Gov. Kristi Noem signed an executive order to restrict abortion by telemedicine and the use of abortion-inducing medication by ​​requring an in-person medical examination. In Michigan, Democrat Gov. Gretchen Whitmer vowed to prioritize repealing a 1931 law that criminalizes abortion.
Since the Democratic-led Virginia statehouse has expanded abortion access in recent years, it might have given some voters a sense of complacency, said Michaela Parris, director of communications for NARAL Pro-Choice Virginia. She noted that the U.S. Supreme Court's decision to not block the Texas law could preview a future where Roe v. Wade is overturned. That would leave the abortion access up to states.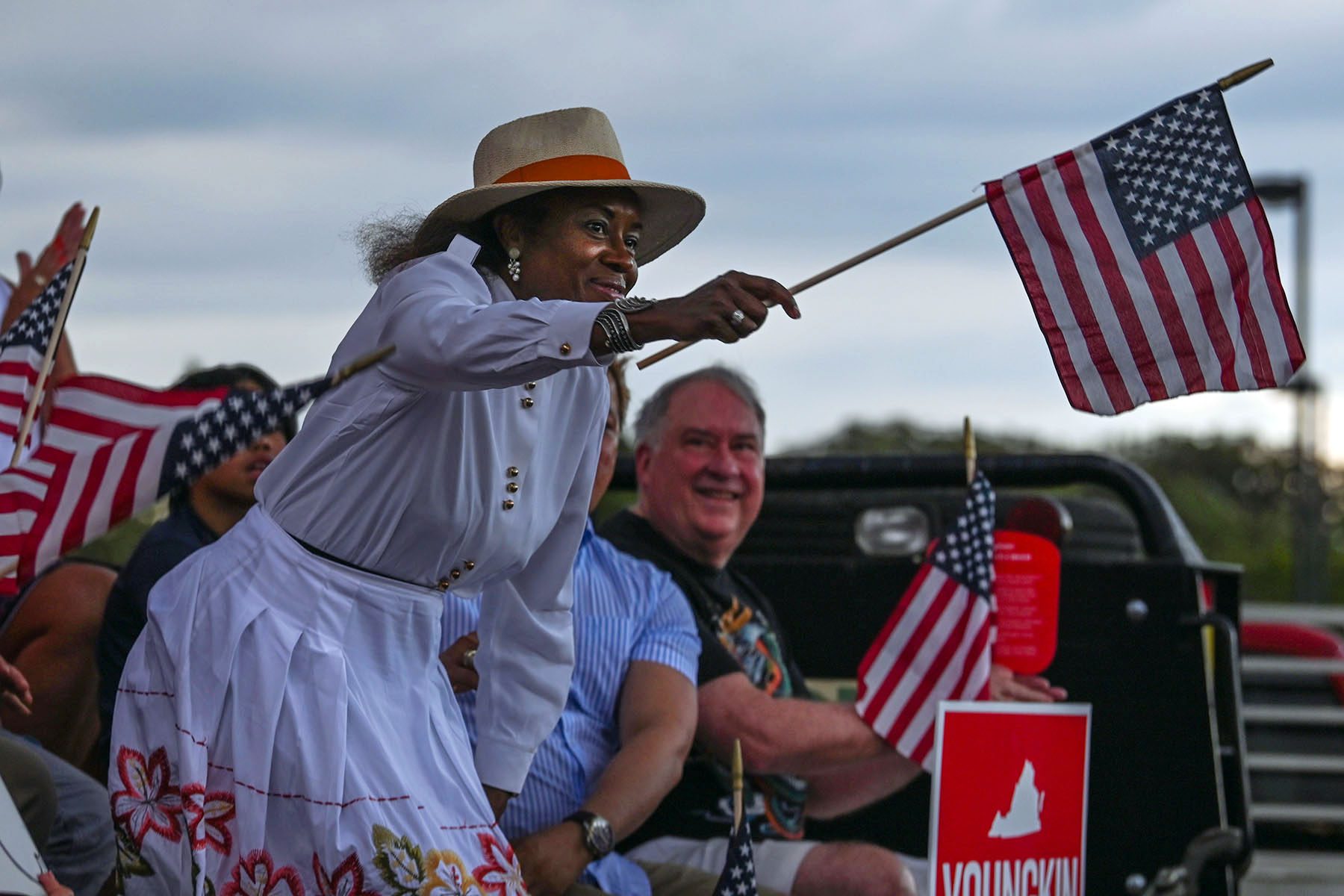 "We want to protect Virginians from the ramifications of that by making sure we have a pro-choice majority in the commonwealth that will continue to not only protect Virginians' access but also expand upon it, because we know that Roe v. Wade is actually the floor when it comes to access to abortion," she said.
Parris added that her group has spent considerable time this election cycle educating voters about the upcoming election. Early voting begins September 17 and ends the Saturday before the November 2 Election Day.
"If we lose the lieutenant governor vote to someone who is an anti-choice extremist like Winsome Sears is, then the ability for pro-choice legislation to come out of the Senate is very, very low," she said.
Jamie Lockhart, executive director of Planned Parenthood Advocates of Virginia, said the group is focused on electing Democrats up and down the ticket in part because of the implications for abortion rights. It has endorsed more than 75 candidates for the House of Delegates along with McAuliffe, Ayala and Mark Herring, the current Democratic attorney general who is seeking reelection.
Lockhart said ensuring a Democrat has tie-breaking voting power is one priority for the group, along with electing a governor who will sign key priority bills into law and an attorney general who will defend them and other issues in court if needed.
"In Virginia, the right to a safe legal abortion is not protected in our state code or constitution," Lockhart said. "And so it really depends on who we elect this November on whether Virginians continue to have access. We also know that several of our neighboring states are at risk of losing access, so not only making sure that Virginians have access to reproductive health services, but also some of our neighbors who may need to travel to Virginia."
Carlota Arias is a Virginia field coordinator for the National Latina Institute for Reproductive Justice, an organization that supports expanding abortion access. The group's Virginia organizers are among a cohort working to pass legislation that would guarantee insurance coverage in the state for a range of health care including contraception, abortion, prenatal care, childbirth and postpartum care.
The National Latina Institute for Reproductive Justice does not weigh in on political candidates, but Arias made clear that the group's priority is access to reproductive health and supporting legislation that advances that. She works with activists throughout Virginia to train, organize and mobilize Latinx communities on issues including abortion rights.
"It's a matter of defending that autonomy on our bodies without political interference in our decisions on when to have a family," she said. "That's what's at stake."