It's a movement that has been bubbling up since workers were asked to keep flipping burgers without protective equipment, since they had to remove their masks so customers could judge how much to tip them, since they were called back to work only to find they were short staffed.
After a year that has asked more and more of them but given back too little, restaurant workers — some of the lowest paid people in the country — are rising up. Women are leading that charge.
In recent weeks, images have started circulating of taped signs on storefronts and drive-thrus saying they are closed or short-staffed after workers quit en masse to protest low wages, heavy workloads and few, if any, benefits. That movement has gained intensity over the past few weeks, pitting workers against employers who claim a labor shortage is disrupting their business and choking the economic recovery.
But workers say it's not a labor shortage — it's a wage shortage, and it puts the women who make up the bulk of this workforce at a disadvantage.
Women are 82 percent of restaurant hosts (with a median wage of $11.48 an hour), 70 percent of servers ($11.42 an hour) and 67 percent of fast food workers ($11.47 an hour). They represent 70 percent of all tipped workers, for whom the federal hourly tipped wage is $2.13, a figure that hasn't budged in 30 years.
A culture of sexual harassment, inflexible hours and few benefits have long made restaurant jobs grueling, but the pandemic has pushed workers to reject the idea that this culture is immutable. And women are helping herald in what could be a seminal moment in the history of service work.
"I have never seen in 20 years such an anger, such a willingness to organize," said Saru Jayaraman, the president of One Fair Wage, which has been at the forefront of advocating for the elimination of the tipped wage and a $15 minimum wage for all workers.
A recent report by One Fair Wage that pooled 2,800 national surveys of restaurant workers found that about half of all workers were considering leaving the industry as a result of the pandemic — including 54 percent of women and 55 percent of mothers. An increase in wages was the top reason workers would stay on the job, followed by increased hours and access to paid sick leave. About half of all workers in the industry have access to paid sick leave, but among the lowest paid workers in the country, only a third get paid sick time off. Only about 7 percent of food and accommodation workers get access to child care through work, 8 percent have flexible work schedules and 9 percent get paid family leave.
For the Latina and Black women who make up an outsized share of the workforce and who are more likely to be sole breadwinners for their families, the loss of child care during the pandemic has upended their relationship with work. Hundreds of thousands of women left their jobs in the past year to care for their kids, and the ones returning are questioning that decision.
"We've heard from our worker leaders that are still and have been working through this pandemic: 'Is this worth it? At what point will we get recognized or treated properly here?'" said Allyn Umel, the national director for the Fight for $15 and a Union, which has been at the center of federal and statewide pushes to raise largely fast food workers to $15 an hour since 2012.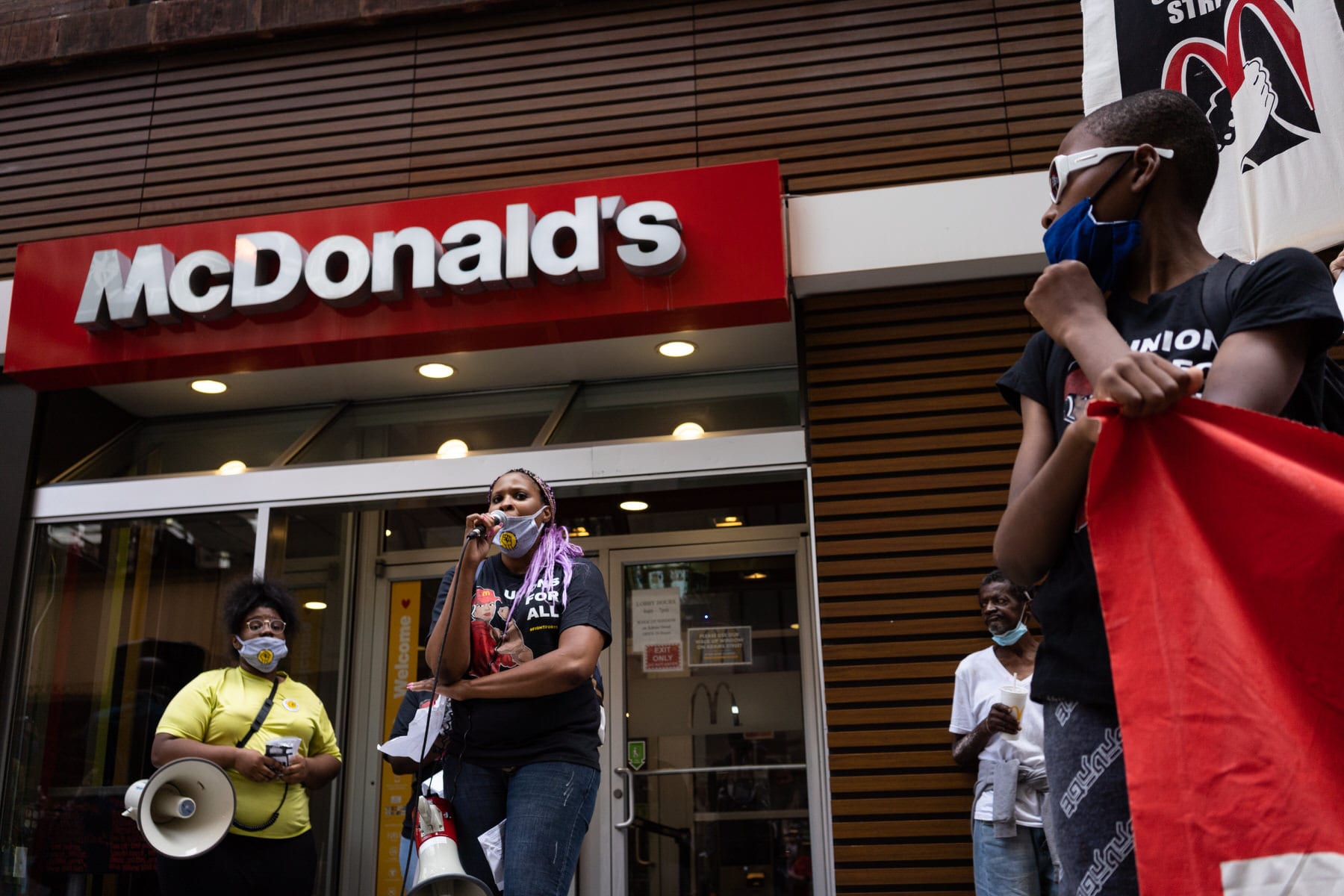 During the pandemic, part-time McDonald's worker Ieshia Townsend has had to take on extra jobs driving for UberEats, Postmates, GrubHub, Instacart, DoorDash and GoPuff just to earn enough to feed her two kids, who are 2 and 10. 
And still, "it's hardly enough to afford Pull-ups and diapers and milk for them," said Townsend, who is a leader in Chicago in the Fight for $15. Townsend is helping set up a strike in Chicago next week of McDonald's workers ahead of the company's shareholders meeting Wednesday. Simultaneous strikes will also take place in 14 other cities.
She's been organizing with Fight for $15 for five years, and the momentum has only grown, she said.
"Some workers ask me why I do what I do and I tell them, 'The reason I do what I do is so I can make a better life for my kids and your children, and our next generation. You should be able to go on family vacations and spend time with our kids if they get sick. We should not have to keep living in poverty," Townsend said.
At One Fair Wage, workers are also gearing up for a set of strikes later this month. Hundreds of service workers, led by women, will stage a wage strike on May 26 in at least eight cities to protest low wages and tips.
And as the months have gone on, more workers at restaurants unaffiliated with One Fair Wage or Fight for $15 have started to speak up — at a Wendy's in North Carolina, a Dollar General in Maine, a Hardee's and a Burger King. They have banded together to quit.
"It has been a jolt of energy to our movement and it is incredibly promising," Umel said.
The strikes are about more than pay, they say. It's about the abuses that women in particular have faced.
"The reason why it's so led by women is not just that women are the majority of the industry, but women are putting up with the brunt of the disgusting behavior and the additional work and hostility and harassment that are not worth it anymore," Jayaraman said.
The threat of sexual harassment is almost a mainstay for women in the food industry and it has endured depsite the pandemic. In a December report from One Fair Wage on workers in Massachusetts, many said they'd been interacting with customers more to ensure they followed safety guidelines and as a result, 44 percent of workers said they'd seen an uptick in sexualized comments from customers during the pandemic.
Shelly Ortiz, a former server at a restaurant in Phoenix, told The 19th in February that a male customer asked her to remove her mask "to see if the bottom half of my face was as cute as the top." Shocked, Ortiz ran to a back room, called her girlfriend, and screamed into the phone. But she said she felt powerless. When she told her coworkers, they all nodded, sharing similar stories. Ortiz later quit.
"The reason I'm speaking about this is because I don't have a job to lose," Ortiz said. "My coworkers would be saying a lot more if they weren't afraid of retribution."
The walkouts and strikes come after a heated push earlier this year to include a minimum wage hike in President Joe Biden's first coronavirus package. Ultimately, the minimum wage increase stripped from the legislation. As restaurants have reopened at higher capacity with vaccinations ramping up, some employers have found they are struggling to attract and retain workers.
The number of job openings hit a two-decade high in March at 8.1 million, according to the most recent data from the Bureau of Labor Statistics. The industry that saw the most new openings was hospitality and food service, with 185,000 more openings in March. An additional 63,000 people also quit the industry that month.
Some Republicans have pointed to the extension of $300 a week in federal unemployment payments until September and the most recent round of $1,4000 stimulus checks as the culprit, saying too generous aid has encouraged workers to quit. About a dozen Republican-led states say they will reject the federal dollars for additional unemployment insurance.
In response, the Biden administration this week reinstated a requirement that workers be looking for work to receive unemployment insurance. The requirement was waived throughout the past year.
Economists also caution that the spike in job openings could also indicate a reluctance from employers to raise wages or benefits to meet market demand.
"Employers who truly face shortages of suitable, interested workers will respond by bidding up wages to attract those workers, and employers whose workers are being poached will raise wages to retain their workers, and so on," said Heidi Shierholz, senior economist and director of policy at the Economic Policy Institute. "When you don't see wages growing to reflect that dynamic, you can be fairly certain that labor shortages, though possibly happening in some places, are not a driving feature of the labor market."
Already, employers are adjusting. Chipotle announced this week it would raise its average wage to $15 an hour — meaning most workers would earn between $11 and $18 an hour — specifically to attract workers. McDonald's announced Thursday it would raise hourly wages by 10 percent at corporate-owned restaurants — only 5 percent of all McDonald's.
But for workers organizing, the adjustments fail to meet the bigger ask: That jobs pay them enough to make rent and feed their kids, so that one job is enough. According to the Massachusetts Institute of Technology, the living wage — how much individuals need to earn to meet minimum standards of living — in the United States is $16.54 per hour for a family of four composed of two working adults and two children.
At this point, Umel said, $15 an hour may even be too little.
"$15 is absolutely essential — it was essential back in 2012 when workers went on strike. And at this point, in the year 2021, $15 is the compromise," she said. "It is absolutely what people need to survive."