For 13 months, 65-year-old Teresa Saenz has fought to return to work.
She's been a housekeeper for almost all of her 40 years in the United States, since moving to South Florida from Colombia. Eighteen of those she's spent at the Diplomat Beach Resort, a swanky hotel dating to the 1950s that's a draw for group events.
When the Diplomat closed in March 2020 at the onset of the COVID-19 pandemic, Saenz and 650 of her coworkers, many of them Latinx and people of color, lost their jobs. Without a full return to events yet, the hotel has not reopened, and Saenz has spent much of the past year marching, demonstrating and passing out pamphlets in a campaign to reopen the resort.
Financially, she's barely managed. It took about three months for Saenz to see an unemployment check after the collapse of Florida's aged system last year. Her savings evaporated quickly. And every job she's applied to, in housekeeping or restaurants, she's been denied. Saenz said the little she's scraped together has been from cleaning houses whenever she can pick up a job, but it's hard to make the case for herself — few people want to hire an older woman, she said. Her daughter, who lives with her, helps pay for the necessities, but it's been a year of watching the life she built up over decades of sacrifice slip away.
"I am a Latina fighter — a warrior — who faces my problems so that I can get ahead," Saenz said in Spanish. "But at the same time, people need some support so they don't feel defeated. And what's that support? My work. I want to go back to work."
Across the nation, Saenz is one of the 900,000 Latinas still out of work and enduring the lasting effects of a recession that has hit women of color hardest. So even as unemployment numbers level out and the overall economic picture appears rosier, people like Saenz continue to fall behind.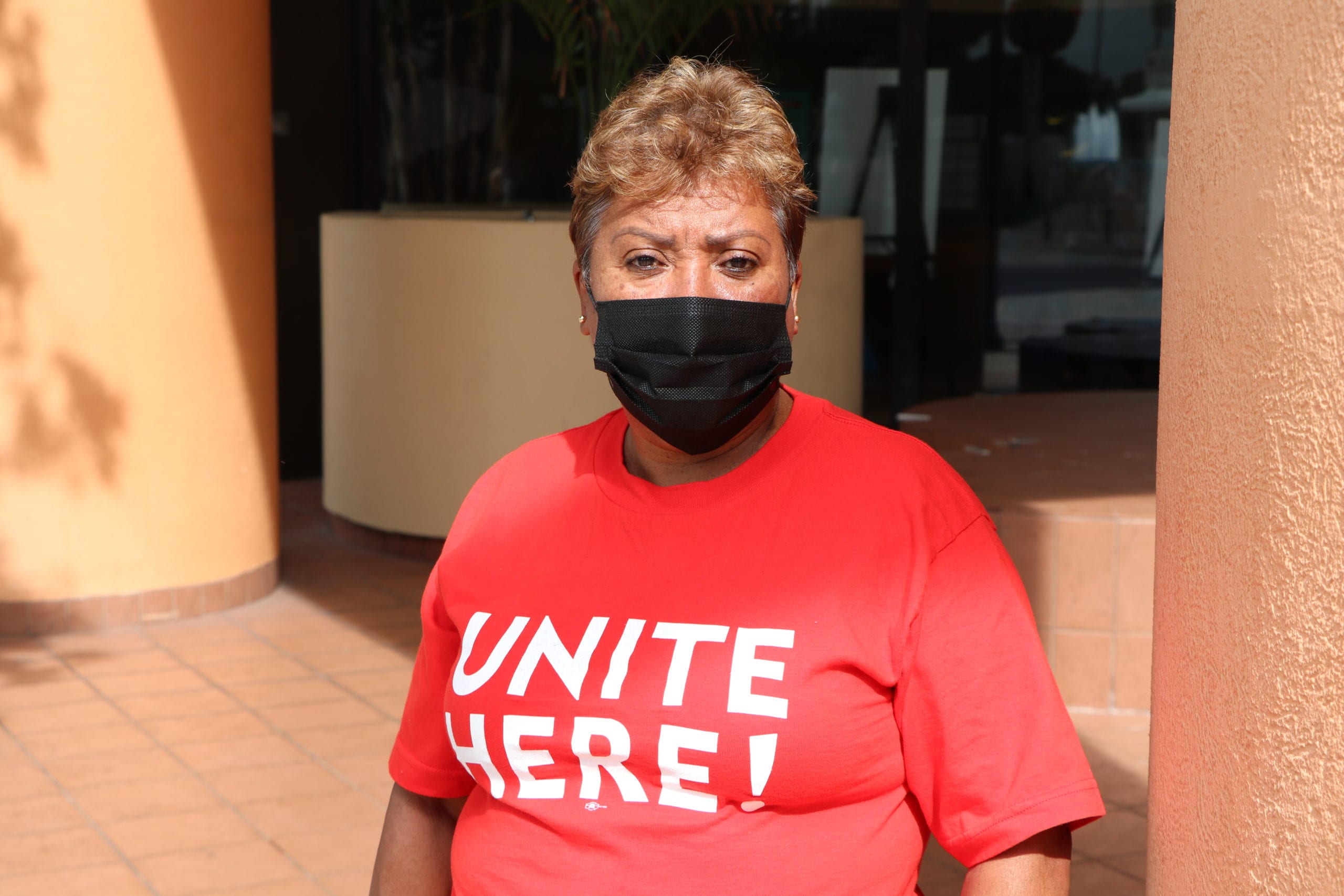 Because of historic challenges with how the United States collects data on the Latinx community — and because data broken down based on race and gender together is even less common — Latinas, especially, have long been invisible.
A new report released Monday by UnidosUS, the country's largest Latinx civil rights and advocacy organization, shows the depths of the financial crisis for Latinas, the group that experienced the highest rate of unemployment during the pandemic, and reveals how Latinas have been managing in the past year.
In April 2020, Latina unemployment hit 20.1 percent, the highest unemployment rate of any group. The share of Latinas employed in the labor force dropped to 56.5 percent last year, the lowest it's been since the Bureau of Labor Statistics started tracking this statistic for Latinas in 2003 (the bureau has tracked this rate for other groups for 70 years).
UnidosUS' study explores what happened to the women who made up that statistic, what kept them from work, how their finances suffered and what systemic barriers keep Latinas at a disadvantage. The study looked at a representative sample of more than 2,100 people, including Latinas, Latinos, White women and White men. 
About 37 percent of Latinas surveyed were hit severely by the pandemic recession and have yet to recover. Nearly half of Latinas completely wiped out their savings to stay afloat financially — twice the rate of White women.
As of February, 32 percent of Latinas reported having no rainy day fund left in case of an emergency, and another 19 percent have less than $500 in their savings.
The financial losses were so severe that about 36 percent of Latinas struggled to afford food, household items and medicine in the past year — a number also twice the rate of White women.
The numbers from the pandemic reflect what happens when pressure is put on a system that has always been inequitable, and has always made it more difficult for Latinas to secure the financial stability that families build on from generation to generation, said Aracely Panameño, the director of Latino Affairs at the Center for Responsible Lending, a nonprofit advocating for financial policies that address the challenges faced by underserved communities.
"We are typically in a negative equity position. If you are not getting your fair wage, you're less likely to save, you are less likely to have a job that provides you retirement savings or other types of savings. It would take you approximately 17 to 21 years to save for a down payment to buy a house, which means you are stuck in the rental housing market. It's darn hard," Panameño said. "All of that came crumbling down during this pandemic."
Those same setbacks played out this past year. Take how the stimulus checks were distributed at the onset of the pandemic. Families of mixed citizenship status initially did not qualify for stimulus checks if there was one person in the home who filed taxes using an individual taxpayer identification number, or ITIN, instead of a Social Security number. Undocumented immigrants are the most likely to use an ITIN.
That was later corrected, and families who were left out could later claim their checks — if they knew the rule changed at all — but that kept many Latinx households from accessing the aid other families relied on.
"They had been forced to anguish, to go hungry, to not have food for their children and diapers and all of the basic needs because they had been punished for that number of months," Panameño said.
In terms of health outcomes, Latinx people also suffered more during the pandemic. They are 1.7 times more likely to be infected by the virus than White people, 4.1 times more likely to be hospitalized for it, and 2.8 times more likely to die from COVID-19, according to the report. There is limited data on Latinas, specifically, because of incomplete data collection. Most studies have focused on race instead of gender and race.
"Latinas have confronted a triple crisis in the face of COVID-19: disproportionately higher infection rates, economic losses and family-work conflict," the report found. "It is critical for future economic growth and equity that the economic barriers, the onerous burdens of balancing family and work, and other asset-building contractions that Latinas face are removed."
---
Part of the reason Latinas have felt this disparate impact is because they start at a disadvantage.
Latinas have the widest gender pay gap of any major ethnic group, earning 55 cents for every dollar earned by White men. The gap is 85 cents on the dollar for Asian American and Pacific Islander women (though this number, an average, obscures the big disparities among AAPI ethnic groups), 79 cents on the dollar for White women, 63 cents on the dollar for Black women, and 60 cents on the dollar for Native American women.
The overall figure for all women is 82 cents on the White man's dollar, a number that has increased by 10 cents in the past 30 years. For Latinas, it has budged upwards by just 3 cents, according to UnidosUS' report. 
Latinas are also concentrated in low wage fields, with about half earning less than $15 an hour. They are overrepresented in the hospitality field — which saw the greatest job loss in the wake of COVID-19 — and they have less institutional wealth. According to the UnidosUS study, 58 percent of Latinas had a savings account compared to 82 percent of White women. About 73 percent did not have a retirement account at all, whereas more than half of White women do. 
"That's already the gap … None of that is a surprise and it's not a surprise that Latinas are the ones who haven't gone back to work. [So while] the picture shouldn't surprise us, it's very important to have data like this," said Laura E. Gómez, a professor at the University of California, Los Angeles School of Law and an author of several books on the Latinx community, including her most recent, "Inventing Latinos: A New Story of American Racism."
Latinas like Hilda Renteria Hernandez, a server at the Chili's restaurant inside the airport in Orlando, can see the systemic disadvantages play out in her own life. Her father came to the United States in the mid-1980s to work in the orange fields. She followed in the 1990s, when she was 7, and was a DACA recipient. Later, when she wanted to go to college, she found out she couldn't get financial aid because undocumented students, including DACA students, don't qualify.
"That's really when the struggle, I think, started," said Renteria Hernandez, 33.
At the start of the pandemic, the concessionaire that runs the restaurant in the airport laid off about 150 workers, including the staff at Chili's, after the workers were called in to sanitize the restaurants.
The impact was swift and severe for Renteria Hernandez: She and her sister, who lives with her, both lost their jobs at around the same time. Her husband's hours were also reduced. The plans they had to buy a house were indefinitely paused and unemployment payments took two months to arrive. In the meantime, they raided their savings account to pay bills and haven't been able to add to it again.
Meanwhile, another sister also lost her job, and her niece had to be pulled out of daycare.
The pandemic recession has placed significant burdens on mothers, who left the workforce by the thousands to care for young children or those in remote schooling. This dynamic was more pronounced for Latinas, UnidosUS found. About half of all Latinas reduced their work hours or quit jobs to take care of a child, compared to 29 percent of White women. About 62 percent of Latinas reported that their family responsibilities increased during the pandemic. For White women the figure was 48 percent. 
All of those challenges have set Renteria Hernandez's family back years, potentially.
She was only able to regain her job recently, following months of collective campaigning, after her employer, HMSHost, backed out of its promise of rehiring the laid off workers and started hiring new people for the positions. Just this week, Renteria Hernandez was called back for orientation, and she expects to be back to work soon.
"This is just the beginning of the recovery — that's how I see it right now," she said. "It'll be a long time before I feel like I'm back on track."
And how that recovery is reflected in data also remains to be seen.
---
The UnidosUS report is one of the few in recent years that has tried to capture the Latina economic experience. 
Historically, census collection has left the Latinx community out or complicated the picture by not putting Latinx in the race category, but in a separate ethnicity category. That's led to about half of Latinx people identifying as "other" in census race data, Gómez said, obscuring the information for policymakers looking to craft legislation with race and gender in mind.
"The very fact of treating Latinos as an ethnic group as opposed to as a racial group is part of the way Latinos have been racialized in the United States," Gómez said.
It wasn't until 1980 that Hispanic was added as an ethnicity. Latino was added in 2000; it was supposed to move to the race category for 2020 after years of advocacy and research that found that a one-question format with Latino or Hispanic under race promised higher response rates and more accurate data. But former Secretary of Commerce Wilbur Ross blocked the decision, and the 2020 census went ahead with the same race and ethnicity question format.
It's expected that the "other" category, largely Latinx people, will be the second-largest racial group in the 2020 census, Gómez said.
But without a clear understanding of who that is, the Latinx community doesn't get the same focus of resources it needs, particularly in light of the pandemic, experts say.
Panameño thinks the resources for Latinx people need to be focused on creating pathways for higher education and vocational training; student debt cancellation; access to jobs with living wages and benefits; a pathway to affordable home ownership fair lending practices for Latinx business owners; and access to child care.
Some of those changes are in the works.
On data, President Joe Biden's administration has promised to set up an Equitable Data Working Group to disaggregate federal data by ethnicity, gender, income, disability, veteran status and other demographic points. Biden is also set to nominate Robert Santos, the president of the American Statistical Association, to head the U.S. Census Bureau. Santos would be the first Latino to head the bureau.
The administration has also passed a stimulus package that is aimed at addressing the disproportionate impact of the pandemic of people of color. The plan allocates nearly $40 billion to the child care industry — a historic investment in an industry that has lost 1 in 5 workers and employs majority women and many Latinas and Black women. It also enhances federal unemployment payments through September 6, a boost for the 7.3 percent of Latinas who were unemployed as of March, the most recent month for which data is available. Additionally, the plan expands the child tax credit so that the poorest families can get up to $3,600 per child for the youngest children. Half of all Latinx kids are expected to benefit from that change. Another bill in the works, called the American Jobs Plan, would make a historic $400 billion investment in home health care jobs, which are also dominated by Latinas and Black women, to raise wages and increase benefits.
With more data, Gómez said she expects more policies that look at gender and race to craft solutions, particularly as the country continues to work to end the pandemic.
"We need a solution that takes race into account," she said, "because the problem takes race into account."