Zureyma Johnson's introduction to climate change was in college. She studied kinesiology and neuroscience at Gordon College in Massachusetts, and some of her science professors were passionate about conserving the planet.
But the reality of the issue hit closer to home after she graduated in 2017. Johnson began having health issues and visited three different doctors about her problems — hormonal imbalances, rapid mood changes, changes in weight. They all assured her these changes were normal; that sometimes this just happens. Skeptical, she kept looking for answers.
Finally, she found a doctor who asked a simple question: Where have you lived?
Midland, Texas, is an oil town with high levels of pollutants that increase cancer risk and expose citizens to harmful ozone smog. Johnson, now 25, lived there from ages 14 to 18, and often goes back to visit her sisters and parents. She says her doctor suggested the environment there could be related to her current health problems.
Johnson began looking into the impact climate change can have on physical and mental health. Ground level ozone is known to increase emergency room visits for asthma. Exposure to toxic air pollutants can worsen allergic reactions. Smoke exposure from wildfires increases respiratory and cardiovascular hospitalizations. Contaminants, such as synthetic hormones and mercury, can be affected by a disrupted water cycle and build up in food at levels that can affect immune function and fetal development.
"Everything's related," Johnson said. "Whenever we do horrendous things to the earth we're also doing it to ourselves."
She also began doing more research on the zero-waste lifestyle, a movement that promotes reuse and recycling to avoid creating the trash that goes to landfills. This led her to Instagram.
For Johnson, the visual-forward social platform had always been a place of consumerism, but she realized her shopping habits were not only expensive, but there might be a connection between her own health issues and the ways a minimalist life could help the environment. Johnson then set out to create a space on Instagram where her followers could feel like they weren't being sold something.
Some of her first posts about environmentalism chronicled her journey to a sustainable holiday season in 2019. She posted about cutting down her own Christmas tree with her husband, reusing wrapping paper and buying eco friendly gifts. She has since posted about everything from where to look for sustainable Halloween costumes to the importance of voting. She uses her platform to educate her nearly 2,000 followers on sustainability while taking them along on her own journey.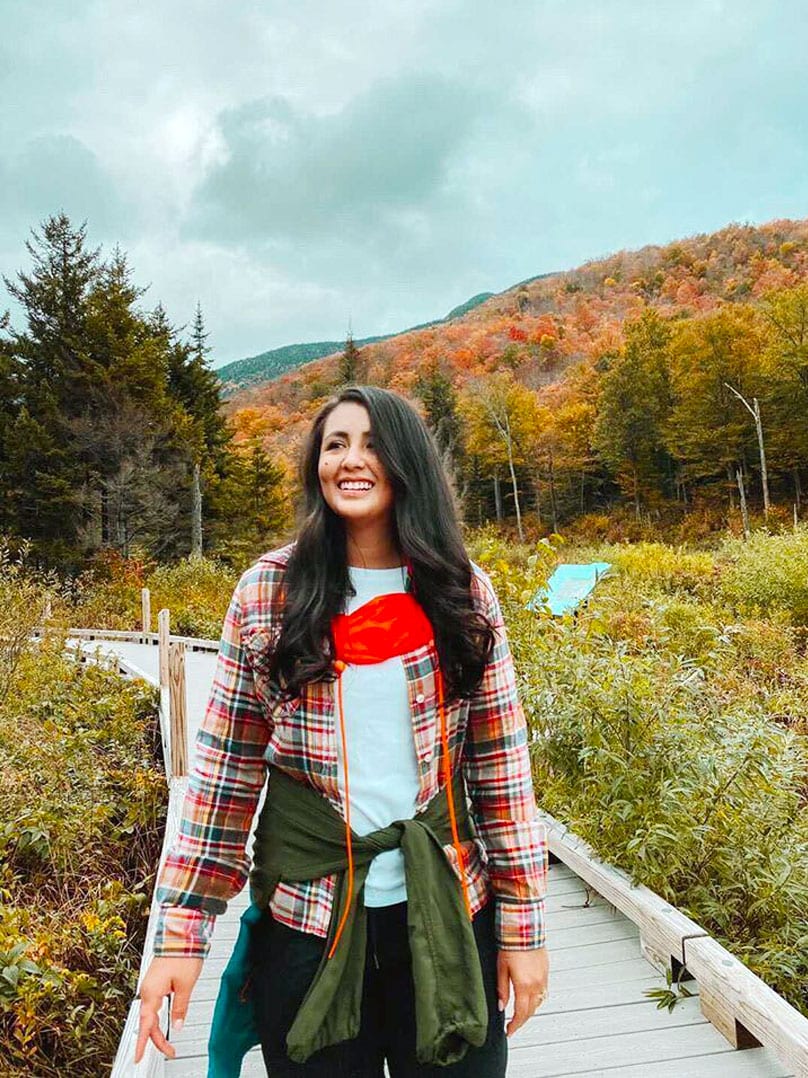 Johnson is one of a growing group of climate activists on Instagram, mostly young women sharing information from how to go vegan and how to vote to how to enact change in environmental policy at all levels of government.
In a 2019 survey of 10,000 members of Generation Z, people aged eight to 23, climate change was the most cited vital issue, according to Amnesty International. Leading into the 2020 election, climate change was an important issue for American voters, particularly Biden supporters. Sixty-eight percent of voters said climate change is a somewhat important or very important factor in deciding who they would vote for, according to Pew Research.
Social media is also extensively used by Generation Z as a means of information-gathering, making it a powerful tool in climate change communication. A majority of Americans believe social media can create long lasting social movements and get politicians to pay attention to issues. Experts agree that social media activism can energize users and result in concrete actions, like attending protests.
Not only can social media disseminate information quickly and broadly, but it can help people relate to the problem of climate change. In a study on social change, researchers found that social media allows users to build community and share individual experiences.
Specifically, Instagram's use of images helps make the issue of climate change feel more personal, said Morgan Block, the science and outreach coordinator at Climate Communication, a non-profit science and outreach project dedicated to helping audiences understand scientific communications.
"Associating climate change with people and how it's going to affect us, and using images that show the impact that climate change has on our everyday lives is really important," Block said. "Right now, I think a lot of people see images of polar bears or melting ice caps, and it feels very distant, and it doesn't feel like it's happening here or right now to us."
---
Nearly 60 percent of Instagram users in the U.S. are women, according to Statista; there's also a gender divide in climate activism.
Dana Fisher, a professor of sociology and the director of the Program for Society and the Environment at the University of Maryland, collected data from climate strikes in March, May and September 2019, as well as the Earth Day Live digital strike in April 2020, and found that 65 percent or more of organizers were female.
Fisher is not certain why the issue of climate change has resonated so much more with women than men, but guesses that part of it comes from President Donald Trump.
"Trump's kind of large-scale, broad agenda that includes climate denial, very much comes from this very masculinist tone that exploits sexism, racism, and many other -isms," Fisher said. This, she believes, has turned off many women across the political spectrum.
Lily O'Neill, 27, has an instagram account focused on what she calls "imperfect sustainability." She has noticed that the Instagram activism community is overwhelmingly female — about 80 percent of her 2,364 followers are women — and overwhelmingly White.
O'Neill started posting sustainability content on her personal Instagram account earlier this year. She became interested in climate activism after noticing how much the planet has changed even in her own lifetime. The snowy Massachusetts winters she grew up with haven't been the same in years.
"I think for some reason caring about the climate crisis, for some reason in society, is considered to be a female thing," O'Neill said. It's important to address the lack of men and people of color in the movement because "sustainability needs to be something that everybody can feel like they can get involved in."
Tayina Gilles, 25, is a medical student. She has been a part of the climate activism community online for three years now and has an audience of nearly 6,000 followers, though she feels she still doesn't quite deserve the title of climate activist.
She often posts a combination of content about environmentalism and life as a medical student. In a recent post, which features Gilles sitting in front of a pond smiling and wearing green scrubs, she talks about the waste that is produced while working in a hospital.
"Single-use hospital gowns, single-use examination devices, tools that were never used but can no longer be used because they were opened, pill bottles, delivery boxes, lunch trays….it's endless," Gilles writes in the caption. She argues that sterilized reusable options can be just as clean as single-use ones.
During her time on Instagram, she has seen the community grow.
"I keep seeing more people who follow me who originally would not post anything about environmentalism, and now they're saying, 'Oh, I'm having this conversation with my family now.' And just bit by bit, I think it is effecting change," said Gilles.
Activism is a slow process, so it's hard to say now if climate activists using Instagram or other social media platforms to spread their messages will have an impact on environmental policy in the long run. One thing activists are beginning to do, in addition to telling their followers how to live a more sustainable life, is pushing for specific policy changes. Most of this work, which includes urging followers to get involved in politics and running social media campaigns to get supporters of sustainable policy elected, has been done around the Green New Deal.
"This is how policies happen, is first you start to talk about them, and they enter into the vernacular," Fisher said. "You have to lay the groundwork so I can see that they're laying the groundwork now." Fisher says the groundwork is important to educate people so that when it comes time to implement specific policies, citizens are informed to pressure their elected officials into action.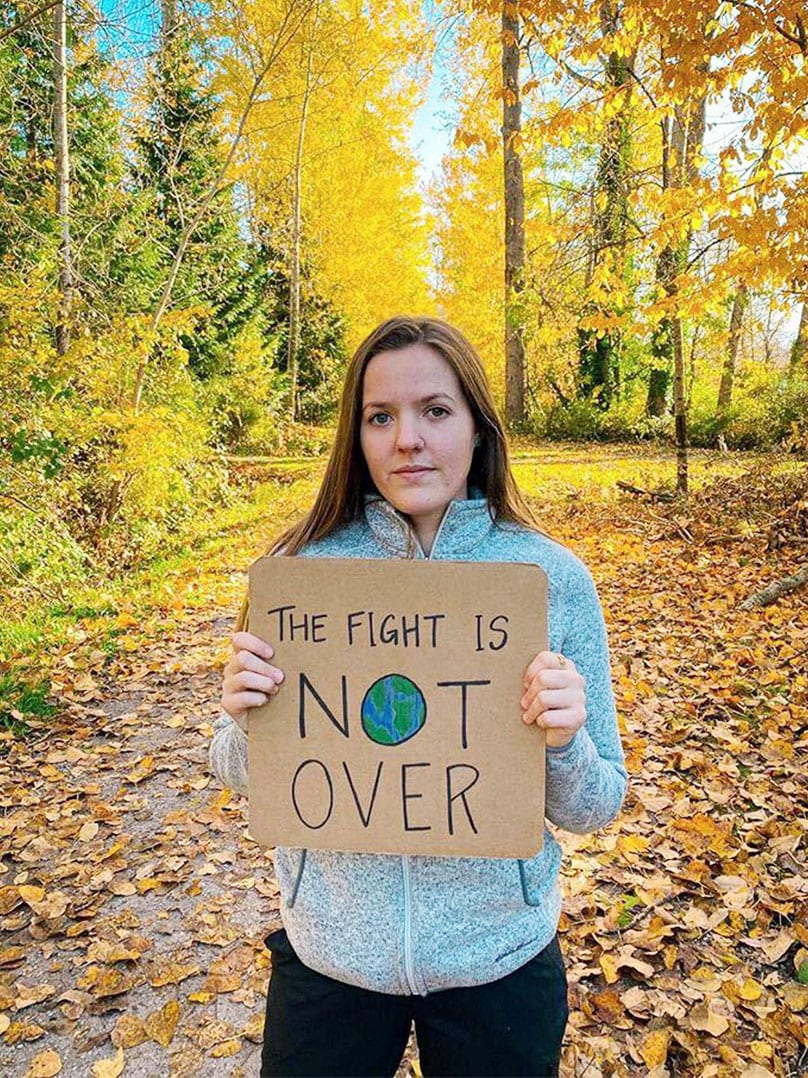 Marie Wilson, 25, is a freelance writer in the outdoor industry and runs an Instagram account focused on outdoor sustainability. She shares information on the climate crisis and sustainability to her over 1,500 person audience, which is about 70 percent women. For her, laying the groundwork for environmental action meant voting for Biden. 
"I think a lot of people can relate that Biden was not my first choice. But seeing how he has shifted his environmental policy and has the support of people like Bernie Sanders, who has a much more aggressive climate plan, I think is a step in the right direction," said Wilson.
The specifics that drew Wilson in are Biden's plans to rejoin the Paris Climate Agreement and reach net zero emissions by 2050. Still, she acknowledges that his plan is not perfect; she wishes he would be more aggressive on divesting from fossil fuels.
"I'm taking what is given and I do think it is a step in the right direction, and kind of reestablishes us as a country that takes climate science seriously," Wilson said.