We're the only newsroom dedicated to writing about gender, politics and policy. Subscribe to our newsletter today.
The pandemic-induced recession forced Molly Moon Neitzel into a difficult position: She had to lay off her own father.
Earlier this year, she temporarily shut down all nine locations of her Seattle ice cream business that bears her own name, Molly Moon's Homemade Ice Cream ("My parents were hippies," she said) — and she had to lay off 91 of her 98 employees, including her dad, who four years ago sold the house she grew up in and moved to an apartment in Seattle to be her facilities manager. Cutting him loose stung the most.
But Neitzel's resolve to keep her business operating would be shaken many more times this year, like when she fought to make sure she could keep her employees on their health care even though her shops were shuttered, and when she rushed to get her pints of melted chocolate and sweet cream flavored ice cream into area grocery stores so she'd have money to pay for that care.
Her hair began to fall out from the pressure. She estimated that she saw her two young kids 17 hours less a week — she could no longer schedule her work around their pick-up times. Then her dad got cancer in his eye.
"In between meetings about cutting payroll and making health insurance payments and balancing that, I drove my dad to proton beam radiation cancer therapy," Neitzel said. "I have never been more stressed."
For many small business owners like Neitzel, the story of just staying afloat in 2020 is one with chapter after chapter of impossible decisions. And it's harder, in many instances, for women-owned businesses like hers.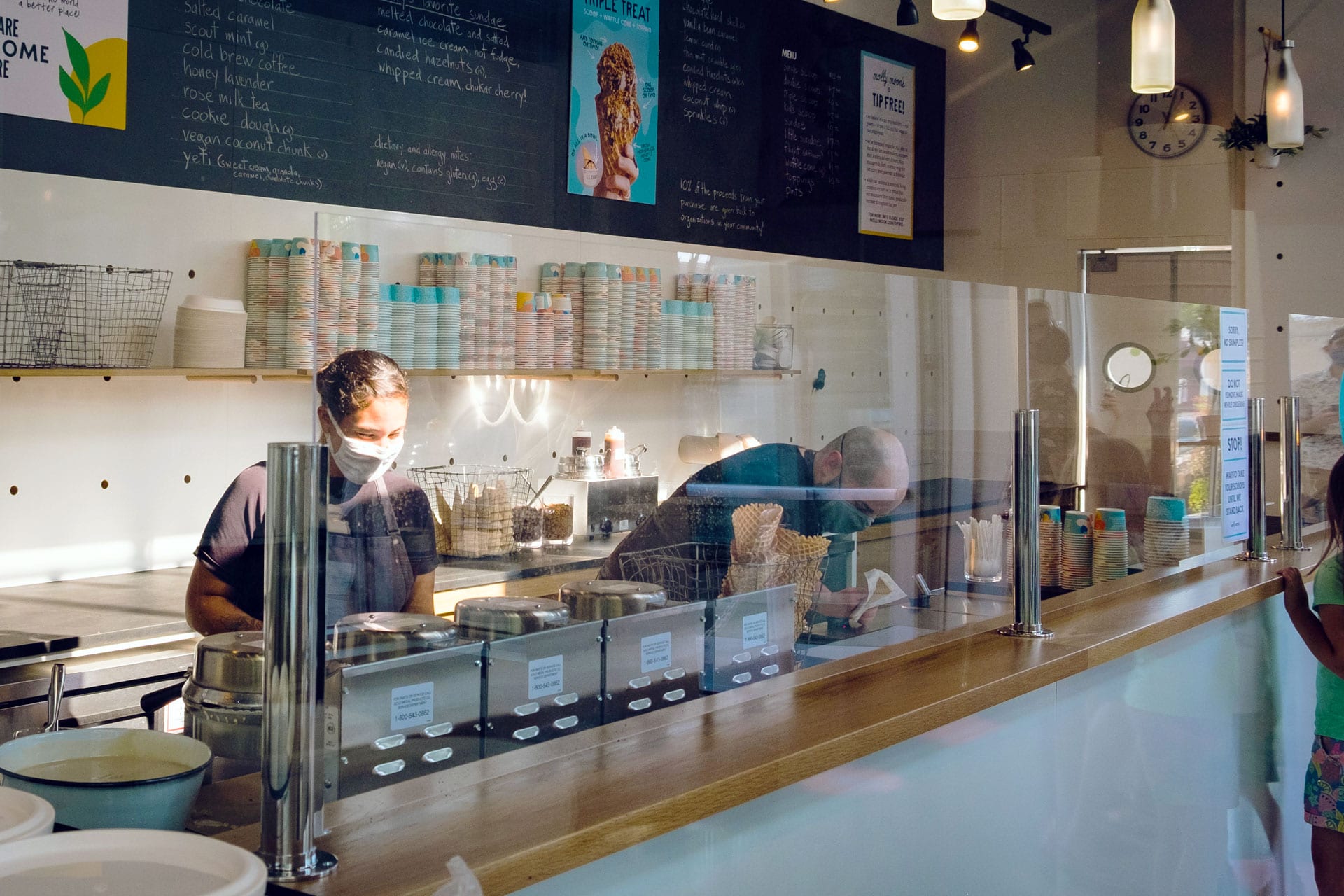 Female-run businesses have historically struggled to secure financial support, often getting loans that are about 30 percent lower than their male counterparts. This year, few of the businesses that received relief from the Paycheck Protection Program (PPP) — Congress' forgivable business loan offered to offset coronavirus losses — reported the gender of their owner; of the ones that did, only 5 percent were women-owned, according to an analysis by IFundWomen, a funding marketplace for women-led startups and small businesses.
In 2020, women have endured the majority of job losses, with unemployment that peaked at more than 15 percent and a mass exodus of working moms from the labor force. In April, the number of working female business owners dropped by 25 percent, an unprecedented figure, according to a report by the National Bureau of Economic Research.
As the crisis wore on, the U.S. Chamber of Commerce found that women-owned businesses were suffering more long-term. Before the pandemic, 67 percent of male-owned businesses ranked the health of their business as "good." In July, that fell to 62 percent, an August report from the chamber found. For women, the drop-off was much steeper: 60 percent ranked the health of their business as "good" at the start of the year; in July it was down to 47 percent.
Data from small business payroll provider Gusto found that, between March and September, male-owned businesses had been able to grow their staffs at a rate of about 6.3 percent. For women-owned firms, the rate was 2.7 percent.
Neitzel was on track to break $10 million in revenue this year — a feat less than 1 percent of female-owned businesses achieve. Now, she expects she'll barely break $5.5 million.
For her, the challenges of this year present an existential problem.
"I'm terrified about all of the plywood and all the boarded up businesses in all the neighborhood districts," she said. "I feel small businesses sort of create the fabric of the culture of any town or city — and so many of those small businesses are run by women."
Amanda Ballantyne, the executive director of small business advocacy network the Main Street Alliance, said much of what's happened this year is an avoidable problem. Women and people of color were shut out of much of the initial rounds of stimulus because the program was set up to work through commercial banks. Those who didn't have an existing relationship with a commercial bank found it harder to access the funds. And because the money ran out quickly, it left many without a lifeline.
"You can just look at the sort of demographics of businesses owned by women that are micro businesses or independent contracting businesses, those businesses had a lot of trouble accessing the PPP in the same way that they typically have trouble accessing high quality credit," Ballantyne said. "There's just a long history of gender and racial discrimination in small business lending from commercial banks. That, coupled with all of the confusion around the relief programs, really put a lot of women and BIPOC-owned businesses sort of at the back of the line."
That's why another round of stimulus has been closely watched by business owners and advocacy groups that want to see some of the missteps from earlier this year corrected. Getting more money out to small businesses has fairly bipartisan support and was part of the conversations between House Speaker Nancy Pelosi and Treasury Secretary Steven Mnuchin regarding another round of stimulus, which dissolved prior to the election.
The most recent signs show renewed appetite for a stimulus package, but the lingering differences between Republicans and Democrats on what the price tag should be remain. Senate Majority Leader Mitch McConnell said this week he believes another round of help should pass, but at a fraction of the $2.2 trillion Democrats are pushing for, citing improved jobs numbers released last week showing the unemployment rate in October dropped to 6.9 percent.
The Democrats, meanwhile, are pointing to another surge in coronavirus cases across the country, where cases per day have been rising in 49 states. In New York, all restaurants, bars and gyms will resume shutdown on Friday.
If widespread shutdowns begin again, business owners already know what the damage could look like without federal support, Ballantyne said.
"Business owners understand now what the length and potential duration of the crisis is going to be. They have more information. And they're going to be more able to make decisions about just shutting down and saving," she said. "Business owners have just a lot less room to negotiate this kind of crisis because they've been in it for eight months."
Neitzel is only now starting to regain some stability. Her business reopened all but one of its shops in May and June, but she lost the usual summer season boost she gets when she typically doubles her staff. About 88 of her employees are back. And she's still working to pivot where she can.
Earlier in the year, she sold T-shirts that read "Stay home, eat ice cream," created a reward punch card, and, for the holidays, she's developed a pumpkin blondie bar sundae kit for families to put together at home as a non-traditional Thanksgiving dessert.
Her dad just finished his final round of cancer treatment last week.
---
When the PPP program was implemented in March, it was aimed at businesses of 500 employees or less, muddying perceptions of whether it was truly intended to help small businesses or not. Bigger hotels and restaurants, like Shake Shack, could apply as long as they had no more than 500 employees at any one location, a rule that let Shake Shake claim a $10 million loan. The burger chain later returned the loan following mounting public pressure.
Micro businesses — those with fewer than 10 employees — and sole proprietors without big accounting departments struggled to get through the process. Those are the businesses that are also more likely to be run by women — about 90 percent of women-owned businesses have no employees other than the owner.
Jackie Laundon, a public health consultant who is a sole proprietor, got a PPP loan in mid-April but has been struggling to get it forgiven. She's in what she calls "documentation purgatory." Some of the paperwork requirements didn't apply to her as a sole proprietor, but her bank keeps asking for them and she keeps explaining she doesn't need to provide them, causing a weeks-long loop that remains unresolved.
"If I received the loan, if they accepted and dispersed it with the documentation I provided, I would like them to do the same with the forgiveness piece of it," Laundon said. "I don't understand why I'm getting caught up in this kind of vicious cycle."
She said that in future, she'd like to see a plan that consulted with truly small businesses, like hers, to make sure the process makes sense.
Advocates have also pushed for a combination of loans and grants. Karen Cahn, the founder and CEO of IFundWomen, said support from enterprises like Visa, Comcast and American Express has helped get targeted money to communities that were shut out of PPP funds. IFundWomen and Amex partnered to give 100 women of color $25,000 grants each this year, a "much needed supplement to the PPP [loans] that ran out for these women," Cahn said.
Kei Okumura's tea and scone business in Los Angeles, Sugarbird Sweets & Teas, did receive a PPP loan, but the money ran out in about a month. She was able to keep going thanks to additional support from places like Accion Opportunity Fund, which offers microloans to small businesses, and particularly women- and minority-owned businesses. Opportunity Fund, which gave her a loan in 2015 when she was expanding her business, helped her this year by promoting her shop at a time when her business model was shifting dramatically.
Okumura's wholesale and catering business plummeted at the start of the year and she had to move online for the first time, working through a complex web of shipping issues to get her intricate pastries directly into people's homes.
"We had to do it overnight. Companies have months and months to prepare for this stuff," she said. "As an entrepreneur, you're kind built that way — to move forward and take whatever challenges that come in. We need to be able to ask for help and there are still amazing companies like Opportunity Fund and other companies that are reaching out to help small businesses. We found the connection and that's what really makes the difference."
Some of the proposals already on the table take the changes businesses have been calling for all year into account.
Both the Senate and House have proposals that suggest offering a second PPP loan to businesses with fewer employees — 200 or less in the Democrats' case, while Republicans suggest it should go to those with 300 or less — that have seen at least 25 to 35 percent reductions in quarterly revenue compared to the same time last year. Both sides also want to impose a simplified forgiveness process, particularly for businesses that took loans under $150,000.
Gary Cohn, President Donald Trump's chief economic advisor from 2017 to 2018, told Yahoo Finance late last month that the path to recovery has to include small businesses — "you're talking about the restaurants, you're talking about the dry cleaners, you're talking about the hair salons, you're talking about the bakeries." Most of those are also the businesses women are most likely to run.
What's happened for female business owners, said Cahn at IFundWomen, is what's happened for women workers. Burdened by child care responsibilities that have multiplied since schools and daycares shut down, and overwhelmed by existing sexist and racist disparities that have only deepened, women are positioned to benefit the most from stimulus — if the programs are designed with those disparities in mind.
"This money is going to lift up entire communities," Cahn said.
And it could particularly benefit women of color, like Kimberly Douglas, who have yet to see the help.
Douglas, who runs FLOW Film Festival in South Florida — a festival designed to uplift female voices — feels her company has been stifled by the pandemic. She didn't get PPP, though she applied, and her three remaining staff members are working on a volunteer basis.
"There's no real assistance for small business owners and already as a woman of color you're already dealing with the regular obstacles you have to deal with," Douglas said.
To boot, her home was flooded by the passage of Tropical Storm Eta this week. Her family of five threw their possessions into an inflatable boat to reach her car and are staying in a Hampton Inn until conditions improve.
This year, she was still able to pull off a virtual festival in September for 2,000 attendees, but she doesn't think she can hold on past April without additional help.
"If we don't get any help," Douglas said, "it's not likely we will have a second season."
Now, in the remaining weeks of the year, all eyes are on Congress' continued back and forth about a relief package. But that attention is already turning to President-elect Joe Biden and what his plan could look like to carry America out of this recession, as he was tasked with doing when he was vice president following the Great Recession.
Biden has said that the economic recovery is a top priority of his administration immediately following his inauguration on January 20. His proposal includes additional rounds of the $1,200 stimulus checks, expanding federal unemployment payments and creating a package for businesses and entrepreneurs.
But it's what he'll do to ease the burden on those who already struggle for access that will be most telling, Cahn said.
"Building back better needs to mean something," she said.