Rosalynn Carter, who historians and political observers have called a "groundbreaking" and "pioneer" of a first lady, died on Sunday at the age of 96, just days after joining her husband, former President Jimmy Carter, in home-based hospice care.
The Carters, who married in 1946, had the longest marriage of any presidential couple in the country's history — and were known for having one of the most equitable marriages in the history of the White House, where they served from 1977 to 1981.
During her time at the White House and after, Carter played the roles of political adviser to the president, overseas diplomat, champion for caregivers and advocate for mental health care — at a time when treating mental illness with parity to physical disease was a novel idea, not the norm.
Scott Kaufman, a history professor at Francis Marion University who wrote the 2007 book "Rosalynn Carter: Equal Partner in the White House," told The 19th that Carter was a "real pathmaker" and "groundbreaker" who was "one of the most activist first ladies in American history."
Carter's approach to being first lady drew comparisons to Eleanor Roosevelt, who had herself redefined the role more than 25 years before the Carters moved to Washington. Carter's middle name was actually "Rosalynn" and her first was "Eleanor," so the comparisons started even before she arrived at the White House, Kaufman said.
Roosevelt was the first first lady to testify before Congress — and Carter was the second, representing the President's Commission on Mental Health as its honorary chair in 1979. Carter was the first White House spouse to regularly attend meetings of the president's cabinet, the dozen or so heads of executive departments that make up their innermost advisory circle. She was also the first to meet with foreign leaders on her own, spending 13 days in seven Latin American and Caribbean nations.
Kaufman said that while previous first ladies had taken trips abroad, they were typically styled as "goodwill missions" with "nice-to-meet-you type meetings." Carter was "the first to discuss economic policy, arms control, the drug trade" as an emissary of the president. "These were the things that her critics argued were out of bounds for a first lady," he said. But Carter knew the issues — even studying Spanish to prepare — and did not back down, he added.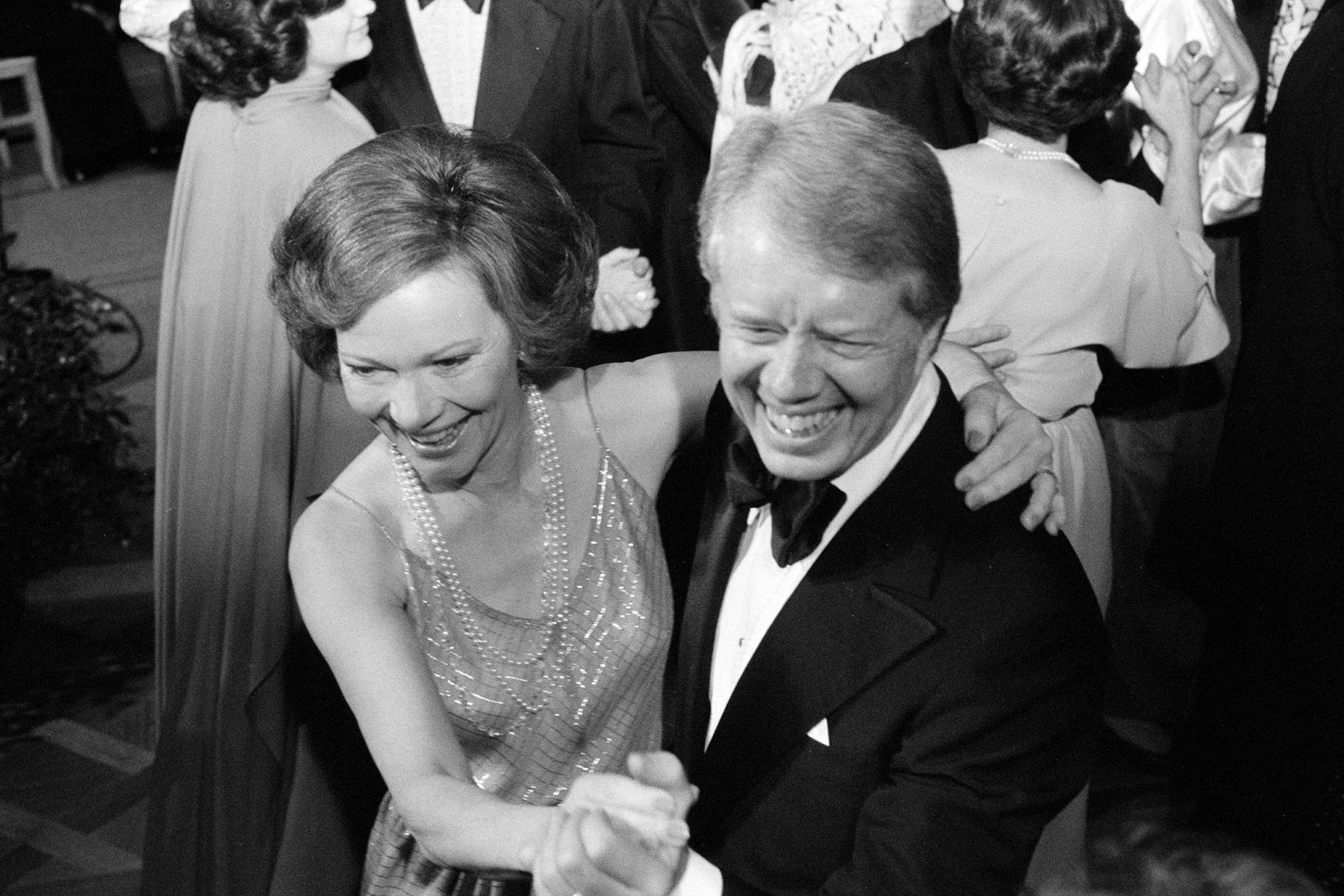 Carter had regular lunches with her husband to discuss substantive policy issues. It became known among White House staffers that "if you couldn't get President Carter's ear, you went to Rosalynn" to make your case, Kaufman said.
Carter lobbied for the adoption of the Equal Rights Amendment, which would guarantee equal rights to all Americans based on gender, but it languished during her husband's presidency, despite his support, due to conservative backlash to the second-wave feminist movement. It still has not been adopted. She pushed to create the Office of the First Lady, which helped redefine that role going forward and still exists today. She recommended women to serve at all levels of government, both within and outside of her husband's administration.
As chair of the presidential commission, she championed the passage of the Mental Health Systems Act, not hesitating to call key Capitol Hill lawmakers to push for the legislation. In 1987, she founded the Rosalynn Carter Institute for Caregivers at her alma mater, Georgia Southwestern State University, which focuses on "building cross-sector partnerships" and "advocating for public policy" that supports the country's 53 million caregivers. Carter also wrote several books about mental illness and caregiving, including "Helping Yourself Help Others: A Book for Caregivers," and "Within Our Reach: Ending the Mental Health Crisis."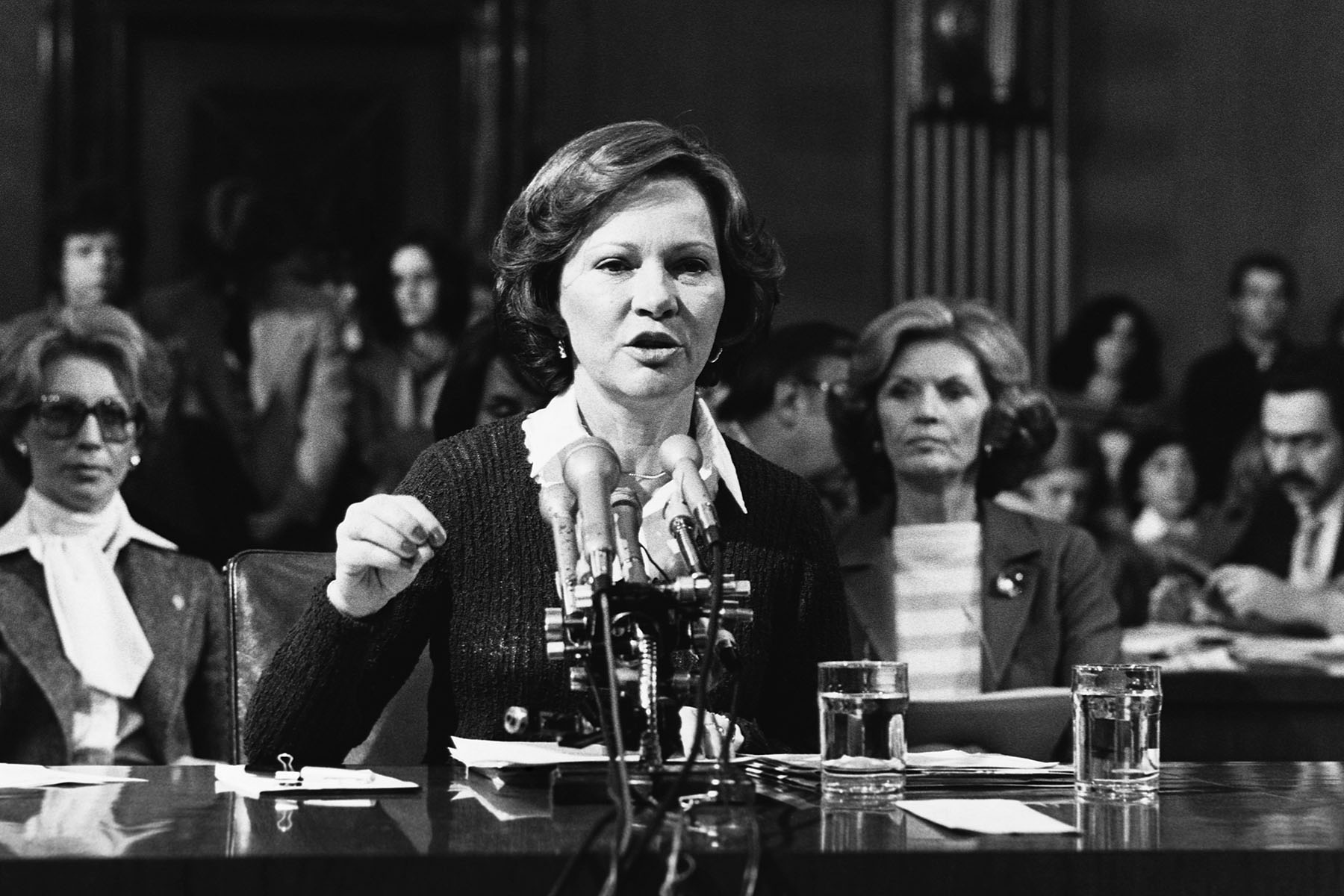 Carter was born on August 18, 1927, in Plains, Georgia, and she and her future husband grew up in the same small town. Carter was the eldest of four children. When her father died of leukemia when she was 13, it was, in many ways, the end of her childhood, because she assumed a caregiving role for her three younger siblings, and also assisted with the family dressmaking business.
Carter testified in 2011 before the Senate Special Committee on Aging that: "I like to say that there are only four kinds of people in the world: Those who have been caregivers; those who are currently caregivers; those who will be caregivers; and those who will need caregivers."
On mental illness, she said: "Mental illnesses are diseases like any other. They can be diagnosed and treated, and the majority of people who have them can lead fulfilling lives, working, going to school, and being productive members of their community."
In addition to her husband, Carter is survived by 11 grandchildren and 14 great-grandchildren. One of the Carters' grandsons died in 2015.
After her death, former President Carter remembered his wife of 77 years as "my equal partner in everything I ever accomplished." Rep. Nancy Pelosi, the first woman to serve as speaker of the House of Representatives, praised her as an "indispensable confidant and adviser" to her president husband and "pioneer" on the world stage, a woman who made a "high-stakes diplomatic mission to Latin America in 1977." Former First Lady Michelle Obama recalled Carter's "groundbreaking work to combat the stigma faced by those struggling with their mental health." The Rosalynn Carter Institute for Caregivers, which she founded some 35 years ago, recalled her dedication "to families navigating the burdens and rewards of caring for those who are aging, ill, or disabled."
Memorial ceremonies and funeral services commemorating Carter's life will be held in Atlanta and Plains, Georgia from Monday Nov. 27 through Wednesday Nov. 29, the Carter Center announced. The full slate of events will be shared with the public via a special tribute page.