Your trusted source for contextualizing politics news. Sign up for our daily newsletter.
A crowded Democratic primary for a Rhode Island congressional seat next month could see the Ocean State send its first person of color to the U.S. House and give Congress its first Afro-Latina.
The special election to replace retired Rep. David Cicilline has attracted a whopping 12 Democratic candidates, including Lt. Gov. Sabina Matos, who is Afro-Latina. Two other Latinas — state Sens. Sandra Cano and Ana Quezada — and at least five other candidates of color are also running for the solidly blue seat.
While Congress has a record number of Latinas in its ranks at 18, Latinas remain underrepresented, and the group doesn't include any women who publicly identify as Afro-Latina. A 2022 survey by the Pew Research Center found that more than 1 in 10 of all Latinx adults in the United States — 6 million people — identify as Afro-Latinos, a recognition of African descent.
Matos, who has held public office in Rhode Island for over a decade, is widely considered a leading candidate in the crowded field ahead of the September 5 primary. In an interview with The 19th, Matos, an immigrant from the Dominican Republic, said the diversity of the country's Latino population needs to be better represented in Congress.
"Latinos, we come in all shapes and colors. We should have Latinos from different backgrounds coming from different countries and that have different experiences. We should all be represented in Congress," she said.
Matos said she is a strong advocate of abortion rights and, in Rhode Island, championed a proposal that allowed state funds to be used for health insurance plans that cover state workers and Medicaid recipients seeking abortions. In Congress, Matos hopes to work to solve the housing crisis facing millions of low-wage Americans, including many Latinos in her home state.
"My goal is to go to Washington and fight to make sure that … we're able to put resources to prevent homelessness before our families get into crisis mode," Matos said.
Matos has the endorsement of Bold PAC, the campaign arm of the Congressional Hispanic Caucus; EMILY's List; Latino Victory and others.
Matos immigrated to the United States in 1994 at the age of 20. She has public service roots: Her father was the mayor of the town of Paraiso in the Dominican Republic.
In recent weeks, Matos' campaign has been accused of submitting fraudulent signatures in her nomination filings; state officials are investigating the claims, but election officials have affirmed that Matos will appear on the ballot. Matos told local news outlets that her campaign became the "victim" of one of its vendors hired to collect signatures. Early voting in the race starts Wednesday.
Quezada, another candidate in the Rhode Island special, is also a Latina from the Dominican Republic. Both Matos and Quezada could make history as the first Dominican-American woman in Congress. (Quezada told The 19th she does not identify as an Afro-Latina.) Rep. Adriano Espaillat of New York became the first Dominican-American elected to serve in Congress in 2016.
An estimated 2.2 million people of Dominican origin live in the United States, making Dominicans the fifth-largest group of Hispanic origin in the country, according to analyses from the Pew Research Center and the City University of New York. Over 42 percent are U.S.-born Americans of Dominican descent.
Quezada, the majority whip for the Democratic caucus in the Rhode Island Senate, said she helped champion an increase of the minimum wage in her state and hopes to do the same in Congress. Quezada said that when she immigrated to the United States at the age of 17, she spent years working in minimum-wage jobs in factories and grocery stores, fueling her drive on the issue.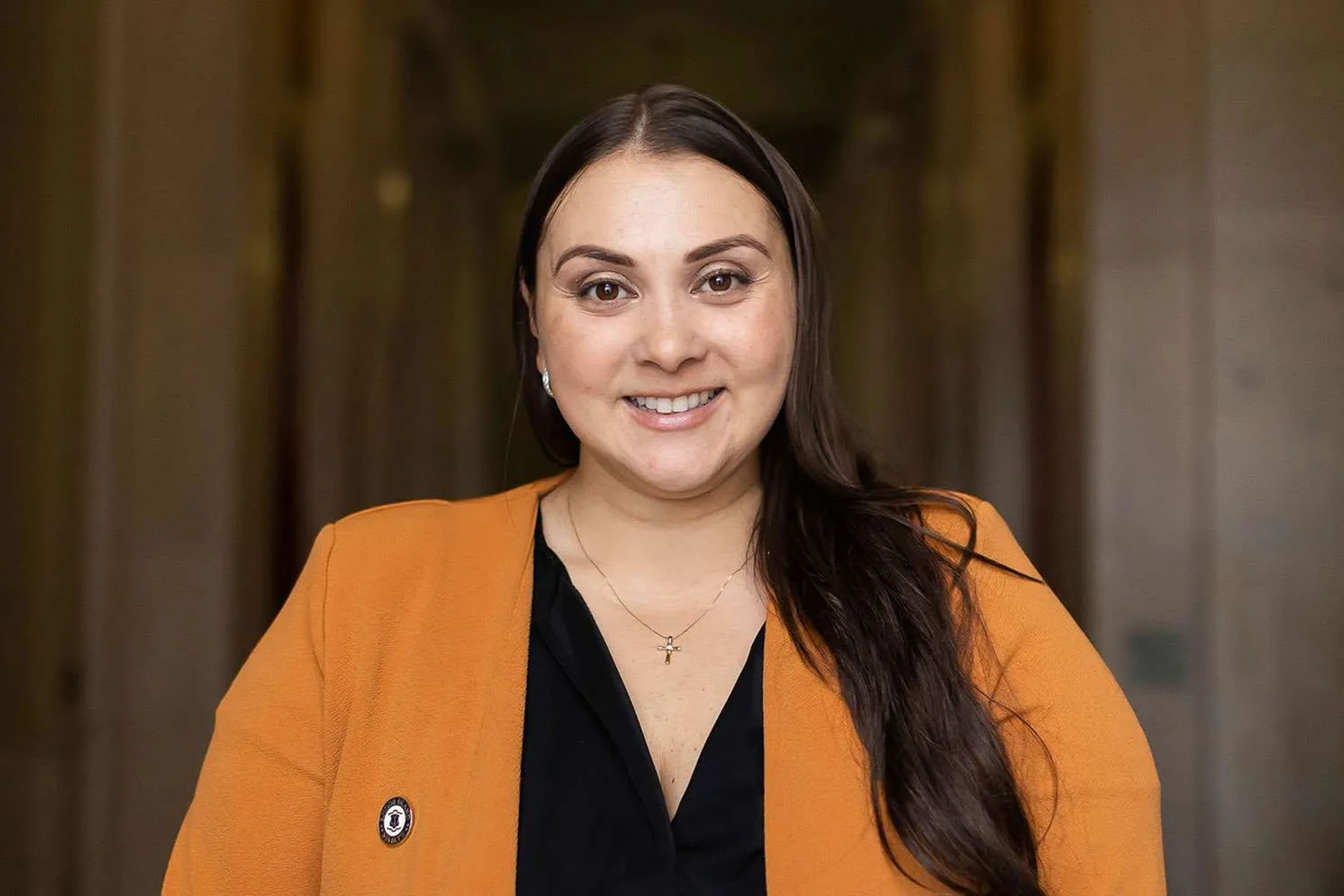 Cano, also a state senator who has received the backing of several labor unions — including the Rhode Island arm of the National Education Association — said in an interview that she joined the race to help federal policy "work for working families." As chair of the state Senate's education panel, Cano said she championed an expansion of state funding for child care, which has set Rhode Island on track to have universal pre-K by 2028.
Cano immigrated to the United States from Colombia at age 16 under political asylum. She would be the first Colombian-American woman in Congress. An estimated 1.4 million people of Colombian descent reside in the United States.
Other leading candidates in the race include Aaron Regunberg, a lawyer and former state lawmaker who has the endorsement of Sen. Bernie Sanders; Gabe Amo, a former Biden White House official who could also become the first person of color to represent the state in Congress; and Don Carlson, a self-funded renewable energy investor and the only openly LGBTQ+ candidate in the field. 
Quezada, acknowledging the crowded primary field, said many Democrats in the state have asked her why three Latinas were running for the same seat.
"The community is growing and this is going to happen more often. In the past, we didn't have many Latinas running for offices like this one — Congress — and I'm happy to see that three amazing women are running for this position at this time," Quezada told The 19th.
Latinas, who make up more than 9 percent of the country's population, remain underrepresented across all levels of elected office. Latinas make up less than 3 percent of elected officials in state and federal offices, according to a 2022 report from the Center for American Women and Politics (CAWP) and Latinas Represent.
A record-breaking number of Latina or Hispanic women — 36 — were major-party nominees for the House in 2022, CAWP reported. Twenty were Democratic nominees, up from the previous record of 19, set in 2020. Sixteen were Republican nominees, a significant increase from the previous record of 13, set in 2020.
The 2024 field is still taking shape. BOLD PAC, the fundraising arm for the Democrat Congressional Hispanic Caucus, has already endorsed four Latinas in key 2024 districts. Electing more Latinas to Congress is a key goal for the group, BOLD PAC's executive director Victoria McGroary said.
"It is incredibly important to us that as we work to bring more Latinas to Congress, that we are also looking within ourselves and aiming to reflect the beautiful diversity within our own community," she said.