This Pride Month, we're telling the untold stories of LGBTQ+ people. Subscribe to our daily newsletter.
On Kelly Newman's 44th birthday in 2018, her seven-year-old twins threw a "happy" protest with signs that read, "I love you!" and "We love love b-days!" They marched around the house chanting, "What do we want?" "A Happy Birthday!" "When do we want it?" "Now!"
From a young age, twins Benny and Charlie had been to dozens of protests and marches with Newman and her wife, Rachel, beginning with Dyke March and Pride events.
"They knew that was something important to me," Newman said. "It's always been really, really important to me to include them in Pride."
Newman and her wife now have seven kids. This June, like every June, they walked in the Pride march in Philadelphia, the closest big city to their small New Jersey town.
"Charlie was photographed a gazillion times because, you know, they had a great sign and they were wearing the trans flag and their hair matches the trans flag," Newman said.
Pride Month: Resistance, resilience, recreation and rest
One side of Charlie's sign said, "Respect my existence or expect my resistance."
"I really think it sucks that people are banning trans health care and affirming care. I feel extreme sympathy for the people in the states who don't have access to trans- affirming care. I myself have struggled as a transgender person," Charlie, now 11, said. "I think what Pride means to me is, it's a celebration of the impact members of the LGBTQ+ community have contributed to our world and a celebration of those who are a part of the community and how far they've come."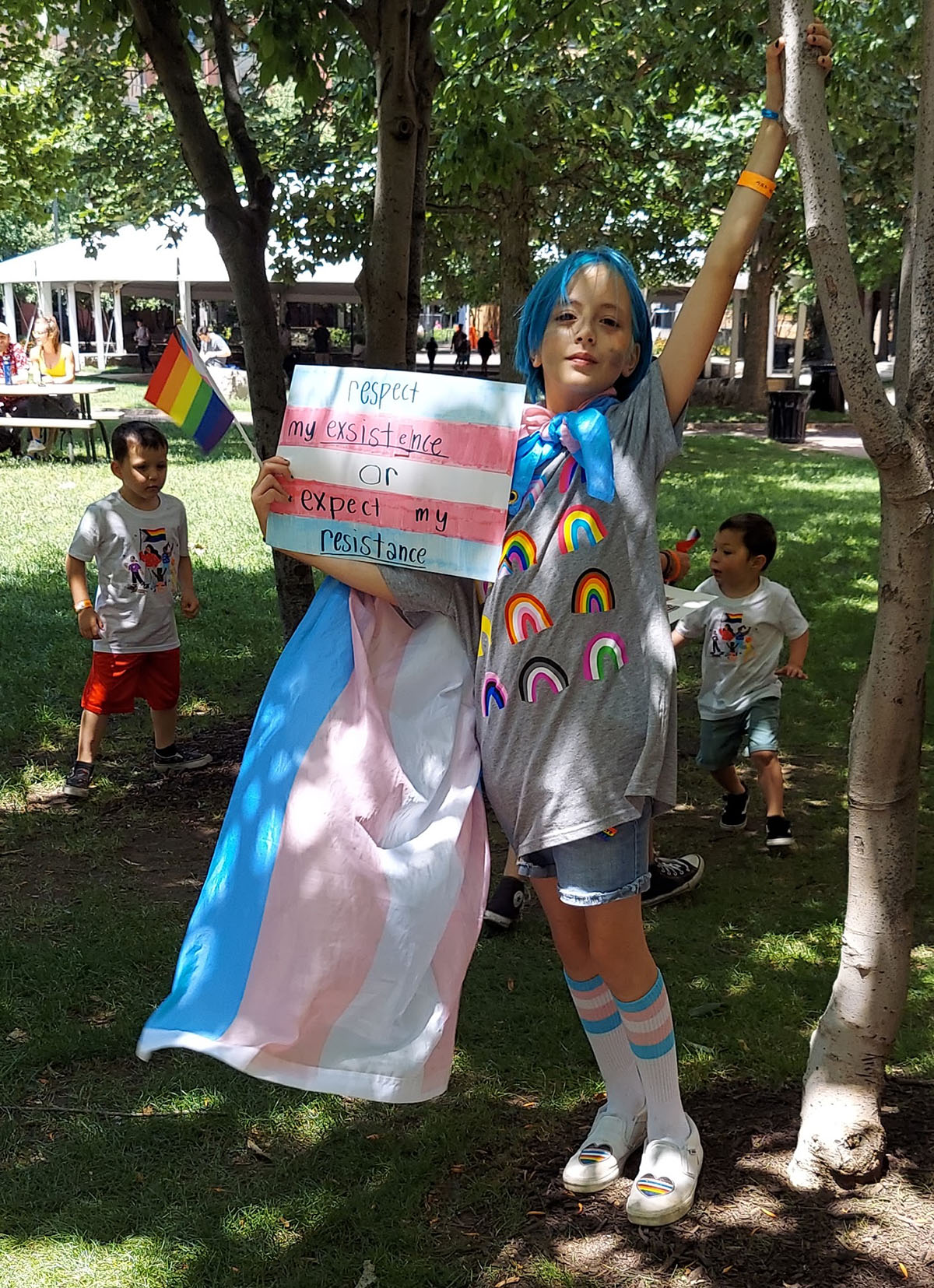 Queer families and communities are facing an onslaught of anti-LGBTQ+ and anti-trans legislation and speech. From limiting access to gender-affirming care to drag bans and restricting gender expression, it's a fraught moment to be queer in many parts of the country.
While Pride began as a protest, it has also served as a time to celebrate queer identities, honor queer history and lean into queer joy. This June, The 19th spoke with queer families around the country about how they are finding joy and celebrating authenticity amidst the latest wave of anti-LGBTQ+ sentiment. From public Pride demonstrations and activism to daily affirmations and creating art, each family emphasized the importance of turning to community for respite and strength.
---
Leaning on one another
The Pepperonis — a chosen family in Chicago – said they find any reason to celebrate, throwing a themed party whenever they get the chance. Their family name comes from an inside joke between two of the four.
For the past several years, they have celebrated birthdays, holidays and other life accomplishments together. They've also supported each other through difficult times like the pandemic and mental health challenges.
"I think everyone here probably hit rock bottom in the pandemic, mentally. And it was these people that I crawled out of every hole with," Teagan O'Toole, one of the Pepperonis, told The 19th. "It was just like, 'Ah, this is the worst I've ever been.' And it's been like, 'No, you can go lower.' And then my friends are just always by my side."
The story of their friendship has been highlighted by local news nonprofit Block Club Chicago.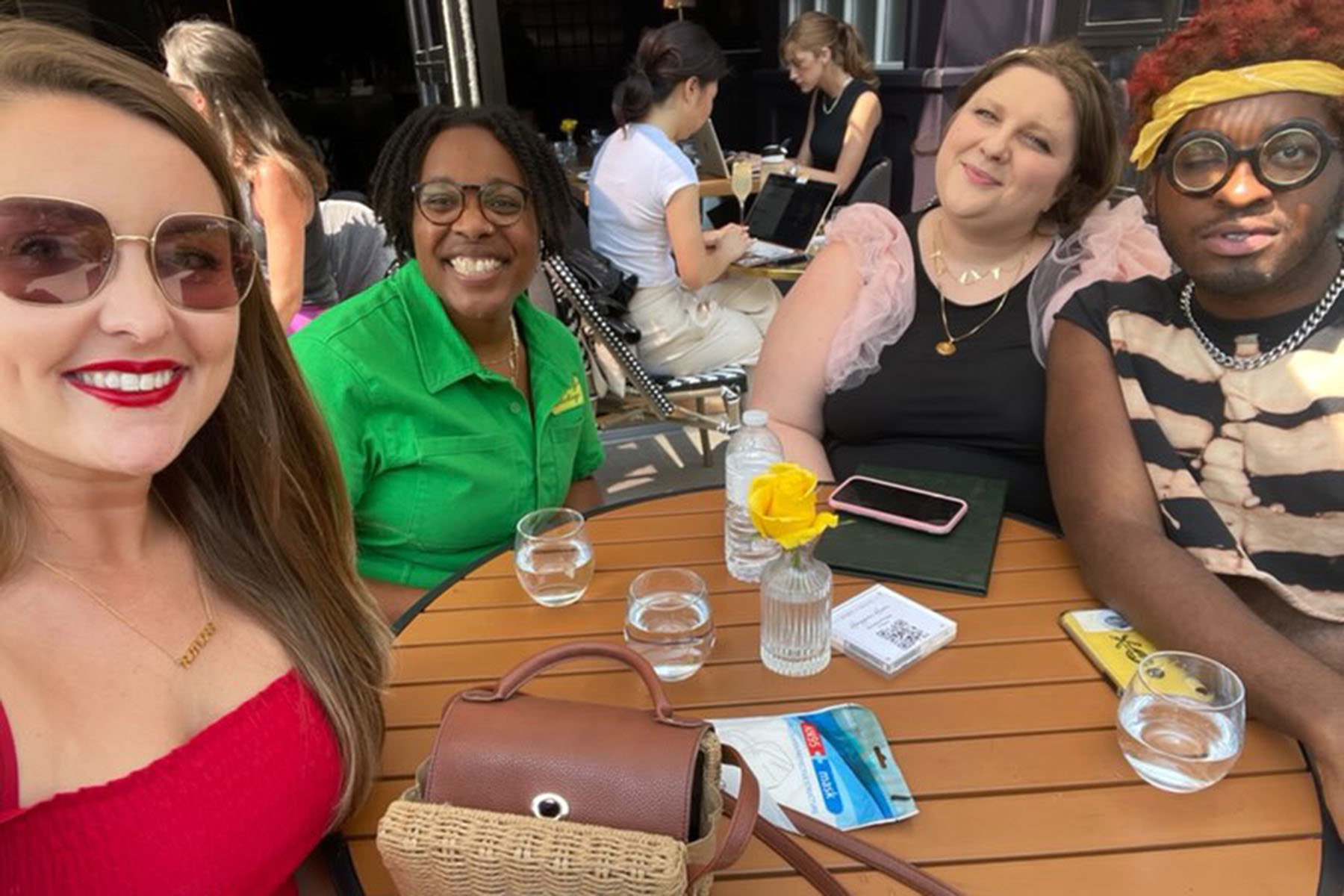 "I'm glad that my family, my chosen family, can help give me sort of just a sense of like, confidence with reentering the world," said Cavair Robinson. "People are always gonna have some shit to say, especially hateful. … I don't have to worry about that because I can stay grounded in knowing that there are people who love me, and there are people who support me."
Together, the Pepperonis drink tea, have dinner, attend concerts and stay up late talking and laughing.
"Every single thing that I do with them brings me joy," said Toni Solaru. "When you understand that life is easier when you're gentle with one another, then that changes the game."
"It also just makes us be nicer to, like, ourselves," said Lucia Spinelli.
---
A 'hyperqueer' home
Anna Knapp is a teacher in northern Wisconsin. She lives with her husband and children on the family farm. "It's this kind of quaint-sounding existence," Knapp said.
Her 11-year-old daughter, Ellie, is trans, and Knapp has been active in the community fighting for trans-inclusive policies at her daughter's school. Knapp said Pride parades and celebrations aren't of interest to Ellie yet. "It feels like it's for adults," Knapp said.
As a family they work to find smaller ways to celebrate, like buying a new Pride shirt for every family member each year.
"One year, she also bought a shirt for her best friend. It was really super fun. That friend's family was very supportive. They wore them together one day, and that was really cool," Knapp said.
They also look for examples in media, like actors with similar stories or memoirs she can relate to.
"We also have a hyperqueer way of talking around our house," Knapp said. "We're kind of obnoxious about it, like, 'Kay, girlie.' Everybody's a girlie. Even dad. It just, it kind of bonds us together and makes it OK to be super feminine."
---
A place to center the most marginalized
Jae Rice celebrates and finds joy in community, he said. Rice and his partners Tori Rice and Michelle Liggett are a part of Small World Collective, a Chicago-based organization that produces programming — from parties to queer church — for Black queer women, trans and gender-nonconforming folks and other marginalized communities.
"How we celebrate each other and how we celebrate joy is usually done in front of hundreds of people. It's shared, it's collective, and it's community based," Rice said.
Events are held at least once a month and center "folks that don't get to be centered very often," Liggett said.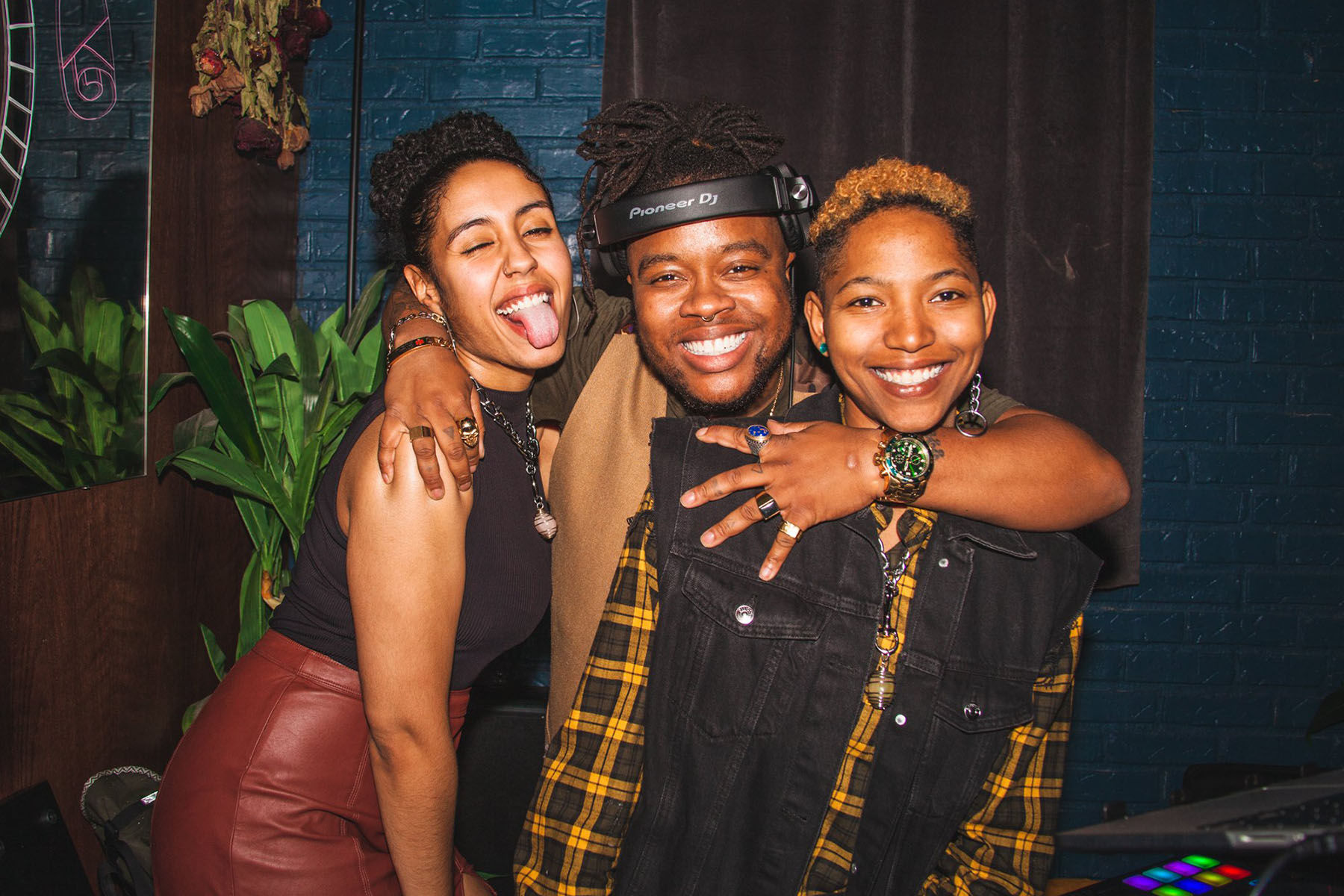 "The folks that are the most marginalized, and that feel the most oppression when they step out into society can kind of find a haven within Small World Collective events," Liggett said. "And it's not just a business or a partnership, that is our family. We are a family that curates these events. So the people that come there, I think feel that energy from us as well."
Together, they also pay homage to ancestors and queer people who came before them.
"History is very important to everything we do. We're always highlighting the folks that paved the way for us," Tori Rice said.
---
Celebrations and change
The Johnston-Oasins live in Pitman, New Jersey, about 20 miles south of Philadelphia. Alexandra Oasin and Jennifer Johnston have three children, two daughters who are 33 and 22 respectively, and a son who is eight. They try to find joy wherever they can, especially after Johnston had a stroke just before the pandemic.
Together, they go for car rides to Atlantic City, spend time with their son, Jackson, or do something that will make them laugh.
"We'll sit and just watch a comedy special or something that's really cool," Oasin said.
Oasin also finds joy through being active in her community, including with the PRIDE Alliance of Pitman. She helped plan the town's first Pride Prom in April.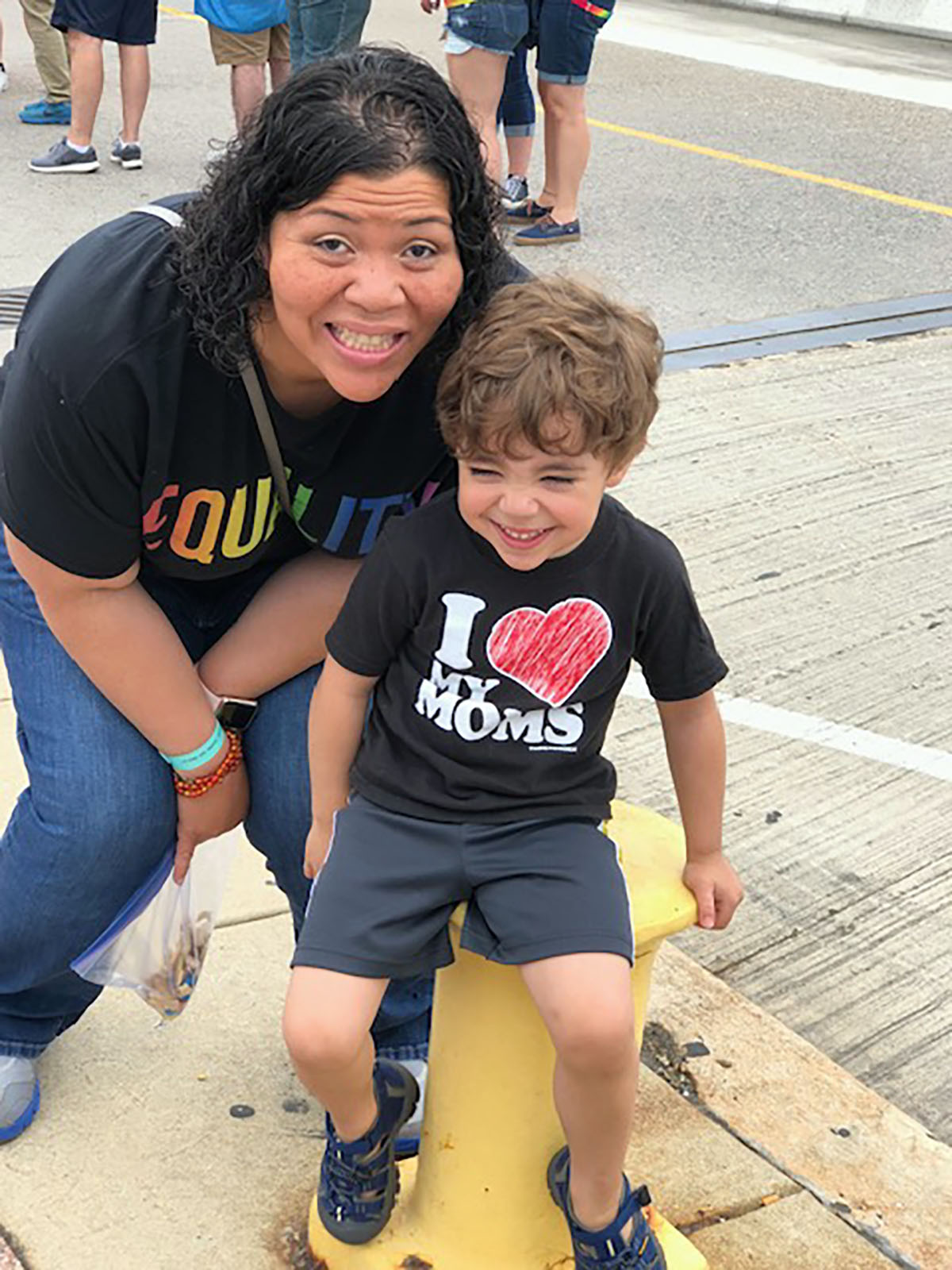 "We just need a night where we just relax and also invite people who are outside of the committee to come and see, like, what we do'" Oasin said, recounting how she initially explained the idea.
The event sold out. It served as a fundraiser for Pitman's third annual Pride celebrations this June, which is significant progress from where the town used to be, Johnston said. She grew up in Pitman.
"As a child, as a young teen growing up, you had to stay in the closet or you were just ostracized. So it's nice now to not have to do that," Johnston said.
At Pride this year, Johnston and Jackson were in charge of the rock-painting booth.
---
Staying to fight
Shane Mulcahy lives in a rural town in east Orlando with their mom, dad and brother. The 16-year-old and their family are actively involved in pushing back against anti-trans and anti-LGBTQ+ legislation in the state.
Shane said it's scary, though they handle their fear with cynicism. They find joy by being a typical high schooler.
"I'm literally just being a goofy, little, regular old teenager sometimes and literally just having fun with friends," they said.
Eimear, Shane's mother, said she finds joy in the fight for change.
"We're very devoted to staying in Florida and to changing it for the better, because it will change back," Eimear Mulcahy said.
Shane has plans to host an alternative Pride later this summer because they say the regular Pride has been taken over by police and corporations.
---
Remembrance, resistance and joy
Jen Cousins lives in Florida as well with her husband and four children. Two of her children are queer, including her 9-year-old son and 11-year-old, Saffy. This June, they went to a remembrance marking the seventh anniversary of the Pulse nightclub shooting in Orlando.
"It's important for them to be exposed to that, and to understand why it's important for us to go and represent and honor those 49 people," Cousins said.
One of her good friends is a survivor of the shooting.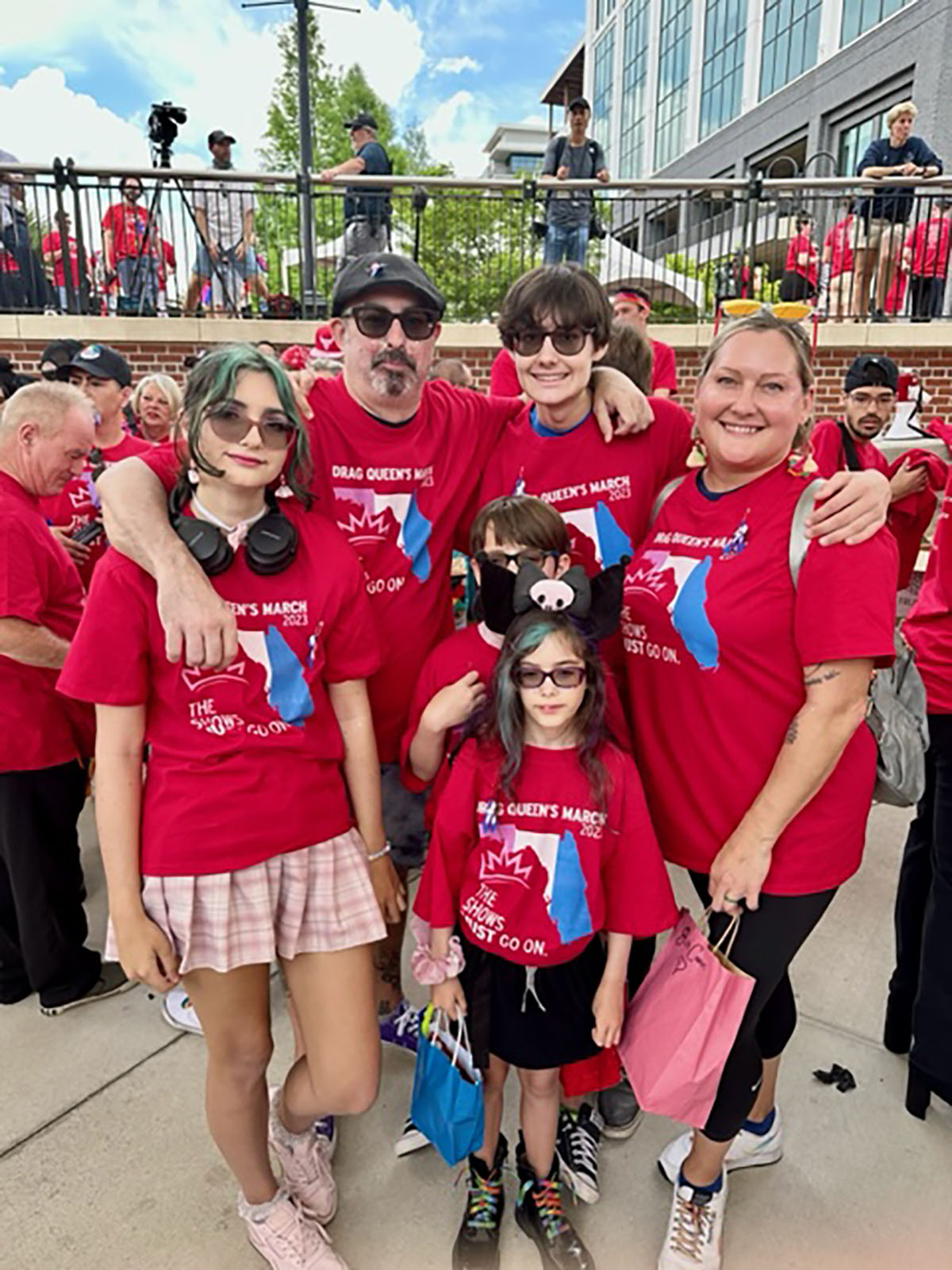 "Just being around each other within the community is bringing a lot of joy. One of my best friends is a trans activist. We've been going to these Board of Medicine meetings together to try and get answers because trans people can't get their medication. Even though it's a shitty fight that we're going for, there is joy in doing that together," said Cousins, who is one of the plaintiffs in a lawsuit against Florida's "Don't Say Gay" legislation.
Despite legislation, Saffy said they find joy in their community and from friends.
"I'm still proud of myself, even despite the legislation," Saffy said. "My school has a [Gay Straight Alliance] — where I was able to meet many other queer trans kids around my age. We have two little events downtown, and I'll talk to all the other queer kids there. We have a little bubble that we can surround ourselves in, to kind of stay afloat among it."
---
Mom in his corner
Manuel Hernández said he finds joy when his family shows up for him — especially since he grew up in a Pentecostal Christian home. In the early 2000s, his mother, Marilyn Nuñez, was one of the organizers rallying against same-sex marriage in New York City.
When he came out to his mom in 2015, Hernández said he was scared.
"Yes, there were tears and crying, but one thing she told me that sticks with me still. She was like, 'You're my son and I don't care what society has to say, you will always be my child,'" Hernández said.
Two years later, Nuñez walked in her first Pride parade with Hernández.
More recently, in October when Hernández was named executive director of the Association of Latinos/as/xs Motivating Action in Chicago (ALMA), Nuñez and his brother Ray Padrón, flew in to support Hernández.
Hernández's sisters have also always been supportive, he said.
Aside from finding joy in his family, Hernández also always has a Pride flag and a Puerto Rican flag up in his home.
"That is a way that I celebrate who I am, and my community is that constant visual of we are here, this is who I am, and also just it gives us a sense of validation," Hernández said.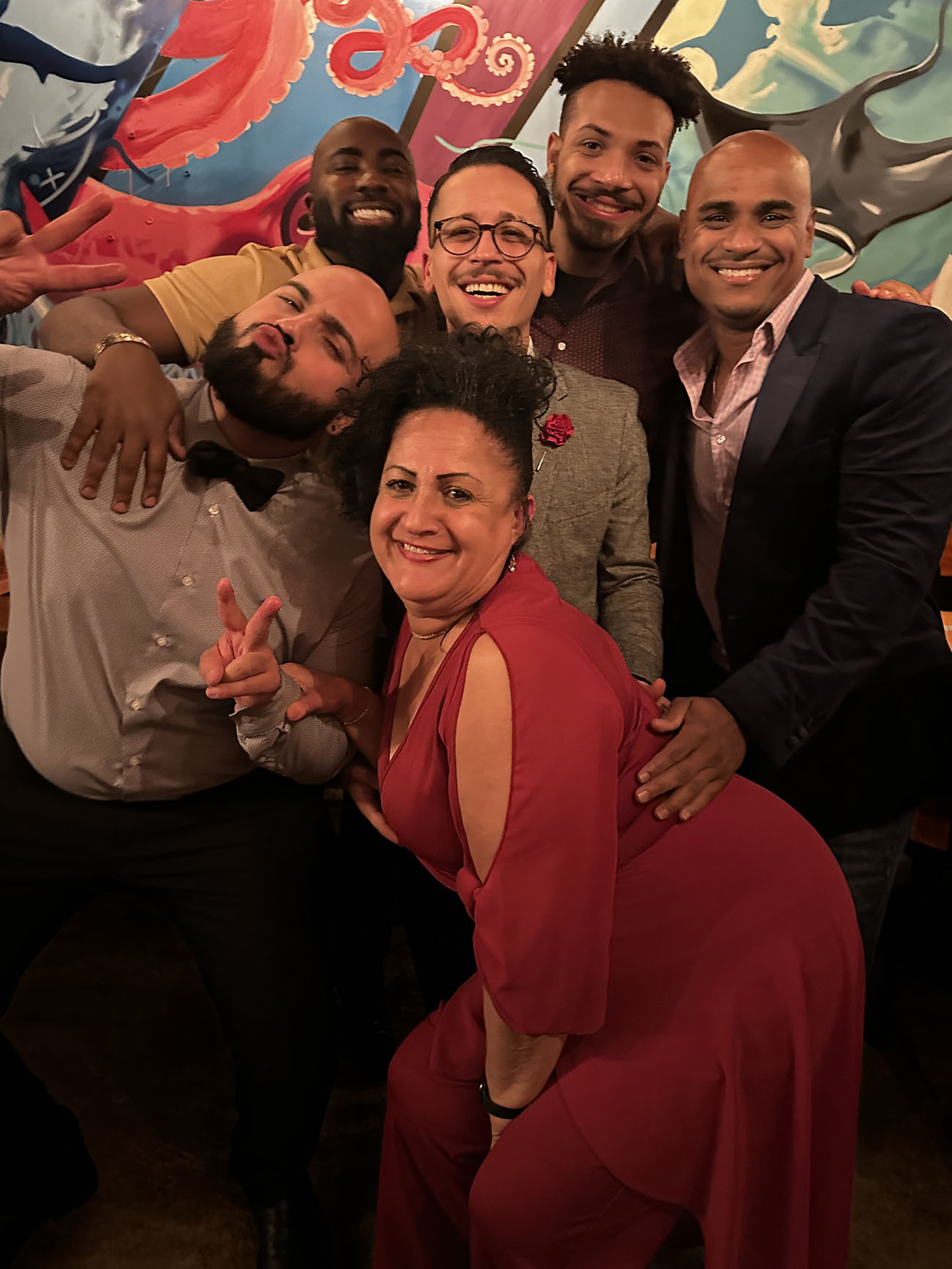 "Especially within my … chosen family for my core friends."
Hernández said he and his friends celebrate each other by acknowledging, embracing and being proud of their queerness.
---
'Super gay' at the pool
Newman — whose twins threw her the birthday Pride march — said Pride has always been a part of her kids' existence.
"Whether it's them being queer or their moms," Newman said. "One of the things about us is that we are unapologetically queer."
Their home is decked out in Pride flags. And each family member — all nine of them — have matching rainbow bathing suits.
"We have a membership to the lake that has a pool, and we wear our big gay bathing suits," Newman said. "We infuse joy into an already joyful thing."
"Like super gay, it's all of us, like Rachel, me, the baby, everyone is in matching gay bathing suits," Newman said, laughing. "There's no missing it, because it's not subtle. Nothing about me is subtle. Nothing."
Newman said growing up she felt a lot of internalized homo-negativity and homophobia, and Pride and LGBTQ+ communities have been where she found belonging.
"I really looked for community because I had none elsewhere," Newman said. "Pride has always been my place that I landed, like a softer place to land."