What do you want to know about LGBTQ+ issues? We want to hear from you, our readers, about what we should be reporting and how we can serve you. Get in touch here.
Summer camp is Letty Martinez's "happy place." She remembers her first barn dance with a woman — her name was Bree — in the summer of 2014 and her first time singing in front of an audience during the big camp talent show in 2016.
As a Puerto Rican girl growing up in New York City, Martinez's only image of summer camp came from television and movies. She spent years wondering what it would be like. "It just wasn't something we did," Martinez told The 19th. Now, at age 56, and as an out lesbian, she's convinced summer camp is better as an adult.
"I'm glad I didn't get to go as a kid and that I'm experiencing it as an adult in the LGBT community," Martinez said. "As a kid I kind of stood out: I was a tomboy and I went to Catholic school. Now I don't have to worry about anything or about being the weird girl in the cabin."
Since 2014, Martinez has gone to Camp Camp, an annual weeklong summer camp for LGBTQ+ adults held at the end of August. For queer people seeking community, events and groups like Camp Camp offer an alternative to the bar scene, which has long been intertwined with LGBTQ+ social life.
Pride Month: Resistance, resilience, recreation and rest
As LGBTQ+ bars, bookstores and sources of in-person community close, other kinds of queer social communities have gained attention due to a combination of fewer traditional spaces and a rise in the number of people reducing alcohol consumption or abstaining from it completely.
As anti-LGBTQ+ rhetoric and legislation heightens mental health struggles, many of these social communities also offer a chance for queer people to reconnect with childhood experiences without the precarity that many of them faced growing up.
Historically, gay and lesbian bars in the United States sought to be safe places for socializing amid the outside violence and discrimination. These venues also became a battleground for LGBTQ+ rights as patrons and activists pushed back against police harassment and government restrictions.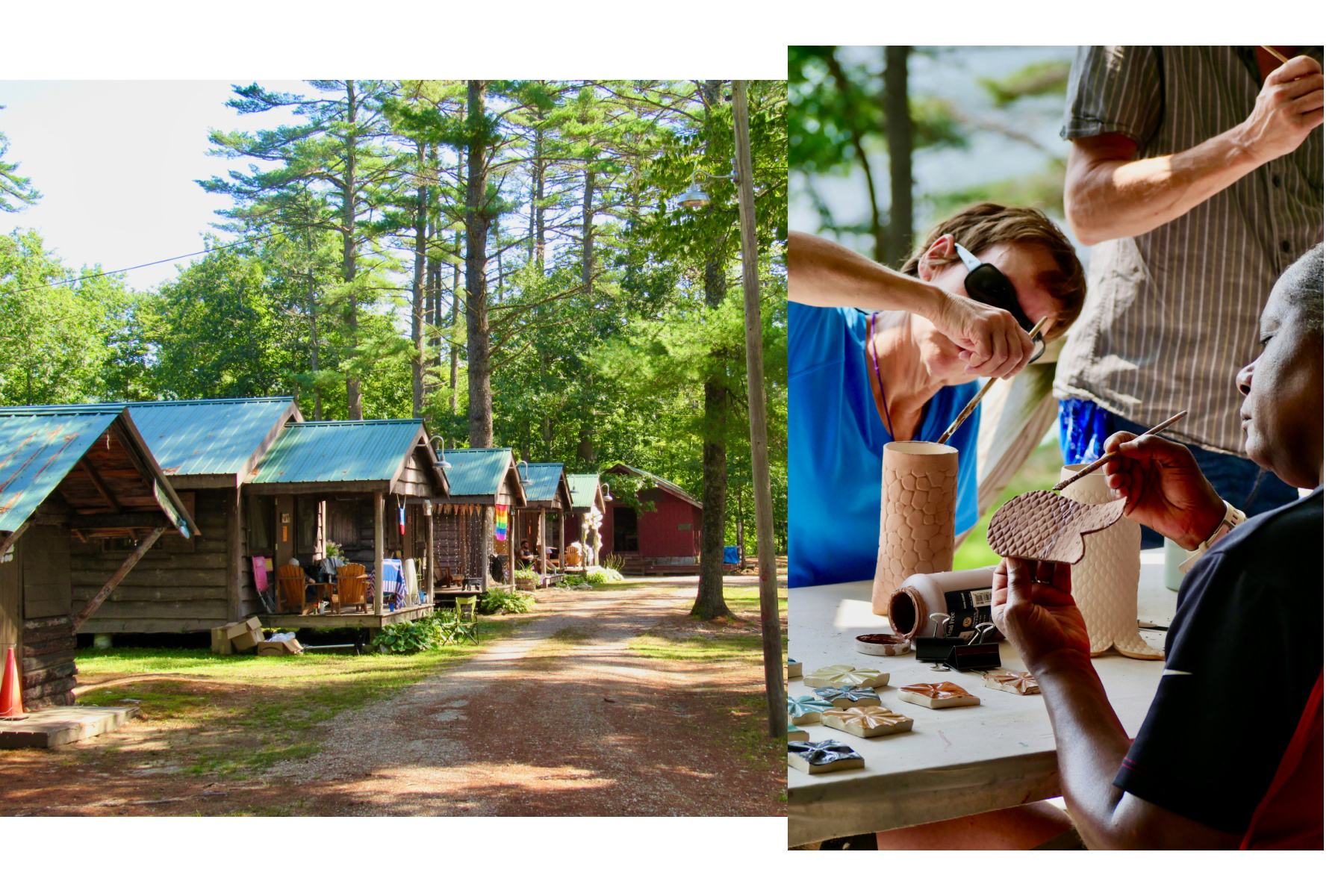 Alternatives to bars like cafés and bookstores have similarly existed for decades, but have been a less visible part of queer social life, said Japonica Brown-Saracino, a professor of sociology and gender and sexuality studies at Boston University. Since the 1950s, for example, lesbians have gathered for potlucks as a way to create space for queer women outside of the man-dominated bar scene. Black queer people also formed their own book clubs, private house parties and ballroom competitions where they did not have to be in the minority.
Brown-Saracino's research into queer women communities in four small U.S. cities — Ithaca, New York; San Luis Obispo, California; Portland, Maine and Greenfield, Massachusetts — indicated that the desire for queer-specific spaces varied among the women and was shaped in part by the acceptance they felt more broadly in their areas. Many of the women who did crave more queer community also yearned for spaces outside of bars.
Brown-Saracino said she has not come across concrete data tracking how the number of queer social groups has fluctuated over time, but brick-and-mortar establishments like bars and bookstores have struggled to stay open.
Camp Camp started in 1997 and was among the first adult camps of its kind. Held in southwestern Maine, it is structured like a traditional sleep-away summer camp: LGBTQ+ people from different backgrounds and from across the country lodge in cabins and participate in kayaking, art classes, campfire nights and theatrical performances, among other things.
For Michelle Rediker, joining the Camp Camp community was an opportunity to relive some of her favorite childhood memories from Girl Scout camp.
"It was my utopia. When I got older and I had come out to myself, it was my escape from the anti-gay harassment that I experienced. I would certainly say it kept me alive as a teenager," said Rediker, who is the assistant director of Camp Camp.
While Rediker recreates those past moments of joy, others praise Camp Camp for being the queer-affirming space they never had as children, she said.
"I'd say probably half the people who come to camp were campers as kids, so we seem to get people who wanted that experience and didn't have it, or people who did, but either struggled with it because they were a little gay kids or you know, loved it and just want to experience it in a place where they can be themselves," said Kerry Riffle, the owner and director of Camp Camp.
Queer youth are more likely than their non-LGBT peers to deal with anxiety or loneliness when it comes to adolescent pastimes like prom, after-school sports or sleepovers. Many are forced to grow up faster as they navigate disproportionate stress and threats to their safety, said Danny Weber, a mental health counselor with the Radical Healing center in North Carolina, which serves LGBTQ+ people.
Part of Weber's work revolves around a concept called "child resurrection," where they help queer patients heal from the hurt of dreams they had as children that were disrupted or unfulfilled. That sense of loss and grief can carry over into adulthood as queer people, particularly transgender individuals, confront a hostile political climate. Weber works with people to find new ways to connect with unrealized childhood dreams in a safe environment. Engaging in playful activities is part of that journey, they said, whether it's dancing or drawing, or even napping.
The idea of making more room for childlike activities in adulthood appealed to Jessica Lewis, who teaches kindergarten and has seen firsthand the value of play-based learning, including enhanced creativity, and social and emotional development.
These benefits prompted Lewis in 2020 to start Play Play DC, a group catering mostly to Black queer individuals around Washington, D.C., that organizes book clubs, "field trips" and school-style recess events. Play Play's signature outdoor and indoor recesses feature activities familiar to many school playgrounds, including basketball tournaments, dodgeball, double dutch, four square and crafts.
"I lost my mom to clinical depression, and during that time I learned a lot about community," Lewis said. "When my mom was good, it was because she had her community around her, and I feel like a lot of queer people get exiled from family and people that they felt were friends. So Play Play is an opportunity to come and build a tribe, a community of your own."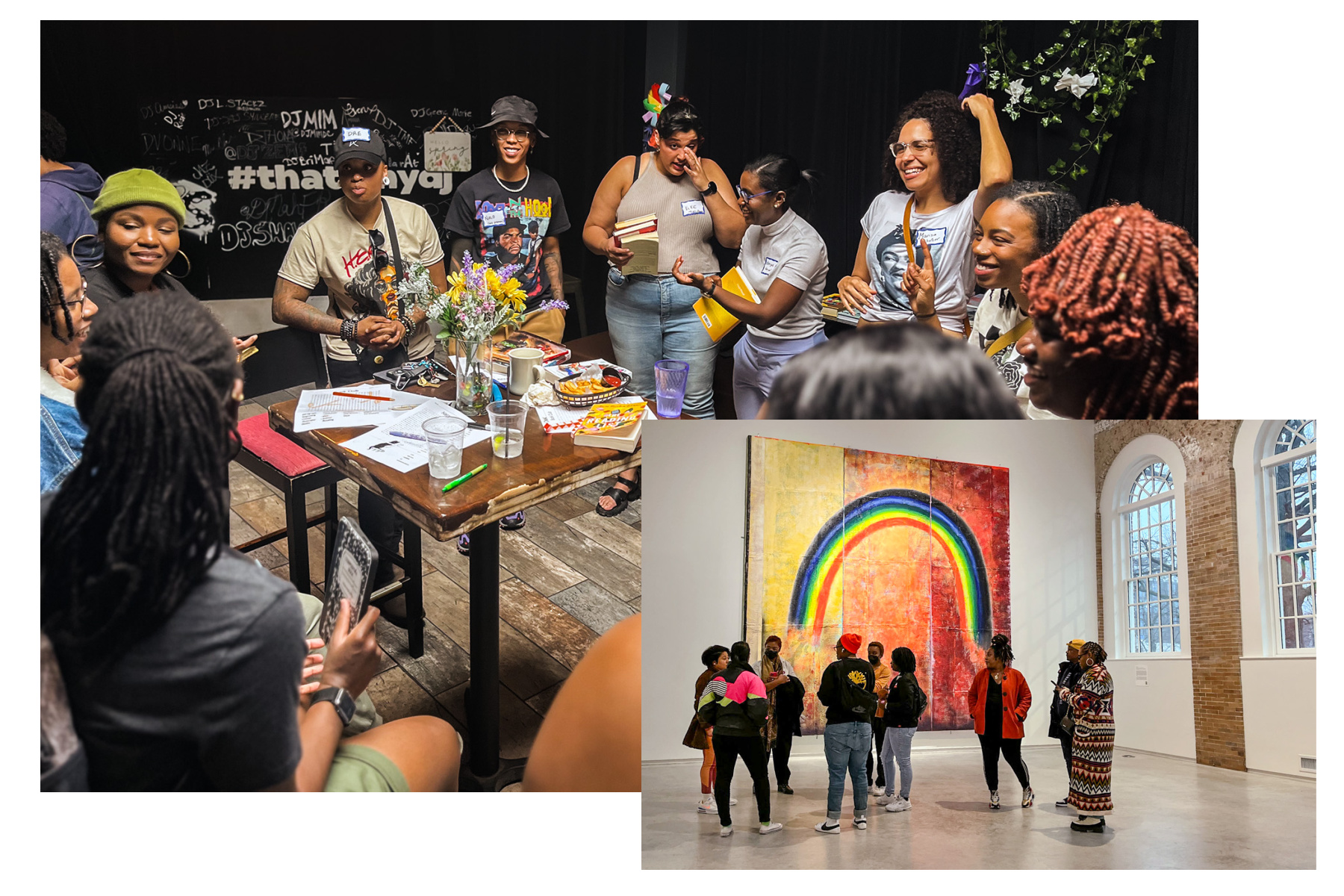 That need is even greater for Black queer people like Lewis. According to a 2021 survey by the Center for Black Equity, Black LGBT people — the term used by the survey — between the ages of 18 and 34 listed mental health, anxiety and depression as their greatest health concern. Another set of data from the Williams Institute at the UCLA School of Law found that large percentages of LGBTQ+ adults reported family or relationship strain.
The 2021 report found sizable gaps between Black LGBT and non-LGBT adults, as well as gaps between Black cisgender LGB and Black transgender adults. Fifty-five percent of Black LGBT adults reported feeling social support, compared with 65 percent of Black non-LGBT adults. Twenty-nine percent of Black transgender adults reported feeling connected to the LGBT or their gender minority community, while 62 percent of Black cisgender LGB adults feel connected.
Challenges with isolation and lacking connection to community have exacerbated during the COVID-19 pandemic. To help support people who are more prone to social anxiety, Lewis is putting together a welcome committee that will greet newcomers and help them feel included.
Looking back, Lewis said she's proud of what she's built with Play Play and is excited about the potential for more growth. What started as seven of her friends playing basketball has evolved into regular recess events that have attracted more than 100 people.
"We have this idea that growing up we now have to be serious, and we forget that play is a part of human nature and we shouldn't just stop as adults," Lewis said. "This group has been really healing for me, and I know it's been really healing for a lot of my friends."