Your trusted source for contextualizing the news. Subscribe to our daily newsletter.
LOS ANGELES — After a 15-year-old girl from Bernstein High School died of a fentanyl overdose on campus, Jaylene Mora Torres wanted to prevent similar tragedies from occurring.
Torres, a junior at the STEM Academy of Hollywood at Bernstein High, quickly signed up for a training at the school on how to administer naloxone shortly after the 15-year-old, Melanie Ramos, died on September 13. A fast-acting medicine widely known by the brand name Narcan, naloxone counteracts the potentially fatal effects of opioid overdoses such as slow and shallow breathing. Access to the medicine can make the difference between life and death after an opioid overdose.
"It was important to me because I don't want someone close to me that I know that possibly does [drugs] to pass," Torres said. "I also want to be well educated on what I could possibly do to help someone that's going through an overdose or even just being able to see the signs of it."
The Los Angeles Unified School District (LAUSD) announced after Ramos died that it would make naloxone available at each of its K-12 schools and train staff and volunteers on how to administer it. But what hasn't been clear is if the roughly half a million students in the nation's second-largest district may carry Narcan in schools. The district clarified its policy in a January 31 letter in which Superintendent Alberto Carvalho told school board members that students are allowed to carry Narcan. He explained that this non-addictive agent "does not have any effect on a person if there are no opioids in their body."
Dr. Emily Johnson, an emergency medicine specialist who practices at Los Angeles County + USC Medical Center, applauds the move. Since street drugs today are so often contaminated with fentanyl, she said, many people have no idea they have been exposed to the substance and accidentally overdose as a result. Fentanyl, a synthetic opioid that's 50 to 100 times stronger than morphine, according to the Drug Enforcement Administration, can reduce breathing and blood pressure and lead to death when consumed in large doses or with alcohol or illicit substances.
"Having Narcan available is incredibly important and can certainly save people's lives," Johnson said. The more people who have it, the better, she added, as students might hesitate to ask for the medicine if they have to go through an authority figure to get it.
"I would think that a strategy that sort of removes those barriers is probably going to be more effective," she said. "Narcan is not something you can abuse. It's not something you can use recreationally or overdose on. It's a reversal agent."
LAUSD clarified its policy on carrying Narcan as the Food and Drug Administration weighs whether to approve naloxone nasal spray for over-the-counter consumption and California lawmakers have introduced bills that would require all public schools to stock naloxone on campuses, a move that could influence lawmakers across the country to introduce similar legislation in their states and put schools on the frontlines of the fight against opioid misuse.
"I definitely think that LAUSD will be very influential in maybe encouraging other school districts to adopt having Narcan present on their campuses," said Jeannette Zanipatin, California state director for the Drug Policy Alliance, which works to end the war on drugs. "But I hope that other [school districts] look at strategic ways to ensure that Narcan is also introduced with reality-based education, with a public health lens approach and really looking at what other resources we need to provide students and families who may get caught up with fentanyl and/or other types of drugs, because what we're really seeing is just a lack of resources and a massive disinvestment for low-income communities. We're seeing a lot of folks from Black and Brown communities dying because of this overdose crisis."
According to new data by the Centers for Disease Control and Prevention (CDC), teen girls, queer youth and students of color misuse prescription opioids at higher rates than their peers. In February, the CDC released the results of the 2021 Youth Risk Behavior Survey, a biannual questionnaire of American high school students about their experiences and lifestyles. It found that 12 percent of the more than 17,000 students questioned reported previous misuse of prescription opioids and that girls (15 percent) were more likely than boys (10 percent) to report doing so. Girls (8 percent) were also twice as likely as boys (4 percent) to report currently misusing prescription opioids. More LGBQ+ students (11 percent) than heterosexual students (4 percent) reported current misuse. Black, Hispanic and Native American students also reported current misuse at slightly higher rates than other youth.
Research unrelated to the CDC report has found that girls, in particular, self-medicate when they feel stressed or experience anxiety.
"We know that the pandemic has caused severe anxiety and depression, and even access to counseling is stigmatized in different cultures and communities and/or doesn't exist," Zanipatin said. "So self-medication is not something that's foreign because there are just no resources available for young people to be able to access the proper services." As a result, she said, "We are seeing more young girls have issues of mental health. There's definitely a racial equity and gender component to the overdose crisis, especially here in Los Angeles County."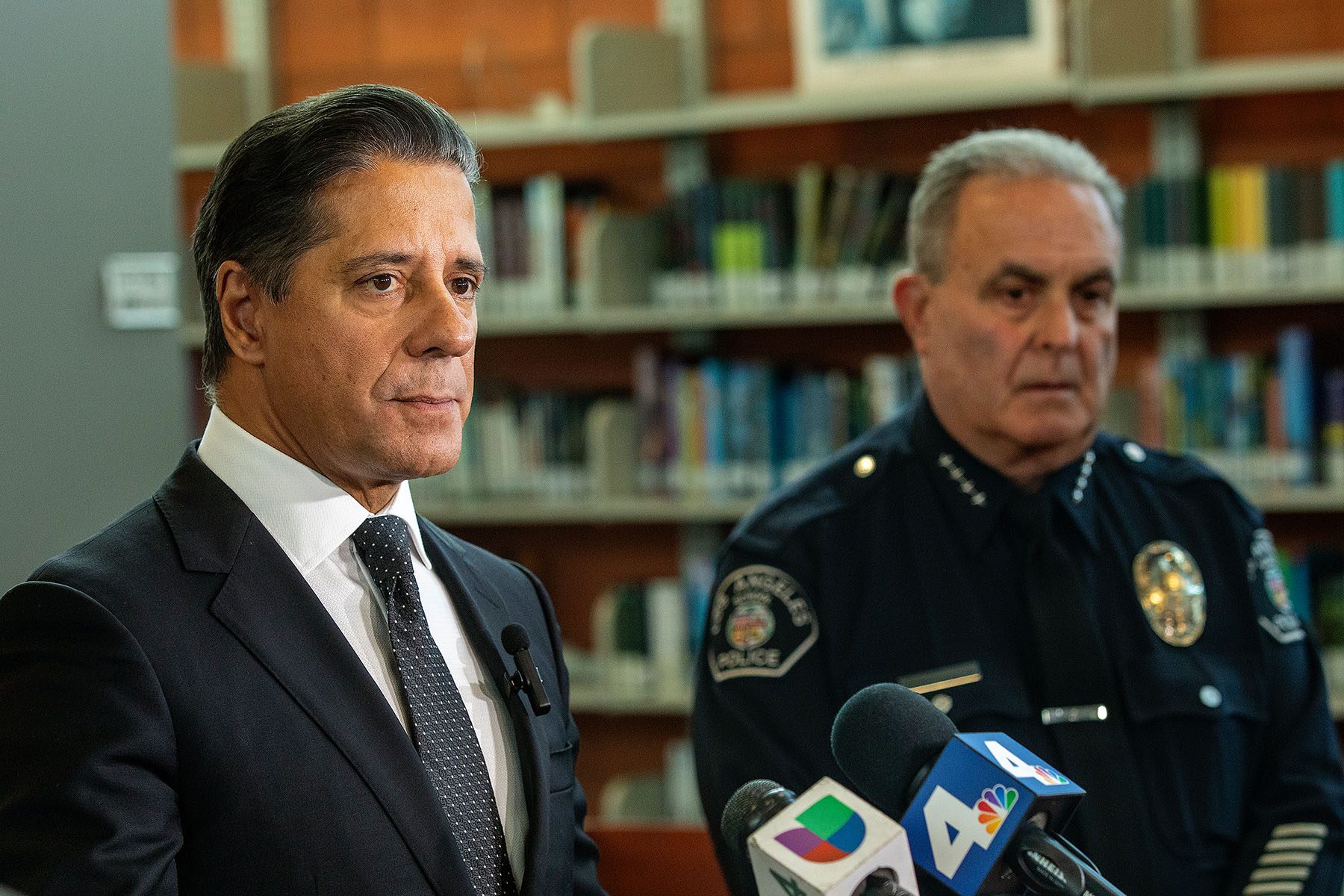 In LAUSD, Ramos, a Latinx girl, became the face of the teen opioid crisis when she and a friend overdosed in a Bernstein High bathroom after taking fentanyl-laced pills they procured from another student in a nearby park and reportedly believed to be Percocet. Ramos' friend also overdosed but ultimately survived. In August and September, at least six LAUSD students overdosed on narcotics, received medical treatment or were sent home with their parents after trying them, Carvalho said. The news that Ramos fatally overdosed made national headlines, but a 17-year-old boy at a Los Angeles charter school died of fentanyl poisoning less than a month later.
Nalia De León, a senior at John Marshall High School in Los Angeles, said that drug culture is normalized among students in the district. She recalled classmates overdosing on the anti-anxiety medication Xanax when she was a seventh-grader at Irving STEAM Magnet Middle School.
"Even though drugs are heavily criminalized, and obviously are frowned upon, kids are still going to find a way to do it," De León said. "And if they're uneducated, it can lead to so many dangerous situations like the ones that have been happening."
In a wrongful death suit filed against LAUSD after Ramos' death, the teen's family alleges that district officials knew that students had drug problems but "did not do bathroom sweeps to look for students selling or using drugs."
---
The prospect of LAUSD ramping up searches of students or increasing the police presence on school campuses has alarmed teens, teachers and advocacy groups who say that these measures will make marginalized students feel unsafe. After the 2020 Minneapolis police murder of George Floyd led to a so-called racial reckoning worldwide, activists in the LAUSD community celebrated the district approving a $25 million cut to the school police department of more than 450 officers.
In February, however, Carvalho suggested that a survey of students, staff and parents reveals that they would feel safer with police on campus and that the district is actively hiring police and increasing security cameras in schools. A district spokesperson told The 19th that ​​LAUSD has hired an additional 14 police officers during the 2022-'23 school year and hired an additional 13 police officers during the 2021-'22 school year. Carvalho's detractors disagree that more police are needed to respond to student drug use. They argue that the best way to address the problem is to take a holistic approach that educates students about misusing narcotics and meets their mental health needs.
A letter to the superintendent and school board in the fall signed by six different groups — including the ACLU of Southern California, United Teachers Los Angeles and Students Deserve, which advocates for LAUSD youth — accused both police and district officials of responding to the spate of youth overdoses with "knee-jerk reactions that will criminalize entire school communities and make our schools less safe."
The letter went on to say that increasing searches and policing on campuses will lead students experiencing anxiety and depression to distance themselves from trusted adults in schools and result in more youth substance abuse and criminalization.
"We're looking towards some real work and policy at the district level from both the superintendent and the school board members to continue to ensure that tragedies like this do not happen again and are prevented," Mau Trejo, a senior organizer with Students Deserve, told The 19th. "And for us the solution is more funding towards community-based safety programs … and overdose and drug-use prevention programs that are readily accessible and led by community members here already in L.A. County."
On January 31, the Police-Free LAUSD Coalition, which includes Students Deserve, released a report called "From Criminalization to Education: A Community Vision for Safe Schools in LAUSD" that outlines alternatives to policing to reduce the district's dependence on law enforcement. The five-point plan states that safe schools support and partner with families and community members; include parents, students and community members in decision-making; support holistic academic achievement; focus on the whole student by offering peer counseling, psychiatric social workers, and other services; and are culturally attuned to students' needs.
As a clinician who treats teens brought into the emergency department for mental health evaluation, Johnson said that mental health resources for youth in crisis are inadequate. It is difficult to connect teens to routine mental health care, especially if they lack quality insurance.
"We're under-equipped to deal with the mental health crisis that's unfolding, and probably there's some parallels with the substance use going on as well," she said. "Maybe more attention should be paid to the need for mental health resources for these teens and to start young. I mean, we're talking like 8-year-olds, 9-year-olds, 10-year-olds coming in with suicidal ideation, depression and anxiety."
In addition to stressing the need for the district to meet the needs of the whole child, the "From Criminalization to Education" report explains why some students do not want more police on campus. It notes that while Black students make up just 8 percent of LAUSD, they account for 25 percent of arrests, citations and other forms of police contact in the district. Nationally, Black and Latinx students comprise 40 percent of the public schools student population but 58 percent of school-based arrests, according to the report. Rather than finding more police on campus helpful, 67 percent of students say that school police escalate situations on campuses, the analysis found.
A leader in Students Deserve, Torres is among the students arguing that school police make her feel less safe. She said she endured lots of searches in middle school but has not been subjected to the practice in high school, a development that makes her feel that school personnel trust her.
"It also makes me feel a bit more safe not being around police," she said. "I have had some good experiences with them, but the majority of them haven't been the greatest. I know I'm just speaking on my behalf, but if I haven't had good experiences, maybe other kids don't necessarily feel comfortable or even safe with a lot of police presence on campus and getting searched because of the assumption that you have something on you. … It feels very much like an invasion of privacy."
Also active in Students Deserve, De León said that the authorities tend to stigmatize drug use and that students of color have felt targeted by school police for years.
"They still feel vulnerable because of the history of racism from school police and especially at John Marshall [High School], where people of color and students of color are perceived very differently than White students and treated pretty differently as well," said De León, who is of Mexican and Guatemalan heritage.
Zanipatin doubts that young people will trust any drug reduction effort that centers police. She said that youth who are misusing substances won't feel comfortable coming forward if they're likely to have contact with the authorities, adding that this is particularly true for low-income students and youth of color. These young people are wary of police because they "overwhelmingly get arrested for drug use even though White folks use drugs at the same or higher rates than Black and Brown folks," she said. "We predominantly see Black and Brown folks arrested for drug use in comparison to the rates of usage."
---
Students Deserve supports training on how to recognize and respond to drug overdoses for all adults in schools who are not law enforcement. But Trejo said that the district cannot stop with Narcan distribution, as naloxone only works for opioid-related overdoses. In December, 10 students at Van Nuys Middle School in Los Angeles received medical treatment after reportedly overdosing on cannabis edibles.
Instead of policing students, Trejo would like to see LAUSD acquire the socio-emotional health resources needed to explore the root causes of teen drug use and distribution, given that Ramos allegedly obtained the substance that killed her from a fellow juvenile. That youth and another have been criminally charged, but Trejo said that "sentencing a 15-year-old child to prison is not the answer."
Since drug sellers are often unclear about what their supply contains, Zanipatin said, the individuals who sold pills to the students who overdosed may not have known the narcotics were laced with fentanyl, a substance that has infiltrated the West Coast drug supply. She added that low-level drug sellers are quickly replaced, so charging and convicting the juveniles involved does not amount to a remedy. While she sympathizes with Ramos, the teen's family and the school community, Zanipatin argued that demonizing drug sellers isn't the way forward, as these individuals typically come from economically disadvantaged communities.
Meaningful interventions to stop teen overdoses are possible, Trejo said. Along with educating students and families about substance abuse, school districts can raise awareness by collaborating with health care practitioners and other community partners.
Johnson said that any school-based health education program should reflect the risks of drug consumption and avoid an abstinence-only approach. "When we're only talking to kids about safe sex by saying don't have sex, we know that's not effective against preventing STIs and teen pregnancy. Informing people about the risks of drug use from a respected source like a doctor or a nurse can provide students with the tools to make choices and respond to their friends who are in need."
Prior to the overdose at her school, Torres said she received little education about drug consumption other than the occasional school presentation and conversations with her parents. After Ramos' death, she learned more about the risks of drug use than she ever had before, she said. De León still has not been taught much about drugs in school, she said, and only learned about Narcan because of her own research on the subject.
A district spokesperson told The 19th that LAUSD requires health education in elementary, middle and high school. "Drug use awareness and prevention is addressed through multiple campaigns across a student's time in our schools, which has been in existence for quite some time now," the spokesperson said.
LAUSD announced plans in the fall to work with the L.A. County Department of Public Health to develop education materials for the communities it serves, initiate peer-to-peer counseling and programming for families. Throughout March, LAUSD schools will offer workshops to families about talking to young people about substance abuse and related issues.
Zanipatin called the district's recent efforts "a positive step." She just wishes such initiatives had been in place all along so the recent rash of overdoses might have been avoided.
"Had the schools been better equipped to provide drug education, to provide awareness, to have these conversations at the front end, it would potentially have better equipped folks to be able to deal with what we're seeing right now," she said.