Your trusted source for contextualizing the news. Sign up for our daily newsletter.
It was 10 p.m. on a Tuesday, and Candice Cho was waiting for a bus on a mostly -deserted Hollywood Boulevard in Los Angeles. A self-proclaimed lover of public transit, Cho said she is always careful about her safety, sometimes holding keys in her hands, putting in headphones to avoid unwanted conversation and being mindful of her surroundings. The bus was about half an hour away when a man approached her and started screaming in her face, words like "konichiwa" and "Tokyo."
"Every time he would circle and get closer to me, I would start to back away," said Cho, who is 40. "I felt unsafe and like I really needed to get out of there because I didn't know what was going to happen."
Cho, with her back to a wall to stop the man from circling her, decided to use a rideshare app to call a car to her location. A driver was there within five minutes to take her to her destination several miles away. Cho, now a leader in the AAPI Equity Alliance and Stop AAPI Hate, said she doesn't take public transit much anymore.
Experiences like that of Cho and other Asian-American/Pacific Islander (AAPI) women inspired Senator Dave Min of California, a Democrat, to introduce on Monday legislation titled the "Public Transit for All: Improving Safety and Increasing Ridership" along with Stop AAPI Hate, a coalition that tracks acts of hate and violence against AAPI people. If passed, the bill will require the state's 10 largest public transit systems to collect qualitative and quantitative survey data to reduce street harassment, increase riders' sense of safety and bring ridership numbers up. The proposed law builds on a related bill that was passed with overwhelming support and signed into law last September authorizing the creation of the survey tool.
"As we rebuild and reimagine a post-pandemic world, improving public transit should top our list of priorities," Min said in a statement. "I'm proud to introduce this bill in partnership with Stop AAPI Hate to finally address the systemic safety issues that have plagued our public transit systems for too long. A majority of women, elderly, LGBTQ+ and disabled Californians experience street harassment or worse while using public transit. It's time we step up and give public transit providers the tools necessary to keep all passengers safe." 
Cynthia Choi, co-founder of Stop AAPI Hate and co-executive director of Chinese for Affirmative Action, said street harassment should be treated as a public health issue because of its harmful effects on the "health and well-being of so many people — especially women."
More than 3 in 4 women experience sexual harassment in public spaces, including 29 percent on mass transit, according to a 2019 statewide study conducted by the University of California, San Diego Center on Gender Equity and Health. Reports of harassment are higher for those who identify as LGBTQ+.
"Our bill sends a strong message that we do not have to accept street harassment as an inevitable experience," Choi said in a statement. "Effective, preventative solutions exist — we need our elected officials to prioritize and implement them."
In August 2019, the Los Angeles County Metropolitan Transportation Authority published a first-of-its-kind study that explored how women have unique and diverse mobility needs and how they navigate the transportation networks that "were not designed with them in mind." The transit agency found that women — who constitute more than half of all riders — make more trips per day, often travel with children, go to a broader spread of destinations and tend to use transit during non-peak hours when service may be reduced. When it comes to safety, women said they were far less likely to use transit at night and might consider their clothing choices when deciding whether to travel.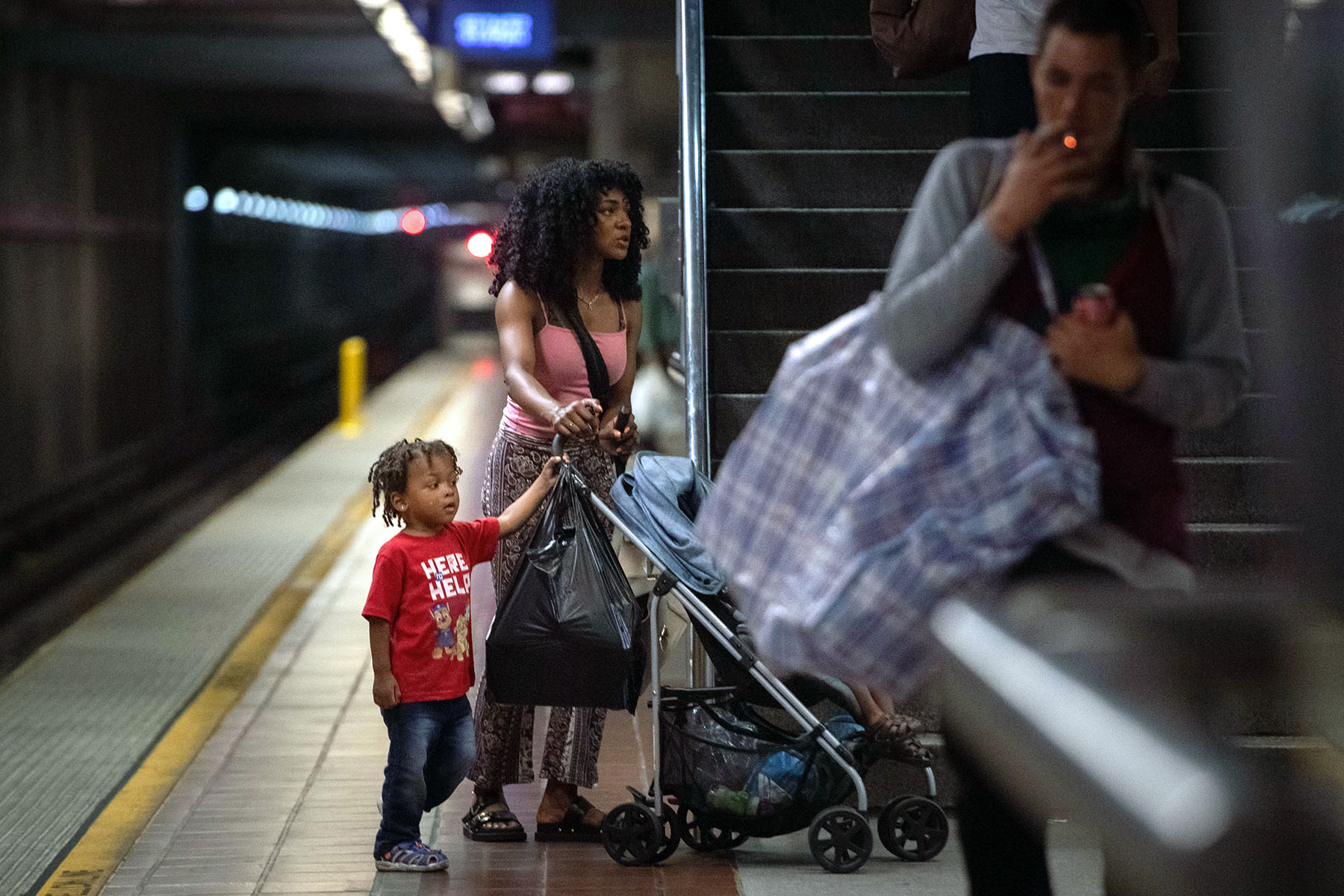 Annie Lee, the managing director of policy at Chinese for Affirmative Action, said Stop AAPI Hate has received nearly 11,500 reports of hate incidents against AAPI people across the country since March 2020. A large portion of these instances involved verbal harassment from a stranger in a public space.
"We wanted to create a bill that focused on transit in particular because transit is such a lifeline for people," Lee said. "We depend on public transit in order to get to school, work, grocery shops, hospitals. And so for us, it's such an important way of being able to move freely in the world — and that doesn't happen when you're experiencing street harassment."
Although the bill was inspired by the data and anecdotes received from the AAPI community, Lee said there's plenty of evidence that this is a problem for Black and Brown women, members of the LGBTQ+ community, the elderly and those with disabilities.
"We're hoping that this bill shifts the responsibility away from individual riders to transit agencies," Lee said. "They're the ones who are supposed to make transit better for all of us. And I actually think of it as a win-win for transit agencies because they took a huge hit in the pandemic in terms of ridership. They're trying to bring riders back, and the way to bring riders back is to make the experience safer and better for all of us." 
Lee said one of the only places in the country that has taken on street harassment from a policy standpoint is Washington, D.C., which has a local ordinance to combat the issue.
"Nobody talks about it," Lee said. "We have just accepted this as the cost of living if you are a woman in a public space, that people might make comments to you or say things to you. And we've accepted that it's on us to cross the street or change how we dress if we know we're going to take a certain mode of transit. It doesn't have to be this way."
The new legislation would help transit agencies have a better understanding of the scope of the problem by listening to the populations that experience it firsthand. The next steps would be to develop a plan based on that data to reduce street harassment — a plan that does not overly rely on law enforcement, Lee said. She pointed to innovative solutions that she's already seeing, including increased lighting, higher frequency of buses at certain times and transit ambassadors that are chosen from and by the communities they monitor.
"I just want to make sure that we reconceptualize what we think of as safety," Lee said. "I think when we say that term, people think of physical violence, crime and police. But really safety to me means thriving communities and the freedom to move in public spaces as I am. That's what we should be aiming for."