JACKSONVILLE — It didn't take long Tuesday night for Rep. Val Demings, the Democratic front-runner in Florida's Senate race, to bring up abortion. Just a day earlier, Politico published a leaked draft Supreme Court opinion that would overturn Roe v. Wade, the 1973 case that guarantees the right to abortion access.
"Let this homegirl, in her hometown, make this clear: When I decided to start my family I didn't ask the governor's permission, I didn't ask my Congress for permission, I sure didn't ask my senator's permission, and they need to get out of our business and leave these personal decisions, these intimate decisions, to women," Demings said to some of the loudest applause of the night. 
Demings repeatedly called out her likely November opponent, Republican Sen. Marco Rubio, as a lawmaker poised to restrict abortion access for Floridians. Rubio opposes abortion and introduced a bill this week that would prevent businesses from taking tax deductions for reimbursing employees for travel costs to obtain abortions or trans-affirming care for minors if they live in a state that restricts those procedures.
Florida is one of a handful of states expected to have competitive Senate races this year. The leak of the opinion in the case, known as Dobbs vs. Jackson Women's Health Organization, immediately reverberated in these races across the country, with Democrats making the case that now, more than ever, the only way to ensure abortion access was to elect them. Some Republicans, like Rubio, are already working on bills that would further restrict abortion access. The national party has remained largely silent about the impact of the expected Dobbs ruling, preferring instead to focus on who leaked the draft opinion, but some Senate candidates have broken ranks to comment on next steps.
While many Americans' opinions on abortion are nuanced, a majority oppose overturning Roe, which established the right to obtain an abortion before fetal viablity, generally about 22 to 25 weeks gestation. A June 2021 survey from public opinion polling firm Gallup, for example, showed that 58 percent of Americans opposed overturning the ruling and 32 percent favored it, mirroring public opinion in 1989. 
In Nevada, Sen. Catherine Cortez Masto is considered one of the most vulnerable Democrats up for reelection this year. An even greater percentage of Nevada voters support abortion in at least some cases. Republicans in statewide office, including former Gov. Brian Sandoval, have at times bucked their party to support abortion access. Cortez Masto's likely opponent, former state attorney general Adam Laxalt, said this week that overturning Roe would be a "historic victory" — but he also said it was "settled law" in the state.
Cortez Masto, at a Tuesday night gala for Emily's List, which supports Democratic women who back abortion access, said Nevada's codification of Roe more than 30 years ago has turned the state into an abortion safe haven — for now. "Make no mistake, this is about controlling women — politicians, not doctors, will decide whether a woman's life is in danger during her pregnancy," Cortez Masto said.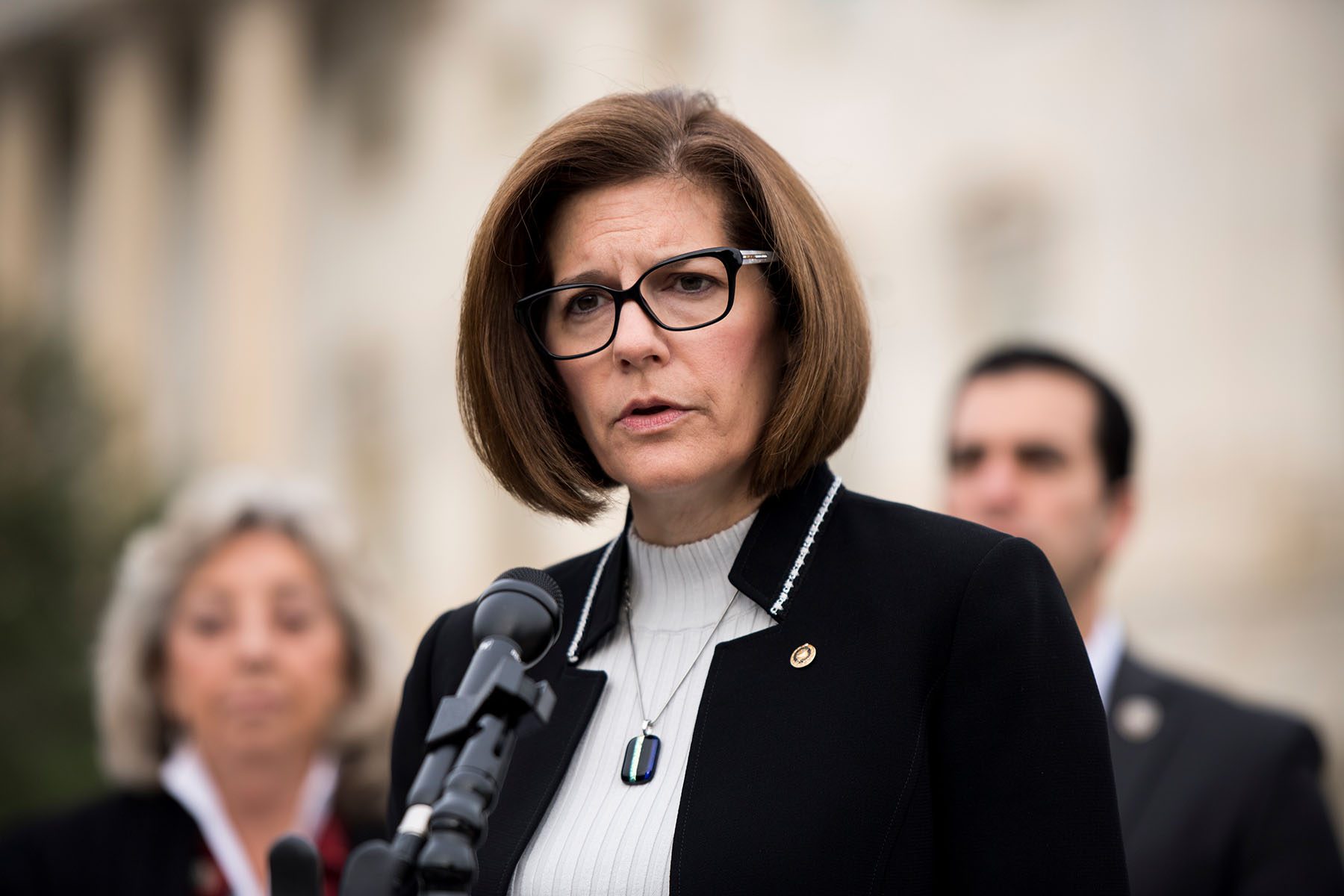 New Hampshire Democratic Sen. Maggie Hassan, who also spoke to Emily's List on Tuesday, said that in her competitive race, "the Republican men — and yes, they are all men — running against me are all pushing an extreme, anti-choice agenda. One of them was the architect of New Hampshire's first abortion ban in modern history. Another spent years lobbying to defund Planned Parenthood."
Democratic Sen. Mark Kelly, competing in toss-up race in Arizona, said this week that he would "do everything I can in the Senate to codify Roe and protect abortion access for all Arizonans." His likely Republican opponent is current Attorney General Mark Brnovich, who tweeted that if he is elected, and Roe is overturned, he would "get to work in AZ and across the country to protect life."
Sen. Tina Smith is not up for reelection this year, but the Minnesota Democrat — and former vice president of the state's Planned Parenthood — won a competitive reelection bid in 2020. Her advice to colleagues who are in tight races is: "Don't be afraid to say the word 'abortion.' … This is not a rare or extraordinary health procedure, it is something that happens all the time."
"That is not to say that the issue isn't complicated, and people don't have lots of views about it, of course they do, but talking about it in a direct and real way is a way to connect with folks and to make the very real contrast: right here, right now, the difference between Democrats and Republicans could not be more clear," Smith told The 19th.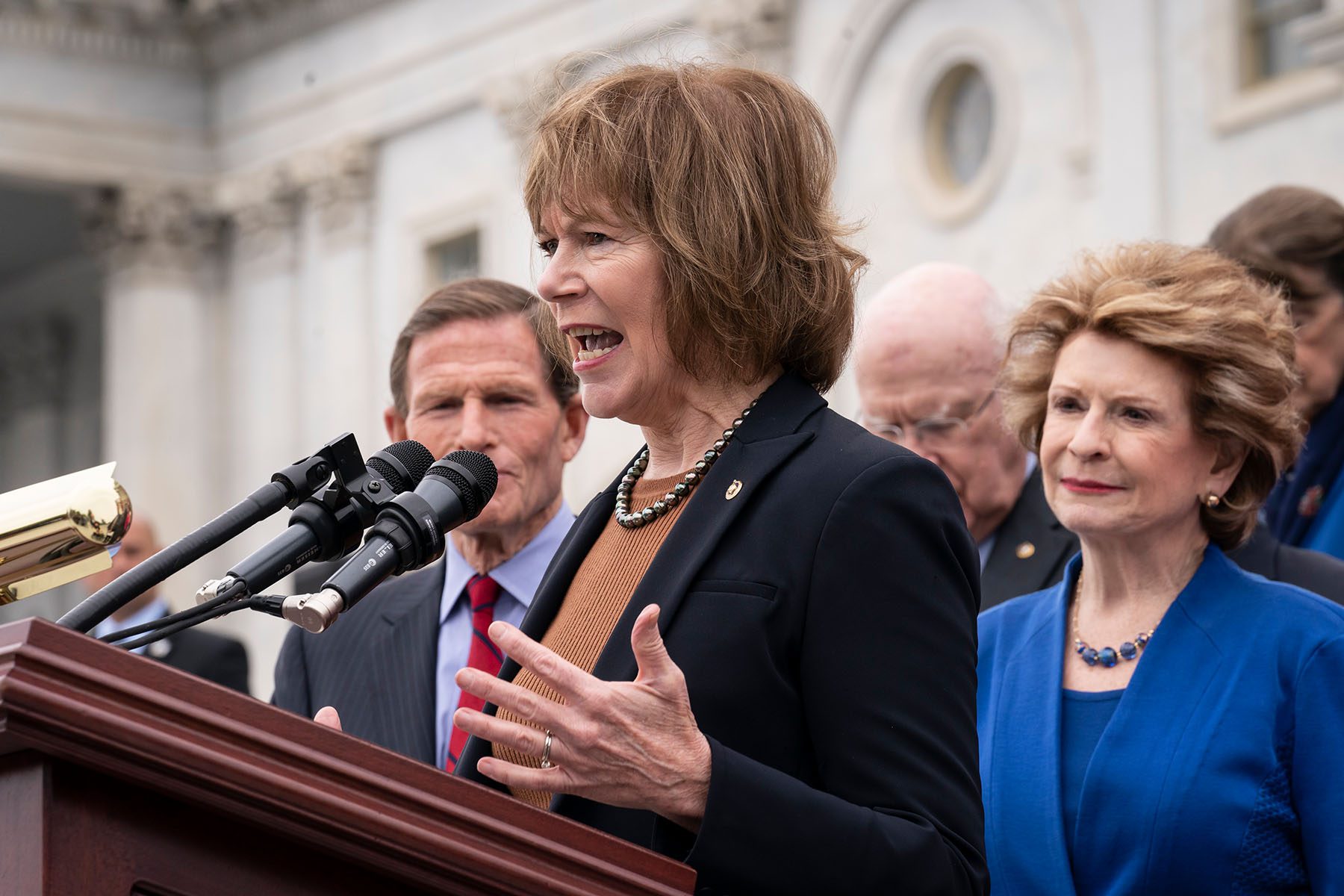 If Roe is overturned, the only way to ensure abortion access nationwide would be for Congress to pass a bill and have it signed by the president. Senate Majority Leader Chuck Schumer said Thursday that next week he would bring up the Women's Health Protection Act, which would codify abortion rights into federal law. But, like in February, it is not expected to gain the 60 votes it needs to move forward.
The Republican National Senatorial Committee (NRSC) put out a memo this week, first reported by Axios, that with "an eye toward a mid-summer Supreme Court decision" overturning Roe, its recommended talking points were "compassion." The memo says candidates should tell the following to voters: "Republicans DO NOT want to take away contraception … Republicans DO NOT want to take away mammograms or other health care provided specifically to women … Republicans DO NOT want to throw doctors and women in jail. Mothers should be held harmless under the law."
But the NRSC's lawmakers don't always adhere to their recommended talking points. Sen. Marsha Blackburn of Tennessee, for example, recorded a video during the Supreme Court confirmation hearings for Judge Ketanji Brown Jackson, in which she said that the court's 1965 ruling in Griswold v. Connecticut, which guarantees contraception access for married Americans, was "constitutionally unsound." Blackburn is up for reelection in 2024.
The NRSC's talking points also don't reflect reality: Republicans on a state level have, and are trying to, criminalize abortion care. Under a trigger law in Texas that would take effect if Roe is overturned, doctors could be fined up to $100,000 or face lifetime imprisonment for providing abortion care. Alabama, Arkansas and Oklahoma have similar laws that would take effect, according to the Guttmacher Institute, a research group that supports abortion access. A Republican bill in Louisiana that passed a House committee this week would allow prosecutors to charge abortion recipients and medical providers with murder.
The NRSC did not respond to a request to discuss how its advice to senators about abortion talking points squares with the laws Republicans have passed, or aim to pass, within states. Democratic Senatorial Campaign Committee (DSCC) spokesperson Nora Keefe told The 19th that "no memo can change the fact that Republicans are grossly out of step with the voters that will decide the 2022 election."
Jessica Shaw, 43, drove more than an hour to be at the Demings event Tuesday. The owner of ice cream shops in the St. Augustine area said that when she arrived "for the first time, all day, it felt like I could breathe."
Shaw expected a Roe decision later this summer that would restrict abortion access, but the leaked draft still felt like a gut punch. She said when it comes to protecting abortion access, in a state like hers, the "only thing we can do is elect more Democrats."
"So that is what I'm going to spend the rest of this year doing," she said.
Shefali Luthra and Jessica Kutz contributed to this report.