A few weeks before the May 2018 primary in Georgia, Democrat Stacey Abrams' campaign announced her fundraising totals: more than $1 million collected over the previous two months, for a haul of more than $3 million since she launched her campaign for governor nearly a year earlier.
Abrams would go on to win 76 percent of the primary vote, becoming the first Black woman to secure a major party's nomination for governor.
"When she won the primary, that's when the floodgates opened," said Steve Phillips, a civil rights lawyer and one of Abrams' earliest supporters.
As Abrams' name ID skyrocketed in the ensuing months, so did her campaign coffers: She raised nearly $28 million total. Her opponent, Republican Brian Kemp, brought in more than $22 million that year, in an election cycle that reached nearly $83 million in direct fundraising from primary and general election gubernatorial candidates. Abrams lost — but by just 1.4 percentage points, and with almost 800,000 more votes than the Democrats' 2014 gubernatorial candidate in Georgia.
Tuesday's primaries cemented Abrams and Kemp as their parties' nominees again, four years later. It's set to be an expensive race: Kemp has already raised $22 million since announcing his reelection bid last July, and Abrams has brought in $20 million since launching her campaign in December.
Whatever happens in November, Abrams continues to make history. She is considered to date the most successful Black woman to raise money for a gubernatorial run in U.S. history. Since she entered Georgia politics 16 years ago, the state has grown and its electorate has transformed — a transformation she helped drive, and one that has brought her national attention. Her fundraising prowess has been built over a career that included organizing and leading Democrats in the statehouse, then bringing in millions for both efforts related to voting and her party.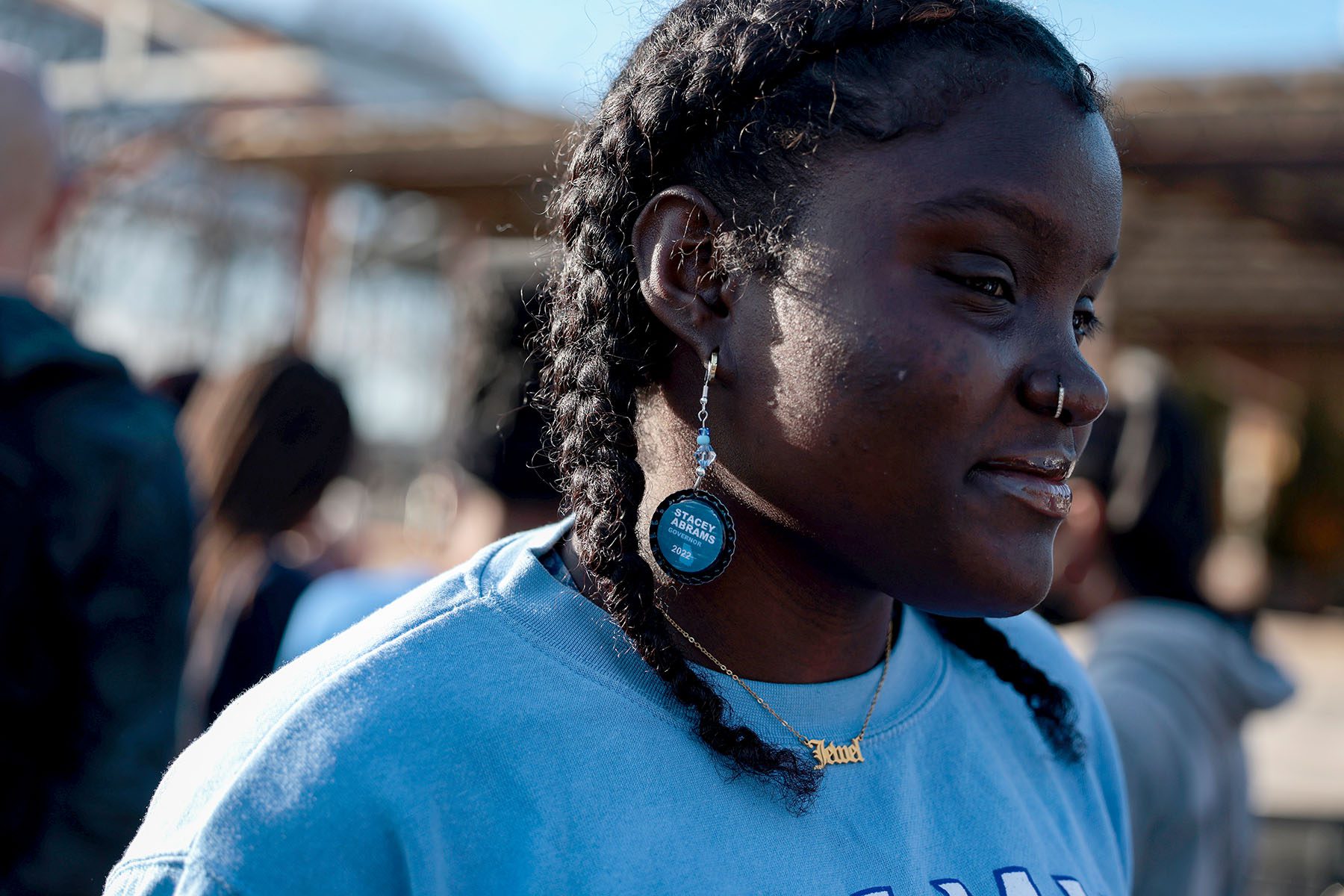 Political observers say Abrams' political story should dispel lingering assumptions from donors and voters that Black women candidates — who typically face more barriers in fundraising — can't bring in money.
"She literally built the blueprint and continues to edit and readjust where needed," said Glynda Carr, president and chief executive of Higher Heights, which backs Black women as candidates and engages them as voters and donors. "That's why you get a Stacey Abrams 2022 blowing out fundraising for herself as a candidate."
A few factors have turbocharged Abrams' fundraising ability this time around: She has a high national profile as a staunch voting rights advocate at a time when the issue is front and center in American politics. Abrams also has fresh public goodwill among Democrats for helping the party make critical political gains in Georgia in 2020 and 2021. Her ability to bring out new voters in Georgia is credited with helping Joe Biden win the state during the last presidential election and Sens. Jon Ossoff and Raphael Warnock in their runoff elections.
As a repeat candidate, Abrams has also gained a new level of name recognition that can serve her well in making another pitch to potential voters and financial backers, said Quiana McKenzie, senior director of state and local fundraising at EMILY's List, which backs Democratic women candidates who support abortion rights.
"Our second-time candidates, or our repeat candidates who are running, they absolutely benefit from folks already knowing who they are," she said. "But they mostly benefit from people knowing how hard they ran — how much work they put in, how close a particular race was."
Abrams' fundraising skills are years in the making, according to political observers and Abrams' own account in writings. Abrams and her campaign declined to comment for this article.
In her 2018 book, "Minority Leader: How to Lead from the Outside and Make Real Change," Abrams described being told during her gubernatorial bid that year that Georgia was "not ready for a Black woman."
"In the first weeks of my campaign, this mantra became routine as I called literally hundreds of friends, acquaintances, and admirers," she wrote. "With each warning against the arrogance of my candidacy, my certitude about running for this office became shakier: What if they saw something, knew something I didn't? Concern morphed into a constant disquiet that had me second-guessing a plan I'd been painstakingly building for more than a decade."
That building stretches back to at least 2006 when Abrams ran for the Georgia House of Representatives. She faced two Democratic primary opponents who had what she described as "deep ties" to the community.
"I determined early on that outpacing both in fund-raising would be key to victory," she wrote.
Abrams went on to raise $127,000 that year; her opponents raised a combined total of $13,000.
Abrams also noted in her book that when she decided to run for office back then, she had engaged in little relationship building — she had not attended regular Democratic Party meetings and did not know a lot of politicians personally. To campaign without securing endorsements, Abrams decided to use her campaign money early to hire staff, including locally.
"A piece of mail would be thrown away, and television proved cost-prohibitive. Instead, I found local community members, introduced myself, and then hired them to knock on doors with me," she wrote. "In the end, I moved up, without using the same ladder."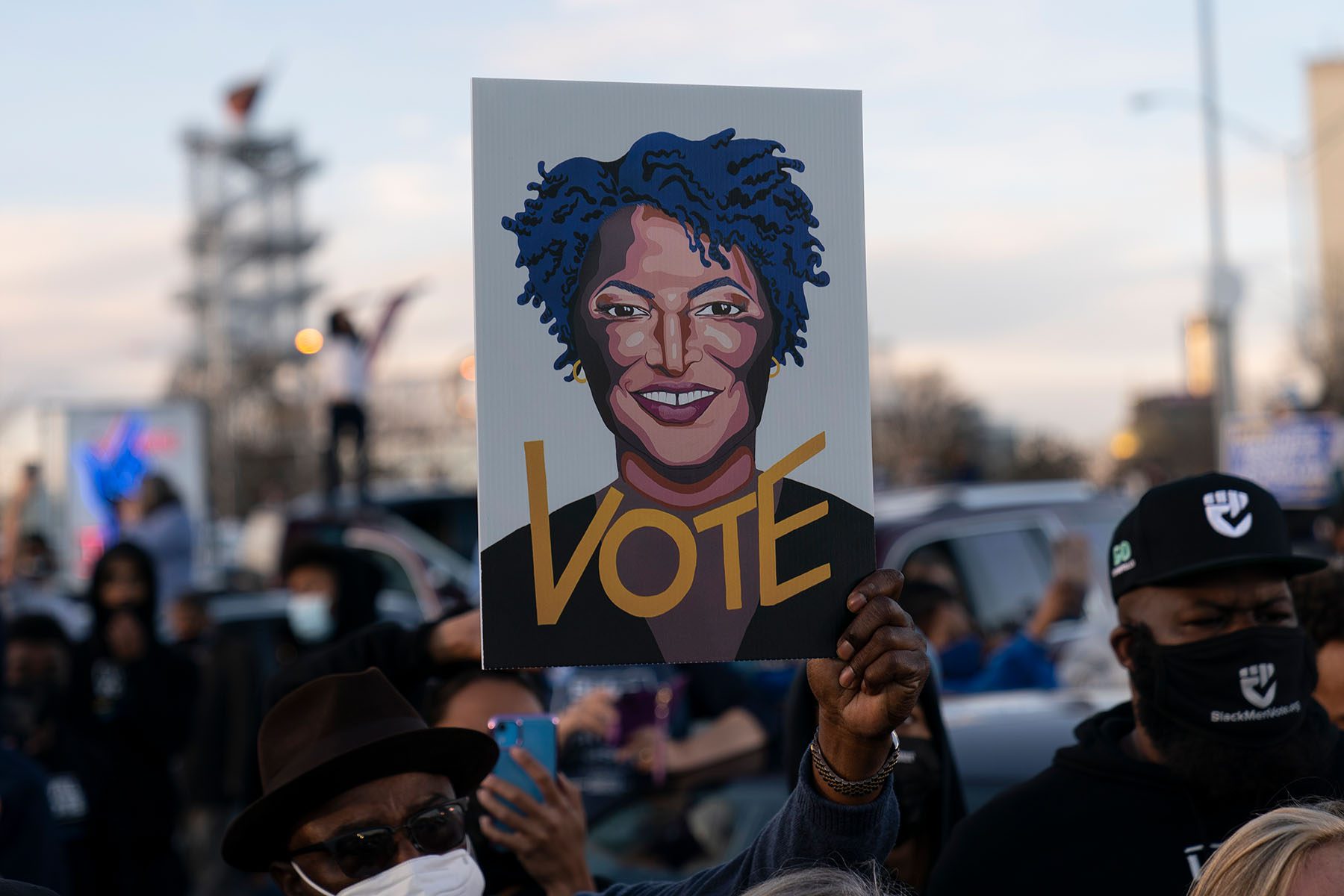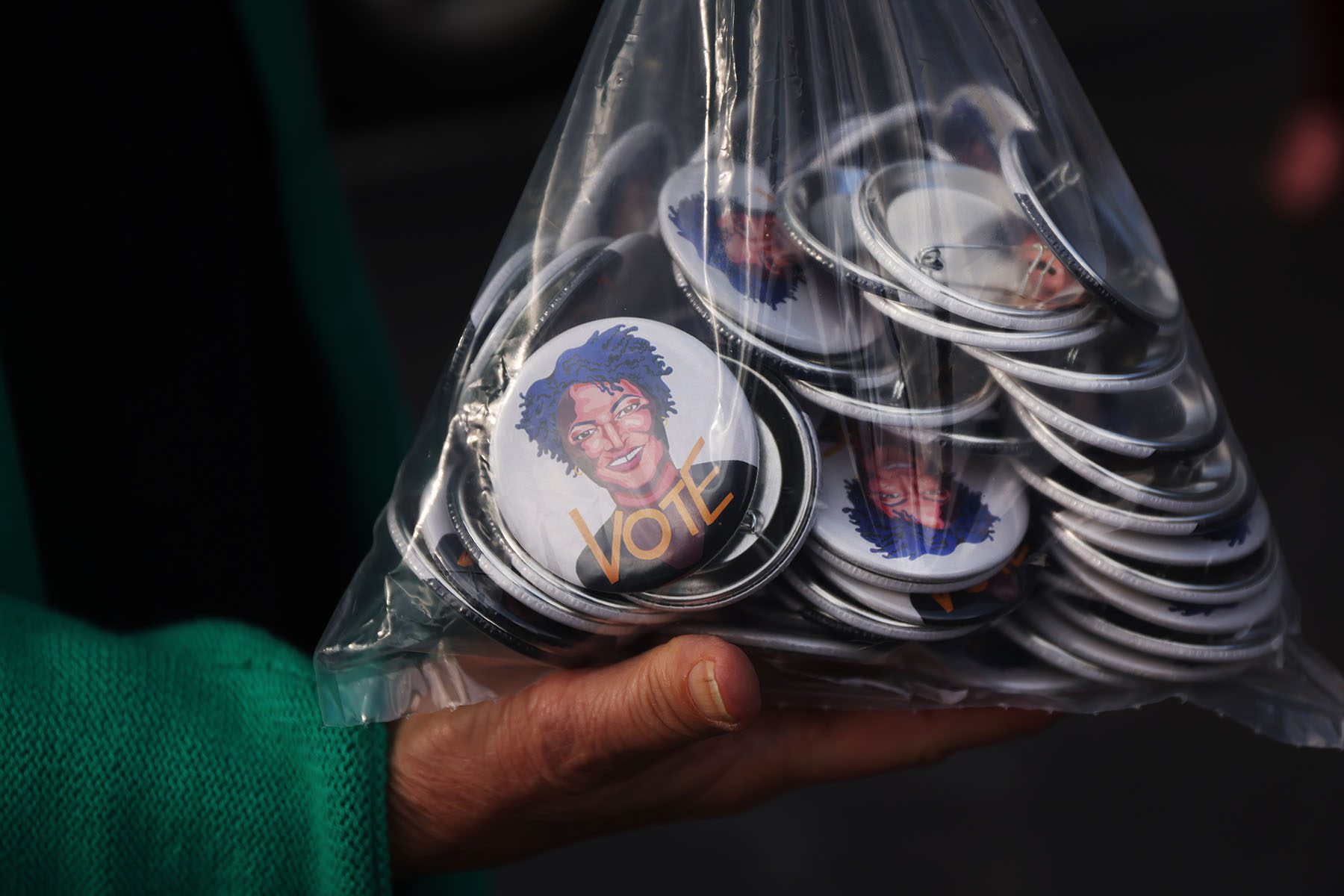 Phillips, who is the founder of the political media organization Democracy in Color and a podcast host, said Abrams told him back in 2012 that she planned to run for governor in 2018. At the time, Abrams was the minority leader in the Georgia House, the first woman to serve in the role. In 2014, she launched the New Georgia Project, a nonpartisan nonprofit group aimed at building up voter registration. Abrams raised $3.5 million in March and April of that year for the group.
"That work of toiling in the trenches is what enabled her to withstand the attacks when she ran in 2017 and 2018," Phillips said.
Abrams alludes to that meticulous planning in her first book, where she explains making a spreadsheet when she was 18 years old that laid out her life for the next 40 years.
The list, which Abrams says she continues to edit, included writing a best-selling spy novel (she published a political thriller in 2021 under her name after previously writing romance novels under the pen name Selena Montgomery) and becoming a millionaire (Abrams enters this election cycle with a net worth of about $3.17 million). Kemp has a net worth of about $8.6 million.
Abrams, in her book, has pointed to barriers to office such as the effects of not having family resources or what it can feel like for a woman or person of color to ask for money to fund a campaign or start a business.
"Not only do we lack the resources; women and people of color are typically viewed as beggars at the table, not the bankers behind the desk," she wrote. "This perception means that even when we are primed for access, our engagement with money is met with suspicion and false impediments."
The Barbara Lee Family Foundation has researched the lack of women in executive office — only 45 women have ever served as governors. The group found that donors demand more time from women candidates than male candidates before making a contribution.
Kira Sanbonmatsu, a political science professor at Rutgers University and senior scholar at the Center for American Women and Politics, has studied women's fundraising in gubernatorial races. She said Abrams' 2018 and now 2022 fundraising stands out because of the overall challenges that Black women face when running for governor.
Among Sanbonmatsu's research findings are that gubernatorial candidates who are women of color are rarely top fundraisers in either major party's primaries. But the lack of enough candidates also complicates a thorough statistical analysis. No Black woman has ever been elected governor.
"There can be skepticism about the viability of Black women candidates for these offices," she said. "When you haven't seen Black women holding positions in this way at this level, financial gatekeepers and different donor networks may not be willing to step up in ways that they might be able to and willing to do for, I'd say White male candidates who have traditionally held these positions."
In addition to Abrams, at least four other Black women announced plans last year to run for governor in 2022. Two are no longer candidates: Within weeks of her fall announcement, New York Attorney General Letitia James dropped her bid. Then in February, college professor Danielle Allen announced she would no longer seek the Democratic nomination for Massachusetts governor. Both races have White women front-runners who already hold statewide office.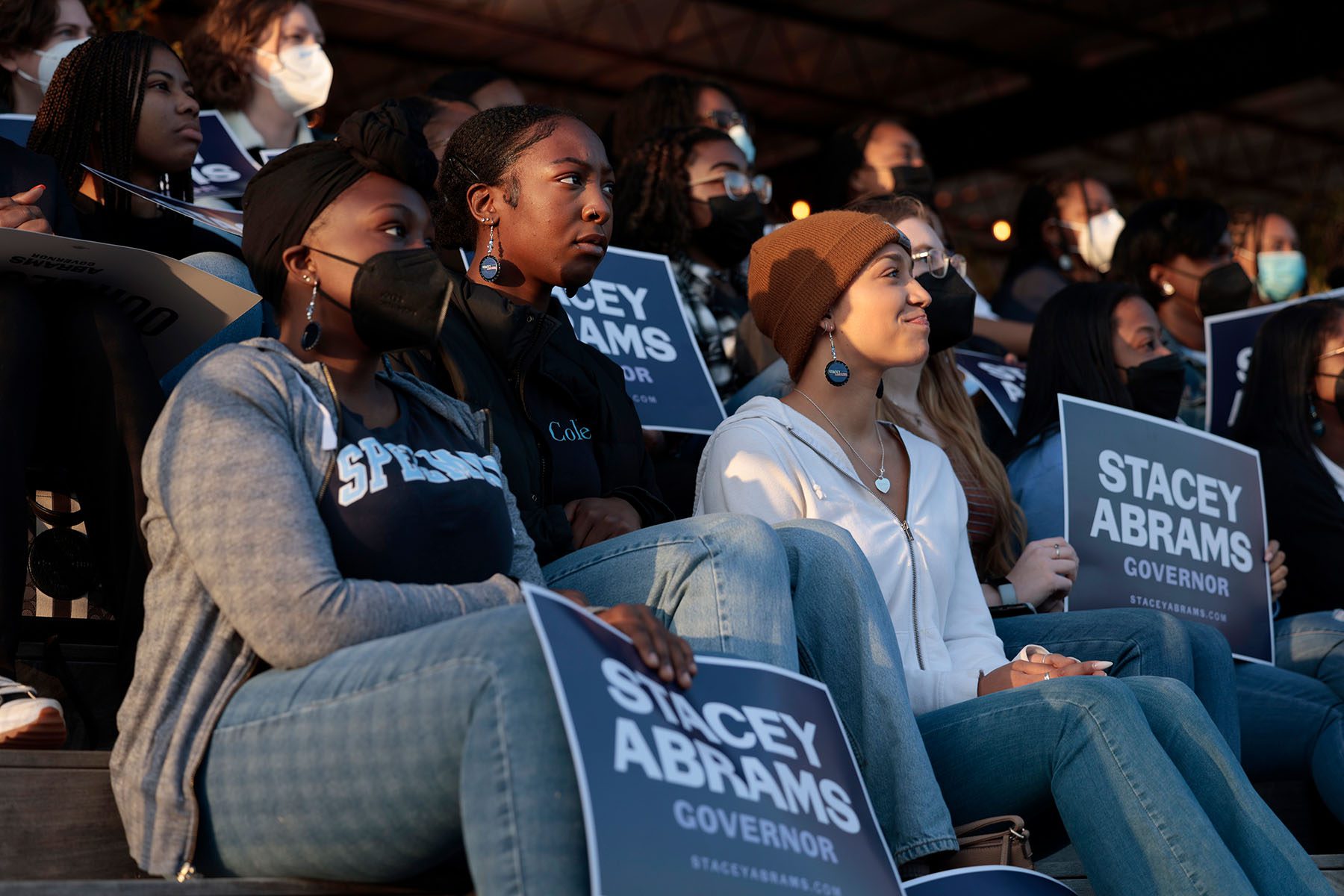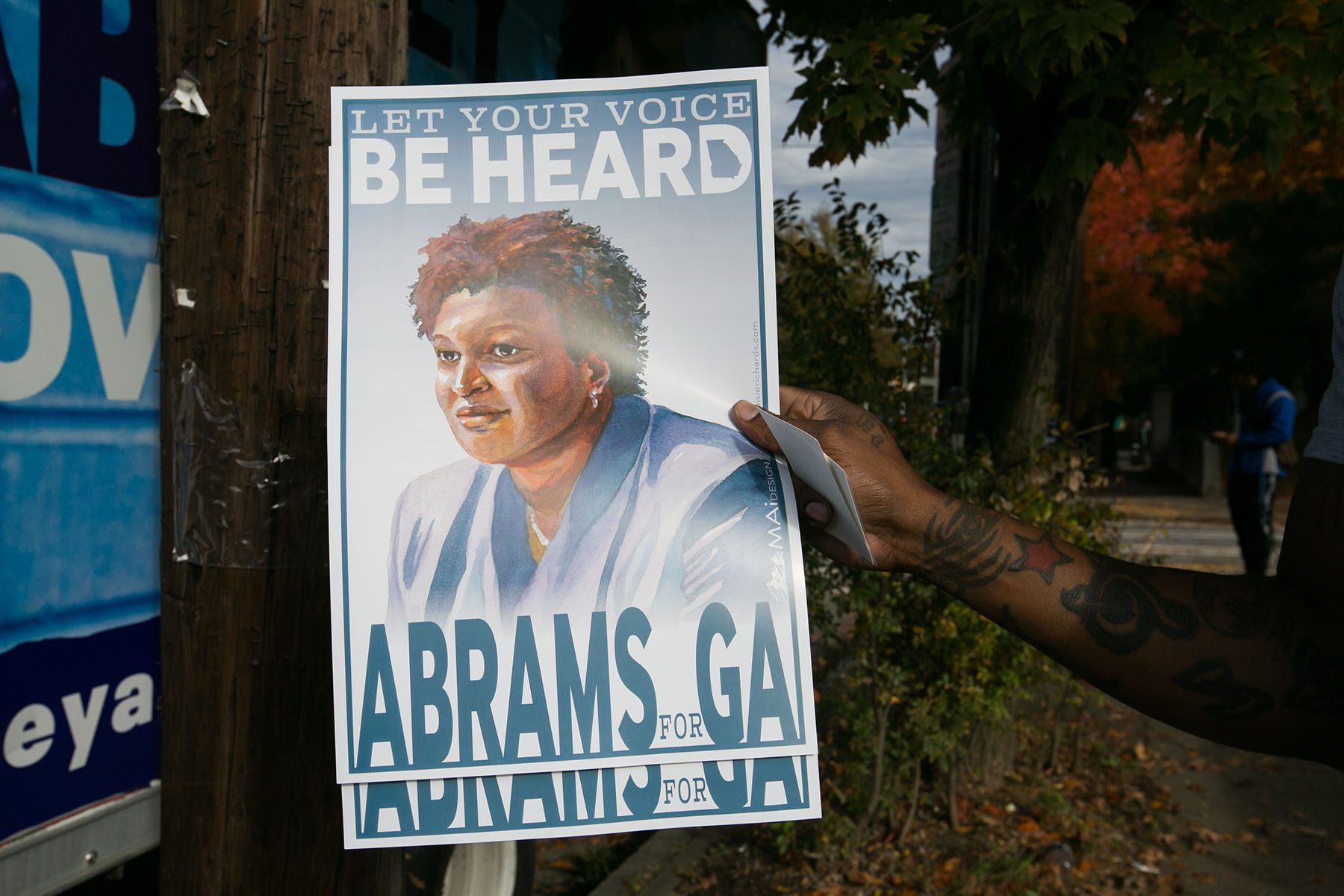 The two other Black women gubernatorial candidates are both running as Democrats in states Donald Trump won easily in 2020.
Mia McLeod, a state senator in South Carolina who is seeking the Democratic nomination for governor, said the media at times has given more coverage to her primary opponent, former Rep. Joe Cunningham, a White man. She also said she's been held back in fundraising efforts because she's balancing campaign work with her role at the statehouse. As of April, Cunningham had raised $1.3 million compared with McLeod's $359,000.
"Money is important because it does allow us to get our message out. We have to decide how to maximize the contributions that we do have," McLeod said. "But it's certainly not indicative of who is a shoo-in for this race."
Democrat Deirdre DeJear is running to challenge Republican Gov. Kim Reynolds in Iowa. As of January, she had only $8,500 in the bank. This month, DeJear announced that she had raised about $740,000; she now has $380,000 available. But Reynolds has nearly $5 million to spend, according to her latest campaign finance records.
Tolulope Kevin Olasanoye is the political director of the Collective PAC, which raises money and support for Black candidates around the country and has endorsed Abrams, DeJear and McLeod.
Olasanoye said for Black women and Black candidates in general, traditional gatekeepers often expect candidates to have raised a large amount of money before they can be taken seriously. He said Abrams is the "boldest" example of what happens when Black women are invested in — they're able to build a message and play on a level playing field.
"I think every Black woman across the country, from Mia McLeod in South Carolina and Deirdre DeJear who's running for governor in Iowa, wants to have that same kind of shot, right? Which is like, 'Let me do the work of making the case to our voters that I am the most viable candidate, without having this sort of structural barrier about, well, have I raised enough money?'"
While Abrams proved in 2018 that she could raise money, her matchup with Kemp became ground zero for a national debate about voting access that is now a key issue going into 2022 and 2024.
Abrams acknowledged that Kemp won the race, but she accused the then-secretary of state of voter suppression tactics including closing polling locations and purging voters from registration records. Kemp denied the allegations.
Within days of her defeat against Kemp, Abrams launched the voting rights group Fair Fight Action and a political action committee. Tax records obtained by the Atlanta Journal-Constitution shows the nonprofit reported raising $51 million in 2020. The PAC has separately collected more than $100 million since its launch.
Even now, Abrams is tapping her network to raise money for groups outside of her campaign. A few weeks ago, when a draft opinion showed the U.S. Supreme Court planned to overturn abortion rights, Abrams paused her campaign fundraising to raise money for reproductive rights groups in Georgia and elsewhere in the South.
Now that Kemp has bested former U.S. Sen. David Perdue, a Trump-backed candidate, in the Republican primary, new dynamics will open up avenues for Kemp and Abrams to raise funds for the general election.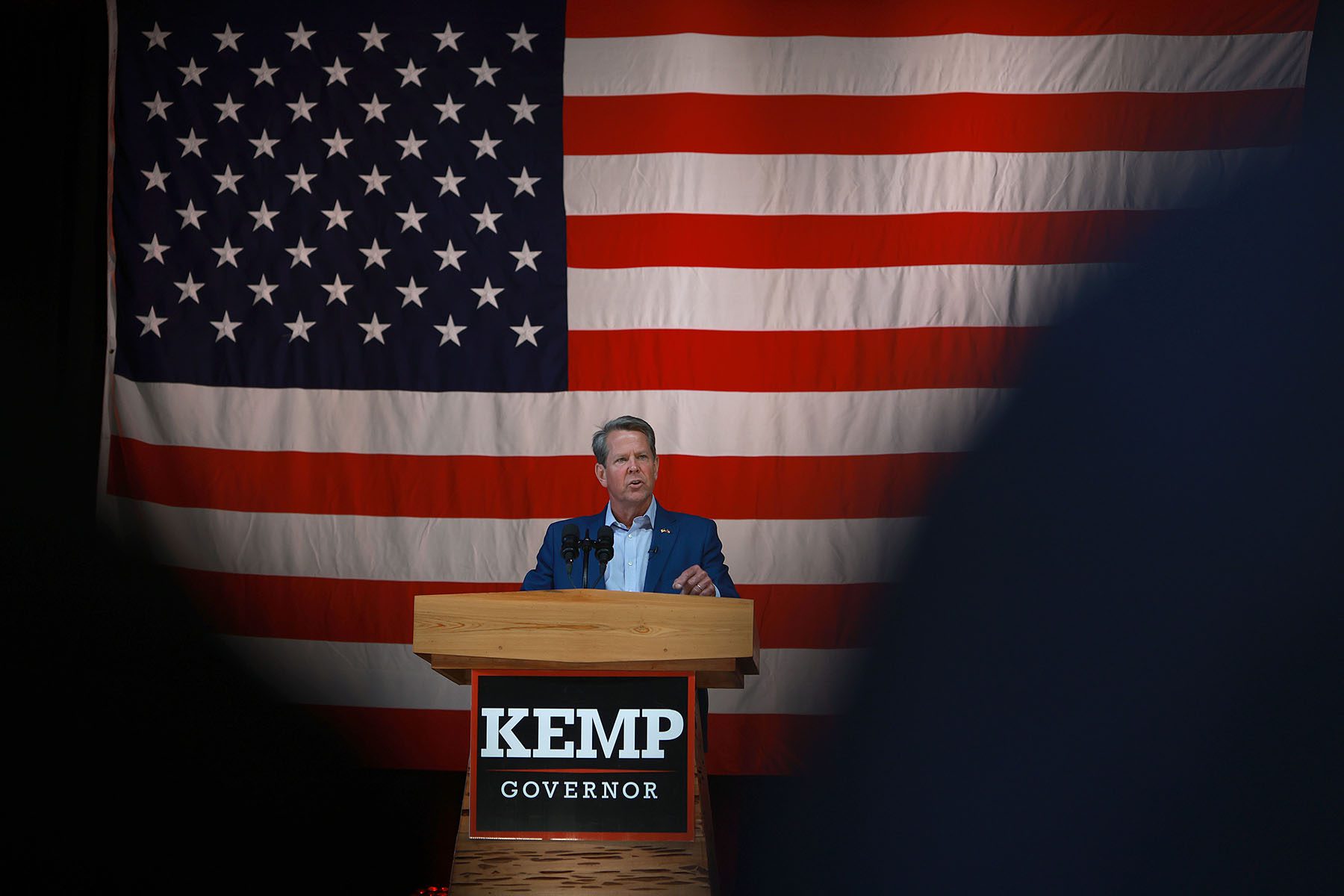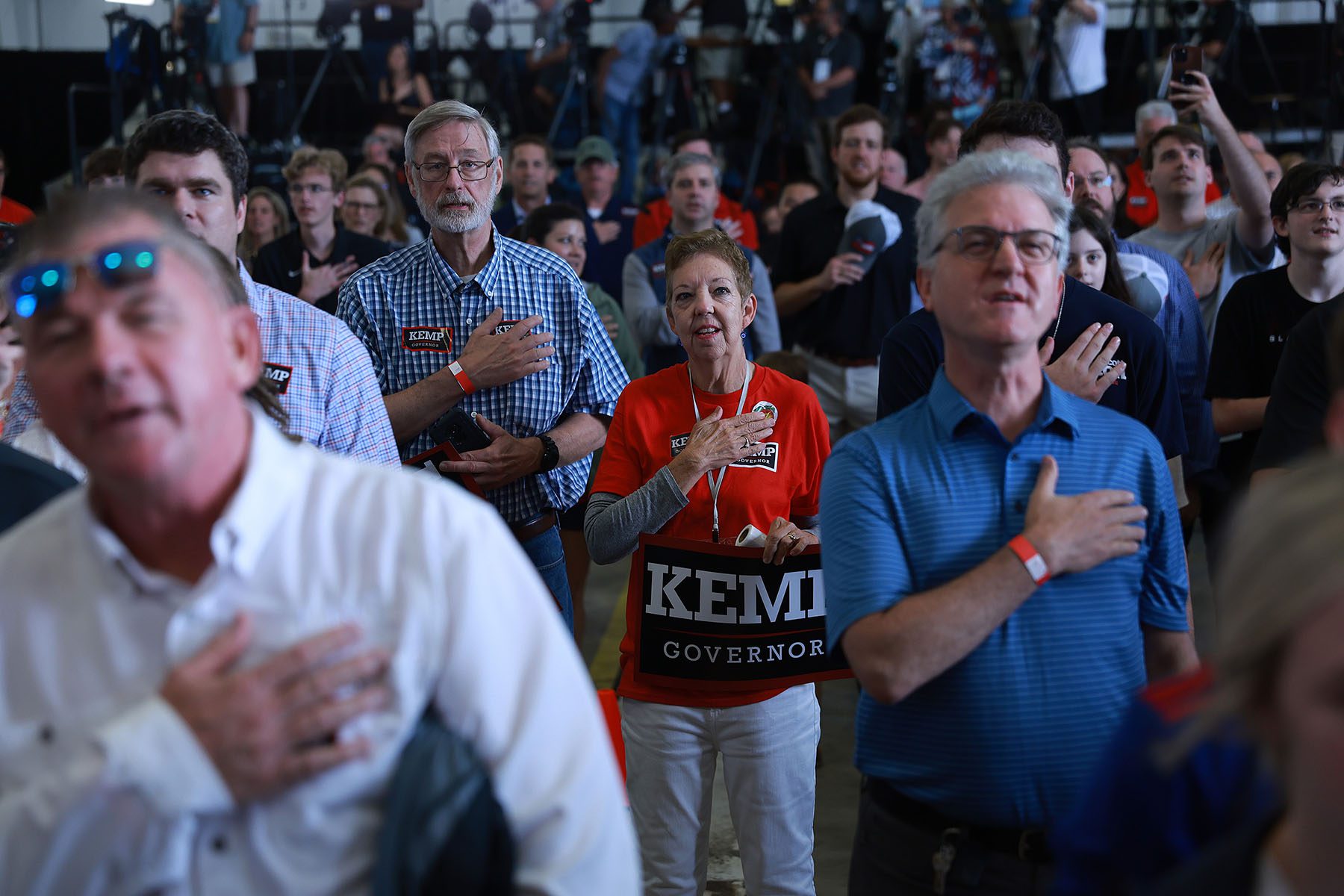 One such path stems from a law, signed by Kemp last year, that effectively allows gubernatorial candidates to raise unlimited funds through so-called "leadership committees." Both candidates already have a couple million dollars in these funds that they can spend now that they're the nominees. For Kemp, that's at least $2.3 million. Abrams has at least $3.5 million.
Abrams' campaign declined to comment on the strategy behind the committees, which can coordinate with the candidate, unlike political action committees.
Pete Quist, deputy research director at OpenSecrets, a campaign finance watchdog group, said the setup of the committees — which allowed Kemp to raise money for months before other gubernatorial candidates — is highly unusual. He expects it will contribute to this election cycle becoming "the most expensive gubernatorial race in Georgia history," noting that 2018's totals were a record.
"This race is very high profile. Stacey Abrams and Brian Kemp both have made a lot of headlines in recent years, for various reasons. And certainly it has a rematch from the 2018 campaign that was so close," he said. "We should see a lot of money coming in with the expectation that there may be another very close race. The competitiveness of a race tends to draw money."
That includes financial support from outside of the state. Several independent groups gave to both Abrams and Kemp's campaign in the final months of the 2018 general election.
It also includes small-dollar donations. In the last reporting period for this election cycle, Abrams' campaign said that 187,000 donors from across the country have given an average of about $60 in contributions. In the final months leading up to the 2018 election, an analysis by the Atlanta Journal-Constitution showed Abrams' campaign raised hundreds of thousands of dollars from both Georgia residents and out-of-state donors who contributed more than $100 but through small increments of $5, $10 or $20 — at least 3,200 of those donations came from Georgia residents and about 2,600 from out of state donors. At the time, most of Kemp's direct campaign donations came from Georgia donors.
What it will mean for Abrams in terms of her chances of winning are unclear. Kemp comes into the general election as an incumbent during a year that is expected to favor Republicans in other areas of elected office like Congress.
Campaign finance records for Abrams' 2022 bid show she has already spent more than $12 million. Between February and April, Abrams spent nearly $6.5 million on digital, radio and television advertisements.
Abrams said in her book that during the 2018 general election cycle, she spent $14 million on television advertisement, $7 million on organizing, and "millions" on digital and mailers. Abrams acknowledged that "Democratic traditionalists did not trust our methods or our math" during her first bid.
"Other pushback included anxious advice when we rejected targeting recommendations from experts to trim low-turnout-scoring Democrats from our universes; repeated befuddled questioning about why we weren't saving every dime for TV advertising," she wrote.
Ben Jealous, a former NAACP president, has known Abrams since they were part of a labor organizing training camp as teenagers. Jealous said that even then, Abrams recognized the importance of community organizing and using technology to understand who is missing from the electorate.
"Getting back to basics of politics — making sure that your voters are registered to vote and defending their right to vote — those are things that our elders did to run for office that typically most young politicians don't think much about. Stacey, in a very systematic way, made a decision long before she ran statewide to expand the Georgia electorate," Jealous said. "It's paid off three times in a very big way — for Biden, for Ossoff, for Warnock. My hope is that this year it'll pay off for her."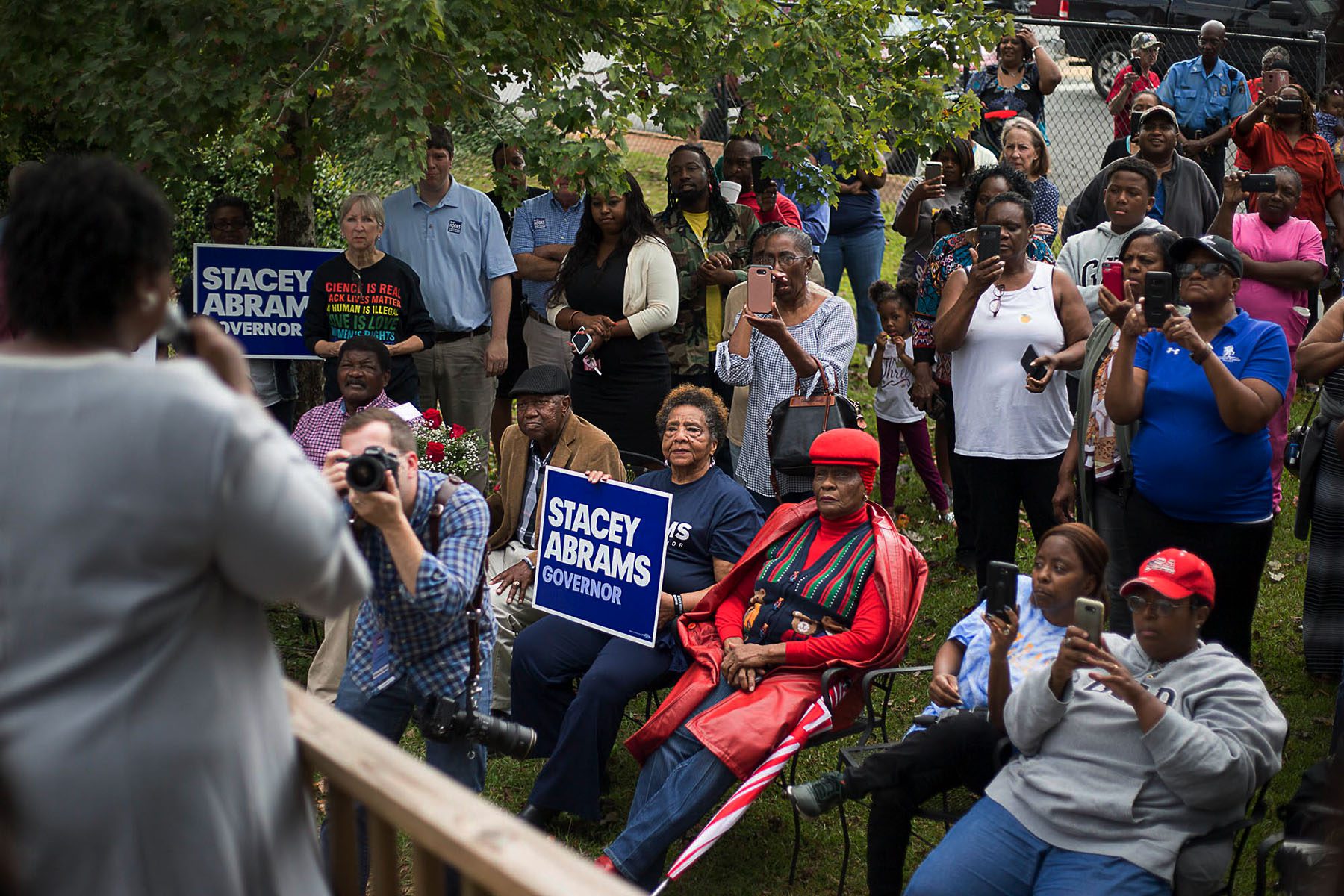 Experts who track women's representation in politics believe Abrams, whether she's successful in November or not, is still paving the way for other women of color seeking higher office.
"The reality is that Black women have been the base of the Democratic Party, as a large voting bloc, for a long time. And they play leadership roles and they have been very successful in running and winning state legislative and U.S. House seats," Sanbonmatsu said. "I think what we're seeing now is overdue recognition of the strength of their statewide abilities."