With federal abortion rights hanging by a thread, state legislatures across the country are preparing to enact a slew of new laws that could virtually eliminate access to the procedure in large swaths of the country.
Most legislatures have not yet convened for their 2022 legislative sessions, which typically begin in January and run through the spring. Lawmakers in conservative-led states are already planning, sometimes in conversation with anti-abortion groups, bills that would restrict abortion access. Groups that support abortion rights say they're tracking policies that in some cases are an extension of previous fights and in others preview new territory.
"2021 was the worst year on record for state restrictions and attacks on abortion access," said Kristin Ford, vice president of communications and research at NARAL Pro-Choice America. "2022 is likely to be even worse."
This is poised to be a particularly consequential year: States are also beginning to look toward how the Supreme Court may rule in its major abortion challenge, a case known as Dobbs v. Jackson Women's Health Organization. A decision is expected in June or July, and many observers believe the court is likely to overturn Roe v. Wade, the 1973 Supreme Court decision that enshrined abortion rights at the federal level, in its entirety. Doing so would mean states can determine individually whether abortion remains a protected right, and, if so, to what extent.
"Everyone has the Supreme Court on their minds," said Laurie Sobel, associate director of women's health policy at the nonpartisan Kaiser Family Foundation. "There are states that want to be set up on either side of that. If abortion is allowed to be banned at any point of pregnancy, or at 15 weeks. Whatever the ruling is, they want to be set up."
There are several major trends emerging around abortion legislation — in some states to constrain access to the procedure and in others to protect it — but one of the most prominent types of bills is inspired by one of the nation's most restrictive abortion laws.
Several Republican lawmakers are crafting legislation inspired by Texas, which last year enacted Senate Bill 8, which effectively banned abortions after six weeks of pregnancy. That law, instead of criminalizing the procedure, empowered private citizens to sue anyone who may have helped another person get an abortion after six weeks. Successful litigants are eligible for at least $10,000 in damages.
So far, lawmakers in at least five states — Alabama, Arkansas, Florida, Missouri and Ohio — have introduced bills modeled after Texas' six-week abortion ban. Bills in Alabama, Florida and Missouri have applied the civil liability approach to six-week bans. Both Arkansas and Ohio would institute it for any abortion after an egg is fertilized, which would effectively outlaw abortion at at any point in pregnancy. Many people don't know they're pregnant until after six weeks.
Meanwhile, legislators in at least seven other states — South Dakota, Indiana, West Virginia, South Carolina, Kentucky, Louisiana and Oklahoma — have indicated interest in passing similar legislation to Texas but have not yet introduced any such bills.
Florida Gov. Ron DeSantis, who has previously expressed reservations about Texas-inspired six-week bans, this week indicated support instead for a 15-week ban that would criminalize the procedure, a proposal that also has support from the state legislature's leadership.
John Seago, the legislative director for Texas Right to Life, said the organization has been in communication with lawmakers in several states about similar abortion bans, though he declined to specify which ones. He said that after more than a decade of organizing, he's never been more optimistic about policies to curtail abortion.
"There is a palpable sense of excitement and passion, where people finally think we are getting close to having the authority at the state level to protect innocent human life," he said.
Some attorneys general and prosecutors have indicated they do not plan to enfoce abortion bans that rely on criminalization. So Seago said Texas Right to Life organizers are encouraging states to move forward with civil liability provisions in their abortion bans to avoid "a ban on paper but not in effect."
"​​We need to overturn Roe, obviously, but then also adopt tools that will make sure your state legislation is actually followed," he said.
This past December, the Supreme Court declined to weigh in on whether the Texas law specifically violated Roe v. Wade. It has said the law can be challenged in court — albeit on narrow grounds — but declined to block the law in the meantime. Ianthe Metzger, a spokesperson for Planned Parenthood Federation of America, said she expects conservative states to be emboldened by that decision.
"I think that because of what the Supreme Court did, we could see abortion being banned in states by the end of the month," she said.
Still more are preparing bills that would allow their states to ban abortion entirely if the Supreme Court does ultimately overturn Roe v. Wade.
Katie Glenn, the government affairs counsel for the anti-abortion group Americans United for Life, said she is also working with states that have already passed restrictions that were blocked in lower courts, as well as those with "trigger laws" meant to ban most or all abortions if Roe v. Wade was ever to be overturned.
Currently, 12 states have such laws passed, according to a tally maintained by the Guttmacher Institute. Two others don't have such "trigger laws" but have indicated they intend to limit abortion to the fullest extent permitted by the court, and five more states without trigger laws still have unenforced abortion bans on the books that predate the 1973 decision.
It's not yet clear when or how many of those laws would take effect — if they would have an impact immediately or if they would have to be passed again or litigated in federal courts. Glenn said her team is working with attorneys general and governors in various states to figure out when and how various abortion restrictions could take effect.
Lobbyists and policy analysts said they also expect states to tackle greater restrictions on medication abortion, the two-pill regimen that allows someone to end a pregnancy without surgery. In December, the federal Food & Drug Administration changed its guidelines for the two-pill regimen, allowing the drug to be mailed to a patient's home, rather than requiring it be administered in a doctor's office.
The change was hailed by medical experts, who noted that the pills have exceptionally low complication rates. They have long argued the in-person dispensation requirement put the pills out of reach for people in rural areas in particular.
But already, states had enacted numerous restrictions around the dispensation of medication abortion. So far, 19 states require that a physician provide the pill in-person. A new Texas law that restricts the use of abortion pills after seven weeks of pregnancy went into effect in December.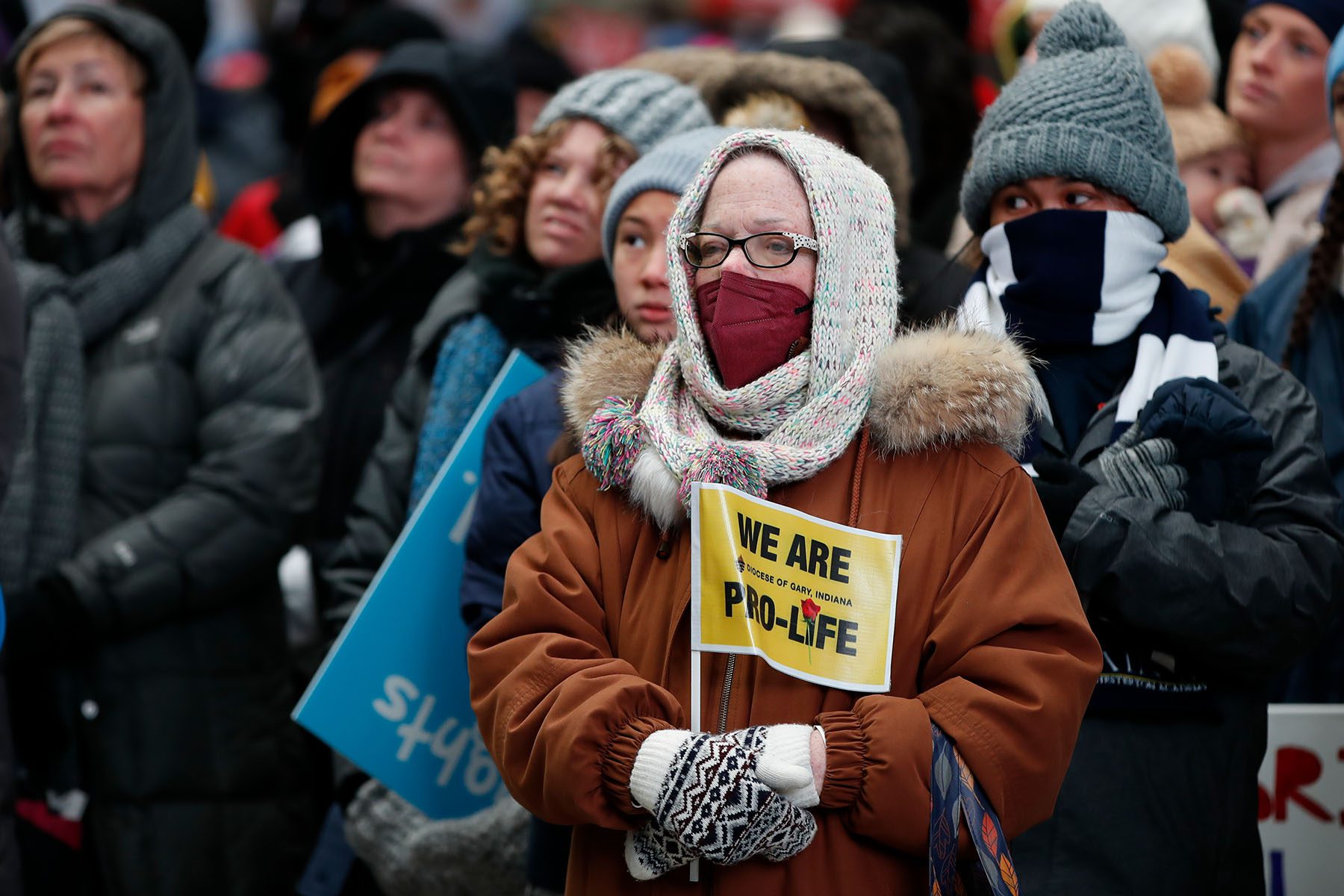 Glenn, of Americans United for Life, said medication abortion restrictions are emerging as a major topic of interest this year and one her organization is prioritizing.
"That is going to be an issue that is going to be the future abortion flight," Seago said.
Meanwhile, many states with largely Democratic leadership are working to pass laws that would maintain or even strengthen abortion rights — with lawmakers in some noting that, if Roe v. Wade is overturned, their states could become destinations for people traveling out-of-state for the procedure.
In New Jersey, legislators have already passed a bill that would maintain abortion rights in the state even if Roe v. Wade is overturned. Colorado lawmakers are planning to push for similar protections.
In California, one of the few states where health insurance plans must cover abortion, the legislature will weigh whether to eliminate out-of-pocket costs for people seeking to end a pregnancy. California Gov. Gavin Newsom has also endorsed a proposal for the state to cover the cost for people with lower incomes who travel to California from out-of-state to receive an abortion.
And in states including Rhode Island, some Democrats are trying to get rid of the restrictions that prevent state-run health insurance plans — Medicaid and health benefits plans for government employees — from covering abortion. That could be a meaningful area of focus for states trying to shore up abortion access, Sobel said.
"There's many states that are protective but haven't required coverage in insurance plans," Sobel said. "That's something from states I haven't seen much of yet, but is something I'm thinking about."
Metzger said Democratic lawmakers are finding new ways to challenge proposals or affirm protections even when they lack legislative power. She noted a ballot initiative effort led by abortion rights groups in Michigan that would codify abortion rights in the state's constitution. In New Hampshire, Democrats in the minority have indicated plans to propose legislation that repeals new abortion restrictions that went into effect this month.
"I think there's so much energy among legislators who are champions for reproductive justice to keep building public awareness and say, 'Here is why access matters. Here are all the components of access to care.' … We can be on the defensive and also be pushing for things that enable people to live a fully empowered reproductive life."
Join The 19th on January 26 at at 1 p.m. ET for critical conversations on the rapidly changing landscape of reproductive rights around the country, as well as how limited abortion access could impact the health care system more broadly. Sign up today.