This column first appeared in The Amendment, a new biweekly newsletter by Errin Haines, The 19th's editor-at-large. Subscribe today to get early access to future analysis.
Less than two weeks after being sworn in as the junior senator from California and successor to the late Sen. Dianne Feinstein, Laphonza Butler announced that she would not run to keep the seat. While the news ended speculation about whether she would enter an already crowded field, it opened up new questions about how else the veteran Democratic activist and strategist could factor into the contest.
Though she is choosing to leave office next year, Butler's political power could still be on display. With multiple Black women on the ballot in key Senate races in 2024, she could flex that political power anew. Could Butler now play a role as queenmaker and endorse the lone Black woman in the California race, Rep. Barbara Lee?
"I think it would absolutely tip the scales," said Kimberly Peeler-Allen, co-founder of Higher Heights for America, a political action group founded to elect Black women. "If she were to make an endorsement, it would definitely slide things towards Congresswoman Lee. Whether or not she wants to do that and the potential political repercussions are a factor. There would be a lot of waves made."
Butler's influence has long extended beyond the halls of Congress. As head of the biggest union in California and the nation's largest home care workers union for a decade, Butler helped elect Harris to her trailblazing firsts, including the state's first Black senator, and in 2021, Butler was tapped as the first Black president of the influential political action group EMILY's List.
While her job at EMILY's List was to pick Democratic women candidates to back, so far Butler has stayed out of the California Senate race.
"I've always believed elected leaders should have real clarity about why they're in office and what they want to do with the responsibility and power they have," Butler posted on X, explaining her decision not to run just 16 days after taking office. "Knowing you can win a campaign doesn't always mean you should run a campaign. I know this will be a surprise to many, because traditionally we don't see those who have power let it go."
---
Butler is the lone Black woman in the U.S. Senate, ending a two-year absence created by Vice President Kamala Harris' ascension to her historic role. She was appointed by California Gov. Gavin Newsom, who had pledged to pick a Black woman and was urged to keep his promise after the death of the pioneering Feinstein on September 29.
Lee, a respected 13-term member of the U.S. House, is among the 2024 Democratic Senate candidates who are seen as formidable candidates whose victories would further increase Black women's representation, including Rep. Lisa Blunt Rochester of Delaware and Prince George's County Executive Angela Alsobrooks of Maryland. In Michigan, state Board of Education President Pamela Pugh is in the race, though the field has largely been cleared for Rep. Elissa Slotkin.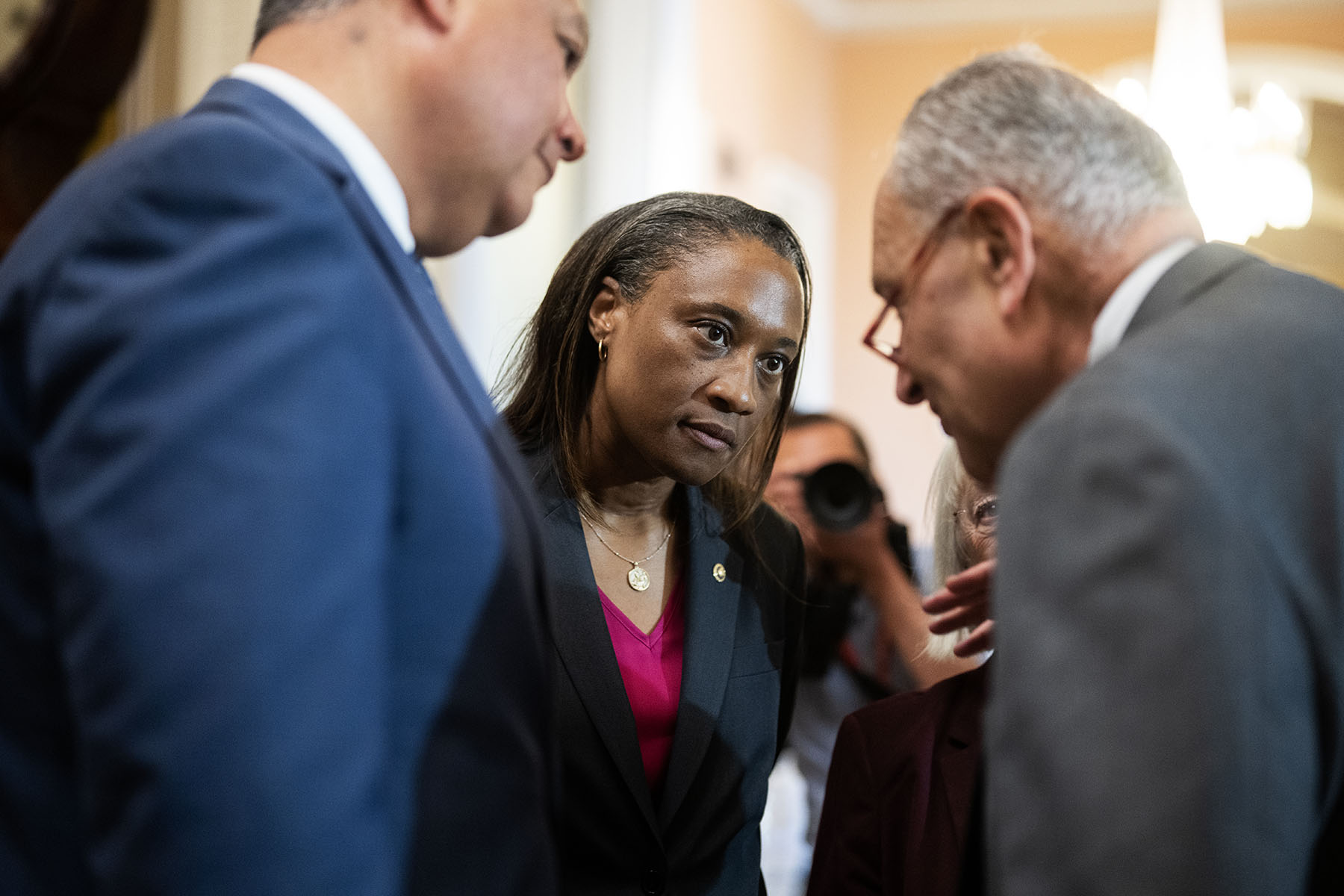 Elected Democrats have lined up behind Blunt Rochester and Alsobrooks in their respective races. Lee has gotten support from the Congressional Black Caucus (CBC) and her progressive colleagues in the House — but two other House members are in the race, including one backed by one of the most powerful women in American politics. While many Democrats in the state have yet to pick a candidate in the top-two primary, former House Speaker Nancy Pelosi swiftly endorsed Rep. Adam Schiff, helping him amass $32 million in cash on hand.
There has never been more than one Black woman serving in the Senate, and only two Black women have ever been elected to the chamber, Harris and Carol Moseley Braun in 1992.
CBC Chairman Steve Horsford, a Nevada Democrat, said the candidacies of Blunt Rochester and Alsobrooks don't change the importance of electing Lee.
"I think obviously, every endorsement matters," Horsford said. "Senator Butler has both the responsibility now to complete this appointed term, as well as to continue to advance the issues on women's rights and labor rights and worker rights, helping to close the wealth gap in America."
Horsford said he has spoken to Butler "on a range of issues," but declined to say whether that included a potential endorsement of Lee, adding: "I think that the fact that those issues align most closely to the work, the legacy the experience, the Congresswoman Barbara Lee brings, to me, indicates why Barbara Lee has earned the position and should be fully supported for the election to the seat."
Attempts to reach Butler for comment were unsuccessful.
Butler now carries the weight of being the only Black woman senator, and her positions in the California race and in our politics are complicated by the optics of a Black woman potentially losing the seat, rather than vacating it by promotion.
Lee's run typifies the experience of Black women who run for elected office, where questions of electability and a lack of support from establishment gatekeepers can impact their ability to be competitive, Peeler-Allen said.
"As 'the only,' you are representing the race and gender by being there," Peeler-Allen said of Butler's position. "Should Congresswoman Lee not be successful … there will be a lot of emotions and conversations about why. Once you have something, wanting to be able to carry that and pass that on is always very hard."
The top two finishers in California's March 5 open primary for a full term, regardless of party affiliation, will advance to the general election in November. That Butler and Lee could have potentially been competitors this cycle was seen as a mixed sign of progress — a testament to the increase in capable and qualified Black women as candidates, and an acknowledgment that having multiple Black candidates in the race potentially dilutes their support, hurting the chances of any of them winning election. It's a challenge rarely posed to White men running for office.
---
In her statement last month, Butler quoted Muhammad Ali, saying: "'Don't count the days, make the days count.' I intend to do just that."
As a senator, Butler has continued to voice her support for striking workers and sits on the Judiciary and Homeland Security committees. She is also expected to use her voice as the Senate's only Black woman, said A'shanti Gholar, president of Emerge America, which recruits and trains Democratic women to run for office.
"She's not just representing California," Gholar said. "That is something she takes seriously, being a Black woman, openly LGBTQ, the mother of a young daughter … She is bringing so much experience to that body that will benefit people across the country. I plan to see her still being involved and doing what she can to make sure that when she departs, there will be other Black women coming in."
At 44, Butler has also not ruled out a future run for office, and the work she does over the next several months could add to her political résumé. She could also lend her support to the other Black women running.
The Senate is all but certain to have at least one if not two Black women after next year's elections — but parity would mean there would be seven.
"I have spent my life working for working men and women, whether I was fighting to win more pay for their labor, strengthen their communities or help them get elected," Butler said in her post announcing that she wouldn't run.
Being the only is an unfair burden — one Moseley Braun and then Harris and now Butler have carried. They have blazed a trail they hope others like them will follow, lessening the burden.
Butler holds this position as the only Black woman senator for now. How she wields her power over the next year could help ensure she is holding the door open for multiple successors on her way out — and helping Black women to make history yet again, whether she chooses to weigh in or not.