Congress doesn't have any members who identify as Afro-Latina, lacking representation for a key segment of the nation's Latinx population. 
Changing that reality is the goal of a new initiative formally launched Thursday by Latino Victory, an influential progressive group working to increase Latinx representation in public office.
Under the banner Afro-Latinas Lead, Latino Victory will compile a trove of data and anecdotes about how to support and empower Democratic Afro-Latina leaders to run for office, to win and to continue rising in the ranks. The group plans to publish a blueprint early next year with steps for growing the bench of Afro-Latina elected leaders and helping elevate the first Afro-Latina to Congress.
"So many Afro-Latinas don't see themselves in political office because they don't see themselves represented, and that's what we're trying to address," Sindy Benavides, the president and CEO of Latino Victory, told The 19th. "Although our top target is to get the first Afro-Latina in Congress, we understand that we have to build the pipeline, and so we will be targeting individuals who are interested in running for local, state and federal office." 
Latinas remain underrepresented in Congress: While they make up nearly 10 percent of the U.S. population, they make up 3 percent of Congress. Among the 18 Latinas in Congress today — a record — none publicly identify as Afro-Latina. A 2022 survey by the Pew Research Center found that more than 1 in 10 of all Latinx adults in the United States — 6 million people — identify as Afro-Latinos, a recognition of both Hispanic and African descent.
An April report from the UCLA Latino Politics and Policy Institute found that the Afro-Latinx experience can often "falls between the cracks," and noted that while Afro-Latinxs have higher educational attainment rates and labor market participation than non-Black Latinos, they experience anti-Blackness in the economy and society. They face higher poverty rates and lower rates of homeownership.
"Afro-Latinas identify as women of color at higher rates than non-Black Latinas, and that matters for policy," said Yalidy Matos, who studies Latinx identity and politics at Rutgers University. While many Latinos have Black ancestry, self-identification matters politically. "We know there is a difference between those women, their political consciousness, the issues they prioritize, than those who did not identify as women of color. Afro-Latinas also have a different lived experience," Matos said.
There is no definitive tally of how many Afro-Latinas or Afro-Latinxs hold elected office in the United States. There are three Afro-Latinos in Congress: Democratic Reps. Adriano Espaillat and Ritchie Torres of New York and Maxwell Alejandro Frost of Florida.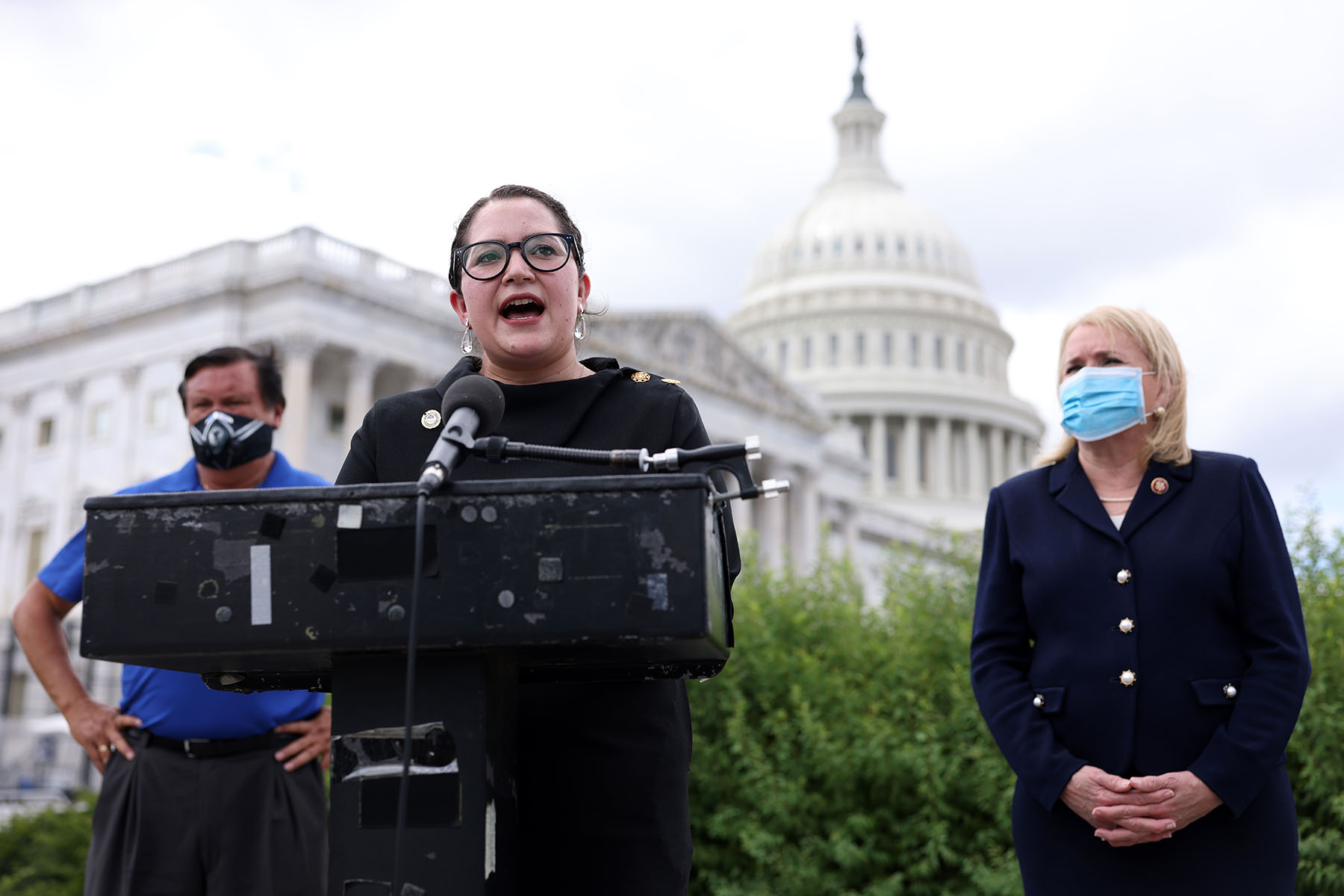 An opportunity to elect the first Afro-Latina to Congress came at the start of the year with an open House seat in Rhode Island. State Lt. Gov. Sabina Matos, an Afro-Latina and a Dominican immigrant, entered the race as a clear favorite with statewide name recognition and the backing of major Democratic groups. Matos ultimately came in third place in the crowded primary.
Latino Victory's plans for its new initiative were already underway when Matos lost her race, but the outcome sharpened its goal. It also added some urgency to troubleshoot what major Democratic groups like Latino Victory and others who backed Matos could do differently in the future to support Afro-Latinas when they step up to run for office.
Matos said in a statement to The 19th that she will work with Latino Victory on the initiative given that she has "first-hand experience with the barriers this new project will tear down."
Matos' race was a key topic of conversation during a private roundtable organized by Latino Victory in Washington, D.C., last month. The roundtable was the first in a series of discussions among Afro-Latina leaders and advocates and other Latinx leaders about how to better recruit and support Afro-Latina leaders. This one focused on the unique challenges Matos and other Afro-Latinas who have run for higher office have faced, said Yrthya Dinzey-Flores, a Latino Victory Project board member who facilitated the discussion.
"It's very difficult for women to run for office — women of any racial or ethnic makeup. And then of course, the intersectionality of being Latina and Black, this complicates that by many, many factors," Dinzey-Flores said.
Among the challenges that came up was the need "to reinforce the fact that you are Latina, and Afro-descendant, not just for White voters or Black voters, but even within the Latino community. It is, in fact, possible to be a woman, to be Latina and to be Black," Dinzey-Flores said.
Challenges around how to navigate identity can keep a candidate's message from really penetrating, she added. 
Latino Victory held another roundtable on Afro-Latina leaders in San Juan, Puerto Rico, this month in partnership with the Puerto Rican & Hispanic Task Force of the New York state legislature. Latino Victory is planning a national virtual roundtable in December, and a final one in January in Los Angeles focused on leaders on the West Coast.
Kristine Reeves, a member of the Washington state House who identifies as Afro-Latina, echoed the challenge of running at the intersection of being Latina and Black. She said she struggled with how to talk about her identity with voters and found it challenging to navigate the party networks that often push candidates to identity with either the Hispanic or Black caucuses for support. Reeves ran in the open primary for the state's 10th Congressional District but did not move on to the runoff.
Reeves said she is hopeful that the Afro Latinas Lead initiative will help digest her and other candidates' experiences to make the process easier for Afro-Latina candidates.
"We don't have a lot of data to tell us what the secret sauce is, right? What's gonna help us get over the finish line?" Reeves said. "The challenge for women of color, particularly Afro-Latinas, is that we still live in a country that has certain stereotypes and expectations, and we're gonna have to figure out how to get around that. And sometimes that means taking the risk of being traumatized or seeing yourself amplified in ways that aren't you."
Candace Valenzuela, a Democrat from Texas, echoed the challenges of navigating the binary. Valenzuela ran in 2020 for Texas' 24th Congressional District and lost the general election by less than two points.
She said that a supporter at one point told her that the way she was talking about her identity was confusing to voters. Valenzuela said she refused to cede ground on embracing both parts of who she is. She said that while some Latinx members of Congress identify as having family with Afro-Latina heritage, she is looking forward to seeing a woman in Congress who firmly embraces both identities.
After its series of roundtables, Latino Victory is planning to release a blueprint in February, Black History Month, that will outline a path to success for Afro-Latina candidates who step up to run, particularly women with the potential to become elected to Congress. Latino Victory said the blueprint will include detailed plans for training, campaign support, funding and post-election mentoring.
"This initiative is a recognition of the fact that our community is very diverse," Dinzey-Flores said. "And that to represent that fully, we need people who reflect the diversity of those voices."