Nadine Young left her home in Ohio under the crushing weight of grief. By the end of 1989, the young mother of four had lost both of her parents, a stillborn baby girl and her sister. She packed up and moved to Mississippi for nearly a decade, where she gave birth to a fifth son. She taught her boys to be respectable and to always do what police asked. 
"I had major, major talks with them, so if they had any encounters they complied and did whatever they needed to do so they wouldn't lose their life," Young told The 19th. "We knew how prejudiced it was [in Mississippi] … But when we moved back up here, we never expected this kind of mess."
Decades after she returned home to Ohio, the kind of injustice she worried would take her sons left her family grief-stricken yet again. Last month, a police officer in Ohio's Blendon Township shot her oldest granddaughter, Ta'Kiya Young, killing the 21-year-old and the baby she was due to welcome in November.
"I've always worried about those types of encounters with my five sons, but never could I imagine with my granddaughter, ever in life, something like this would ever occur … I'm still reeling in the brain about this right here," Young said. "It's unbelievable."
Ta'Kiya was the mother of 3-year-old and 6-year-old sons. She was partially raised by her grandmother and spent some time in foster care. Young said her granddaughter talked about going back to school to become a social worker. She wanted to give not only herself and her kids, but kids growing up like she did, a better future.
Shortly before she was killed, she found out she was having a girl. That day, she showed her family the ultrasound and cooked a feast: a catering pan full of steaks, Alfredo pasta, broccoli and cheese rice.
"She was cooking her tail off," her grandmother said. "She was so happy."
Tuesday, two days before Ta'Kiya's funeral, Young found pink onesies in her garage, more evidence of her granddaughter's plans to go all out for her baby girl.
Ta'Kiya's killing, along with her grandmother's lifetime of worry and grief, represents a sobering reality for Black mothers in the United States. For pregnant Black people, who are more likely to die in childbirth and to lose their babies than pregnant White people, violent encounters with police add another threat to both their and their babies' lives. These disparities, experts say, are inherently a reproductive justice issue. Black women are at the same time overpoliced and undervalued, they said. That leads to dangerous pregnancy outcomes that stretch far outside of the medical system.
According to the Centers for Disease Control and Prevention, Black people experience the highest maternal mortality rate in the United States, more than 2.5 times higher than that of White people. They also experience higher rates of fetal death, or stillbirth, and are more likely to have risk factors such as preterm birth that contribute to the deaths of infants.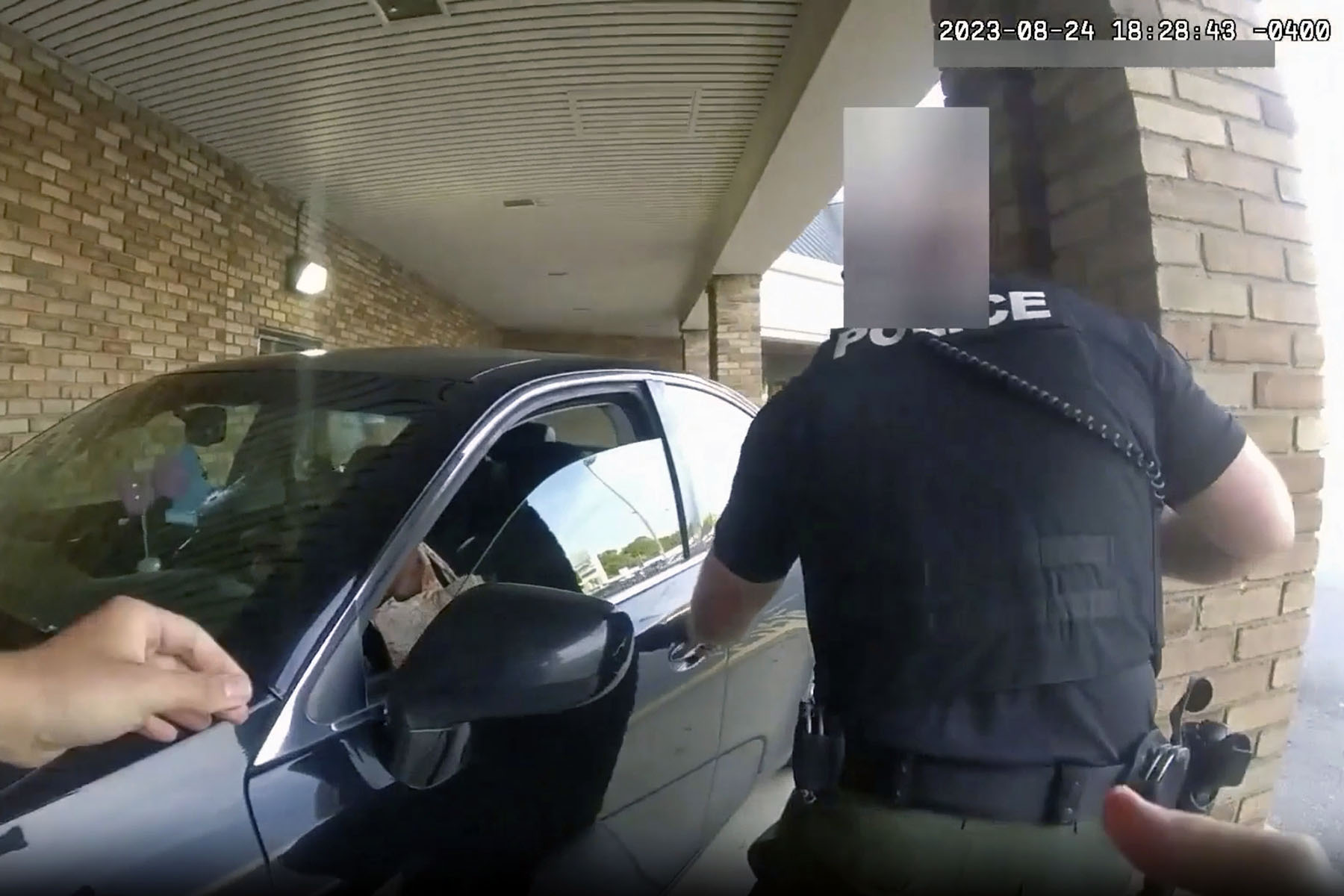 And like Ta'Kiya Young, Black women are also more likely to be killed by police. According to an analysis by The Washington Post, between 2015 and 2020, they represented 20 percent of women fatally shot by police, though they were only 13 percent of the female population. According to a 2019 study, Black women are 1.4 times more likely to be killed by police than White women.
"For Black women, it's so much more than abortion. Our reproductive health concerns are broader than that," said Regina Davis Moss, president of In Our Own Voice: National Black Women's Reproductive Justice Agenda. "[Ta'Kiya Young's killing] is a perfect example of that. Not only did she not have bodily autonomy, she was not able to carry her child in a safe environment. And she's not going to have the opportunity to raise that child because that was taken away from her by force."
Ta'Kiya was behind the wheel of her car in a Kroger parking lot when two officers approached her, saying that she had been accused of stealing bottles of alcohol from the store, according to body camera footage. One commanded her from the driver's side window to get out of the car, and the other stepped in front of her car and drew his gun. She maintained that she did not steal anything, and that she would not get out of the car. She turned her steering wheel away from the officers and started to move forward, bumping the officer who stood in front of her car.
"Are you going to shoot me?" were among the last words she was recorded saying by the officers' body camera footage before the single shot rang out.
Brian Steel, executive vice president of the Fraternal Order of Police Capital City Lodge #9, said Ta'Kiya "tried to run down a fellow human being," and that he could understand why the shooting "could be justified," in news conferences last week.
The department had not revealed the identity of the officer who shot Ta'Kiya as of Wednesday, citing a law used to protect victims of violent crimes. A statement by the Blendon Township Police Department said that the officer is a victim of attempted vehicular assault.
Others who have watched the footage, including people who knew Ta'Kiya, said that she could have been trying to deescalate the situation and take herself and her unborn baby out of harm's way by fleeing.
"She was worried about her and her baby. She was trying to save her and her baby … I could see it in her face when I seen that video," Nadine Young said.
Andrea Ritchie is an attorney and author of the book "Invisible No More: Police Violence Against Black Women and Women of Color." She has studied police violence for more than 20 years, particularly against Black women and women of color. She listed a host of alternative scenarios in which Ta'Kiya's death could have been avoided, such as officers letting her flee or not stepping in front of the car. According to Blendon Township Police Department's Policy Manual, officers are trained to deescalate situations. Ritchie, along with the Young family's attorney, said the officer did the opposite when he stepped in front of the car and drew his weapon. She condemned the steps that officers took that ultimately resulted in Ta'Kiya's death.
"Violence is always presumed and projected onto Black women," Ritchie said. "None of this warranted taking a young Black woman and mother's life over property."
When thinking about the causes of violence in policing against pregnant Black people, experts point to the legacy of slavery. The earliest police forces in the United States included slave patrols, designed to protect the economic interests of White slaveholders by capturing and returning enslaved people who were seen as property. And during chattel slavery, when many Black women were used as breeders, Black pregnancy was only protected as a means of protecting that property.
"As soon as it no longer benefitted the system of white supremacy and racial capitalism for Black women and people to have children, then there's this sort of blatant disregard for Black pregnancy, Black life, Black motherhood, Black parenthood, in policing," Ritchie said.
What Ritchie's work has found is that Ta'Kiya Young's killing is not an anomaly. Ritchie said that studying police violence through the lens of Black women, whose experiences are often lost in the larger context of police brutality, has revealed a pattern of the intentional targeting and disregarding of Black pregnancy. Her book includes a chapter on the violent policing of Black motherhood.
There's Tiffany Rent, who was eight months pregnant when police tasered her while she was attempting to leave after a confrontation with an officer who issued her two tickets. There's Malaika Brooks, who was seven months pregnant when she was tasered three times and dragged face-down following a routine traffic stop. And there's Kwamesha Sharp, who lost her pregnancy after a police officer threw her down and pushed his knee into her abdomen.
"Pregnancy, which is supposed to be a very guarded and sacred time for women, is constructed in a way that Black women, no matter how much education they have … if they're married … no matter what it is, that's a status that is a protective shield that Black women aren't going to be afforded, because inherently our ideas of pregnancy and who should be protected during pregnancy have always counted on race and gender and socioeconomic class," said Cassandra Young, a criminologist who specializes in violence against Black women and girls.
Porcha Woodruff, a 32-year-old mother in Detroit, was surprised to face that reality earlier this year when she was wrongfully arrested while eight months pregnant. She is suing the city of Detroit regarding her wrongful arrest, and says she was treated with complete disregard for her pregnancy.
"You would think that you would get a little more compassion when you're carrying another life," Woodruff told The 19th. "I didn't feel any of that."
Woodruff was arrested in front of her 6-year-old and 12-year-old daughters, whom she had been helping get ready for school. She feared for herself, her daughters and her unborn son as she faced six police officers on her doorstep.
"You hear so many stories of things going wrong when it comes to Black men and women on a daily," she said.
Following her arrest, she was taken to a detention center, where she remained for about 11 hours. While in a holding cell, she did not eat because she was concerned about the quality of the food she was offered. She said that she was shown more compassion from others in the cell with her than the officers. The whole time, she feared for her baby's life.
She went to a hospital upon her release — the stress from her encounter caused her to have early contractions, she said. She was already having a difficult pregnancy, having been diagnosed with gestational diabetes. At the hospital, Woodruff was treated for dehydration. Her blood pressure was high, and both she and her son's heart rates were low.
News of Ta'Kiya Young's killing brought tears to Woodruff's eyes. She immediately sent an article about the police shooting to her attorney, thinking back on where she was nearly seven months ago. She said she thought about how Ta'Kiya's life ended and how that could have also been the outcome of her encounter.
"There's no empathy for pregnant Black women at all. I don't feel that that situation would have been a fatality amongst her nor her child had she been a White woman," she said. "Here we are carrying another life and you guys don't care about our lives, nor the lives that we're carrying."