Editor's note: This article has been updated to reflect the transfer of the boys out of Angola prison.
Your trusted source for contextualizing justice news. Sign up for our daily newsletter.
Last week the state of Louisiana transferred a group of mostly Black boys out of the former death row unit of Louisiana State Penitentiary — a maximum-security adult prison also known as Angola.
The American Civil Liberties Union, the Southern Poverty Law Center and several law firms pushed for a year to stop the state from detaining children at the prison, which is located on a former slave plantation. The legal advocates praised a federal judge's mandate last week that Louisiana officials move the teens out of Angola and back to a juvenile-focused facility by September 15. State officials did that on Friday, moving them to a facility in Jackson Parish.
The court battle to transfer the boys, as well as the state's decision to hold teens in the infamous adult prison, highlights longstanding concerns about Louisiana's juvenile justice system, which is primarily made up of boys and has been plagued for years by budget cuts, staffing shortages and mistreatment of youth.
"The current approach from the state around juvenile justice does not recognize that the children who are often placed in the justice system have been failed from the time they come into this world," said Ashley Hamilton, policy manager for the Louisiana Center for Children's Rights. "In order for us to truly rehabilitate them. We have to treat them with love and give them the services that they did not get prior to going into the justice system, not respond with more punitive measures."
In response to The 19th's request for data about current juvenile detention in Louisiana, the state's Office for Juvenile Justice said it was unable to answer reporter questions at this time while officials were working to move the youth out of Angola. One news report in July cited state data indicating that 364 boys and 16 girls were in "secure care" centers designated for more serious offenses.
Following years of systemic problems with youth detention in the state, the decision in 2022 to move kids to Angola came after several alarming incidents, including several escapes from custody.
Gov. John Bel Edwards, a Democrat, announced plans last summer to temporarily transfer about 25 kids into the penitentiary, describing the decision at the time as the best option available to "ensure the safety of the youth, the staff and the community" while the state worked on longer term solutions. In total 70 to 80 children have cycled in and out of the penitentiary, the ACLU said.
When the temporary transfer was first announced, Edwards emphasized that that youth would be isolated from any contact with incarcerated adults during that time and would continue to receive the educational and other rehabilitative services mandated by law. However, the move drew immediate criticism from advocates who work on youth incarceration.
"I wasn't surprised in the least because they're Black boys, and so we push narratives and tell people that they are monsters, they are criminals," said Antonio Travis, founder of Black Man Rising, a Louisiana group that provides mentorship to young people in the juvenile justice system. "This country has a history of treating Black boys like they're not humans. And so I know that decision, in my opinion, was not made with care."
Tammie Gregg, deputy director for the ACLU's National Prison Project, called the state's reasoning "offensive."
"They say it's all about public safety, but they're creating a much bigger risk of public safety with the conditions the kids were subjected to: the isolation they were subjected to, the failure to get the services they were promised; all of that is a travesty," she said.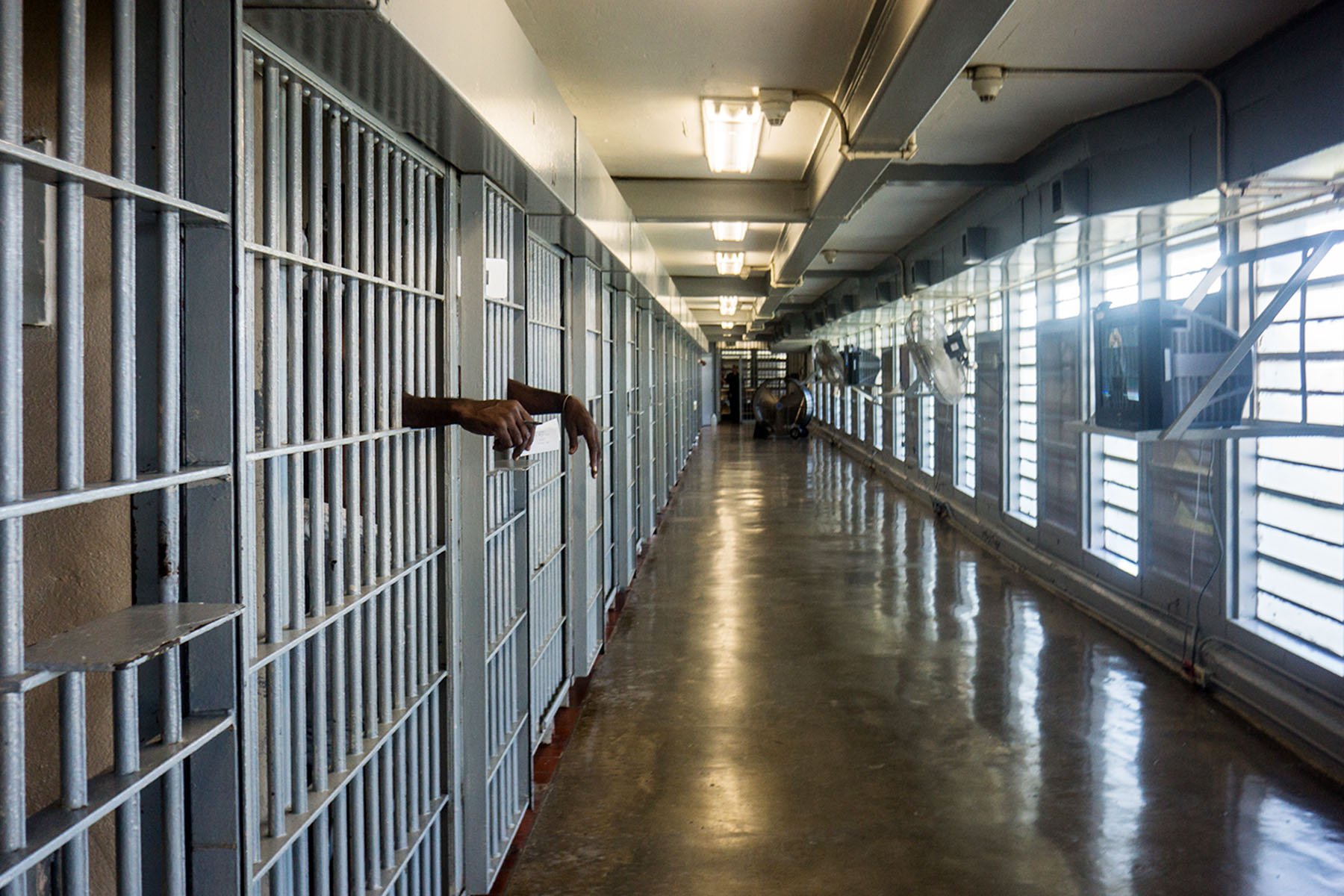 Legal groups filed a federal class action suit against the state in September 2022. Nearly a year later, a federal judge ruled that the conditions at Angola amounted to cruel and unusual punishment, and the state failed to provide adequate education and mental health services required by state and federal law. The kids were also held in their cells for days at a time, according to the ACLU.
Several teens housed in Angola submitted statements to the court describing their experiences.
One 17-year-old wrote, "My cell is incredibly small and I have no room to move. I can't drink the water out of the faucet because it has a color, tastes bad, and would make me sick. I worry about my mental health because I'm forced to be in these cells." He continued, "The educational services do not exist here. They put us in front of a computer all day and there is no library."
Another 16-year-old said after first arriving at Angola, he was locked alone in his cell for three days, and was only let out to shower. He also complained about the lack of air conditioning and the heat inside his cell.
The conditions captured in their letters speak to a broader problem for the juvenile justice system throughout the state going back decades, said David Utter, an attorney with The Claiborne Firm who worked on the lawsuit against the state.
---
The juvenile system in Louisiana, and across the country, is meant to prioritize rehabilitation and stand separately from the adult criminal system. Youths are typically placed in what is called "non-secure detention" in a less restrictive setting, or in "secure detention" in a locked facility.
Despite the rehabilitative goals, research indicates harmful effects for incarcerated children, particularly those who are Black and brown, said Victor Rios, a sociologist and a MacArthur Foundation professor at the University of California, Santa Barbara. Black and brown boys can quickly be viewed as adults by the public and the police, and label as "delinquent" without a nuanced consideration of the educational and socioeconomic resources available to them.
During their detention, kids experience trauma in the form of abuse or drug dependency, Rios said. He added that having "the mark" of a record with illegal activity, even in the juvenile system, can ignite a cycle of criminalization, harassment and surveillance that extends into adulthood. Re-arrest rates are also high; an estimated 70 percent of juveniles reenter the system within three years of their release.
In the 1990s, Louisiana received national attention for its ongoing problems managing juvenile justice. The state had about 2,000 kids under its supervision, the majority of whom were Black and male, Utter said.
A 1995 Human Rights Watch investigation found that physical abuse was "pervasive" in Louisiana correctional facilities, and had no functioning complaint system for the detained children.
The next year, the U.S. Department of Justice launched its own probe into several secure juvenile centers. At one location, 28 children were sent to the hospital for evaluation for serious injury within a 20-day period, according to the Justice Department report. The children interviewed by the government also recounted sexual abuse by staff members.
The mounting scrutiny prompted the Louisiana legislature to pass reforms seeking to develop community-based alternatives. These efforts involved state officials consulting with juvenile justice advocates in Missouri, which had become a national model for completely transforming its youth detention system from punitive to a community and rehabilitation-focus program.
Key elements of what's known as "the Missouri model" involve hiring staff from the same communities as the kids, providing group counseling services and housing them in open dorms located near their families instead of longer distances, said Mark Steward, a former director of the Missouri Division of Youth Services, who currently runs the reform-focused nonprofit Missouri Youth Services Institute.
Steward recalled meeting with former Democratic Louisiana Gov. Kathleen Blanco, who invited him to develop a reform program based on the Missouri model. That state made good progress, Steward said, until Hurricane Katrina in 2005, which delivered a devastating emotional and financial blow to the state. The historic disaster, coupled with Blanco's exit from office in 2008, led to budget cuts that made juvenile justice reform efforts unsustainable.
Today, decades after the Justice Department investigation into Louisiana's juvenile justice system, the state is facing a new wave of pressure to make sweeping changes.
In 2017, Edwards signed one of the state's most comprehensive criminal reform packages, which included funding for youth diversion programs and alternatives to youth detention.
This month, two days before the judge's order to transfer the kids out of Angola, the state announced a grant of $250,000 awarded to the Southern University Law Center to assist the Louisiana Juvenile Justice Reform Implementation Act Commission with reform efforts.
Advocates told The 19th that they are waiting to see serious action from the state to treat at-risk youth with care and fully invest in the reform programs that exist. Carceral institutions are not supportive environments for children, Travis of Black Man Rising noted. He wants to see kids receiving services that address their root problems in close proximity to their loved ones.
"It's frustrating that we've done all this work over the years, but we're still fighting to get equity implemented," Travis said. "My biggest thing is honoring the kids' humanity and making sure that they have the resources that they need in order to actually rehabilitate themselves."