Your trusted source for contextualizing LGBTQ+ and politics news. Sign up for our daily newsletter.
House Republicans have embedded at least 45 anti-LGBTQ+ provisions into must-pass funding bills — many of which would weaken discrimination protections for same-sex couples or restrict gender-affirming care for adults and minors. The volume and severity of these provisions is an unprecedented attempt by federal lawmakers to restrict the rights of LGBTQ+ people, activists say. 
The measures are not likely to make it through the Democrats who control the Senate as Congress finalizes a federal budget. But lawmakers' willingness to tie these provisions to the federal budget raises the stakes for a community that has already seen its rights rolled back across many states this year. It is not guaranteed that all of the efforts can or will be blocked in the Senate, LGBTQ+ activists say.
Seven of the 12 appropriations bills include provisions to restrict federal funding for gender-affirming care — which would cut gender transition care for people who receive Medicare, Medicaid or a subsidized plan under the Affordable Care Act. Trans people in the military, the National Guard and their dependents would also be impacted, as would federal government employees, trans veterans, trans people incarcerated in federal prisons and trans people in immigration detention.
Another seven bills would ban the use of federal funds to fly Pride flags over government buildings. All but one bill include measures that nullify protections for same-sex couples in programs across the federal government. Ten of the bills include efforts to restrict funding to programs that seek to advance diversity, equity and inclusion for people of color or LGBTQ+ people. 
A provision in the appropriations bill that directs spending for the Commerce and Justice departments would prevent federal funds from being used to investigate or advocate against people or organizations that define sex in a way that excludes transgender and intersex people. Another add-in would prevent any funds from being used to sue any state or local government "over any law relating to transgender issues."
The push for anti-LGBTQ+ "riders" — provisions that dictate policy not directly related to the federal budget — also coincides with growing anti-trans rhetoric in Congress and is part of a bigger trend of anti-LGBTQ+ sentiment becoming more mainstream and more violent in politics, experts say.
A new report from the Human Rights Campaign found that all of the annual spending bills brought in the House contain anti-LGBTQ+ provisions. Meanwhile, measures to restrict access to abortions have been written into nearly all of the spending bills passed by the Republican-controlled House Appropriations Committee, setting up another fight with Senate Democrats to pass the federal budget.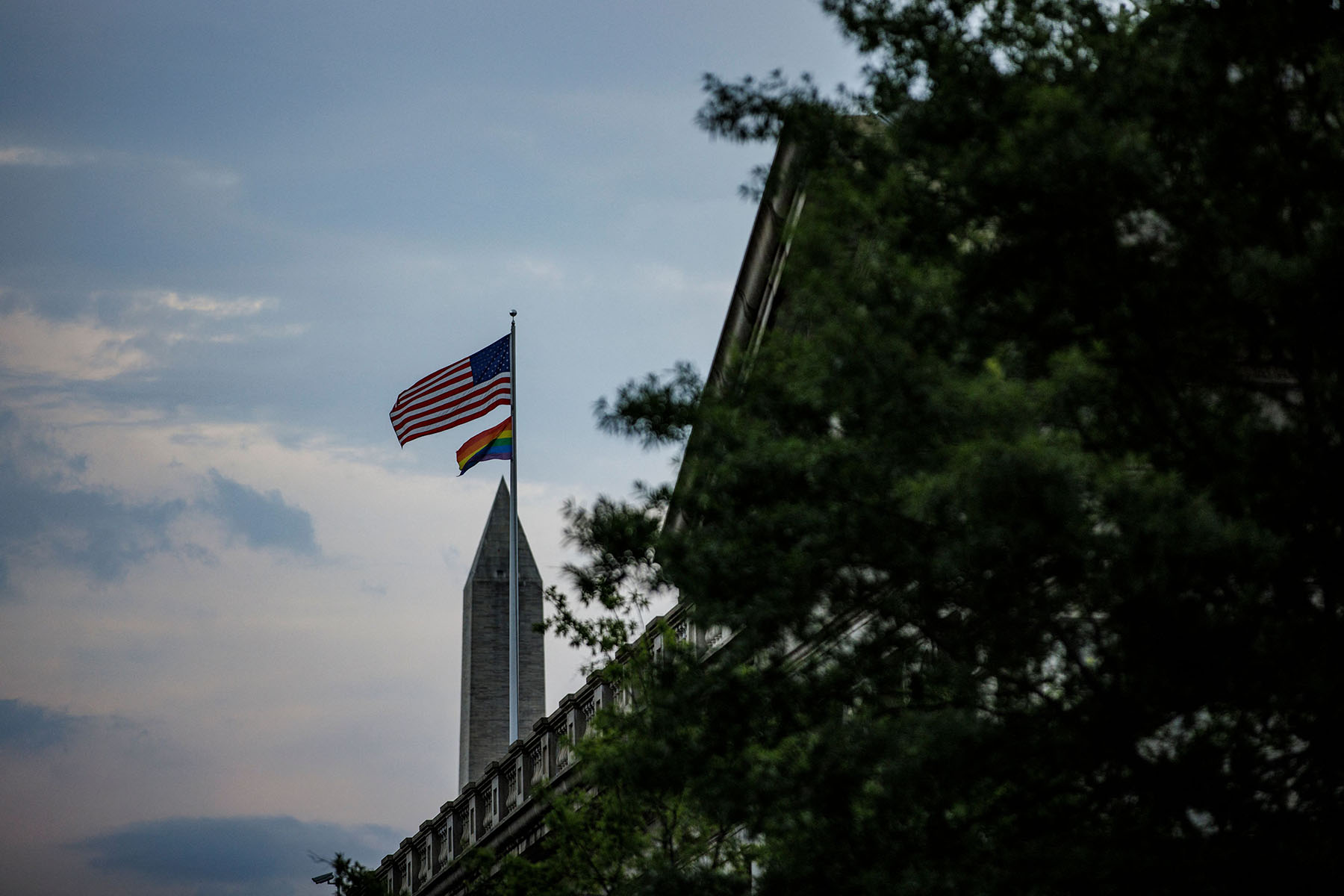 The House has so far passed only one out of 12 spending bills, and Congress is in recess until September. Although the fiscal year starts in October, debates over the federal budget could drag on until the new year.
Toni Newman, a Black transgender woman and director of the coalition for justice and equality across movements at the National Minority AIDS Council, hopes that the Senate will push back on anti-LGBTQ+ policies being added into the budget. Although she's optimistic, she knows that the Democratic majority in the Senate is still a slim one.
"If we lose two or three votes, we're in trouble. These bills could pass," Newman said. "We have to make them aware that this is an issue. We've always been here, we're not going anywhere, and we need your support."
If any House spending bills pass through the Senate with anti-LGBTQ+ measures intact, President Joe Biden would still have to sign them — and the White House has said flatly that he would veto several of the House spending bills.
That many of the anti-LGBTQ+ provisions in this year's spending bills were included in the base text when they were first introduced, and not added in later, marks a departure from what activists have seen in the past, said Jennifer Pike Bailey, deputy director of government affairs at the Human Rights Campaign.
"So they were really hitting the ground running from the get-go to infuse these bills with this hateful effort," she said. "It really was a signal to those of us who are working on these issues where their priorities lie, that they don't want to make a serious effort at funding the government. They are using this process to push an agenda."
Usually, the LGBTQ+ rights organization tracks one or two bills with such provisions — but this year is different. 
"To have this many anti-LGBTQ+ riders on every single appropriations bill is just an entirely new level," she said. While most of the measures would impact day-to-day life for LGBTQ+ people, others — like banning Pride flags from flying over government buildings — seem to be simply a message that LGBTQ+ people are not welcome, she said.
Olivia Hunt, policy director at the National Center for Transgender Equality, said this was the first time she had seen riders used to single out transgender people within the federal budget process.
Anti-LGBTQ+ policies within federal budget bills are significant because they're embedded in bills that must pass to fund the entire federal government, she said during a media briefing in July.
"If you decide that you are going to sneak in some provisions that you think the other party will not want to go to the mat for, that they won't consider a hard enough line to shut down the federal government over, this is your opportunity to do that," she said.
The 2024 National Defense Authorization Act (NDAA), which passed the House in July after being amended to prohibit the Defense Department from funding gender-affirming care, is another example of federal lawmakers inserting anti-trans measures into routine policy. Now that the Senate and House have each passed their own versions of the NDAA, they must compromise on a united version of the bill.
Anti-LGBTQ+ measures being added into the appropriations process need to be fought early, Hunt said, especially since history shows that once they are approved as part of the federal budget, they tend to last — like the Hyde Amendment, which bans federal money from being used for most abortions. That rider to a congressional appropriations bill has been in place since 1976.
"The last thing that we want as a community is to see restrictions on our health care become as normalized as the Hyde Amendment," Hunt said.
This year, House and Senate Republicans have already tried to block federal funding to gender-affirming care through bills that have not advanced. Those stalled bills include one that would cut funding to any hospital or higher education institution affiliated with clinics that provide gender-affirming care for minors and legislation to withhold money to any state that "requires" physicians to perform gender-affirming services for an individual — without specifying age.
At the same time, anti-LGBTQ+ rhetoric has only grown — in Congress, and across the country.
As increasingly violent disinformation about LGBTQ+ people is being spread and normalized through legislation and speech, it increases the likelihood of violence against LGBTQ+ people, said Susan Corke, director of the Southern Poverty Law Center's Intelligence Project. The number of hate groups that target LGBTQ+ people has also continued to rise, as has anti-LGBTQ+ sentiment among hard right political groups who have various targets.
Rhetoric against transgender and queer people is not new in the United States, but it is increasingly being weaponized and politicized by figures on the hard right and by some elected officials, she said. The kind of rhetoric being spread includes the belief that LGBTQ+ identities can be spread through social contagion or that any affirmation of LGBTQ+ people is an attempt to groom children.
"It's a very multi-layered campaign, but it's the escalation of rhetoric. It's the normalization of it within the Republican Party. It is the legislative push to keep LGBTQ persons out of the public sphere. It is the way the far right media is echoing and amplifying these tropes. It is the disruption in the public spaces to instill fear, protests outside libraries and taking over school boards. So it's really an unfortunately, very successful, deliberate campaign of hate," she said.
At a House Judiciary subcommittee hearing last month on gender-affirming care, one Republican House member said gender-affirming care for minors would be better described as a "sexual lobotomy." Republicans asked witnesses questions that encouraged them to affirm the false belief that transgender women are men and that it is not possible to be a different gender than the one assigned at birth.
Republican Rep. Mike Johnson of Louisiana, vice chairman of the House Republican Conference, warned in his opening remarks at the July hearing that "the reach of sexual identity politics isn't limited to young children alone."
"We see this extended to young adults especially at the university level now," he said. "The modern left applauds men competing in women's college athletics. We see universities captured by academics advancing this ideology on students across our country. Whether it's by scalpel or by social coercion from teachers, professors, administrators and left-wing media, it's an aggressive attempt to transition the young people of our country."
The Human Rights Campaign tries to comprehensively track congressional hearings where anti-trans rhetoric may come up, but the organization had to stop doing that earlier this year since the discussions were simply coming up at so many hearings, Bailey said. Republicans in the House and in the Senate have tried to inject anti-trans questions into any sort of hearing they can.
"And I think that is what has changed, is the breadth of the ways that they are trying to attack the community," she said.
Republicans have been "looking for any opportunity to add these bans," Bailey said. A key example: inserting a gender-affirming care ban into legislation that needs to be reauthorized every five years to fund training for pediatric residents.
As activists lobby allies on the Hill and ask other organizations to push back against federal anti-LGBTQ+ legislation, they are waiting until after the congressional recess to see how riders embedded within House federal spending bills evolve.
"We're just not going to know how likely these things are to stay in final packages until they're back from recess," Bailey said. And there is still a long process to go through after that. Her concern is what happens when the parties ultimately meet to create an omnibus federal budget bill or a continuing resolution that funds the government.
Advocacy and nonprofit groups that support different minority groups need to come together to fight, Newman said.
"We have a chance of winning this war that's been thrust upon us. It's been building for years but now it's climactic where there's hundreds of laws, state and federal, and bills coming up every week, attacking us, and we need support," she said.