The most competitive and high-profile governor's race of 2024 is set to take place in North Carolina — and will center on abortion and LGBTQ+ rights, with major implications for the state's future.
It will almost certainly be between two men with polar opposite views on gender and visions for the state. Attorney General Josh Stein has cleared the field for the Democratic nomination with a platform focused on justice and opportunity. Likely Republican frontrunner Lt. Gov. Mark Robinson, expected to officially launch his campaign Saturday, has gained national attention for his staunch anti-abortion views and long history of anti-LGBTQ+ comments.
And neither candidate is shying away from the weighty gender and social issues — or the stakes for democracy — defining the race. Both see their missions as existential: Robinson, who is Black, argued earlier this year that abortion is "incompatible with this nation the same way slavery was not compatible with this nation" and recently said in a speech at a church that he believes God "formed" him to fight against LGBTQ+ acceptance.
And the normally mild-mannered Stein took on Robinson head-on in his campaign launch video. He layered footage of the Capitol riot and references to a modern "set of a bomb throwers" with clips of Robinson's impassioned, incendiary speeches where he called abortion a "scourge," cited the Bible to argue that men are more qualified to lead than women (comments he later tried to walk back) and referred to LGBTQ+ identities as "filth."
"Robinson wants to tell you who you can marry, when you'll be pregnant and who you should hate," Stein says in the video. "I'm running for governor because I believe in a very different North Carolina."
For the past six years, Democratic Gov. Roy Cooper has served as the most powerful check on the state's Republican-controlled state legislature. Cooper won in both 2016 and 2020 as Republican presidential and Senate candidates carried the state, outrunning others in his party by being "able to thread up a political needle that few can" in rural areas, said Chris Cooper, a professor of political science at Western Carolina University.
But with Roy Cooper term-limited, North Carolina Democrats and organizers are focused on keeping the governor's mansion in Democratic hands in 2024, and breaking Republicans' newly minted legislative supermajority, to preserve health care, LGBTQ+ rights and abortion access in the state and the region. Cooper's presence in the office has been key so far to blocking or watering down some GOP priorities.
"If Governor Cooper could get the Democrats to hold the line, then the Republicans couldn't get much out of the General Assembly," said Chris Cooper, who is not related to the governor. "Governor Cooper's veto is the reason we have a 20-week abortion ban in North Carolina instead of a 13-week ban, for example."
Stein, Cooper said, faces the challenge of boosting turnout among Democrats and Black voters in the state's major metropolitan areas, a pain point for Democrats in the 2022 midterms, while "stopping the bleeding" in rural areas, where voters have been shifting to the GOP.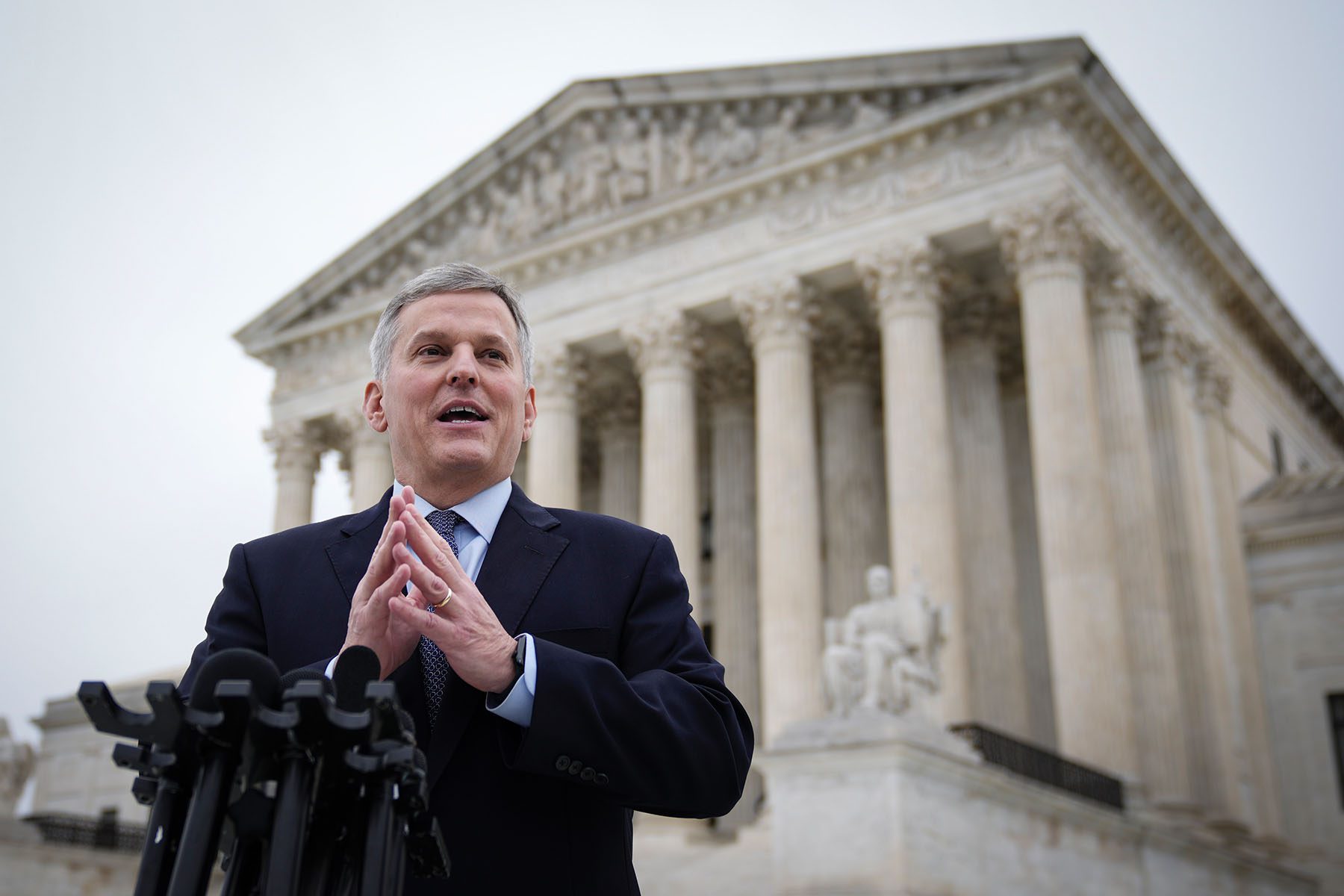 "The state is designed to have a weak governor — we have a weak governor today," Chris Cooper said. "But Cooper has been able to exert the little bit of power that he has very well. I think it remains to be seen whether Josh Stein can thread the needle as effectively."
State Treasurer Dale Folwell has already entered the Republican primary race, but Robinson is poised to be the frontrunner due to his fundraising. Robinson would be the state's first Black governor.
A potential race between Stein and Robinson "embodies so many debates and tensions at play in our country right now," said Jasmine Beach-Ferrara, executive director at the Campaign for Southern Equality, an LGBTQ+ rights advocacy group.
"I think it will be a litmus test moment for our state," she said. "There will be a very stark set of choices for folks."
Both Robinson's candidacy and Republicans' newly minted legislative supermajority have liberals alarmed.
"Mark Robinson, his vision for North Carolina would be so disruptive to our rights and to the health and safety of our communities," said Todd Zimmer, co-director at Down Home NC, which focuses on organizing in the state's rural areas. "That said, if his agenda starts to arrive sooner because Republicans now have this supermajority, we are confident that that will mean he will not be the governor. Curtailing reproductive rights is massively unpopular, attacking the civil rights of gay and trans people is massively unpopular."
Republicans earned their current legislative supermajority not at the ballot box, but through a Democratic lawmaker's recent surprise defection that only heightens the stakes for the governor's race. Most immediately, it could put more pressure on Republicans to pass right-wing legislation, including to restrict abortion.
Many Southern states enacted six-week or total abortion bans after the Supreme Court overturned Roe v. Wade in June. Florida lawmakers passed a six-week ban, which could go into effect as early as this summer, making North Carolina an even more essential access point for abortion.
Republican leaders in the House have panned the idea of passing a total or six-week abortion ban, but the chair of the House Republican Caucus recently said his party could agree on a 12-week ban.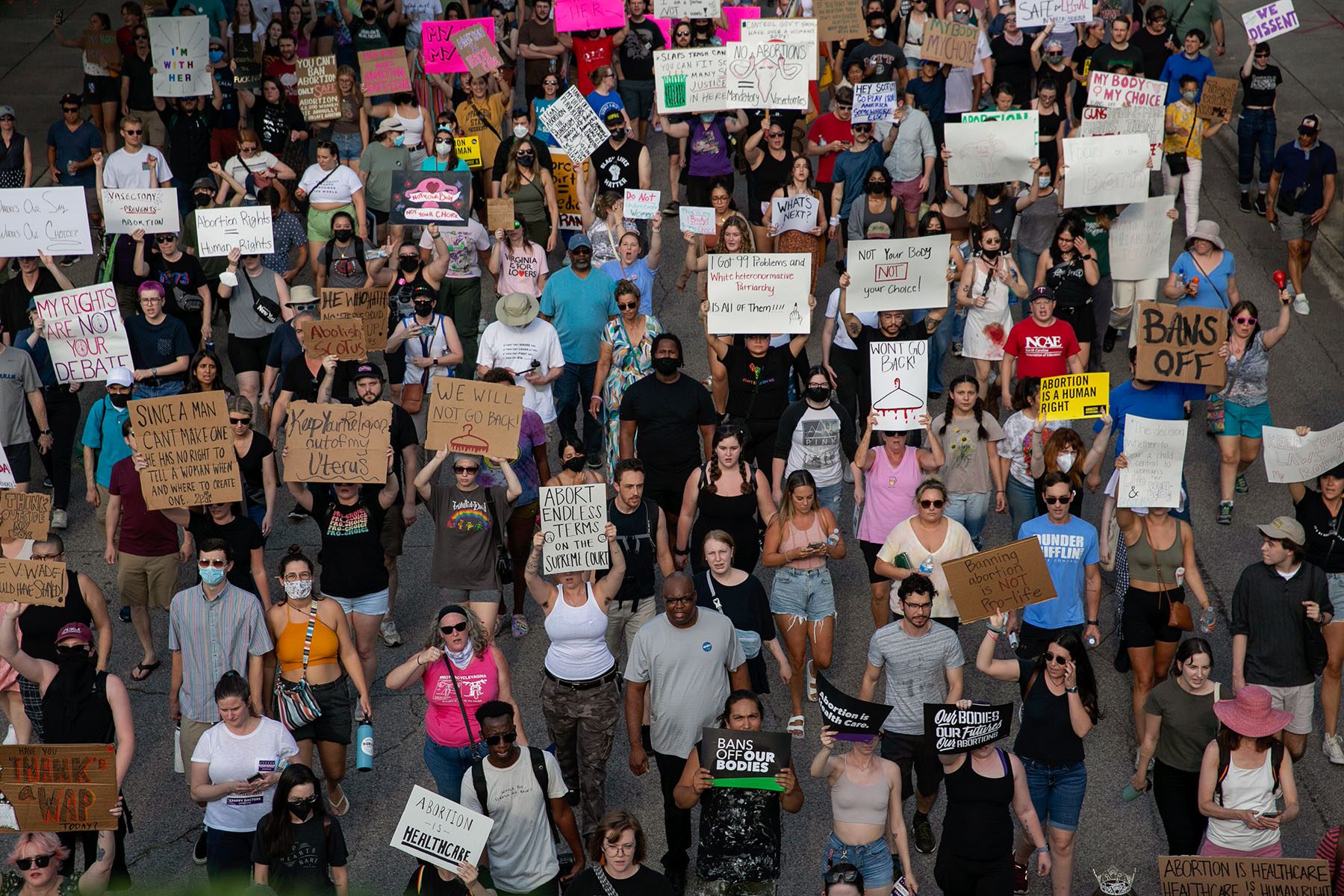 "The reality is that our path to sustaining a veto on new abortion restrictions or even an outright ban in North Carolina was narrow," said Jenny Black, president and CEO of Planned Parenthood South Atlantic. "I think there is still a path if everybody holds true to their values … but it's a pretty narrow tightrope we're walking."
Advocates for abortion access are keen to highlight Republicans' new supermajority to make abortion a major voting issue in 2024.
"I think that as long as this right is at risk, people are gonna care about it," said Christina Reynolds, vice president for communications at Emily's List, which backs Democratic women candidates who support abortion rights. "I don't think we forget, I think voters are aware of what's happening there and so I think it will remain an issue. Republicans did not learn their lesson from 2022."
LGBTQ+ rights are also on the line in 2024. In 2016, North Carolina Republicans faced enormous political and economic backlash to HB 2, the controversial anti-transgender "bathroom" legislation credited with costing Republicans the governor's mansion that year. Since then, it seemed as if the state had "learned its lesson" and could even be a "beacon in the South" for LGBTQ+ rights, said Kendra Johnson, executive director of advocacy group Equality North Carolina.
But this session, amid a broader backdrop of anti-LGBTQ+ bills being passed nationwide, the state Senate has passed an education bill that would restrict the teaching of some topics related to gender and sexuality in elementary school classrooms. Republicans have also introduced legislation restricting gender-affirming care for trans youth and a bill to ban trans students from participating in women's sports.
"What I would describe at this precise moment in time is that we're under attack in the legislature," Johnson said. "That said, we've made incredible advances since HB 2, and we did not anticipate being in this place again."
Robinson's candidacy particularly worries advocates like Johnson. The position of lieutenant governor in North Carolina, Cooper noted, is a relatively weak office with little more power than the state's tax collector. But Robinson gained a national profile with his personal backstory of rising out of poverty and his ability to command a crowd. And, despite the recent cautionary tale of HB 2, Robinson has made his inflammatory anti-LGBTQ+ rhetoric a key part of his political identity.
"I think none of us would know the name of Mark Robinson if he had not attacked trans and [gender-nonconforming] folks in the most horrific and vile manner possible," Johnson said. "We're in this moment where we have shock-jock politics."
Robinson has only doubled down on his anti-LGBTQ+ stances. In the same speech in which he said he believes God "formed" him to fight against the LGBTQ+ agenda, Robinson also said churches flying LGBTQ+ pride flags are a "direct spit in the face of God almighty," WRAL News reported.
"I was not crafted to be Mr. Nicey-Nice," Robinson said, according to WRAL. "God formed me because he knew there was going to be a time when God's learning was going to be intolerable to the wicked. When children were going to be dragged down to go see the drag show. When pornography was going to be presented to our children in schools."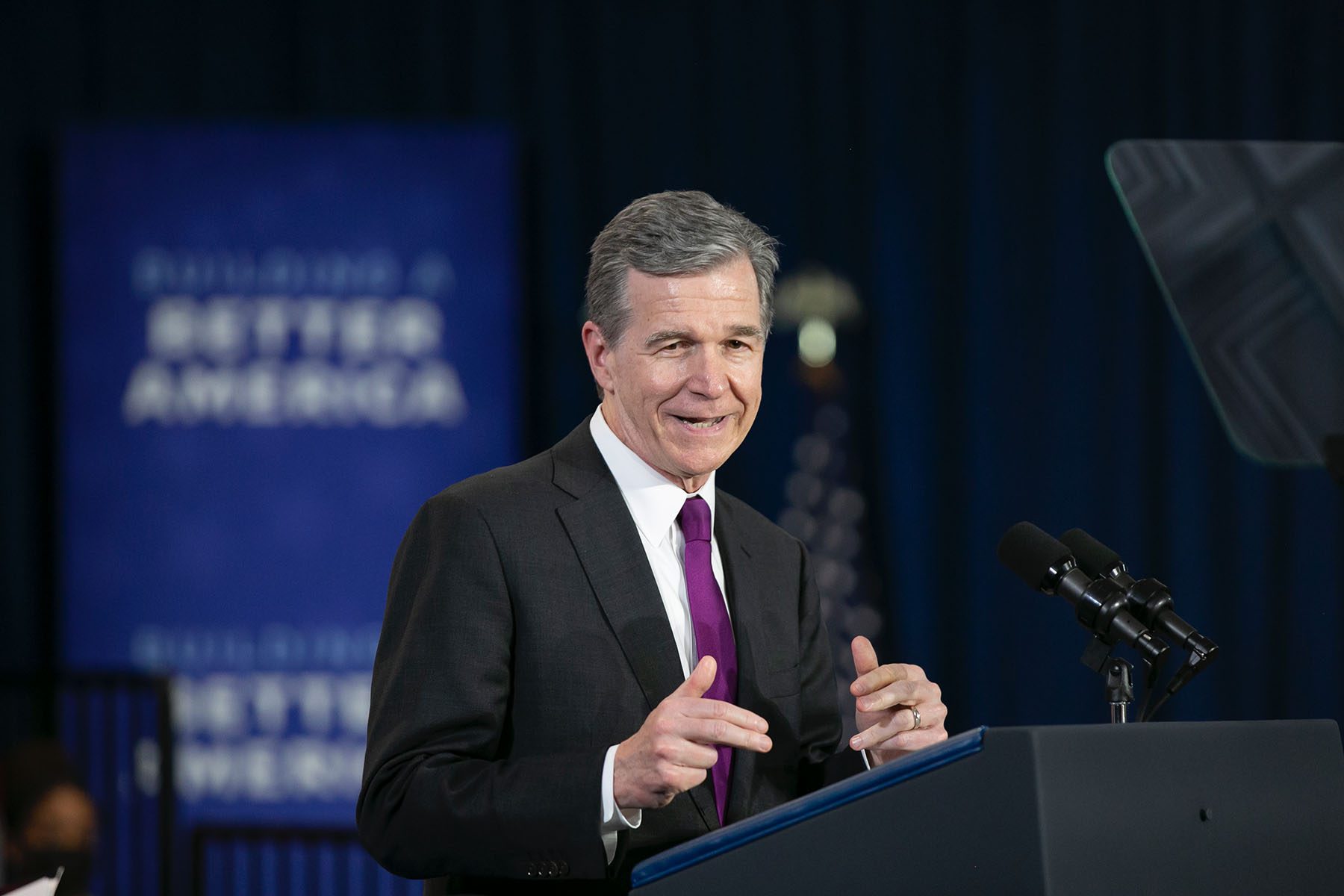 Folwell, the state treasurer known for his staunch fiscal conservatism and amiable demeanor, is pitching himself as a reasonable, low-drama alternative to Robinson. But the policy implications of a Folwell governorship may not be remarkably different, Cooper noted.
Folwell told WAFE he opposes abortion, with exceptions, but didn't specify a specific point of pregnancy at which he would ban the procedure. He also said he believes marriage is between a man and woman according to his Quaker faith, but also that one of the tenets of his faith is to be "fair and just."
"Dale Folwell is not a moderate. He's just quiet. He doesn't draw attention to himself," Chris Cooper said. "The lazy read of this election is it's 'extreme Mark Robinson' versus 'moderate Dale Folwell.' It's really not, it's inflammatory Mark Robinson versus quiet, affable Dale Folwell."
Chaz Beasley, a former Democratic state representative, also argued that Republicans unexpectedly gaining a supermajority ahead of 2024 could turn into a lesson for Republicans to be careful what they wish for. The base of the party and conservative advocacy groups, he said, will push the party to go as far as they can with their supermajority to pass policies, like abortion restrictions and anti-LGBTQ+ bills, that may be broadly unpopular.
"It's not only the dog catching the car, it's the dog catching the car, hopping on the car and trying to drive it," he said. "So I understand why the Republicans are celebrating and why they're taking a victory lap. But this is not one race. This is more of a marathon than a sprint."
And advocates and Democrats are ready to seize on whatever comes out of the legislature — or Robinson's mouth — next.
Dreama Caldwell, co-director at Down Home NC, said a major focus of the group's 2024 messaging and organizing will be "creating alternatives to the chaos that North Carolina families are looking for."
"I think the Republicans are aware they have a very limited amount of time to be able to move their issue agenda before they don't have that opportunity anymore," Zimmer said. "And it's our job to make sure that whatever cruelty and pain comes out of this cycle, this stolen cycle, that there's an expiration date for it, and that it's November 5, 2024."