We're telling the untold stories of women, women of color and LGBTQ+ people. Subscribe to our daily newsletter.
The Pennsylvania legislature begins 2023 mired in uncertainty. The narrowly divided state House has yet to formally organize itself pending three February special elections. The speaker's election was contested. Neither chamber is currently in session.
And amid this chaos, state Sen. Amanda Cappelletti is preparing to become the first member of the Pennsylvania Senate to give birth in office. As a first in her legislative chamber, Cappelletti is in uncharted waters when navigating parental leave in a tumultuous political climate.
Cappelletti says she's "incredibly lucky" to have the support of her constituents, staff and her Senate colleagues, who threw her a bipartisan baby shower as she prepares for the birth of her daughter, due in mid-March. But, she said, "there's no blueprint."
"So it's just a constant raising your hand saying 'Hey, what happens when a senator needs to go on maternity leave when they have a baby?'" Cappelletti said.
Both the Pennsylvania House and Senate have left town and aren't scheduled to be in session again until late February, Spotlight PA and The Center Square news site reported. When they come back to Harrisburg, senators are set to take up both legislation and a possible impeachment trial for Philadelphia's district attorney, which is currently on hold.
"At this moment, it hasn't made things too difficult," Cappelletti said of the current legislative dysfunction. "But I can see moving forward, once we get to the point where the House is organized and we're figuring out what it looks like to cooperate and work together, those dynamics might change. It might be kind of a difficult start, just because it's been a difficult start trying to get it all together."
And being the first senator to give birth in office was a milestone she didn't even consider she would fulfill until a colleague told her she'd break that glass ceiling.
"For me, it came as kind of a shock," Cappelletti, a first-term Democrat representing Delaware and Montgomery Counties, said. "There's not a lot of space left for firsts for straight, White cisgender women. And that's a great thing — we're being more inclusive and diverse as a society — but I just never thought of myself as the first."
Liuba Grechen Shirley, president and CEO of the Vote Mama Foundation, told The 19th that her organization is "working to normalize what it looks like to run as a mom and serve as a mom." The Vote Mama Foundation, which researches and advocates for mothers of young children serving in elected office, has found that mothers of children under 18 make up only about 5 percent of all state lawmakers.
"I'm not surprised, but I'm thrilled to see it happening more," she said.
Cappelletti's experience also underscores the glaring underrepresentation of mothers with young children in state legislatures nationwide — and the consequences for what bills get introduced and signed into law.
A September 2022 study from the Vote Mama Foundation found that while 31 percent of state legislators serving in 2022 identified as women or nonbinary and 23 percent were mothers, 19 state legislatures had five or fewer mothers of children under 18 serving in them — Alabama had zero — and just 12 state lawmakers gave birth in office in the year leading up to the report's publication. An estimated 18 percent of U.S. adults were mothers with children under 18, as of the Census Bureau's 2020 American Community Survey.
With control of Congress divided, states and state lawmakers will have the most impact on laws on paid leave, education, health care and other policies directly impacting young parents, children and families. The Supreme Court's 2022 decision overturning Roe v. Wade sent abortion back to the states, many of which are considering bills to expand or restrict abortion access in 2023 legislative sessions.
Cappelletti, who has been open about her previous experiences with pregnancy loss, co-chairs the Pennsylvania Women's Health Caucus and has spoken out in support of a bill to guarantee three days of paid leave for workers experiencing pregnancy loss.
"I'm hoping with being able to speak about my story and then being able to put forward a policy that acknowledges this, we're creating a scenario that is more open for women and childbearing individuals to talk about their trauma," she said.
Cappelletti said she also hopes Pennsylvania's House, which Democrats are poised to formally control upon the filling of the three vacancies, and Republican-controlled Senate can tackle the "abysmal" lack of guaranteed paid family and sick leave for workers in the state.
The number of women serving in Pennsylvania's state legislature has doubled since 2010. But the state was ranked 38th out of all 50 states for representation of mothers with minor children in the Vote Mama Foundation report, with just 3 percent of state lawmakers being mothers to children under 18.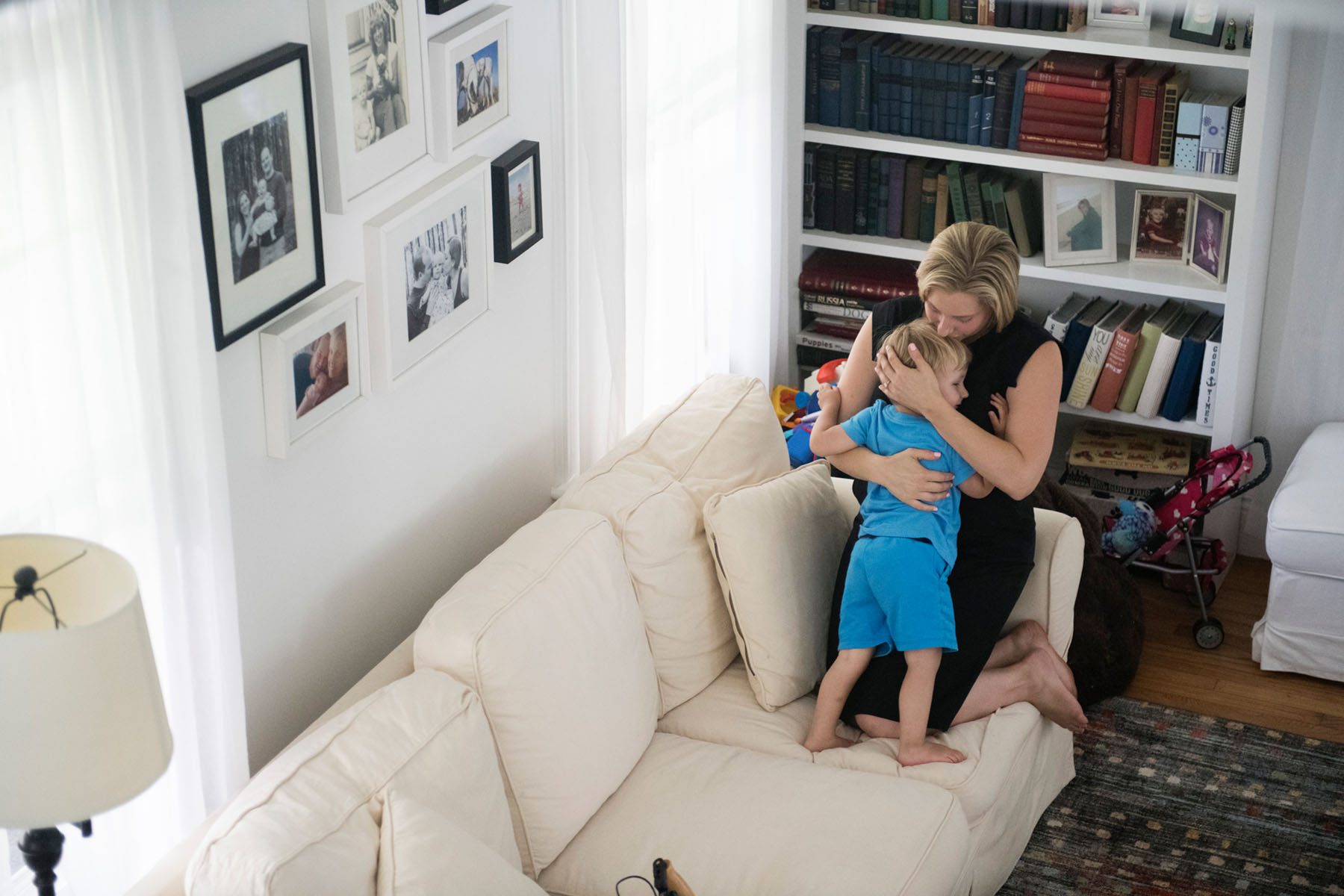 "It's incredibly difficult to run with small children," said Grechen Shirley, who ran for Congress as a Democrat in 2018 with a 3-year-old and a 1-year-old. "For one, you're not taken as seriously, donors don't take you as seriously, voters don't, the press doesn't. There are many people who think you don't have the time to actually commit to running for office."
Both Cappelletti and Grechen Shirley spoke to the double standards they've faced as candidates on the campaign trail, which they say contributes to women being more likely than men to wait until their children are grown to run for office.
"Even at this point, I've been asked, 'Well, who's going to watch your kid when you run for reelection?'" Cappelletti said. "And I was like, she's either coming on my back or dad is perfectly capable — that's his job too."
As state legislatures have grown more diverse and included more parents, both Democratic- and Republican-controlled legislative bodies have taken steps to make running for and participating in the legislative process more accessible.
Colorado became the first state to guarantee 12 weeks of paid family leave for state lawmakers in 2022. And the Texas state House, a part-time legislative body in session every two years, now offers 12 weeks of paid parental leave to House staffers and employees during session times and created a fund to allow offices to hire additional staff to cover for employees on leave.
"The Texas House's new paid parental leave policy is meaningful progress that I think all of our members and staffs can be proud of — it reiterates our chamber's commitment to supporting our mothers and fathers, including adoptive parents, and children, regardless of the other policymaking at hand while we are in Austin," House Speaker Dade Phelan said in a statement to The 19th. Phelan added that he and the House "will be looking at further opportunities to expand and advance the policy well after the session adjourns in May."
In 2018, Grechen Shirley was the first woman federal candidate to receive approval to use campaign funds for child care. Since then, the Vote Mama Foundation has successfully lobbied for 28 states to allow state candidates to also use funds on child care. She and her team have also launched a new app, Vote Mama Lobby, to make it easy for mothers to engage in the legislative process in their states.
She wants state legislatures to institute changes, including expanding remote voting and committee hearing participation, offering child care stipends, and simply putting more changing tables in legislative buildings. Men lawmakers can also be allies, Grechen Shirley said, by taking leave themselves and "talking about fatherhood more."
"These are smaller structural changes, but they have the ability to completely transform the political landscape, to transform who even sees themselves as able to run for office," she said.
Improved representation for mothers of young children and people of childbearing age also helps set the tone for what legislation gets prioritized — and what issues gain a bigger platform.
"There are still so many firsts for so many people to be had," Cappelletti said, "and I'm just grateful to be a small part of helping to demonstrate that to others."