GWINNETT COUNTY, GEORGIA — A Democratic primary in Atlanta's suburbs is pitting two of the party's rising stars against one another. Only one of the women can return to the House of Representatives, where Democrats' recent successes have been largely driven by women candidates.
Both flipped districts blue in recent elections: Rep. Carolyn Bourdeaux did so in Georgia's 7th District in 2020 and Rep. Lucy McBath in the 6th District in 2018.
Now, they are competing to be the Democratic nominee for the recently redrawn 7th District. They have nearly indistinguishable voting records: Both have voted with President Joe Biden 100 percent of the time. Bourdeaux is campaigning with a focus on local issues, while McBath has a national profile and is running with the backing of multiple outside groups that have poured millions of dollars into the primary race.
When Georgia Republicans redrew the state's congressional map, McBath was, by most accounts, the top casualty. It was released in December, after the COVID-19 pandemic impeded the 2020 U.S. census, then its adoption was further delayed by court challenges. In a state where Biden beat Donald Trump by less than half a percentage point, there are now nine safe Republican districts (up from eight), five safe Democratic districts (down from six) and zero that are competitive, according to the nonpartisan Princeton Gerrymandering Project, which gave Georgia's map a C rating.
The 6th District went from favoring Democrats by one point to favoring Republicans by 24, making it nearly impossible even for a Democrat with a national profile — like McBath — to succeed. The 7th District, meanwhile, went from favoring Republicans by four points to favoring Democratic House candidates by 16, according to a FiveThirtyEight analysis.
Most of the voters in the new 7th District are currently represented by Bourdeaux, but a small, Democratic-leaning sliver of McBath's 6th District also ended up in the new 7th District. Five Republicans are vying for the nomination but have little chance of winning in November.
The chaotic and partisan redistricting process led to a primary contest in which the two front-runners for the Democratic nomination in the 7th District do not live within it — McBath is in Marietta, roughly an hour's drive west and still in the 6th District, and Bourdeaux's residence in Suwanee was carved out by mere blocks and put into the 9th District. State Rep. Donna McLeod, who is also in the race, is the only Democratic contender currently living within the 7th District's new boundaries.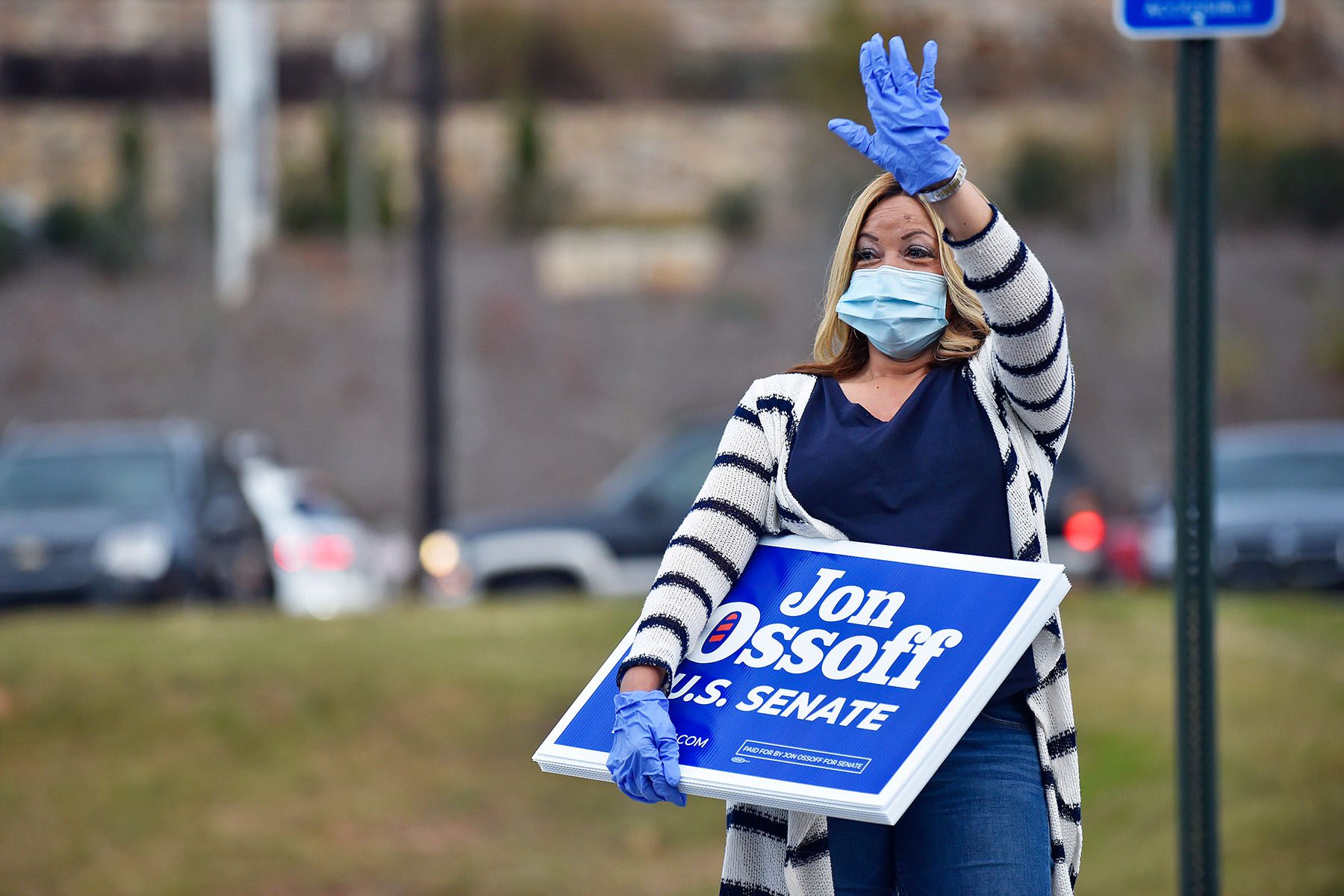 It wasn't too long ago that Bourdeaux referred to McBath as her "sister" representing Georgia in the House, and the two women have remained largely civil in official campaign communications. But tension over McBath's decision to run in the district was evident during a primary debate earlier this month.
Most states do not prohibit House candidates from running in a district that is not their own so long as they live in the state. But McLeod said McBath was "deceiving the people" for not disclosing on campaign mailers she was from another district.
"Can you please let them know if you are playing musical chairs with them and whenever the music stops, that's where you're going to sit down, and so any seat will do for you?" McLeod asked.
Bourdeaux said McBath's decision to run in the 7th District all but ensures a Republican will win there. "Everything we have worked for, you are undermining by coming over and fighting me here," Bourdeaux said.
"People know me, they know the work I've done," McBath said.
McBath has a national profile, having appeared at the 2016 Democratic National Convention with other "mothers of the movement" who have lost children to gun violence — her son was killed in 2012. She was part of the 2018 Democratic wave driven by a number of high-profile women candidates. Outside groups supporting her include those started by billionaire Michael Bloomberg and a cryptocurrency entrepreneur. Bourdeaux has little super PAC support but has received more than $300,000 from people associated with No Labels, which supports bipartisan policies and does not have to disclose its donors.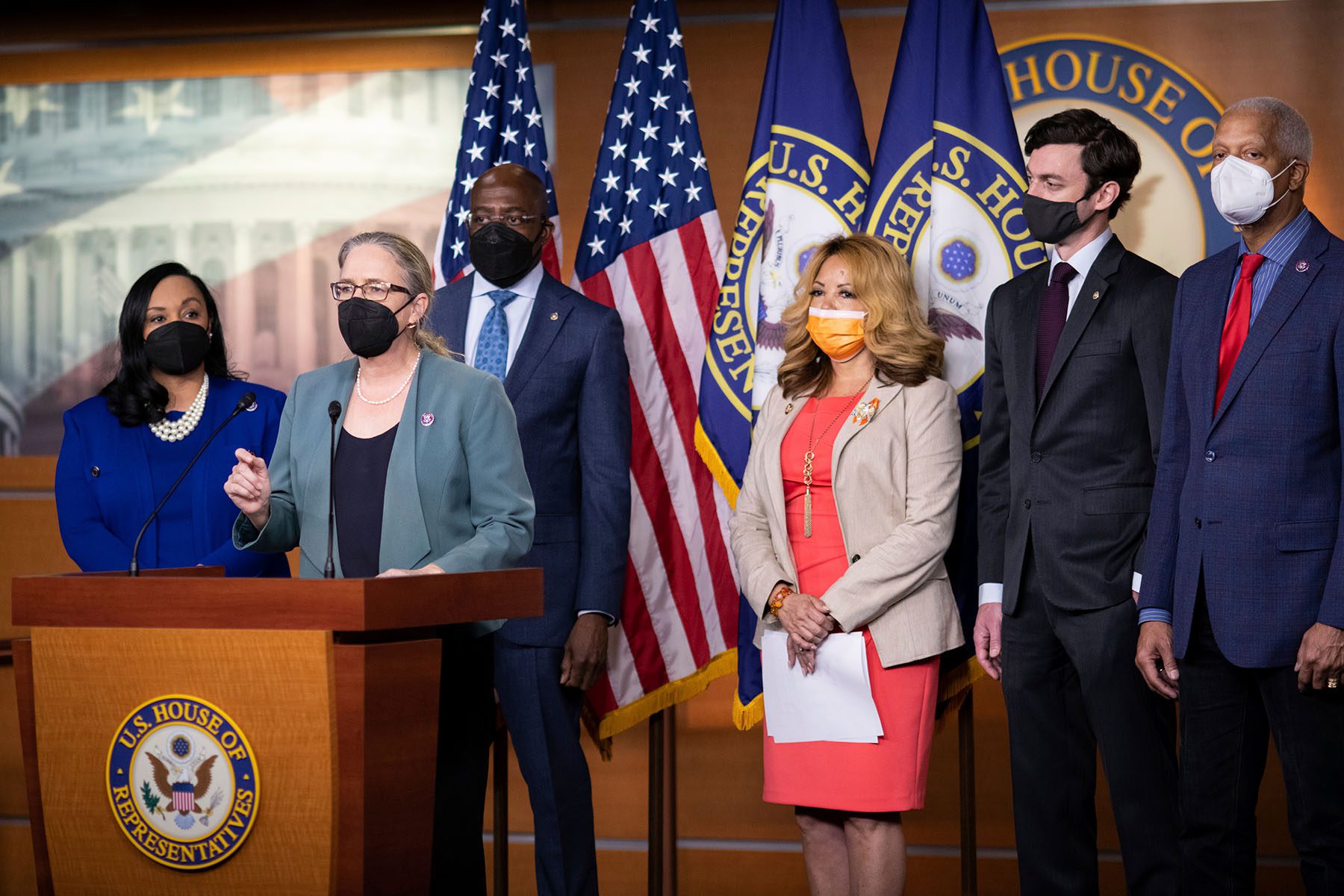 The incumbent-on-incumbent faceoff also put some outside groups in a pickle. End Citizens United, for example, which backs candidates who want to limit the influence of big money in politics, endorsed McBath in June, then Bourdeaux in September. Once the two were in the same race, the group stuck with McBath. The group told The 19th it will focus on the general election and not spend money on McBath's behalf during the primary, though a recent series of fundraising ads urging people to "keep Georgia blue" on Facebook featured both Democratic gubernatorial front-runner Stacey Abrams and McBath, in a nod to both women's national name recognition.
Throughout the primary campaign, and in particular in the days leading up to the May 24 contest, Bourdeaux has tried to make the case that she is better positioned to represent the district on issues of concern that don't feature in the national conversation, like water infrastructure and highway repairs.
"One of the biggest barriers to economic development in South Gwinnett is that everybody's on septic systems and not on the sewer system," Bourdeaux said, adding that it frequently comes up when the campaign goes door-knocking.
Bourdeaux told The 19th in an interview at a local festival celebrating Eid, a Muslim holiday that marks the end of Ramadan, that her strategy begins with showing up.
"I have been to the mosque, I've been to the synagogues, to the temples, I was at church this morning. I go to all the different diverse churches of this district, and so I am very, very present across these diverse communities," she added.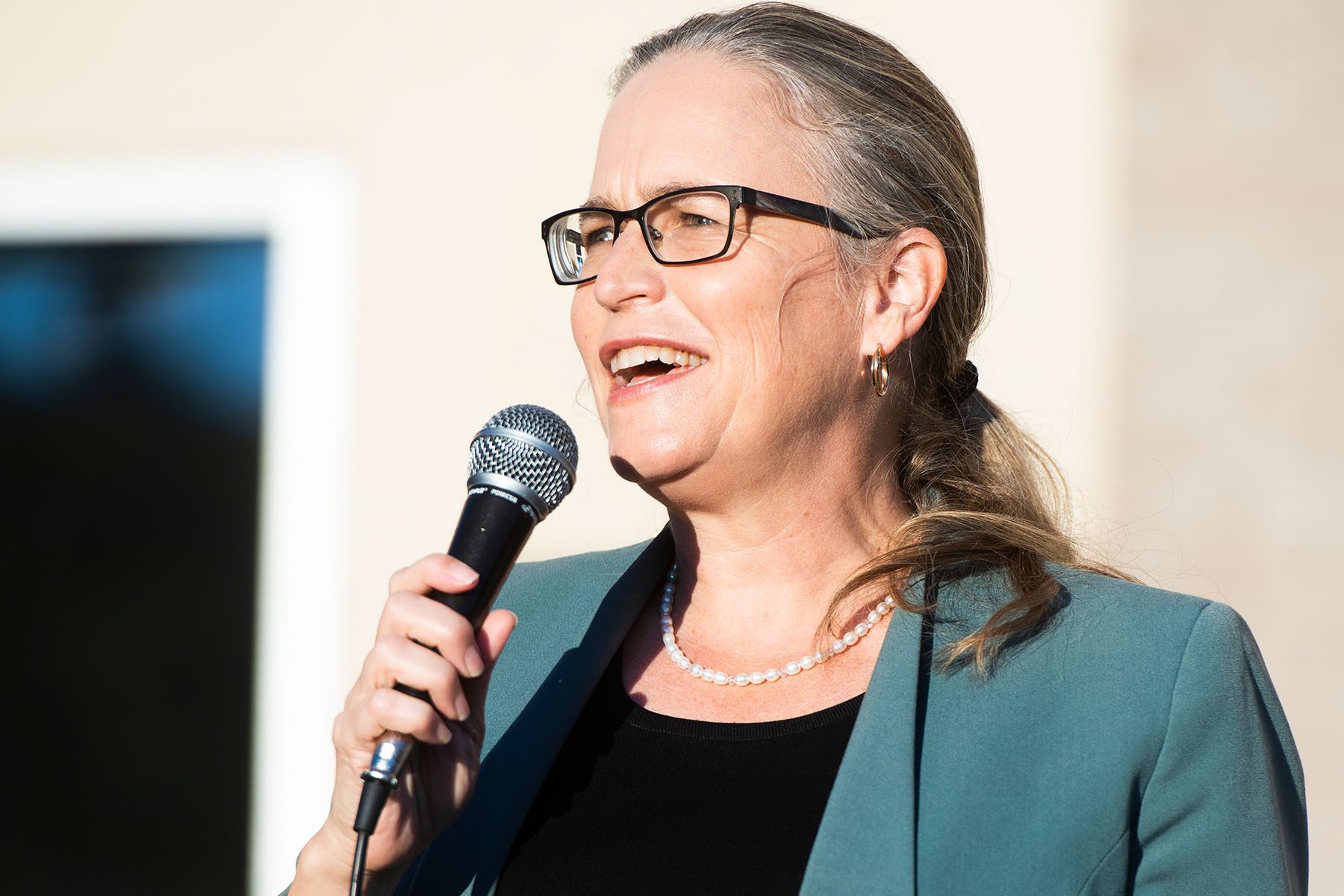 Gwinnett County, most of which is in the 7th District, has higher religious diversity than most areas, according to the Public Religion Research Institute. About 2 percent of its more than 900,000 residents are Muslim. It is about 32 percent White, 27 percent Black, 23 percent Latinx and 13 percent Asian American, according to 2020 census data.
Bourdeaux's campaign estimates that this year she has attended more than 100 events in the district — a mix of official House and campaign — including Democratic meet-and-greets and roundtables with Asian-American business leaders and on voting rights.
McBath's imprint on the ground has been more limited. Her campaign declined to make McBath available for an interview or to share information about campaign events with The 19th before this reporter's visit to Georgia. Her last minute withdrawal from a recent virtual meet-the-candidate event co-hosted by the local NAACP and Galeo Impact Fund, a nonpartisan group that aims to increase Latinx civic participation in Georgia, prompted criticism from Gwinnett County NAACP President Penny Poole. Both Bourdeaux and McLeod attended.
"It's almost that she's attempting to not know the 7th [District]. … We're tired of giving our votes to people who look like us and won't represent us," Poole told the news website Capital B.
McBath subsequently attended a candidate forum hosted by the Georgia Muslim Voter Project the same weekend Bourdeaux was at the Eid festival. A few weeks ago, she began touring businesses with a state representative, including a barber, smoothie bar, hair salon, Cajun restaurant and doctor's clinic, her campaign said.
One place where McBath is ubiquitous is in political ad campaigns. In addition to her own ads, she has the support of multiple political action committees. Protect Our Future, a super PAC started by a cryptocurrency executive, has spent nearly $2 million supporting McBath. Everytown for Gun Safety Victory Fund last week launched a $1 million ad campaign for the final week and a half in the race, touting her "powerful story as a survivor who is fighting for change in office." Independence USA, another super PAC started by former New York City Mayor Michael Bloomberg, who also started Everytown, is also running ads on her behalf.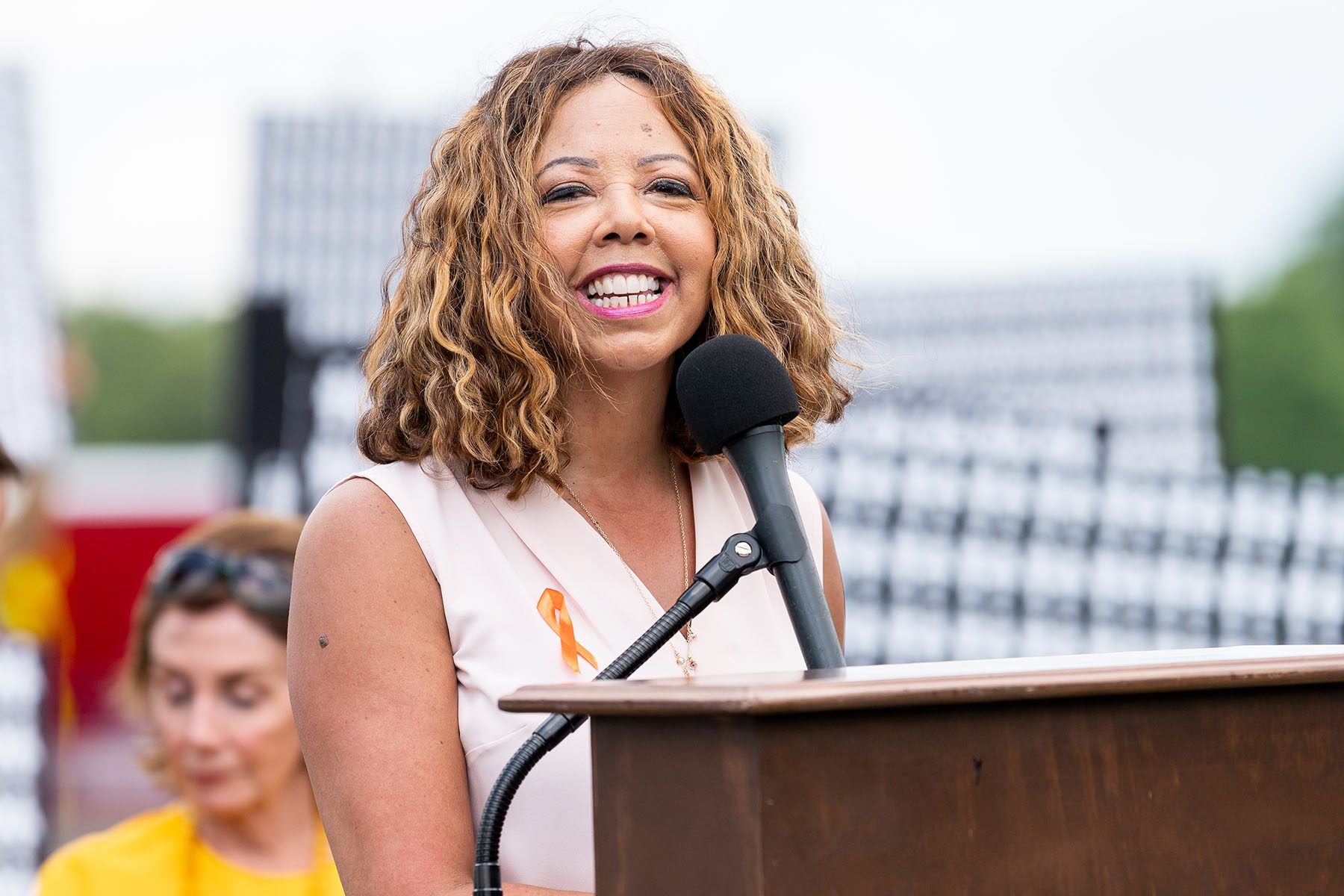 Bourdeaux told The 19th that in the closing days of the race, she plans to hammer home that while she is "very much on the same page, and support[s] a lot of the same positions as Lucy" on national issues like gun violence or voting rights, she will continue to legislate with her community's specific interests in mind.
"I show up for this community, I deliver specifically things that this community needs, what I work on is grounded in this community. We are running on that," she said.
Brenda Lopez Ramero, who chairs the Gwinnett County Democratic Party, said that while rank-and-file voters are confused by the scrambling of the districts, even highly involved Democratic voters, many of whom have volunteered in the past to elect Bourdeaux, McLeod or McBath in the district next door, have a difficult choice to make.
"Particularly with Carolyn and Lucy — they're very similar in their policy positions. … There is a wringing of hands, of who to choose between two choices that are both good choices, and similar in many regards," Lopez Ramero said.