On Friday, President Joe Biden made history and made good on a campaign promise, tapping Ketanji Brown Jackson to be the first Black woman to serve on the high court in its 232-year history.
So far, the reaction hasn't been unlike what we witnessed in the spring and summer of 2020, after Biden pledged to pick a woman as his running mate. Despite having the political résumés for the job, the Black women discussed as possible nominees then and now have been targets of racist and misogynist questions about their competency, their ambition and their attitude. As they did then, Black women are cheering the news and again preparing to rally around the barrier breaker who shares their lived experience.
Among the Black women in Jackson's corner are Antoinette Coakley, Lisa Fairfax and Nina Simmons. The four women met in their first years as undergraduates at Harvard University, where they were also roommates. I was recently offered a chance to talk to Coakley, Fairfax and Simmons, who spoke together for the first time about their friendship with Jackson. While I expected them to portray their friend in the best possible light, I also wanted to hear more about how this sister circle nurtured and shaped Jackson's life and career, the ways in which a lifetime of being a "first" or "only" prepares Black women as leaders and makes them targets, and their hopes and fears as one of their own prepares to become a household name.
They all graduated from Harvard in 1992 and then applied to and were accepted to Harvard Law, a rare accomplishment for any Black student, let alone four women in the same class. They're all still working in law: Coakley as a professor at Northeastern, Fairfax as a professor at Penn and Simmons as senior counsel for a private firm in New Jersey. Jackson currently serves on the D.C. Circuit of the U.S. Court of Appeals.
Jackson, Coakley, Fairfax and Simmons have been in each other's weddings and on hand for the births of children. They rallied when a member of the group was given a cancer diagnosis. Over the course of more than three decades, they have supported one another personally and professionally through success and setbacks. And they describe Jackson as focused, thoughtful and boldly assertive in mainstream environments from the beginning.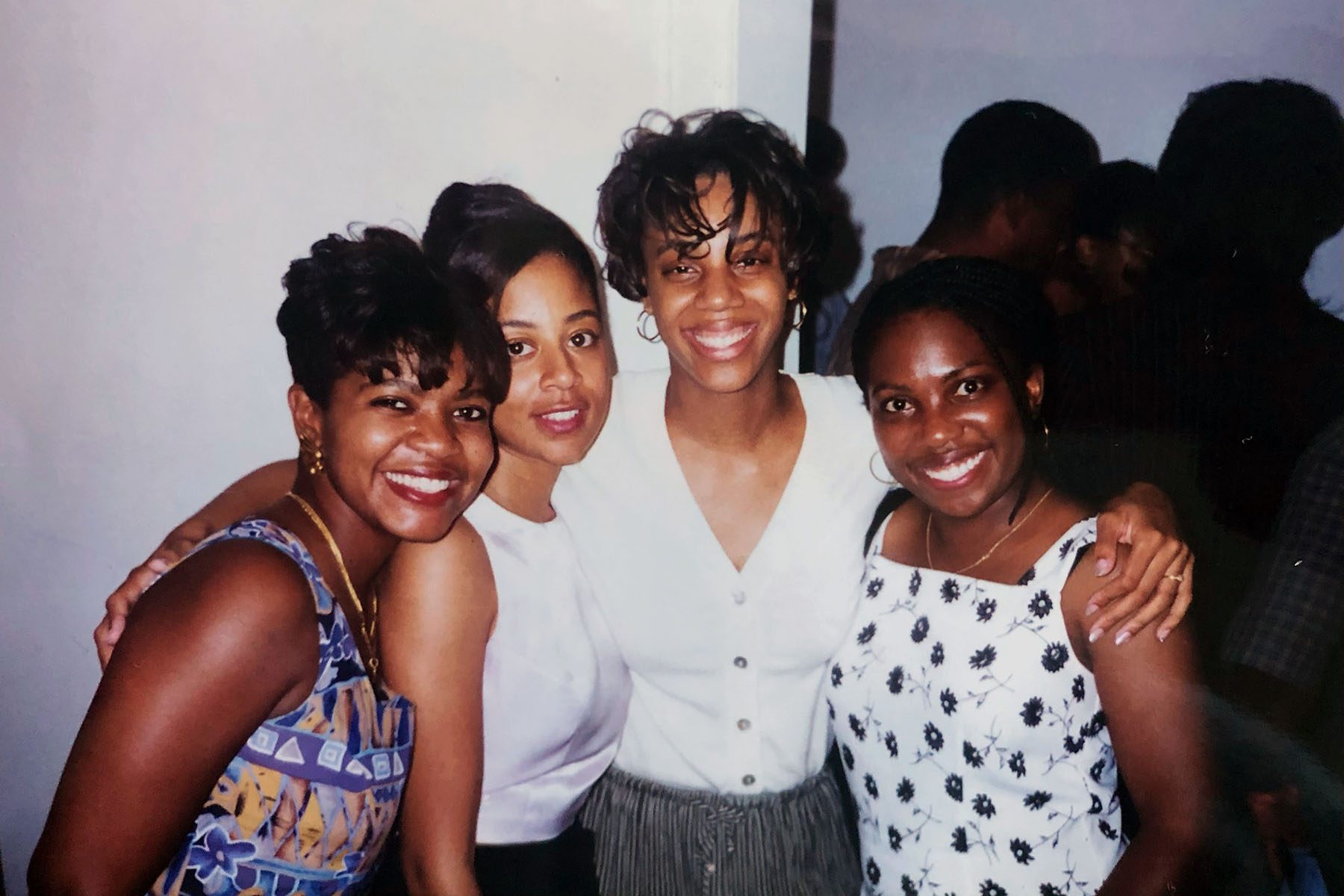 I asked them many questions about their friendship, lives and careers, all in the service of answering one big question: Outside of a courtroom or Senate hearing room, who is Ketanji Brown Jackson?
---
'You could feel that she was a convener'
Fairfax remembered Jackson as one of her first friends at Harvard. The California native was on the East Coast for the first time as an undergraduate, and said she felt "a little bit like a fish out of water." Then, in class, she met Jackson.
"She was interested in my story," Fairfax said. "I was feeling a little lost and like I didn't belong."
Fairfax considered leaving Harvard during her first semester, but when she returned to campus after the holidays, Jackson invited Fairfax to a study group mostly made up of Black women, where she met Coakley.
"It was the first time that I was around a community of learners that were like me, but also just incredibly thoughtful, and interesting and giving. It was in Ketanji's room. It was the first time that I was like, 'I can make it here.'"
"Ketanji was the one that brought all of us together," Coakley recalled. "She was an organizer, she always liked to bring together people, particularly people from our community. She was someone who clearly valued sisterhood and support and wanted to create that kind of an environment on campus."
Simmons noticed Jackson during her first week on campus at Harvard at a welcome event for first-year students.
"I remember when she walked into the room, and I went, 'Who is this?'" Simmons said. "I was drawn to her. As Black women in that environment, you do tend to gravitate together, but she was unique. She introduced herself and she spelled out her name and she made me pronounce it twice so I got it because that was important to her. And she told us the history of her name from day one. And so immediately, you know, she's proud of where she came from."
---
'She was about business, but also about fun'
The foursome were the core of their study group, with Jackson in the center. But she was also the group's social chair, planning outings that balanced partying with their academic priorities. She instilled in all of them an idea — reinforced by her parents, a frequent presence and surrogate family for the group — that they were a community of brilliant sisters, feeling grateful, deserving and ready to make the most of their Harvard experience.
All credited Jackson's mother and father, then a middle school principal and an attorney, for her confidence and comfort in her own skin.
"She knows who she is, and she remembers where she comes from," Coakley said. "Her parents are graduates of historically Black colleges, they're accomplished people in their own right that instilled the values in their children of hard work and discipline and giving back. And she brought all of that with her to school."
(In a 2017 speech, Brown referenced those same values as ones she and her husband are emphasizing to their children.)
Jackson's parents passed down the lesson that to be Black and to be brilliant are complementary, not mutually exclusive. "That was encouraging, coming into an environment where we were often the only one," Coakley recalled.
Simmons agreed, and said Jackson often led by example.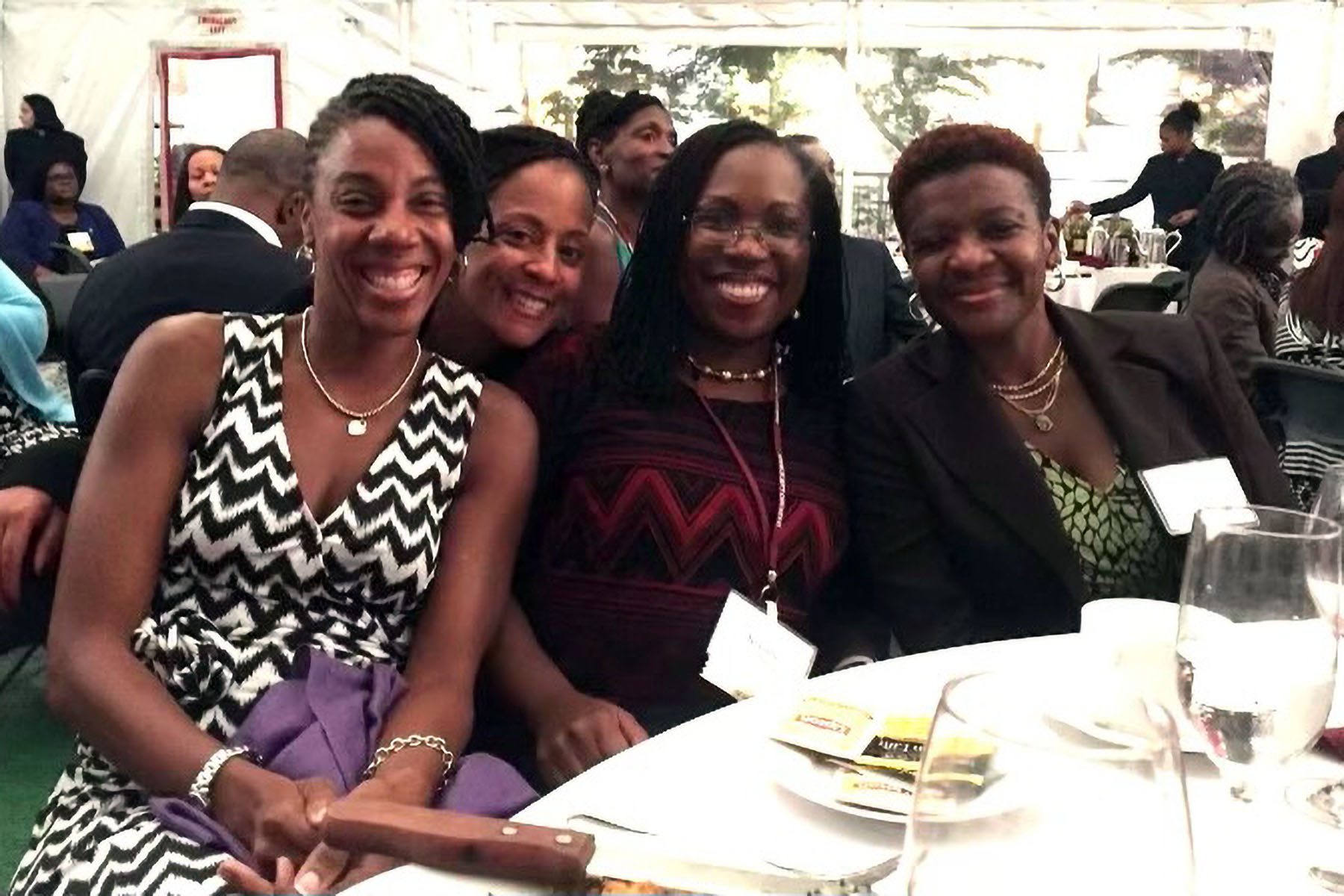 "Ketanji was the first to say, 'I'm not just grateful to be here, I deserve to be here, and I'm going to take up space in this ivory tower,'" Simmons said. "She was not afraid to express her opinions and state them loudly. She was open to others' opinions as well, but … she would listen and then she would meticulously tell you why you aren't necessarily correct."
When sophomore year came, the four of them moved in together — Jackson's idea, of course. Not long after they became roommates, Coakley recalled predicting that her friend would break one of the highest barriers of American jurisprudence.
"I remember clear as day, saying, 'You are going to be the first Black woman justice on the Supreme Court, if there's ever going to be one.' I told her that in college! I could see it. She has it, she has everything that you would need to do that and represent us the absolute best."
---
'This sisterhood has been a lifeline'
Now that the moment has arrived, Coakley said she feels overwhelmed and grateful. Fairfax added that she is feeling hopeful not just for Jackson, but for what her confirmation would mean for the country.
Both the attacks and praise, though, threaten to flatten the woman they know into "a Black woman" where a White man's race and gender would be all but ignored. Some will laud her as the first while ignoring her accomplishments, the Harvard degrees and clerkship and judgeship on a court commonly seen as launchpad for the Supreme Court. Many will criticize her — indeed, they already have criticized Biden's pledge as somehow not being about finding the best person.
The attacks have come from both pundits and politicians, including some Republican senators who will be voting on the nomination. From the right, they question Black women's credentials — not assuming that being the first or only is a sign of competence, but rather cause for suspicion. For her friends, and for all Black women who rise to prominence, the criticisms were upsettingly familiar.
When I asked about that, there was a long pause before the first of the trio weighed in.
"Where should we start?" Fairfax said. "People don't know her … and yet they are ready to say she is not qualified. The biggest thing for me is that she is one of the smartest people I know. To hear anybody say she's not [qualified] is just ridiculous, period."
Simmons said she was too furious to answer and muted herself on the conference call with me and her longtime friends while Coakley continued.
"Part of the frustration that I feel, as a Black woman, is the idea that because she is a Black woman that perhaps she is not going to be able to be fair and impartial, that somehow it's going to be a detriment to her in presiding over cases," Coakley said.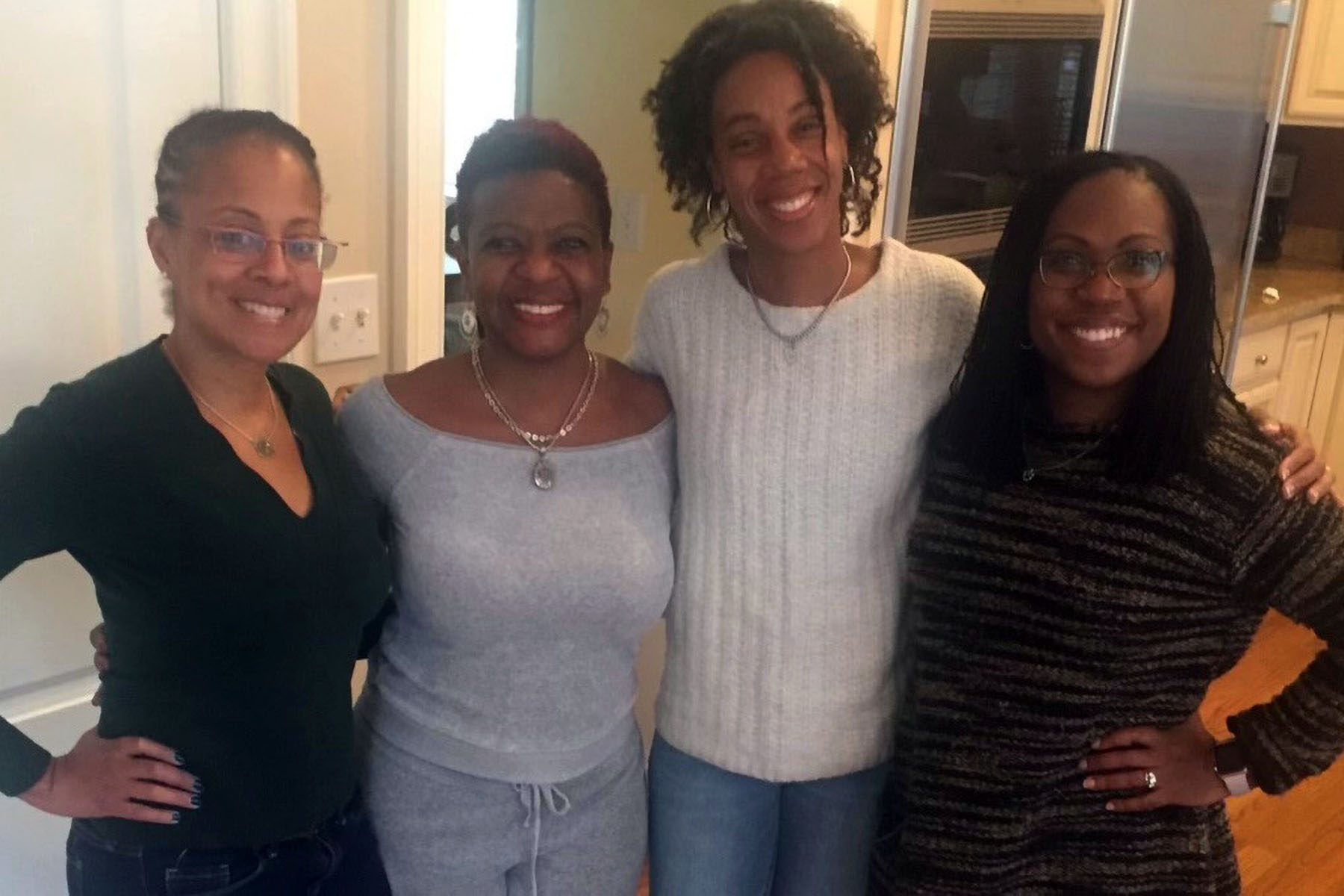 The question of whether a person's identity makes them unable to be fair is not one asked of White nominees, Coakley continued.
"The plain fact is that each person brings to that role their own perspective based on their lived experiences," she said. "I think of that as being a benefit, a plus, in particular at this time in our country. The rulings that come from the highest court in our land impact all of us. It is important that, in making those determinations, that there's voice given to all of us, that there's vision given to all of us, that all of our perspectives are taken into consideration."
Jackson will spend the coming weeks on a charm offensive with senators as the administration prepares her for the confirmation hearings at which many Americans will become more familiar with her personal story and legal journey.
Democrats control the Senate — but also have just 50 votes, all of them needed to confirm a Supreme Court nominee if she gets no GOP support. Recent confirmation votes have been increasingly partisan: Justice Stephen Breyer, whom Jackson is nominated to replace, was confirmed by a vote of 87-9 in 1994. But at least three Republicans voted for her nomination to the D.C. Circuit in June.
Jackson and her friends have all tried out for jobs where they'd be the first or only, having to sell themselves for a role that has never or rarely been done by someone who looks like them — but this is the biggest and highest profile of any of the opportunities they have worked for.
Being able to lean on their faith and each other in moments of professional adversity has helped all three women in their careers — support they are now offering to Jackson during this process.
"We have all, never to this level, of course, been up for stuff we haven't gotten," Fairfax said.
"I'll never forget, when I was up for [a big job], and it was talking to Antoinette and her saying, 'You've got to have faith. And if it's right for you, it's going to happen.' We lean on each other in those moments in particular. We all believe in each other and we believe things will work out the way they should."
Coakley's strategy is one of distraction, sending funny pictures and photos of her children to take her mind off of the moment.
"That's what I've been trying to do, make it a little bit lighter for her, because she's living and breathing it all the time," Coakley said.
Maintaining a sense of normalcy and "focusing on the little nuggets of life that keep us grounded" has been Fairfax's approach. Simmons said she isn't thinking too far ahead and is reminding Jackson of who she is and offering encouragement.
"This is so much pressure, not just on her, but on her entire family," Simmons said. "I consider my role to be … to continue to stand with her support and love to remind her that we got her, no matter what. We had her before, we have her during and we have her after."