Michelle Wu on Tuesday was elected mayor of Boston, the first time the city has elected someone for the job who is not a White man.
Wu was facing Annissa Essaibi George, a fellow at-large member of the Boston City Council, in a runoff. Essaibi George conceded Tuesday night, and with that, Wu will be the first woman and woman of color elected as the city's mayor. But before Wu and Essaibi George became contenders in a closely watched runoff, they were members of the 13-member Boston City Council — a governing body that in the past decade has become more representative of the city's population and created a launching pad for higher office.
That transformation is particularly striking in Boston, a historically segregated city where residents once fought racial integration and that today still grapples with massive inequities. For decades, women won limited representation on the City Council. Despite being a "majority-minority" city, where people of color make up more than half of the population, it wasn't until 2009 that Boston voters elected a woman of color — Ayanna Pressley, now a member of Congress — to the council.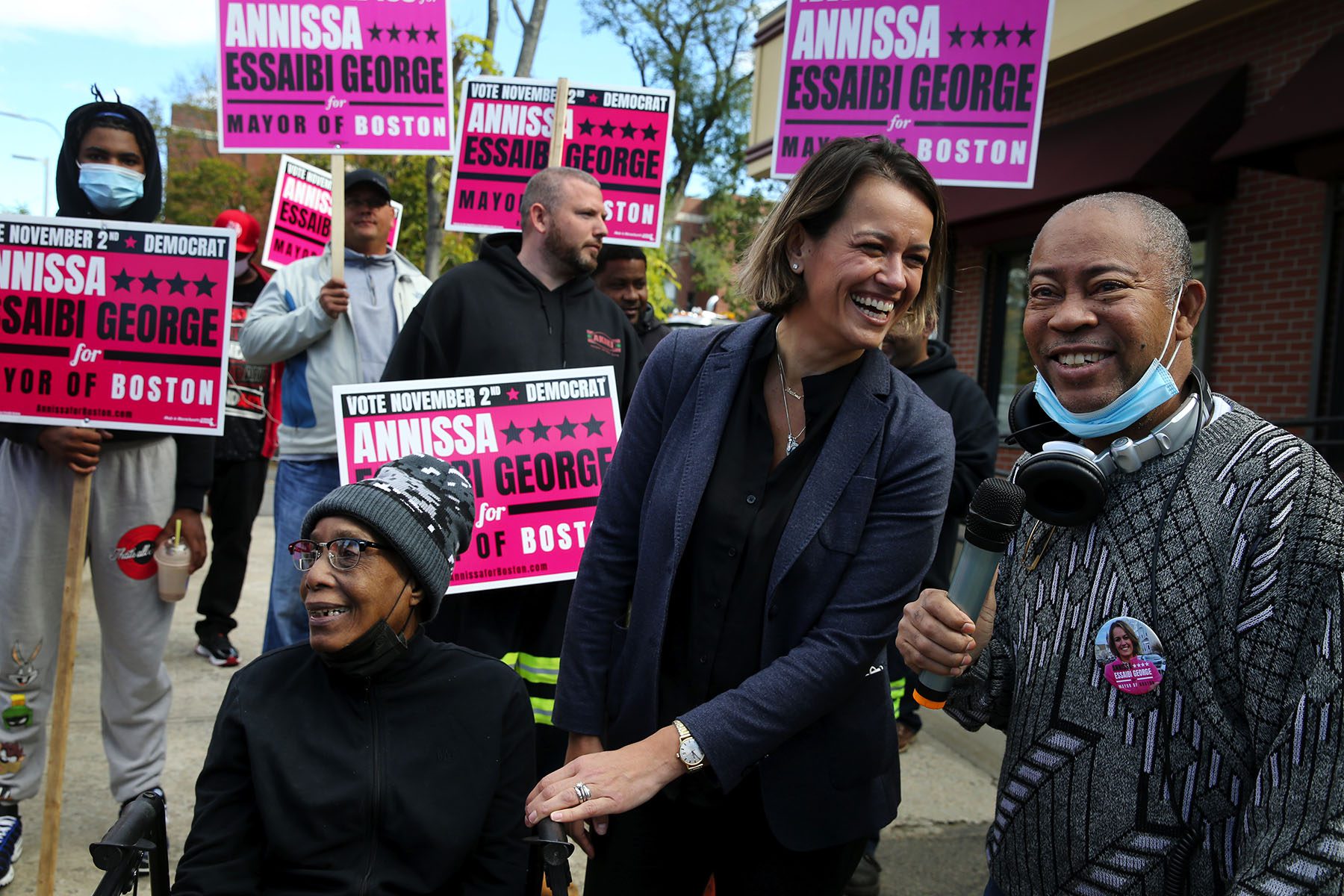 Wu, an Asian American whose parents immigrated from Taiwan, and Essaibi George, a first-generation Arab-Polish American, are part of a shift in not just gender diversity on the council, but racial and ethnic representation that accelerated with Pressley's election.
The council is now majority women (eight served following the 2019 election) and people of color. The September mayoral primary included four women of color who serve on the council — including Kim Janey, who became acting mayor earlier this year when former Mayor Marty Walsh resigned to join President Joe Biden's administration.
Janey, elected to the council in 2017, is the first woman and Black person to serve as Boston mayor. In her own bid for mayor, she placed fourth in the primary and later endorsed Wu.
"This bench has been building for a long time in Boston," said Amanda Hunter, executive director of the Massachusetts-based Barbara Lee Family Foundation. "Nationally, it looks like this change was really drastic … but this has also been something that has been percolating — building a strong bench on the Boston City Council and seeing women elected to other positions across the state."
That's in part due to intentional efforts to recruit and train women. Before the 2009 election, Pressley helped start a state chapter of Emerge, the national organization that recruits and trains Democratic women to get more involved in politics, including offering a six-month training program to prepare them to run for elected office.
Since its founding in 2008, Emerge Massachusetts says it has trained nearly 500 women. More than 100 of them are serving in different levels of Massachusetts government, including the statehouse. Both Wu, elected as an at-large city councilor in 2013, and Essaibi George, elected to the same post two years later, are alums of Emerge Massachusetts trainings. So are six of the women who currently serve on the City Council: Andrea Campbell (who placed third in the primary for mayor), Lydia Edwards, Julia Mejia and Liz Breadon.
A'shanti Gholar, president of Emerge, said Boston is the fruition of a lot of groundwork from Democrats, who dominate the City Council (though the races for council and mayor are officially nonpartisan). She noted the significance of Pressley's election.
"For me, it's not surprising that we're going to see Boston with its first elected woman mayor, woman of color mayor, and that woman will be an Emerge alum of Massachusetts no matter who wins," she said. "This is how building the pipeline works. It really starts with that one woman who makes change but then continues to lift as she climbs into new roles."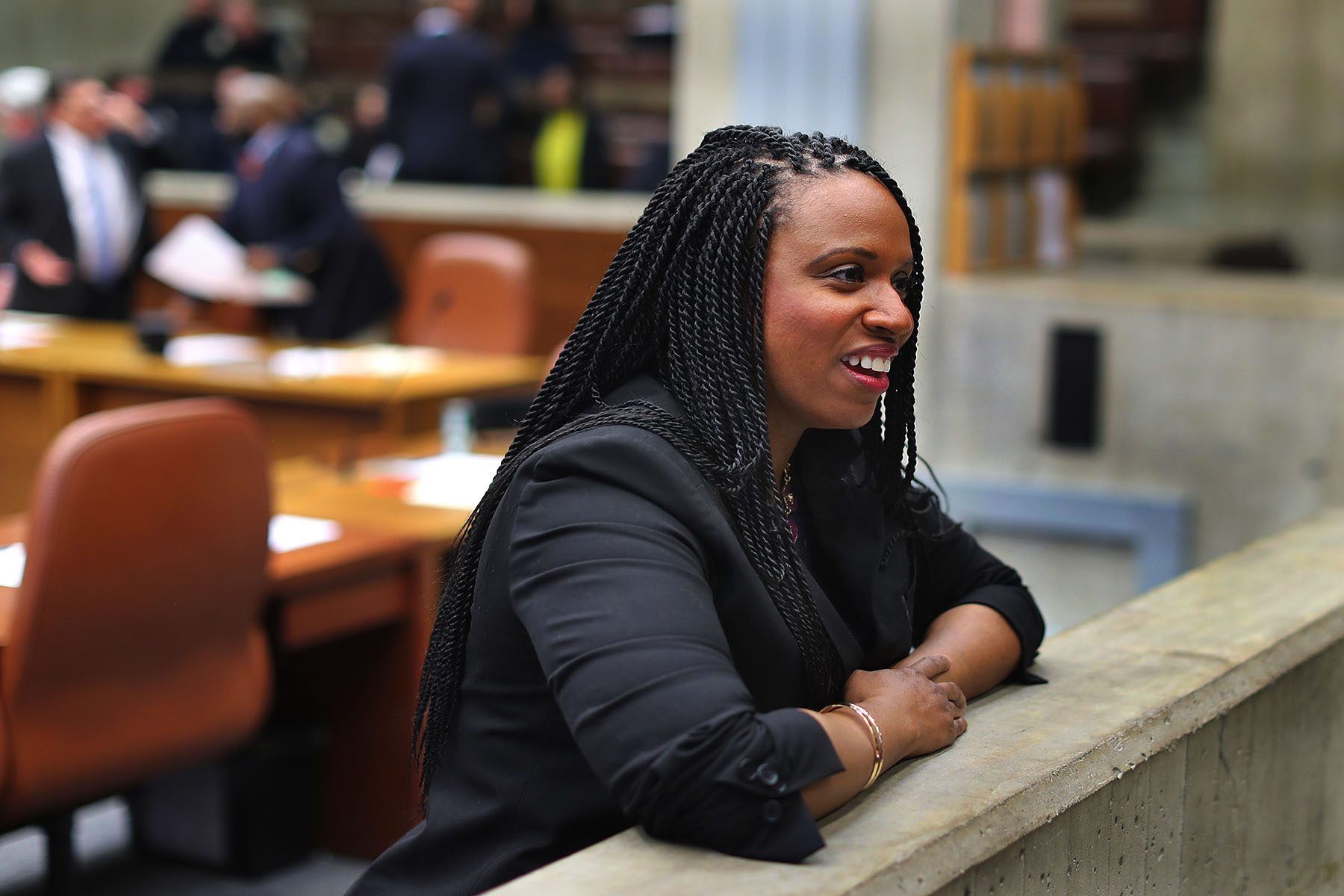 The growing political power of women and women of color in Boston and elsewhere can also be traced to recent major political moments that have changed how voters view women's political power, Hunter said. She pointed to the 2016 election of President Donald Trump, subsequent women's marches, the MeToo movement and now the lingering effects of the COVID-19 pandemic on women's economic stability.
"There's a lot more opportunity for women at this moment than there was even probably six years ago, given what's happened nationally," she said. "I think that has also affected Boston."
Campbell, who was elected to the council in 2015 along with Essaibi George (which at the time doubled women's representation on the council from two to four), told The 19th that she decided to run for Boston mayor after the 2020 killing of George Floyd.
"Witnessing that and looking at my two boys that I'm raising in the city of Boston, and saying I was done waiting on the sidelines and waiting for others to exercise the leadership necessary to close the persistent gaps in the city of Boston around housing, education, policing reform, wealth, health — I was done waiting for someone else to close those gaps," she said.
A report on the history of women in Boston politics from 1921 to 2004 highlights difficult terrain: More than 80 women ran for the council during that roughly eight-decade period, but only nine were elected. In 2004, Boston lagged other capital cities in women's representation in municipal governing bodies.
The report notes a range of contributing factors, including strong neighborhood politics that positioned gatekeepers to decide what candidates would represent the city's districts on the council. That often posed barriers for women seeking financial and political support to run a successful campaign. Boston's mayors — White men — have also had a history of outsize power in backing candidates they wanted on the council.
Still, women have a long record of political engagement in the city. During parts of the 19th and 20th century, it included appointed commissions, neighborhood groups, local campaigns and other forms of unofficial community organizing.
By the time Mildred Harris became the first woman elected to the Boston City Council in 1937, several women had run and lost bids for the council in the previous 15 years. It took until the 1960s for voters to elect another woman, and it would take until the late 1980s for two women to serve on the council at the same time.
It was extra difficult for women of color, who organized over several decades for racial justice, including on government assistance, safe housing and adequate education.
"What we saw toward the late 20th and early 21st century is women of color wanting to do some of that same work that they were doing in community organizations, but actually do it officially as political leaders," said Kabria Baumgartner, a history professor at Northeastern University who has studied gender, particularly Black women's political power in New England.
But it proved difficult. At least 11 Black women ran unsuccessfully for council seats between 1973 and 1997.
Gholar said the current rise of women of color in Boston and Massachusetts is a reflection of pipelines elsewhere. She credits Emerge and its state chapters for helping women become a majority in the Nevada statehouse and increasing their representation in states including Colorado and New Mexico. There are also separate efforts to diversify city councils, including in New York City, where women are poised to dramatically increase their representation on the 51-member council.
"This work does take time. Change doesn't happen overnight," Gholar said. "Something that I always say to people is, these are long-term investments that we have to make, especially when it comes to women of color."
Despite Campbell's council experience, which included being the first Black woman to serve as council president, it was "really difficult" to build the necessary infrastructure for a mayoral run, she said. Campbell and Wu announced their bids for mayor before Walsh, the incumbent and a White man, indicated plans to leave office.
"It was hard to raise money, it was hard to build our field program. We did it with some innovative ideas and just worked day in and day out," Campbell said. "But there were barriers every step of the way."
Gholar said that the world of politics was not built with women and people of color in mind, and that that becomes clear when they run for office and face setbacks in fundraising. Research shows the ways in which women candidates see fundraising as more of a barrier than men candidates. Women of color raise less on average than White women in statewide races.
"When you say these words — electability, viability, can they win? — you are talking about it in terms of a White man, and will people vote for someone who isn't a White man? That is the biggest barrier that women and women of color candidates have to overcome," she said.
Wu, 36, has campaigned on policies like rent control and free public transportation that political observers have labeled as more progressive than Essaibi George, 47, who has tried to present herself as a more pragmatic candidate by focusing on issues like homelessness and substance abuse. Polling before Election Day had shown Wu with a commanding lead.
Diana Hwang is the founder and executive director of the Asian American Women's Political Initiative, which works to elevate AAPI women in politics and government. Hwang said Wu's candidacy in such a high-stakes race will activate and energize other AAPI women to run.
"For little Asian American girls, and for Asian American women across the country, seeing Michelle become mayor and seeing ourselves reflected in her is everything," she said.
Campbell has been campaigning in recent weeks for candidates seeking to join the City Council. She hopes the press will cover candidates of color more inclusively in the future, and that there are more collective efforts to increase voter turnout — just 25 percent of the city's more than 430,000 registered voters cast ballots in the primary.
Campbell said prior political experience is not necessary for a successful bid for office. When she ran for the council, Campbell was a first-time candidate who defeated a 16-term incumbent.
"If we are truly going to diversify this political system so it is representative of the people, than we really need to be thinking about those who maybe have no connection to the political system," she said. "… I would never have run for office if I just listened to certain folks who suggested that maybe I should go work in a particular office or do something 'political' first."